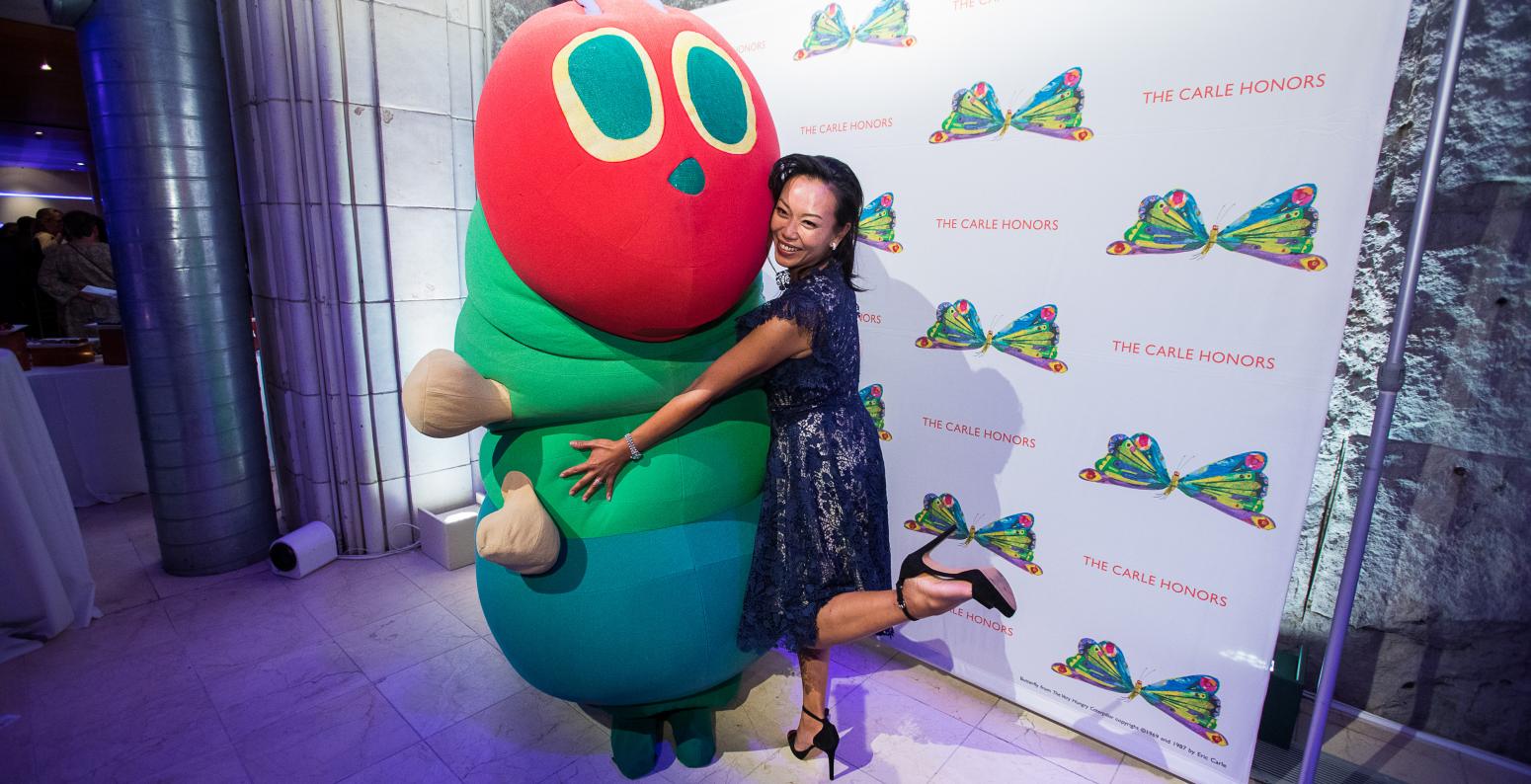 Article Type
News & Press
News & Press Categories
News
Breaking Records at the 14th Annual Carle Honors
October 15, 2019
The excitement was palpable at The Carle Honors, our New York City fundraiser, on September 26, 2019 as we awarded honorees in front of more than 350 guests. Highlights included Eric Carle taking the stage to pay tribute to his mentor Leo Lionni and a video message from co-chair Jane Goodall filmed at her institute in Africa.
Artist and author Grace Lin and editor Alvina Ling hosted, throwing out surprises like a read-aloud story time of Kwame Alexander's How to Read a Book, illustrated by Melissa Sweet, and a visit from the costumed Very Hungry Caterpillar. A few special moments:
Takeshi Matsumoto, representing Bridge honoree Chihiro Art Museum, which he built to honor his mother, Chihiro Iwasaki, explained that he first told Eric Carle in Japan in 1985 about his dream to build a collection of picture book illustrations. "Mr. Carle said he'd donate art. I thought he was joking, but it arrived the very next day."
David Saylor was the first creative director to receive the Mentor honor. His groundbreaking graphic novel imprint, Graphix, changed the landscape of children's literature. "Comics are for everyone," said Saylor. "Comics are books. Comics are literature. Comics are powerful and vibrant."
Kenny Garcia accepted the Angel award for REFORMA, the National Association to Promote Library and Information Services to Latinos and the Spanish Speaking, which offers wide-ranging programs like books for refugee children. Garcia said, "I hope folks will continue to support these initiatives to reflect the brilliant talent in our communities."
In accepting the Artist award, Melissa Sweet said: "The ultimate privilege is going to the studio each day." In closing, she paraphrased a line from Charlotte's Web, telling the audience, "You have been my friends. That in itself is a tremendous thing."
Guests cheered as The Carle Honors Art Auction closed with an unprecedented $127,000 raised—and the overall event raised a record-breaking $350,000. Thank you!
Photo highlights from The 2019 Carle Honors