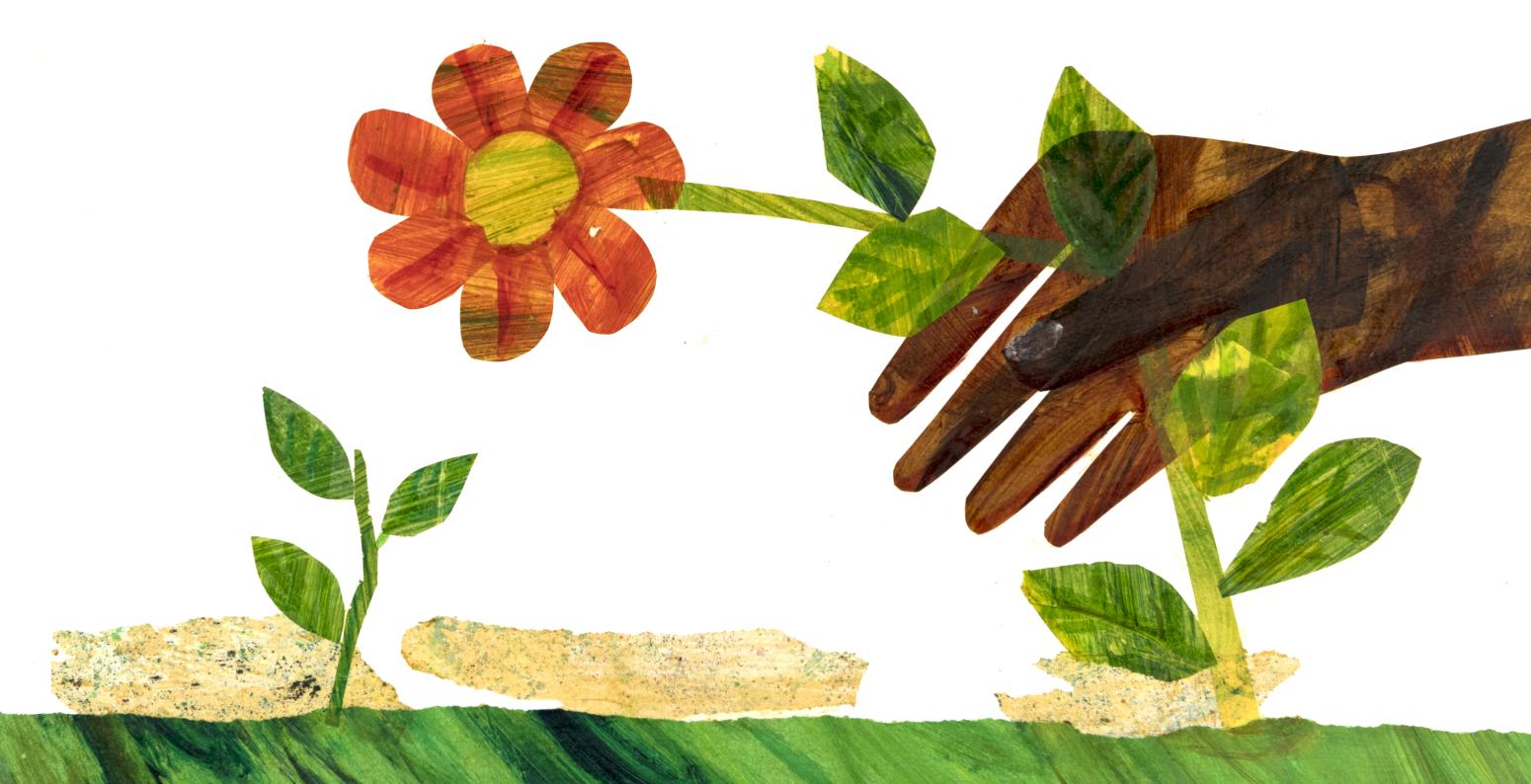 Article Type
News & Press
News & Press Categories
News
The Carle Presents Environmental Eric Carle
July 31, 2023
Throughout his 50-year career, Eric Carle found deep inspiration in the natural world. He created books that honor everything from insects and mammals to stories that reach to the moon and stars. The Museum is pleased to present Environmental Eric Carle opening September 2 and on view through March 3, 2024.
Carle's picture books invite young readers to connect with their surroundings. Children learn about the cycles of nature in The Tiny Seed and The Mountain that Loved a Bird. Then see endangered animals in "Slowly, Slowly, Slowly," said the Sloth and Panda Bear, Panda Bear, What Do You See? And they discover unique behaviors of underwater sea creatures in A House for Hermit Crab and Mister Seahorse.
Visitors can view more than 40 original illustrations from eight beloved books. They will enjoy early examples of Carle's poster art, too. On view for the first time is the set of 10 wildlife posters he created in the 1970's. Carle made these "animal counting posters" for Franklin Watts publishing house, now an imprint of Scholastic. The posters feature birds and mammals considered threatened or endangered at the time. Descriptions of the animals, and the reasons for their threatened status, are printed on the backs of the posters, which were sold at school book fairs. Carle's collages for the posters are some of the largest he ever created and feature such creatures as manatees, bald eagles, and wild mustangs.
Carle credits his father for instilling in him from a young age a love of animals and nature: "Reflecting on my artistic development, I believe that my father had the greatest creative influence. He took me for nature walks, described the life of bees, ants, butterflies, worms, birds, and many other creatures. He conveyed to me the greatest respect for animals and the whole natural world."  
Carle's commitment to conservation was evident in his friendship with world-renowned primatologist Dr. Jane Goodall. Goodall visited Carle's Northampton, Massachusetts studio before the Museum was built and, in 2002, she wrote the forward to his book "Slowly, Slowly, Slowly," said the Sloth. In it, she expresses her lifelong admiration for the "peace-loving sloth" while sounding the alarm at the destruction of its habitat. On display is a reproduction of the collage Carle presented Goodall of a mountain gorilla and its offspring, which he inscribed: "For Jane Goodall, for her efforts for saving all living things."  
The Tiny Seed, about the life cycle of a plant, was the first of many stories Carle illustrated about the wonders of nature. He published the book in 1970 and re-illustrated it in 1987. The Mountain That Loved a Bird (1985) by Alice McLerran is a story about a bird who befriends a barren mountain and slowly transforms it into a lush habitat. Carle's illustrations show the dramatic impact one small action—the planting of a seed—can have. Oceans are featured in A House for Hermit Crab (1987), Mister Seahorse (2004), and 10 Little Rubber Ducks (2005). Carle took an interest in animal habitats in My First Book of Homes (1986). In this interactive book, readers match animals to their homes.  
Five original collages from Panda Bear, Panda Bear, What Do You See? (2003) are featured in the exhibition. With the familiar rhyming text of its predecessor Brown Bear, this book introduces readers to animals that were endangered or threatened at the time of publication. Label text instructs guests about the status of the animals twenty years on, including the red wolf and green sea turtle. Successful recoveries are also noted in the exhibition. In the 1970s, when Carle made the counting animal poster of wild mustangs, their population had been severely reduced from two million to only 17,000. Today, the Bureau of Land Management oversees an estimated 80,000 wild mustangs across 10 western states.
In the gallery, guests are invited to contribute to a growing "community tree," on which they can add their personal messages of commitment to help the environment. A museum-wide scavenger hunt highlights some of the Museum's sustainability efforts.
This exhibition is made possible through the generous support of the Hsin-Yi Foundation.  
About the Museum
The Eric Carle Museum of Picture Book Art is the international champion for picture books. We collect, preserve, and exhibit original illustrations, encourage guests of all ages to read and create art, and foster an ever-growing audience passionate about children's literature.
The late Eric and Barbara Carle co-founded the Museum in November 2002. Eric Carle was the renowned author and illustrator of more than 70 books, including the 1969 classic The Very Hungry Caterpillar. Since opening, the 43,000-square foot facility has served nearly one million visitors. The Carle houses 9,000 permanent collection illustrations. The Carle has three art galleries, an art studio, a theater, picture book and scholarly libraries, and educational programs for families, scholars, educators, and school children. Bobbie's Meadow is an outdoor space that combines art and nature. Educational offerings include professional training for educators around the country and master's degree programs in children's literature with Simmons University. The Museum offers digital resources, including art activities, book recommendations, collections videos, exhibition videos, as well as workshops for online visitors. Learn more at www.carlemuseum.org and on Facebook, YouTube, Twitter, and Instagram @CarleMuseum.
For media inquiries, additional press information, and photo requests, please contact Sandy Soderberg at sandys@carlemuseum.org