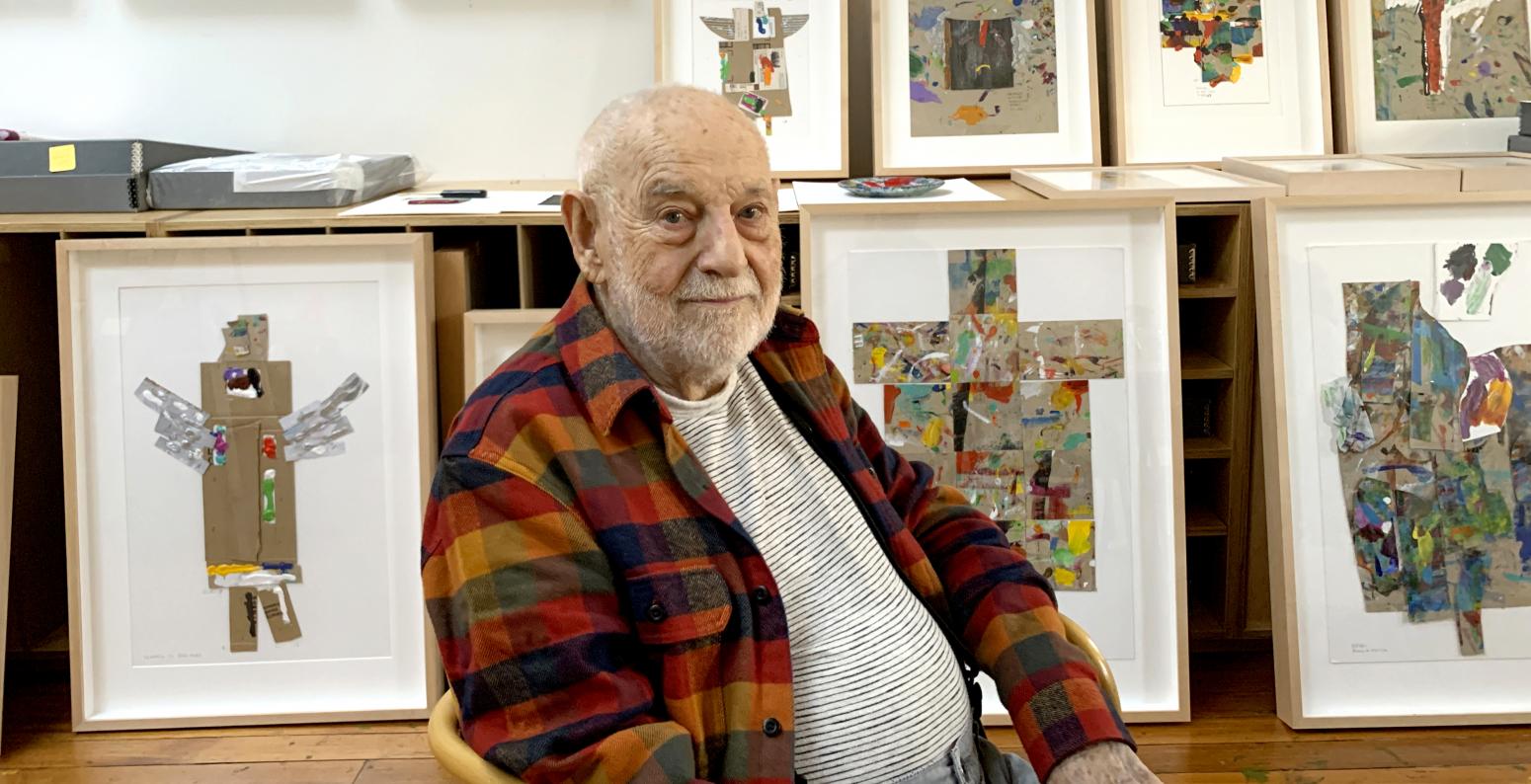 Article Type
News & Press
News & Press Categories
Press
Eric Carle's Angels: An Homage to Paul Klee
July 23, 2020
Four years ago, at the age of 87, picture book artist Eric Carle began creating a series of cardboard and found object collages depicting angels. He dedicated these abstract assemblages to the artist Paul Klee (Swiss, 1879-1940), who created over 70 drawings and paintings of angels during his lifetime. The Eric Carle Museum of Picture Book Art is pleased to present Eric Carle's Angels: An Homage to Paul Klee, which opened on July 22 and will be on view until November 29, 2020. The Museum reopened to its members on July 22 and will open to the general public on August 1. See reopening guidelines and new hours here.
 
"Klee and his angels have become my strange and mysterious passion," says Carle. "Several years ago I began to feel the need to honor Klee's angels in visual form." Carle created 20 artworks in a spirit of playful improvisation, unbound from the restraints of the picture book. Exhibited for the first time in the United States, the angels reveal his artistic interests beyond children's books and affirm his love of collage.
 
Carle's angels—singular, bold, three-dimensional—are a testament to the expressive power of collage in the hands of a master. His primary material is cardboard, cut from old shipping boxes and the mats on which he paints his tissue papers. The cardboard fragments show the colorful brushstrokes of Carle's past creations, and he integrates logos and bar codes into the compositions. He mines his studio for other objects—crayons, fabric, aluminum, carpet, and empty tubes of paint—to adorn his angels. Constructed of everyday materials, Carle's angels are earthbound meditations on art, process, and temporal beauty.
 
"When Eric showed me his angels, I knew I wanted to present them in a special exhibition," says Ellen Keiter, the Museum's chief curator. "The intimacy of our smaller Central Gallery seemed the perfect setting. We painted the walls a celestial blue and designed a reading area with books about Eric and Paul Klee. I think guests will find Eric's angels as fascinating as I do. They are deeply personal and so different from his picture book illustrations."
 
While the Museum has been closed, the staff posted online content featuring artwork in its collection. Keiter created a short video introducing Carle's angels. In it, she describes Angel #6: "One of the early works in the series, Angel #6 is constructed of simple geometric shapes cut from the old cardboard mats on which he paints his tissue papers. The forms bear thick and feathery brushstrokes, the colorful remnants of past creations. In contrast to some of Carle's more abstract works in the series, this angel's form is clearly delineated with two large metallic wings."
 
A new publication, Eric Carle's Angels: An Homage to Paul Klee by H. Nichols B. Clark, was printed for this exhibition. It is available in The Carle Bookshop. $18.95
About the Museum 
The mission of The Eric Carle Museum of Picture Book Art, a non-profit organization in Amherst, MA, is to inspire a love of art and reading through picture books. A leading advocate in its field, The Carle collects, preserves, presents, and celebrates picture books and picture-book illustrations from around the world. In addition to underscoring the cultural, historical, and artistic significance of picture books and their art form, The Carle offers educational programs that provide a foundation for arts integration and literacy.
Eric Carle and his wife, the late Barbara Carle, co-founded the Museum in November 2002. Carle is the renowned author and illustrator of more than 70 books, including the 1969 classic The Very Hungry Caterpillar. Since opening, the 43,000-square foot facility has served more than 750,000 visitors, including 50,000 schoolchildren. The Carle houses more than 11,000 objects, including 7,300 permanent collection illustrations. The Carle has three art galleries, an art studio, a theater, picture book and scholarly libraries, and educational programs for families, scholars, educators, and schoolchildren. Bobbie's Meadow is an outdoor space that combines art and nature. Educational offerings include professional training for educators around the country and Master's degree programs in children's literature with Simmons University.
During the COVID-19 closures, the Museum offered digital resources, including art activities, book recommendations, collections videos, and virtual professional development and workshops for online visitors. Learn more at www.carlemuseum.org and on Facebook, Twitter, and Instagram @CarleMuseum.
For media inquiries, additional press information and photo requests, please contact Sandy Soderberg, sandys@carlemuseum.org