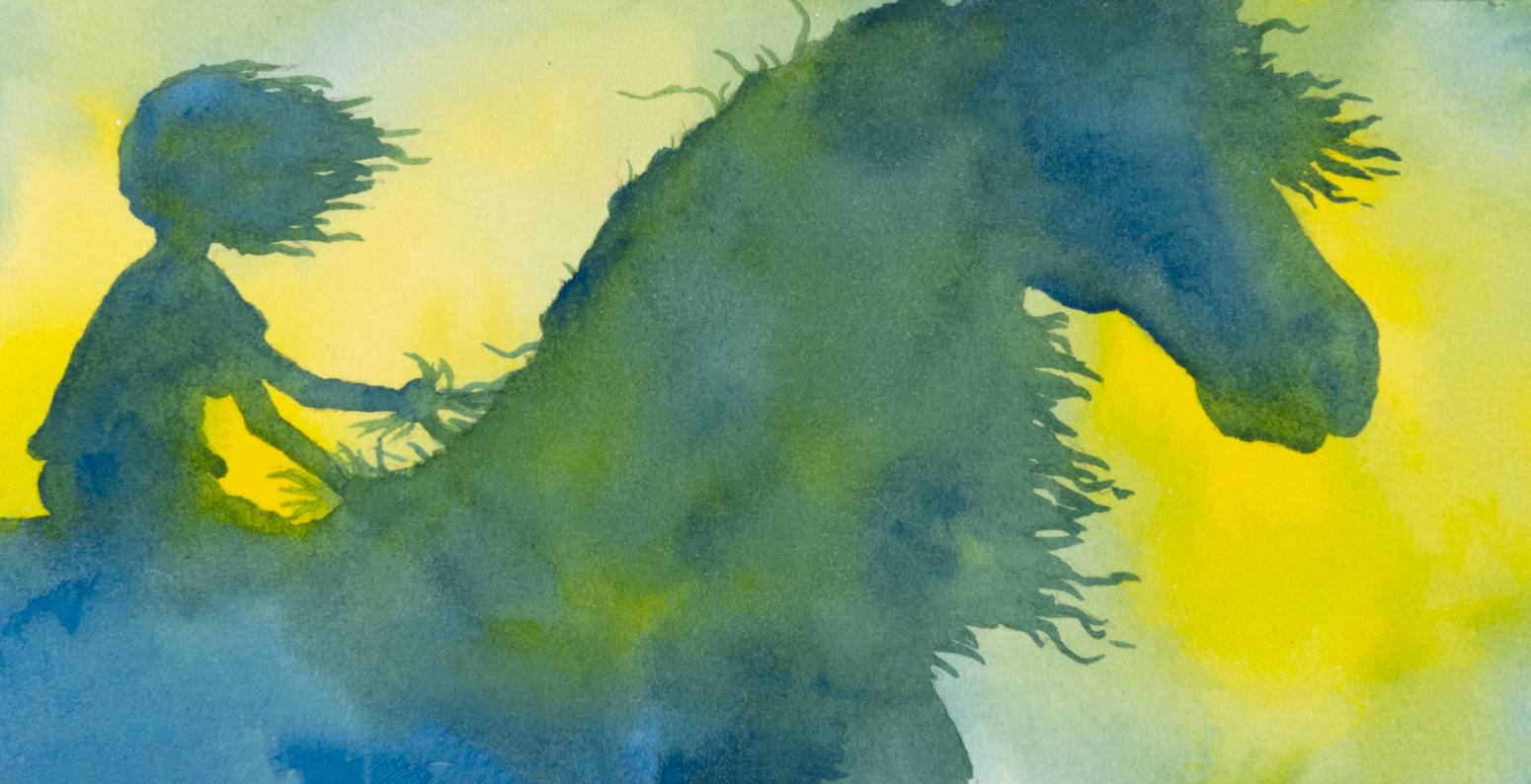 Article Type
News & Press
News & Press Categories
Press
Horse Tales: Galloping into Children's Books
May 30, 2023
Horses have long captivated human hearts and artistic imaginations in illustrated literature. The Eric Carle Museum of Picture Book Art is proud to present the new exhibition Horse Tales: Galloping into Children's Books, opening on Saturday, June 17 and remaining on view through December 31, 2023. The exhibition showcases both classic and contemporary stories of triumph and heartbreak, adventure and recreation, fantasy and friendship. Most significantly, it examines how horses can expand our humanity. The exhibition is co-organized by The Carle's Chief Curator Ellen Keiter and Guest Curator Carla Carpenter. 

"It's no surprise that horses have found their way into picture books," says Keiter. "Horses make ideal leading characters—they carry us on adventures, race to our rescue, bear our burdens, and bring us joy. Whether in fairytales or historical narratives, stories of horses touch our emotions time and again."  

Almost every culture in the world has relied on the horse since it was domesticated 5,000 years ago. Horses changed the ways we travel, trade, play, work, and even battle. The exhibition is divided into four thematic sections that explore their influence. "Classic Horse Stories" features a display of Black Beauty books, Anna Sewell's 1877 novel that brought awareness to the plight of working horses in England. Other famous horse books on view include National Velvet (1935) by Enid Bagnold, The Black Stallion (1941) by Walter Farley, and My Friend Flicka (1941) by Mary O'Hara. Of special interest are two original illustrations by Wesley Dennis from Misty of Chincoteague (1947) by Marguerite Henry.  
 
Across six continents, horses have occupied diverse landscapes—from barnyards to battlefields, great plains to urban centers, and ranches to racetracks. The section "Landscape of the Horse: From Plains to Barnyard" explores the spaces—both real and imagined—that horses occupy. Leonard Weisgard's 1944 illustration from Red Light Green Light shows horse drawn wagons and automobiles ("horseless carriages") together on the same street. Jerry Pinkney portrays the formerly enslaved cowboy Bob Lemmons and his wild mustangs, Ruth Sanderson captures the 19th-century artist Rosa Bonheur amid the bustle of a Parisian horse market, and Tom Clohosy Cole depicts Joey, a red bay, galloping across a torched battlefield in War Horse (2020). 

Horses symbolize strength, power, freedom, beauty, and grace, and the pages of a picture book are the perfect place to explore the horse as muse. "Inspiring Stories: Horses of Dreams & Legends" includes SD Nelson's Gift Horse (1999), a Lakota story of one child's passage from boyhood to warrior alongside his horse Storm. Gianna Marino's vibrant watercolors express a child's dream of a horse while Corinna Luyken uses negative space to represent another child's longing. Maurice Sendak depicts the bond between a girl and newborn foal in Charlotte and the White Horse (1955), a gentle story that straddles the space between reality and dreams. Erin Stead illustrates an Ed Galing poem with ethereal prints that tenderly portray a delivery horse of a bygone era. In Step Right Up (2016), Daniel Minter introduces Jim Key, once the most famous horse in the country, who learned to read thanks to the kindness and patience of his owner Doc Key. This true story is testament to the intelligence of horses and their ability to form deep bonds with humans.  
 
There is a longstanding tradition in children's literature of anthropomorphism—giving human characteristics to animals. Have you ever seen a horse in high heels? Or sitting on a couch? Artists in the section "Horses & Humor" make us laugh by showing horses in surprising situations. They create comical characters who entertain young readers with their antics and serve as trusty sidekicks. We revel in the hilarity of Barry Moser's horse grinning knowingly at the reader, Sophie Blackall's spotted horse parading through the house in a pink tutu, and Kate Beaton's pudgy pony who bravely battles alongside Princess Pinecone. 
 
Horse Tales honors these astounding animals and the countless stories they have inspired. Guests can view 80 drawings, paintings, collages, prints, and digital illustrations by 50 artists. Visitors of all ages are invited to draw horses, guided by a variety of how-to books and horse figurines courtesy of Breyer Animal Creations. They can read books in our barnyard and "groom" our gallery horses. And there's room for imaginative puppet play in the Giddy Up Theater, too.  
Featured Artists
Micha Archer, Mary Azarian, Jonathan Bean, Kate Beaton, Sophie Blackall, Virginia Lee Burton, Remy Charlip, Thomas Closhoy Cole, Raúl Colón, Wesley Dennis, Roger Duvosian, Jane Dyer, Hardie Gramatky, Oscar Hausenstein, Syd Hoff, Laura Hughes, Trina Schart Hyman, Dahlav Ipcar, Sarah Jacoby, Gordon C. James, Susan Jeffers, Jerome Lagarrigue, Betsy Lewin, Ted Lewin, Arnold Lobel, Thomas Locker, Corinna Luyken, Charlie Mackesy, Gianna Marino, J.P. Miller, Daniel Minter, Barry Moser, Kadir Nelson, S.D. Nelson, Dennis Nolan, Brian Pinkney, Jerry Pinkney, Alice Bolam Preston, Nooshin Safakhoo, Daniel San Souci, Ruth Sanderson, Sam Savitt, Astrid Sheckels, Art Seiden, Maurice Sendak, Louis Slobodkin, Erin Stead, Philip Stead, Virginia Stroud, Simms Taback, Jennifer Thermes, Audrey Helen Weber, Leonard Weisgard, and Ed Young.  
About the Museum
The Eric Carle Museum of Picture Book Art is the international champion for picture books. We collect, preserve, and exhibit original illustrations, encourage guests of all ages to read and create art, and foster an ever-growing audience passionate about children's literature.
The late Eric and Barbara Carle co-founded the Museum in November 2002. Eric Carle was the renowned author and illustrator of more than 70 books, including the 1969 classic The Very Hungry Caterpillar. Since opening, the 43,000-square foot facility has served nearly one million visitors. The Carle houses 9,000 permanent collection illustrations. The Carle has three art galleries, an art studio, a theater, picture book and scholarly libraries, and educational programs for families, scholars, educators, and school children. Bobbie's Meadow is an outdoor space that combines art and nature. Educational offerings include professional training for educators around the country and master's degree programs in children's literature with Simmons University. The Museum offers digital resources, including art activities, book recommendations, collections videos, exhibition videos, as well as workshops for online visitors. Learn more at www.carlemuseum.org and on Facebook, YouTube, Twitter, and Instagram @CarleMuseum.  
 
For media inquiries, additional press information, and photo requests, please contact Sandy Soderberg at sandys@carlemuseum.org.