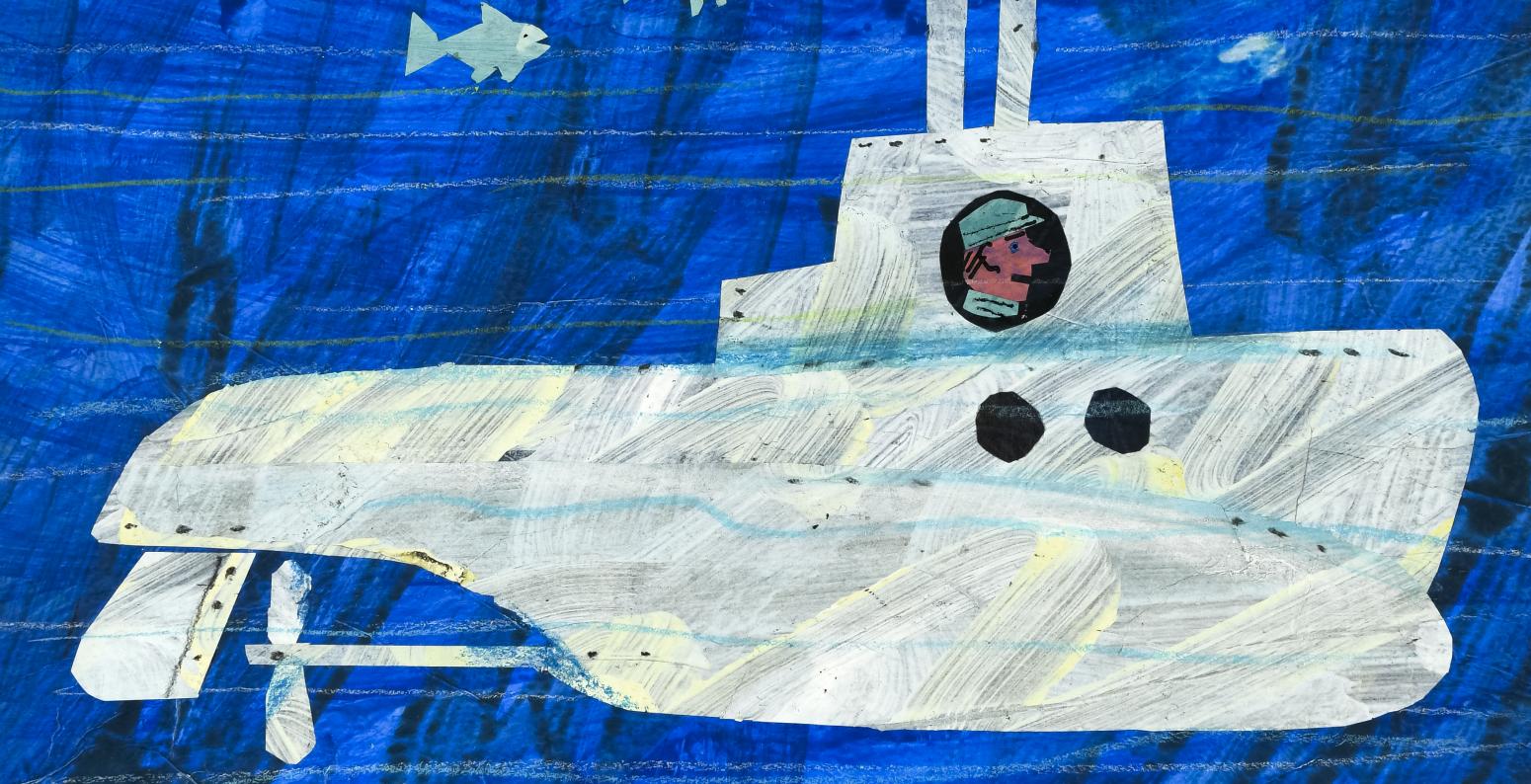 Article Type
News & Press
News & Press Categories
Press
On the Move with Eric Carle
March 16, 2021
Planes, trains, and automobiles. Rocket ships and steamships. A horse? Of course!
These are some of the ways people and animals move from place to place in Eric Carle's picture-book illustrations. The Carle is pleased to present: On the Move with Eric Carle now on view through August 22nd in the Museum's West Gallery. This exhibition is divided into themes of travel by land, air, and sea, and the artworks represent 15 different Eric Carle titles. Included are Carle's familiar images from 10 Little Rubber Ducks and The Lonely Firefly to linoleum prints from The Boastful Fisherman, to small collages from his early reader series of the 1980s.
Carle traces the myriad ways in which humans and his fictive characters travel. The exhibition features several unpublished collage illustrations of farms, neighborhoods, skies, underground tunnels, oceans, and cities where people travel based on their unique needs and circumstances. Eric Carle's interest in representing movement is humorously present in "seven bears on little bikes," a collage from the out of print counting book, Small Circus by Lee Bennett Hopkins (1975) where a family visits a circus.
In his book, Little Cloud (1996), Carle's cloud character playfully assumes the shape of a sheep, a clown, and a rabbit. Featured in the gallery, the character Little Cloud becomes an airplane. "The range of these images is really wonderful—Carle's portrayal of vehicles that roam the earth, sky, and sea presents us with a new way to see the broad spectrum of his work. We usually associate Carle with his playful caterpillar who transforms from a hungry caterpillar to a beautiful butterfly, but his work explores many other journeys," says Ellen Keiter, chief curator. While the majority of art is executed in Carle's signature collage technique, the exhibition also features a linoleum print from The Boastful Fisherman (1970) and three pen-and-ink drawings from Otter Nonsense (1982).
Museum visitors to On the Move can become one of Carle's fantastical characters as they make their way through railroad tracks, waterways, and roads. By using the floor as an activity space, visitors can safely move around the gallery, stop at a railway crossing, a stop-light, read a book in a rotary, and enjoy a colorful collage from The Nonsense Show where people carry a car and move it with their feet! Whatever the vehicle, Carle keeps his characters—and his readers—on the move.
This exhibition is made possible through the generous support of the Hsin-Yi Foundation.
Exhibition artworks are from the following books:
The Boastful Fisherman by William Knowlton, 1970
A Very Long Train, 1972
The Hole in the Dike by Norma Green, 1974
Small Circus by Lee Bennett Hopkins, 1975
Eric Carle's Storybook: Seven Tales by the Brothers Grimm, 1976
Seven Stories by Hans Christian Anderson, 1978
Otter Nonsense by Norton Juster, 1982
All Around Us, 1986
1, 2, 3 to the Zoo, 1987
1, 2, 3 ein Zug zum Zoo, 1990
Draw Me a Star, 1992
The Very Lonely Firefly, 1995
Little Cloud, 1996
10 Little Rubber Ducks, 2005
The Nonsense Show, 2015
When to visit:
The Museum's hours are Thursday and Friday, 10am-4pm, Saturday 10am-5pm, and Sunday 12pm-5pm. The Museum is closed Monday through Wednesday. Visitors are encouraged to reserve tickets in advance, choosing a morning or afternoon visit. (Walk-ins will be welcome as space permits.)
To ensure the health and safety of all our visitors and staff, all visitors must follow Massachusetts guidelines, which include masks, social distancing, and the current travel order.
Guests planning to visit should check The Carle's website for additional guidelines. Questions about visiting can be sent to info@carlemuseum.org.
Learn more at www.carlemuseum.org and follow us on Facebook, Twitter, and Instagram @CarleMuseum.
###