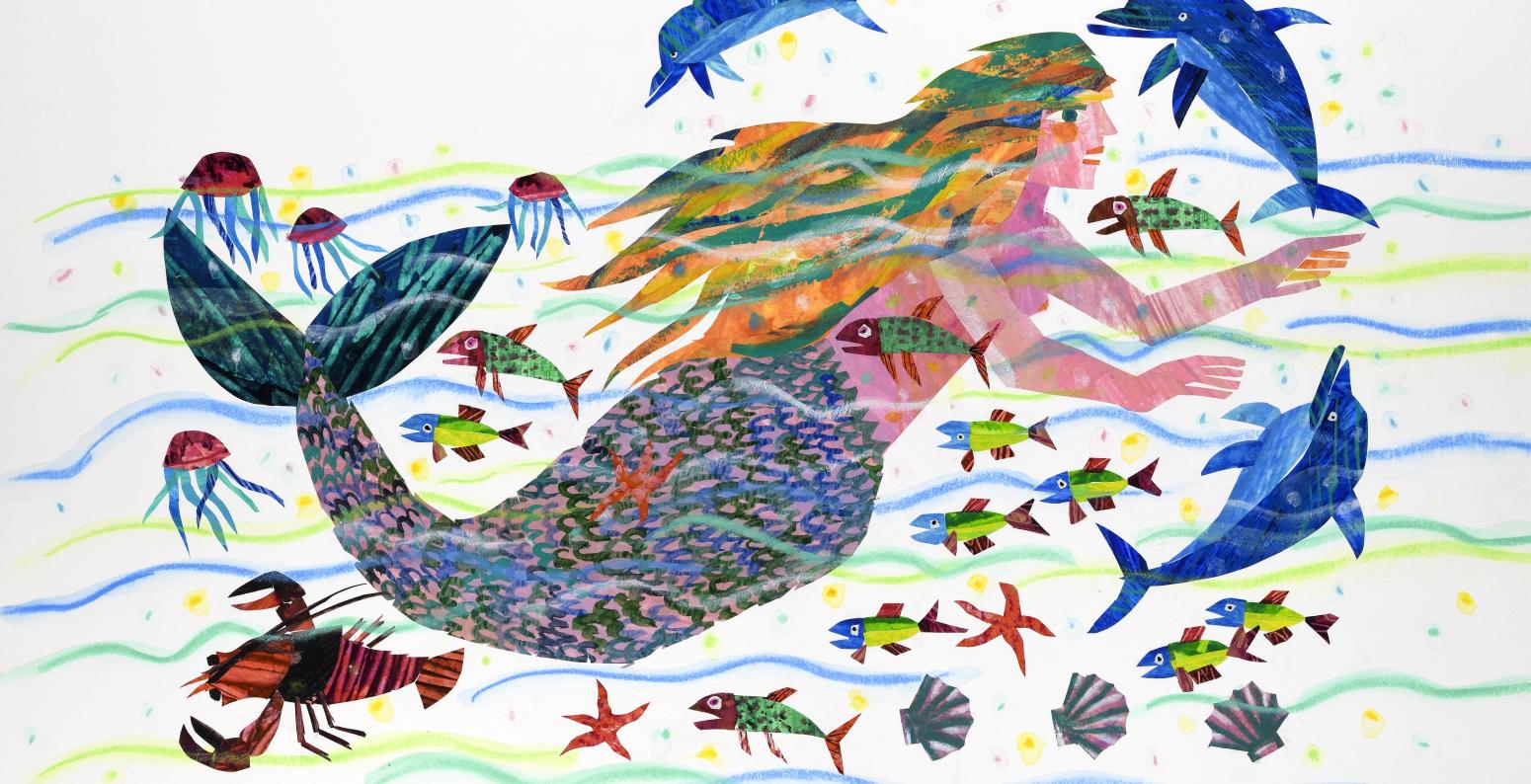 Article Type
News & Press
News & Press Categories
Press
Under The Sea with Eric Carle
August 28, 2019
Dive in for an underwater adventure with a new exhibition at The Carle.
Under the Sea with Eric Carle showcases the artist's vibrant images of penguins, jellyfish, dolphins, seals, turtles, and whales from 11 picture books. The dynamic array of sea life is complemented by Carle's colorful collages of mythological sea creatures-mermaids, leviathans, and the legendary kraken. Under the Sea with Eric Carle opens September 7, 2019 and is on view until March 1, 2020.
Carle combines research and imaginative storytelling to explore the aquatic world in his picture books. The real-life behaviors of hermit crabs and seahorses serve as jumping off points for his anthropomorphic tales A House for Hermit Crab (1987) and Mr. Seahorse (2004). Other books demonstrate Carle's interest in conservation. Panda Bear, Panda Bear, What do You See? (2003), written by Bill Martin, Jr., introduces children to endangered species. Carle's two artworks from the book depict a green turtle and a sea lion. Also on view is one of 12 large counting posters Carle created in the early 1970s of threatened wildlife-the manatee, in this instance. The posters were originally sold at school books fairs.
The exhibition features several examples of Carle's early picture-book art. Hand-painted tissue paper collages from the 1973 book Do Bears Have a Mother Too? show an Emperor penguin with its chick and a seal with its pup. "The large scale of these images is really wonderful," says Ellen Keiter, chief curator. While the majority of art is executed in Carle's signature collage technique, the exhibition also includes his carved linoleum printing blocks from The Boastful Fisherman (1970) and two pen-and-ink drawings from Otter Nonsense (1982).
Museum visitors to Under the Sea with Eric Carle can engage in creative play in a custom-designed "reading boat" and a "submerged" puppet theater stage. Two "shell phones" play recorded ocean jokes and underwater sounds of dolphins, whales, and other sea creatures. As always, the gallery offers numerous Eric Carle books for guests to enjoy.
This exhibition is made possible through the generous support of the Hsin-Yi Foundation.
Exhibition artworks from the following books
The Boastful Fisherman, William Knowlton, 1970
The Tiny Seed, Eric Carle, 1970 and 1987
Do Bears Have a Mother Too?, Aileen Fisher, 1973
Otter Nonsense, Norton Juster, 1982
All Around Us, Eric Carle, 1986
A House for Hermit Crab, Eric Carle, 1987
Dragons, Dragons, & Other Creatures That Never Were, Eric Carle, 1988
Animals, Animals, Eric Carle, 1989
Mister Seahorse, Eric Carle, 2002
Panda Bear, Panda Bear, What Do You See? Bill Martin Jr., 2003
10 Little Rubber Ducks, Eric Carle, 2005
About The Eric Carle Museum of Picture Book Art
The mission of The Eric Carle Museum of Picture Book Art, a non-profit organization in Amherst, MA, is to inspire a love of art and reading through picture books. A leading advocate in its field, The Carle collects, preserves, presents, and celebrates picture books and picture-book illustrations from around the world. In addition to underscoring the cultural, historical, and artistic significance of picture books and their art form, The Carle offers educational programs that provide a foundation for arts integration and literacy.
Eric Carle and his wife, the late Barbara Carle, co-founded the Museum in November 2002. Carle is the renowned author and illustrator of more than 70 books, including the 1969 classic The Very Hungry Caterpillar. Since opening, the 43,000-square foot facility has served more than 750,000 visitors, including 50,000 schoolchildren. The Carle houses more than 11,000 objects, including 7,300 permanent collection illustrations. The Carle has three art galleries, an art studio, a theater, picture book and scholarly libraries, and educational programs for families, scholars, educators, and schoolchildren. Bobbie's Meadow is an outdoor space that combines art and nature. Educational offerings include professional training for educators around the country and Master's degree programs in children's literature with Simmons College. Museum hours are Tuesday through Friday 10 am to 4 pm, Saturday 10 am to 5 pm, and Sunday 12 pm to 5 pm. Open Mondays in July and August and during MA school vacation weeks. Admission is $9 for adults, $6 for children under 18, and $22.50 for a family of four. For further information and directions, call (413) 559-6300 or visit the Museum's website at www.carlemuseum.org.
 
IMAGES ARE AVAILABLE FOR REPRODUCTION For additional press information and/or images, please contact Sandy Soderberg, sandys@carlemuseum.org