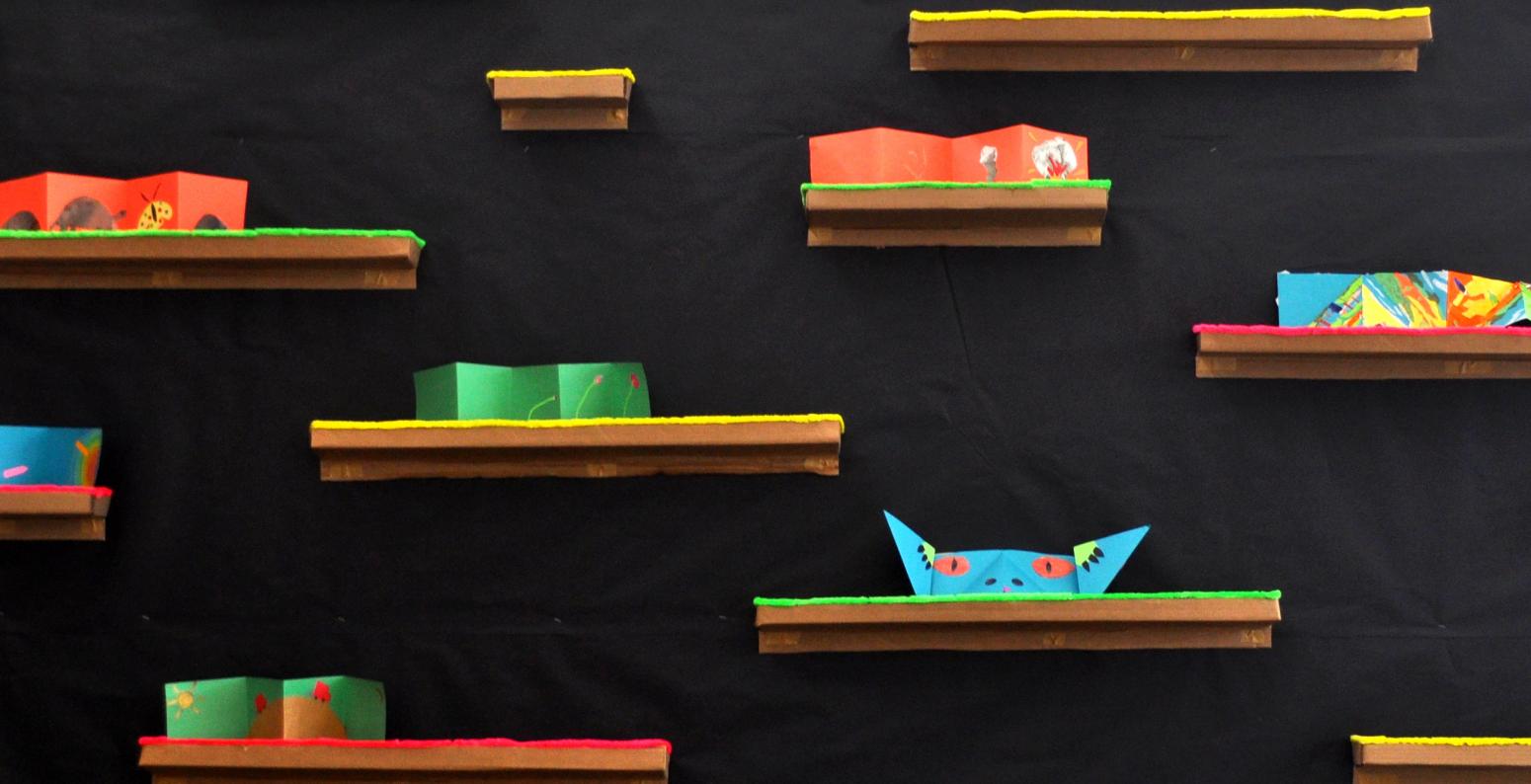 Article Type
Making Art Together
Making Art Together Categories
Bookmaking
Book Displays in the Art Studio
March 10, 2021
In the Art Studio, we always have an installation that guests can contribute their art to. We have wonderful windows and display walls to use, and each project is a unique challenge to design an installation. When thinking about a collaborative display, we consider how to make it visually appealing, inviting, and intuitive for guests to add to. One of the most challenging installations to design are book displays because we want the books to be picked up and read by guests, but also supported when they are a part of the installation. Below are some of the ways we have displayed books on our display wall.

For this installation, we engineered some cardboard to create floating shelves, lined with colorful, fuzzy pipe cleaners. We discovered that the sturdy cardboard was very difficult to staple to the wall, so we secured it with interlocking L pins and tape. This prevented the pins from being pulled off the wall by enthusiastic little ones. The cardboard provided a sturdy structure, and we gave it enough depth to allow an accordion fold to stand on its own, but not too much that it was a head-bump hazard.

For this display, we stapled long lines of yarn from the bottom two corners of the display wall, which gave it the effect of two intersecting spotlights. We stapled at the intersections of the yarns, giving the yarn stability to hold books. Guests then added their books to the display by either tying it to the yarn or placing their books so the yarn sat in the middle of the book, supporting its spine. We used the yarn technique a year later in a different bookmaking project, this time with the yarns going horizontally. Both orientations worked well, and the yarn hanging technique will be one we return to in the future.

During this pop-up bookmaking project, we decided to simply staple the books to the display wall. While it meant that some of the pop-ups couldn't be opened and closed, guests chose how they wanted it stapled up. That meant that some books had secret lift-flaps and closed covers that could be opened to reveal surprises while others had theirs fully opened to show colorful collages without interacting with the book. 

In our most recent book installation, we stapled the ends of strips of colorful paper to the display wall. By stapling the strips flat against the wall, books were easily slid behind them and held in place for others to view. It was very effective at holding the books, and easily stapled back in place if a little one was interested in tearing the brightly colored papers. 
We hope these examples inspire you to think about how you display homemade books in your learning setting! For ideas on bookmaking, check out the bookmaking category on our blog.