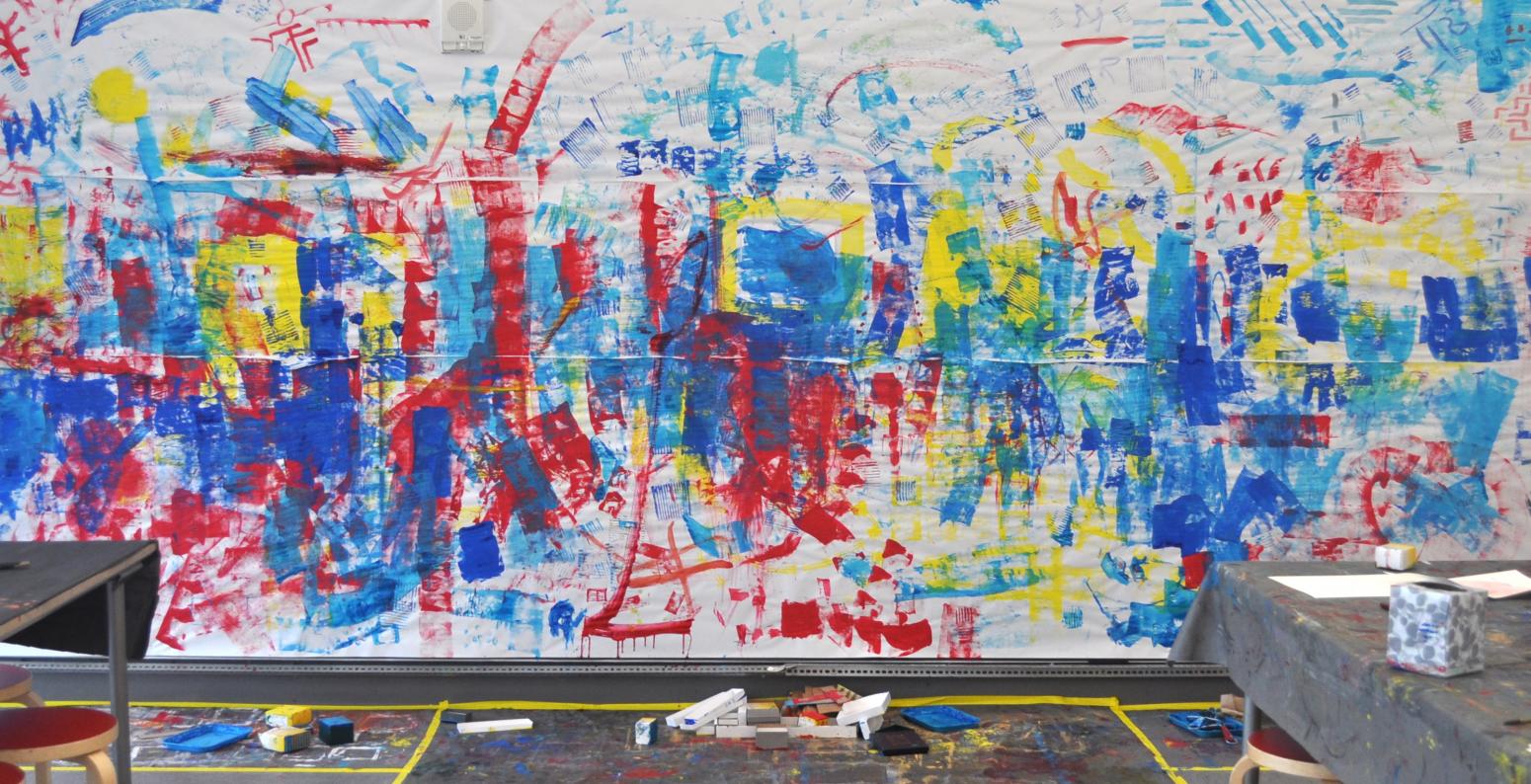 Article Type
Making Art Together
Making Art Together Categories
Painting
Printmaking
Helen's Special Sunday: Box Art
May 9, 2018
Recently an Art Studio Work Study Student, Helen Austin, designed and led a Special Sunday activity for our Museum guests inspired by the theme "Box Art." The following is Helen's report on her process and the day.
My goal was to create a project that would be interesting for people of all ages that used a limited set of materials but did not seem restrictive. I ultimately decided to use the title of "Box Art" as a way to explore mark making, color mixing, and cardboard boxes as devices to produce art. My Special Sunday activity consisted of three stations that explored mark making using primarily paint and boxes. 
1st Station: Marks Made by Movement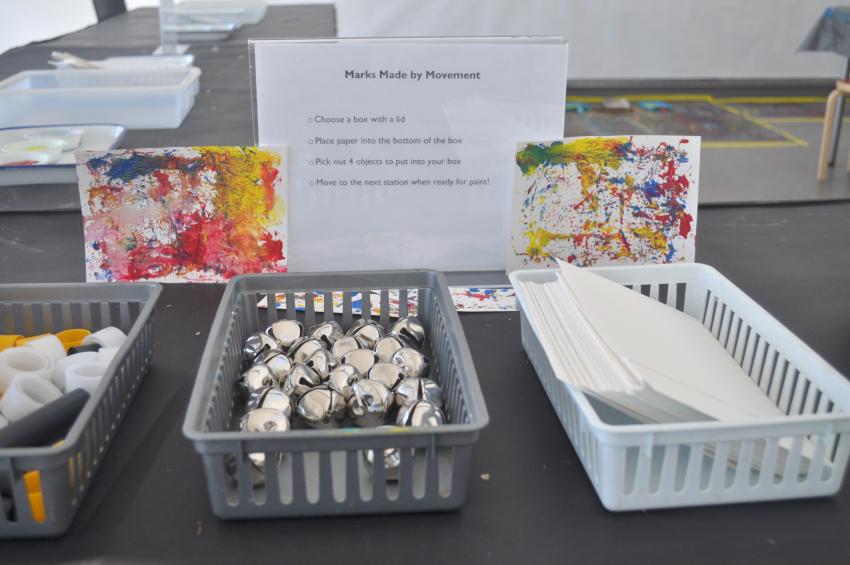 Guests were invited to choose a box with a lid, put a piece of paper on the bottom of the box, and then choose some objects to shake around.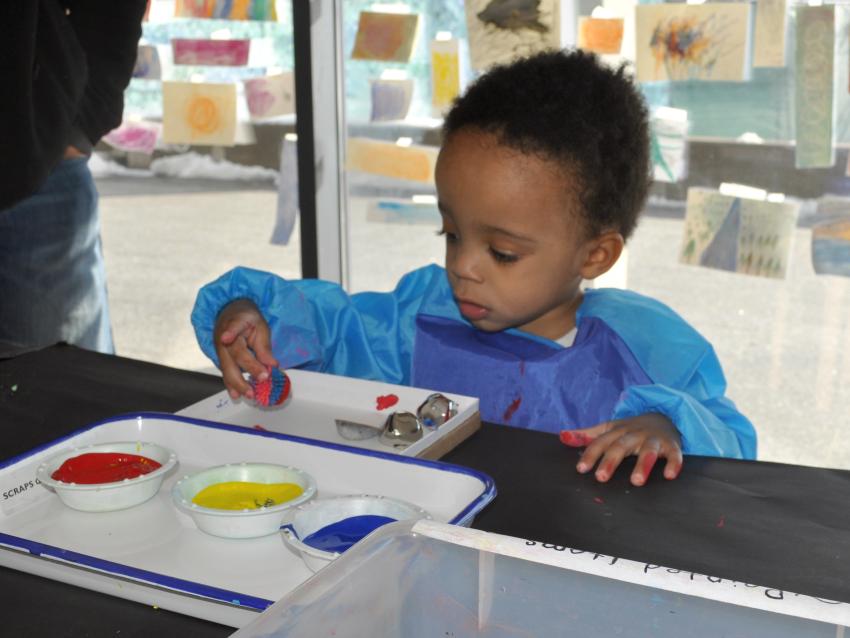 Once they had collected their items they could move onto the paint stations where three small cups held the primary colors. Guests could choose to experiment with as many or as few colors as they wished. They dipped their objects into paint then placed them back in their box on the paper. Then they could place the cover on and shake, slide, roll or move the objects around in any way they liked.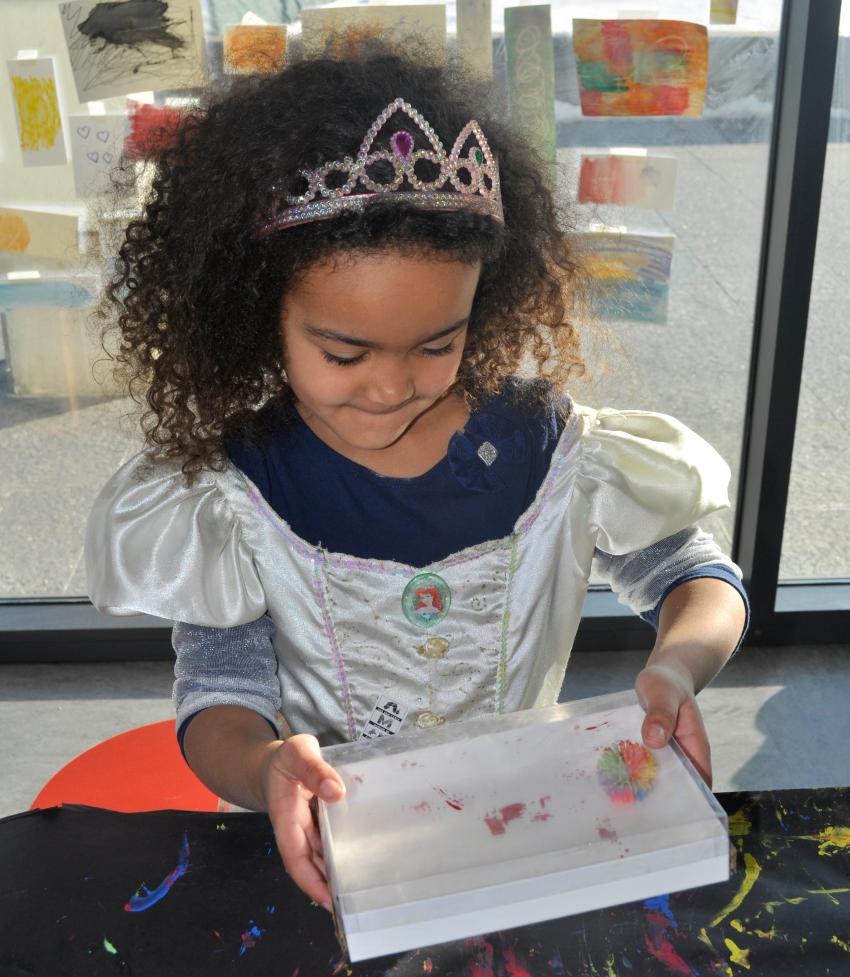 I was surprised at how gentle some children were with their boxes and there were definitely a few that were not afraid to shake the box around vigorously. I noticed some children using this station to explore stamping. Once the items were covered in paint guests would utilize the excess paint and stamp their items on extra pieces of white paper to make marks.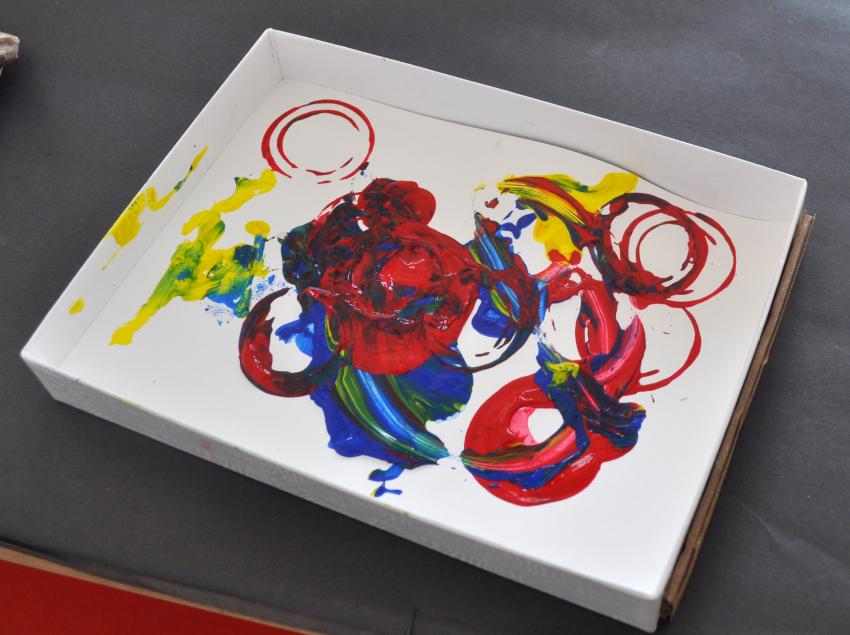 2nd Station: Painting Without Sight
Guests used cardboard boxes as devices to hide their work as they made it. People placed a piece of paper under a box that had rectangle cut out of the side so their hand could explore the page with a paintbrush and hold the paper in place. 
I liked the idea of painting through touch and guests not being concerned with the outcome. It was exciting to see the guests' reactions as they removed the box to reveal their work. I was pleasantly surprised to see adults participating in this station. After the material was explored I saw some people using their marks as inspiration for a painting. The boxes were even incorporated into the stations, with guests becoming inspired to use the boxes as painting surfaces.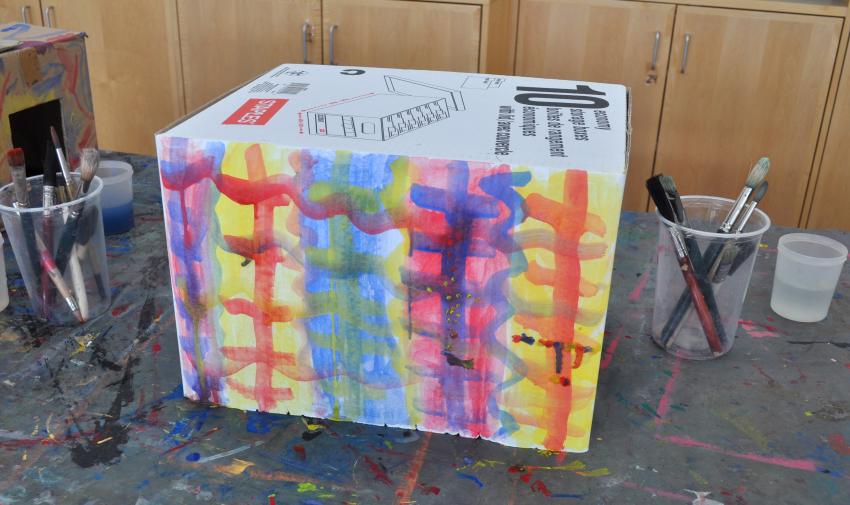 3rd Station: Collaborative Box Mural
This station allowed guests to add their marks to a growing composition that would be completed throughout the day.
This mural also had guests experimenting with primary colors. These colors were introduced one at a time because I liked the idea of layering but still seeing the separate colors. I placed trays of paint with brayers on drop cloths under the white backdrop paper. My idea was guests would use the brayers to spread paint onto the trays then they would use the boxes as stamps and pieces of cardboard as paint spreaders. 
During the three rotations of color, the brayers became a tool that allowed guests to explore movement and the back wall allowed them to work large scale and exercise gross motor skills.
All of these projects emphasized process over product which is seen in the Reggio-Emilia approach to childhood learning. In the end, the Collaborative Box Mural expressed the movement and excitement of the day.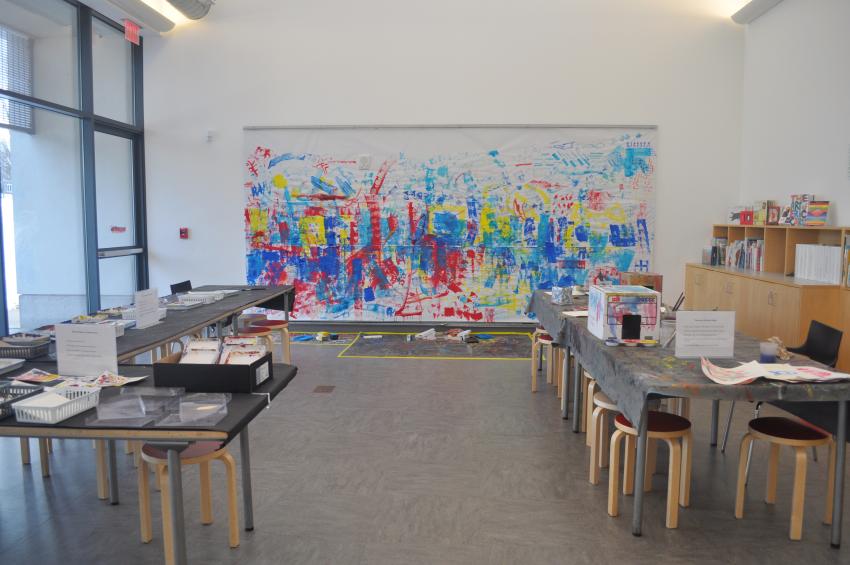 This Special Sunday activity was a success thanks to Emma Tavolieri, Anton Kaplan and the guidance of the Art Educators, Meg Nicoll and Sara Ottomano.