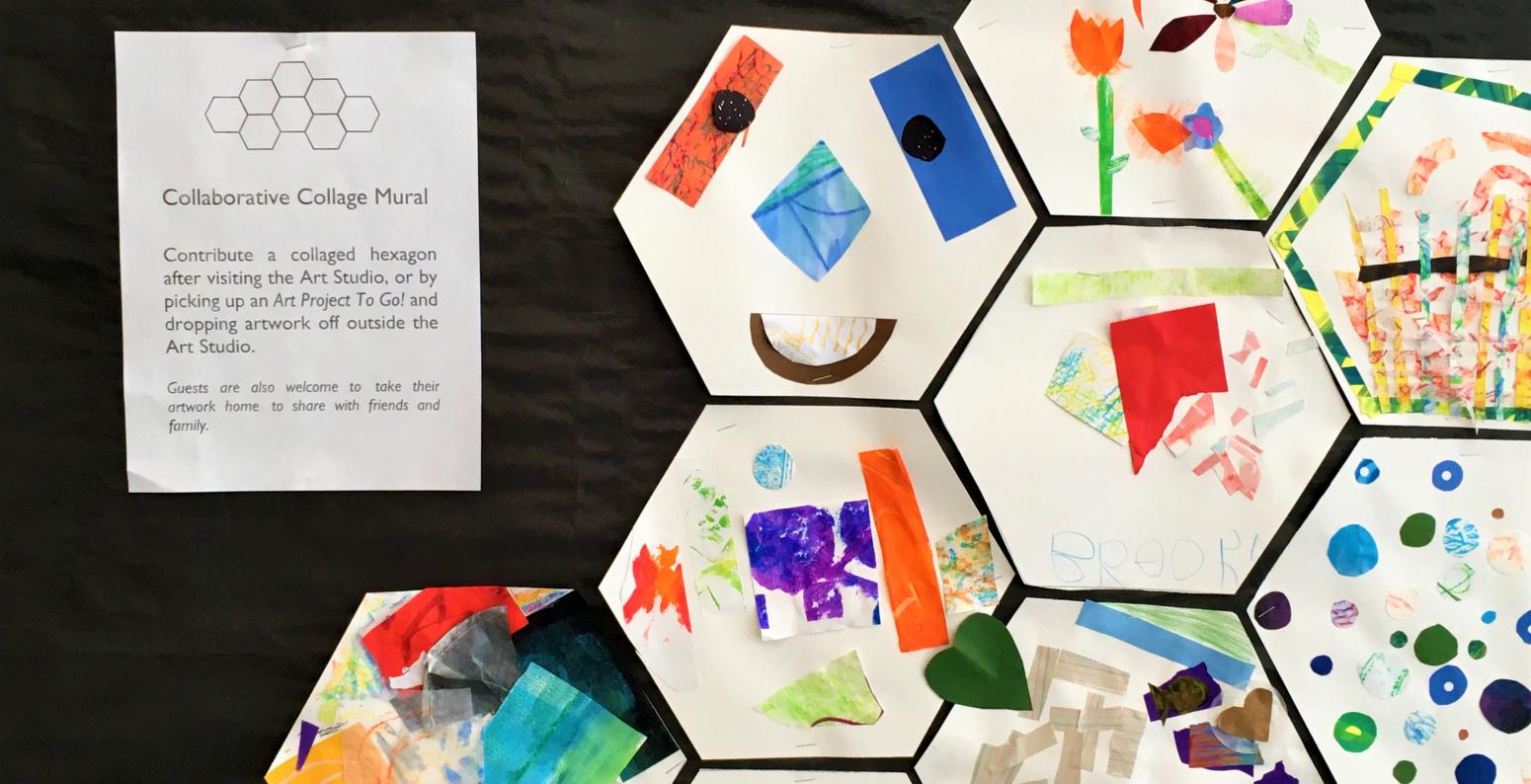 Article Type
Making Art Together
Making Art Together Categories
Collage
Theory and Resources
Reopening and a Collaborative Collage Mural
September 2, 2020
On August 1, The Eric Carle Museum of Picture Book Art re-opened to visitors after a four-month temporary closure due to COVID-19. The process of re-opening the Art Studio challenged us to look at our project design, space, and materials closely. We considered what aspects of the experience needed to change to accommodate new safety and distancing measures, and what important parts of the experience we needed to keep. While much has changed, we are determined to offer a space that invites guests to explore materials and ideas, express themselves, and make connections with people. We continue to strive to make the space welcoming, inclusive, and accessible to all guests. In this blog post will reflect on, and share a bit about our problem-solving process and document our first month after re-opening.
Project Design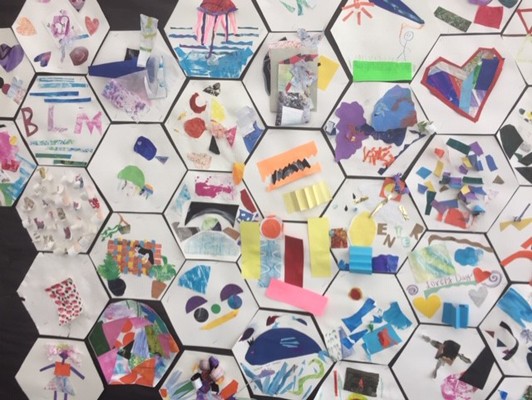 When we design our projects, we balance three goals: we think about making connections to current exhibitions and illustrators' practices, we aim to provide opportunities for all ages to explore materials in open-ended ways, and we try to create space for collaboration, conversation and connection-making between people. Usually, we seat people together at tables, folks of all ages share materials, and guest artwork fills the Art Studio. We knew right away that shared tables and materials wouldn't be possible in the current context, but we hoped to create a project that would emphasize the connections between people and provide opportunities for conversations, even if they couldn't share the space together.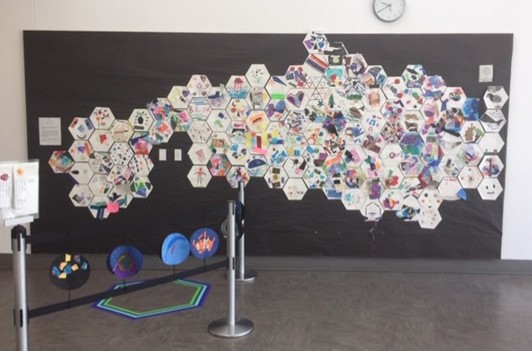 We decided to focus this project on an installation that would grow throughout the Art Studio as guests contributed to it. Growing installations like this one are a way we encourage collaboration over time. We were inspired by a past project where we used the hexagon shape to create a unified installation filled with individual artworks created by guests. The honeycomb pattern created by the hexagons was beautiful and much loved by visitors, so we decided to use the shape again.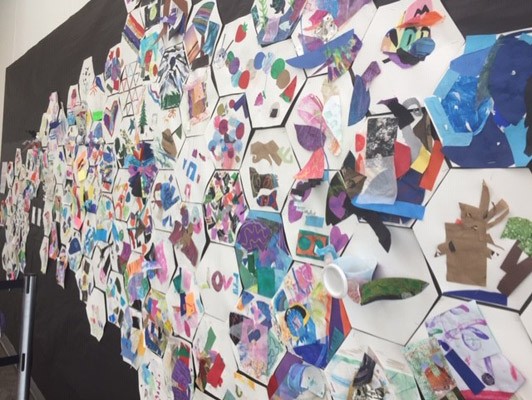 We chose to focus on collage because it is medium used by many picture book illustrators. While we aren't currently sharing books by placing them around the room, we are able to share inspiration from illustrators online. Oge Mora, Christian Robinson, and Ashley Bryan all share aspects of their practice through images and videos. Ashley Bryan's work can also be viewed in The Carle's online exhibition, Art in Place, featuring artwork created by illustrators during the pandemic. We have found this an important reminder that while we are currently apart, there are exciting and important ways that we can connect and share ideas together. 
Space 
On summer days, the Art Studio was usually filled with people making art together at tables all across the room. Groups would come and go throughout the day, some staying a few minutes, others for over an hour. The flexibility for guests to stay as long as they liked, and the constant of the Art Studio being available to all whenever the Museum is open, are things that we value about our studio environment. However, earlier this summer we acknowledged that a drop-in art-making space would present challenges for both safe material management and our new, much smaller, capacity limits. We decided to create booked times for groups, allowing us to regulate the flow of people into the space and give us predictable times for thorough cleaning and prepping of materials. At first we tried 20-minute time slots, hoping to accommodate as many booked times in the Art Studio as possible, but this felt too short. We have since increased it to 25-minute timed sessions and this seems to be working. That said, we can't wait to return to our drop-in Art Studio where guests can gather and stay as long as they like!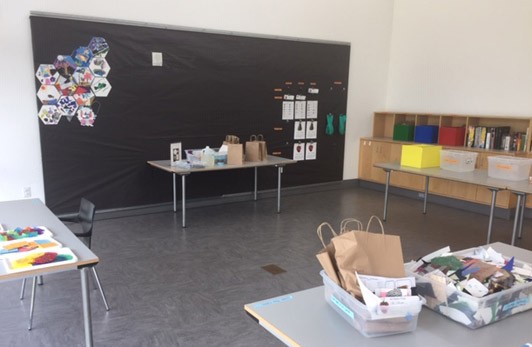 To help us manage materials safely, we divided the Art Studio into an art-making space for guests and a staff space where we prepare materials. One table is for sorting clean materials, another is for packing art bags, and another table is for used materials that need to be cleaned or placed in storage for a period of time.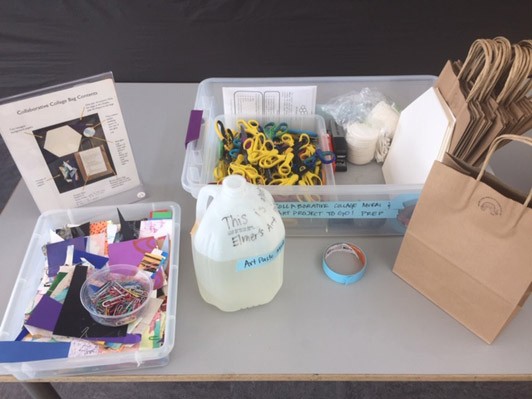 Material organization, always an important part of any art practice, has taken on even more importance now. In addition to having lots of table space to sort and prepare materials, we make sure to clearly label everything. Masking tape and permanent markers give us a flexible and durable labeling system!  
Materials 
We spent time researching best practices for handling materials during this pandemic, and decided that we needed to focus on single-use materials whenever possible and/or use materials that can be easily cleaned between use. Rather than baskets of shared materials in the middle of the table, we created individual project bags to give to guests.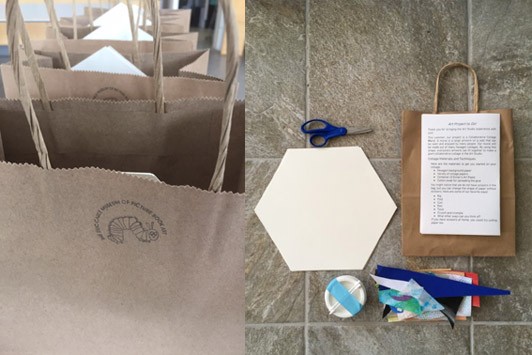 We call these bags Art Projects to Go! after an Art Studio visit guests can take these bags home to finish their collage, or if guests can't make it to the Art Studio they can pick up a bag at the front desk. Each Art Project to Go! bag includes the following materials:  
 
A pack of 15-20 collage papers (selected to include a range of colors, textures, shapes, and sizes) 
2 x hexagon background papers (90lb student grade watercolor paper)  

Elmers art paste in a disposable condiment container with lid

2 x cotton swabs for spreading the glue 

A flyer with a project description and ideas for changing the shape of papers without scissors.  
We supply scissors in the Art Project to Go! bags for guests who visit the Art Studio. We collect the scissors after each use to disinfect and rinse at the end of the day, leaving them to dry overnight before using again.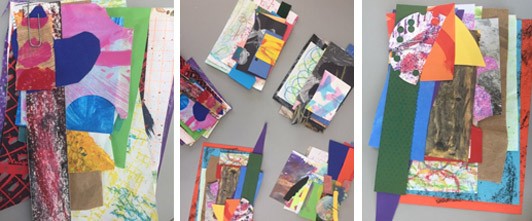 The sustainable use of materials has always been a concern for us, and the reliance on single-use materials has challenged us to research and use materials that have a lower environmental impact. Our collage papers are recycled from past projects in the Art Studio, and we have such a large collection that we can give away packs of papers of this size for months. We sourced kraft paper bags, found glue cups and cotton swabs that are compostable, printed the flyers on copy paper made from recycled paper, and provided information on the flyer in each bag about how to reuse and responsibly dispose of the art supplies. With all of our efforts, we do acknowledge that our environmental impact has increased with a focus on single-use materials.  
We are planning for our next project, starting September 10th, and will continue to learn from our work, problem-solve and develop our practice, and strive to welcome and connect with people both in our physical studio space and online. Comment below with any questions or ideas you have around material management or project design, or email us at artstudio@carlemuseum.org. We would love to connect and share ideas with others who are thinking through their art spaces, materials, and safety.