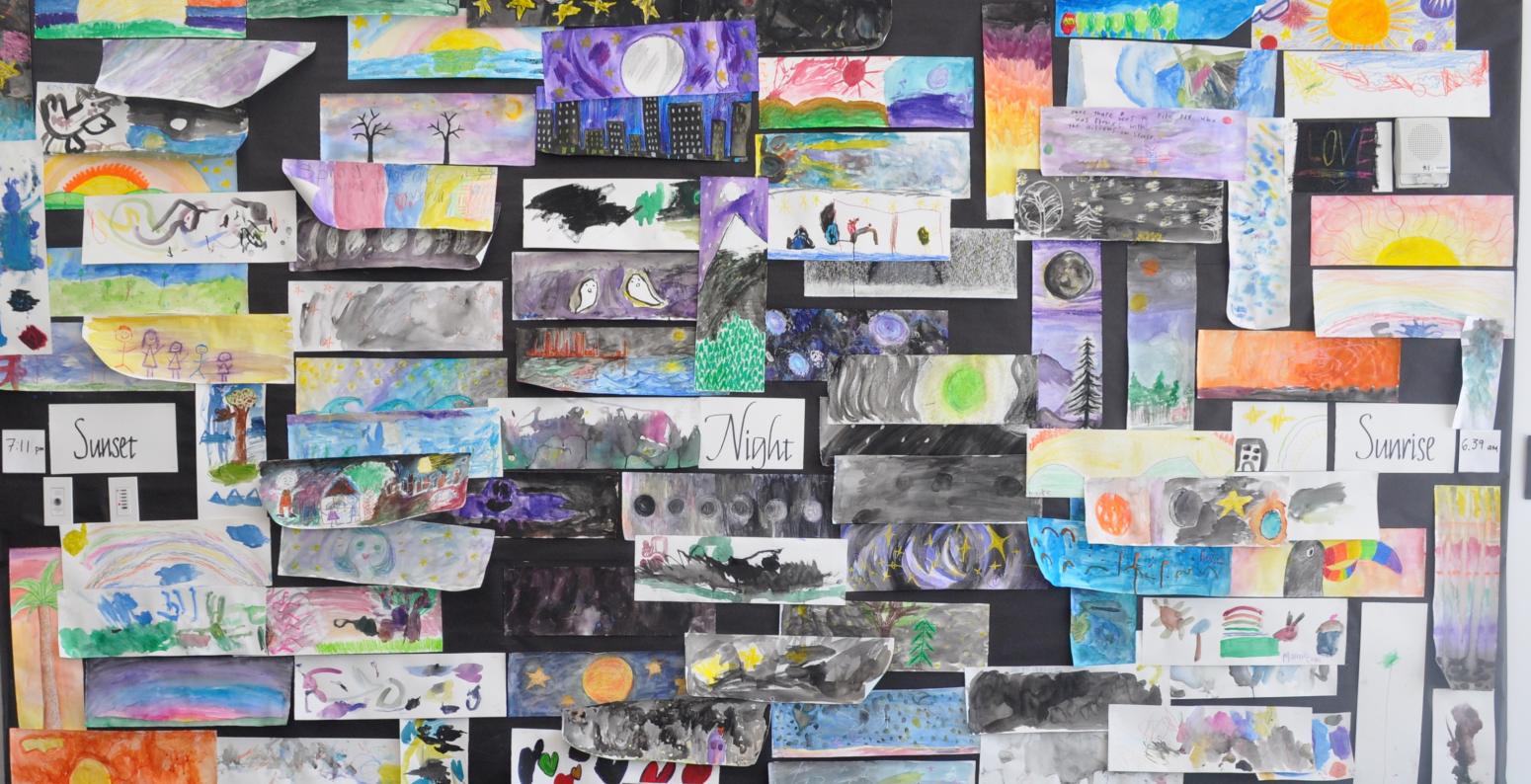 Article Type
Making Art Together
Making Art Together Categories
Drawing
Nature
Painting
Sunset to Sunrise: Watercolors of the Night Sky
May 16, 2018
It is springtime in the Art Studio and recently we found ourselves thinking about the changing sunrise and sunset times around the vernal, or the northern hemisphere spring, equinox. Inspired by The Art of Eric Carle: Night exhibition, we wanted to explore images of night as well as all those transition times of day: sunset, sunrise, dusk, dawn, and twilight. We selected materials that we thought would give guests a chance to create atmospheric scenes as well as explore new ways to layer materials. Guests worked with watercolors, tempera cakes, beeswax crayons, and oil pastels, and together we were excited to discover the many ways that these materials can be combined.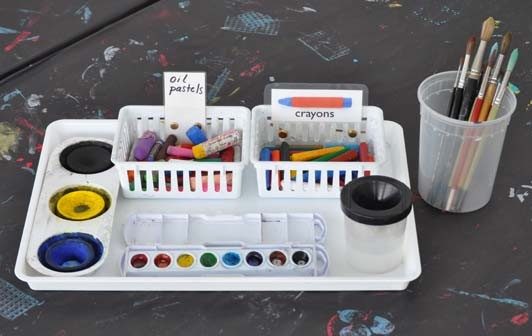 To ensure guests could layer these materials in a variety of ways, it was very important that we provided a good quality, strong paper that could both absorb a generous application of water based paint as well as support energetic drawing.  We chose a 90lb student grade watercolor paper chopped into long sheets to give plenty of space for all the scenes, stories, shapes and colors to develop.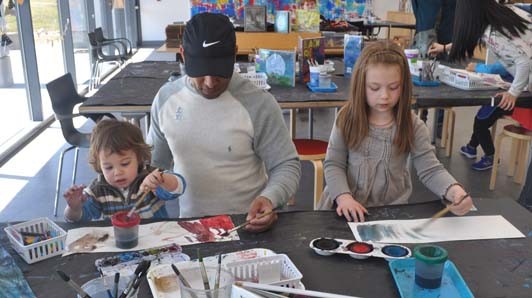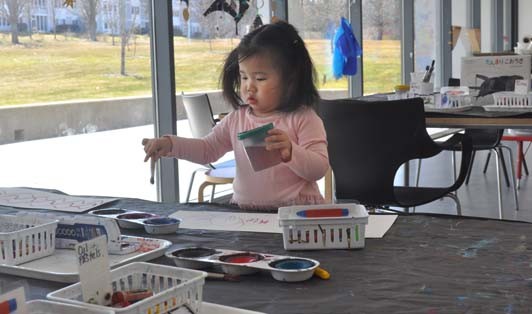 Guests applied paint to the paper with different sized brushes and using an endless variety of movements: paints were sweeping, hopping and looping across the page.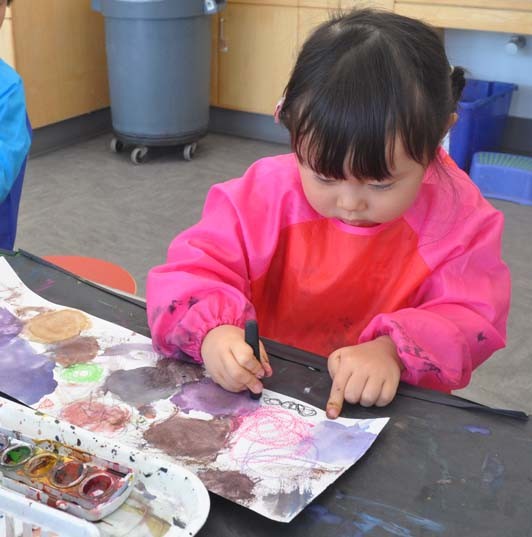 Guests also experimented with watercolor resist techniques, drawing with crayon or pastel and then applying paint on top, noticing how the lines and shapes stayed visible as the areas around them changed color with the paint.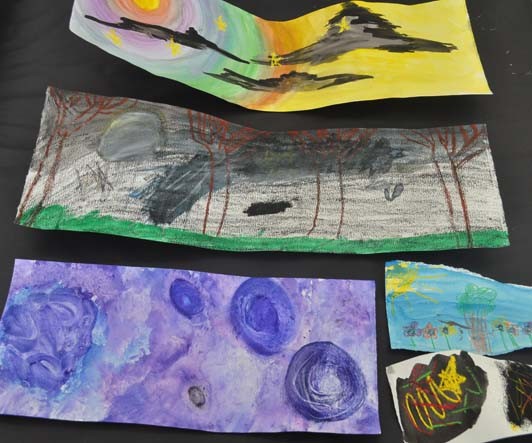 We discovered that oil pastels layer well, and if two layers are added, then the top layer can be scratched away to reveal the colors underneath. This proved to be a very interesting technique, and we will definitely return to this idea in a future project.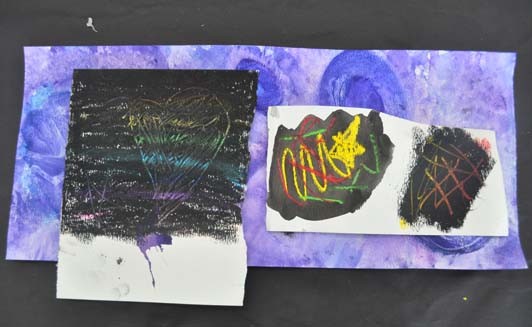 Our display wall started with the labels: sunset, night, sunrise and we invited guests to add their paintings and drawings wherever they liked. As the wall filled, we started to see the colors of dawn and dusk grouped at either end of the wall with the deeper, darker colors of nighttime concentrated in the middle of the wall.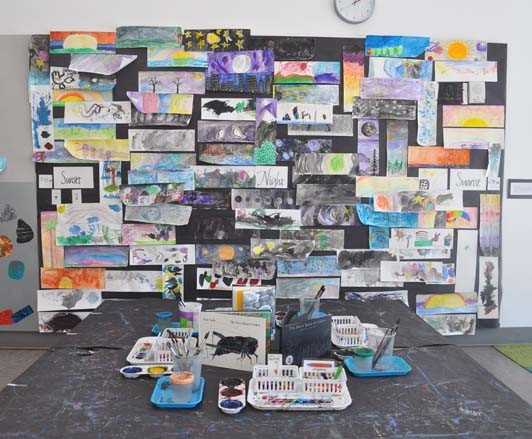 Under the 'sunset' and 'sunrise' labels we kept track of the changing sunset and sunrise times for each day and noticed the dramatic shifts in daylight as spring progressed. It seemed fitting that as we became more attuned to the cyclical changes of light over time, we said goodbye to The Art of Eric Carle: Night, and hello to our next exhibition The Art of Eric Carle: Seasons. We look forward to exploring more about light, seasons and the world around us in future Art Studio projects.