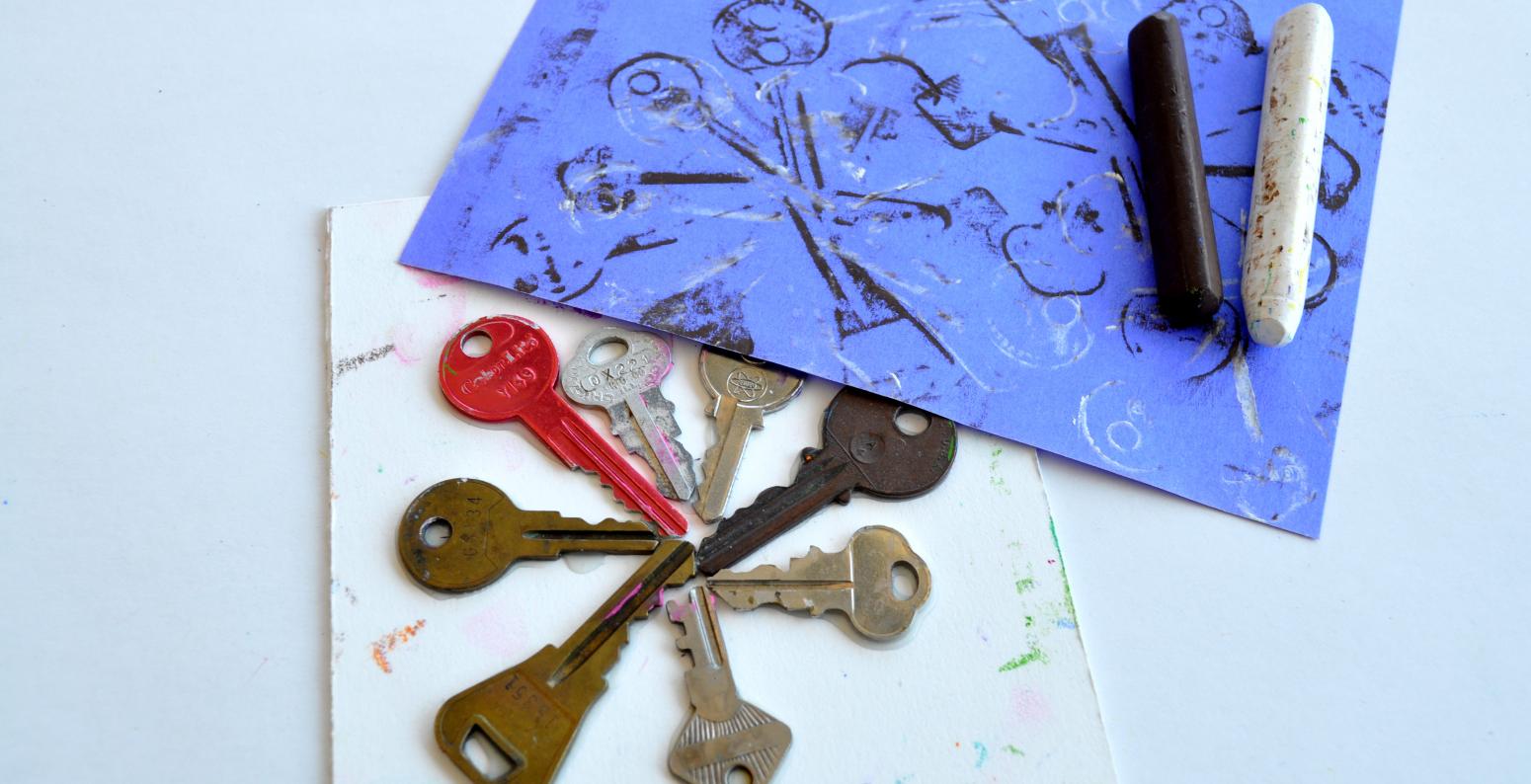 Article Type
Making Art Together
Making Art Together Categories
At Home Art Studio
Drawing
Textural Story Creations
December 7, 2020
We are excited to share a series of blog posts created in collaboration with the Curriculum in Early Childhood Education students at Holyoke Community College! The HCC students completed a Service Learning Project with Carle Art Educators this fall, continuing a partnership developed over the past two years. Students worked in groups to develop At Home Art Studio projects inspired by illustrations in The Carle's online exhibition Now & Then: Contemporary Illustrators and Their Childhood Art. Students planned the projects, experimented with materials, and documented their process for the blog. The following is Alexandra Wallace, Ashley Alderman, and Jessica Cardona's description of the project. 
 
We invite the At Home Art Studio community to join us as we tell stories using textures found around our homes! We had fun finding inspiration in our homes, and discovered countless ways to use textures while telling a story.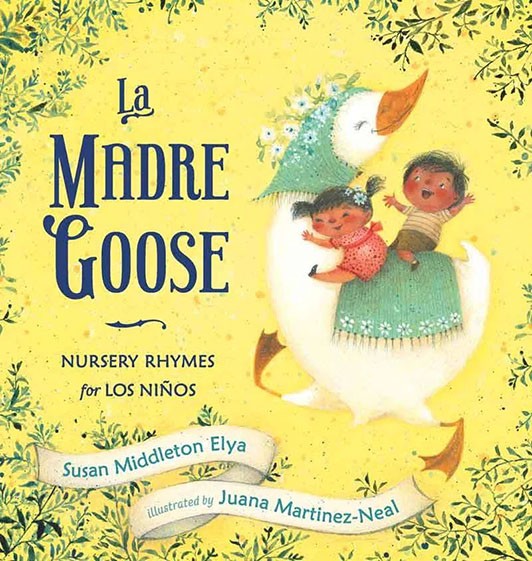 This idea was inspired by the techniques Juana Martinez-Neal used to create the illustrations for the book La Madre Goose: Nursery Rhymes for los Niños, written by Susan Middleton Elya. We learned that Juana Martinez-Neal draws on top of a textured surface when creating her illustrations. We wanted to create an art experience where textures and illustrations came together to spark storytelling in our young learners. Check out how our group was inspired to find textures and turn them into stories!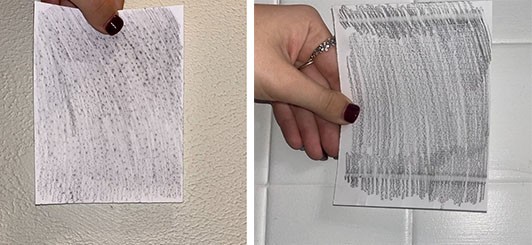 In the two images above, Ashley used a textured rubbing technique with pencil, which can be viewed in greater depth on a previous blog post made by the The Carle's art studio team. The first image was a wall in the stairwell of Ashley's home, and the second image is from a tile in her bathroom. Simple textured backgrounds like these set up the perfect foundation for story creations. You can experiment with any type of drawing tool to make your rubbings, we used pencils and crayons for ours.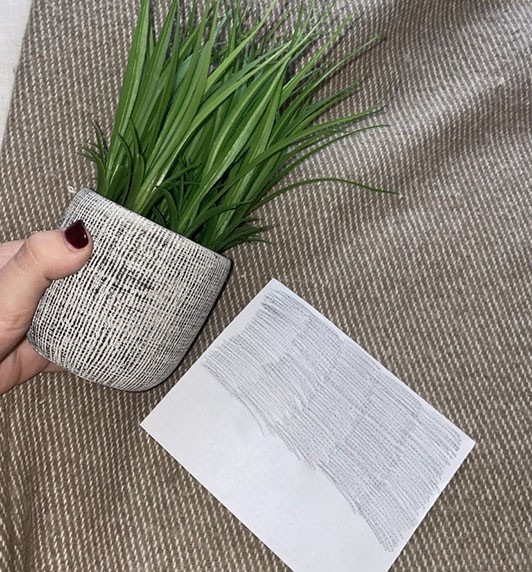 Ashley found an artificial plant planter that was in her room. Your textured backgrounds can be anything you can find in your home that is textured. You can even use your outdoor space to find textures! Keep in mind that these textured backgrounds are the foundation for your story illustrations, and you can use them in any way. Whether that be multiple textured backgrounds, or one texture per page, it is completely up to you and your creativity!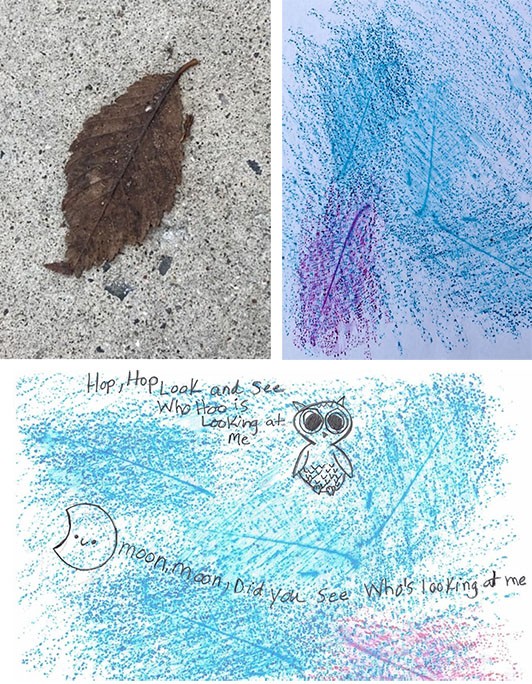 Jessica went outside and created this image using pavement and leaves as her textured background. She also had a special helper, her daughter, to help create this illustration. How can you incorporate two textured backgrounds into one image?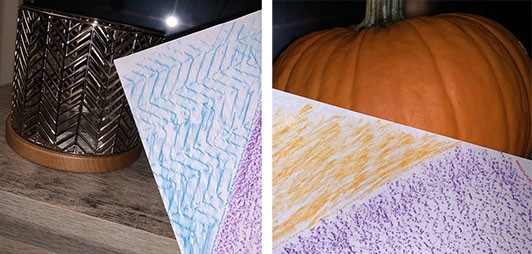 Alexandra used candle holders from her home to create these textured backgrounds! It provided the perfect backdrop for story illustrations, and will make your story completely individualized. She also used the surface of a pumpkin as a textured background. How can you use different colors to create textured backgrounds?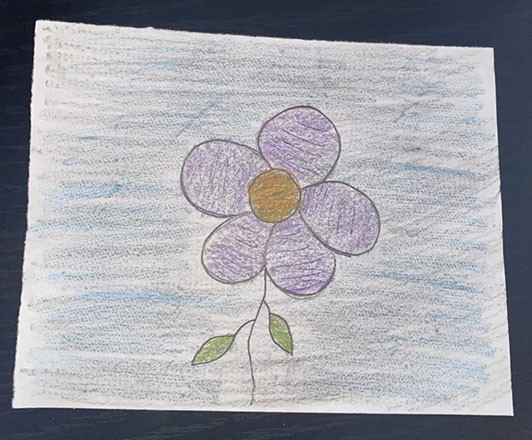 Ashley made this illustration of a flower using a canvas painting to create the textured background. She used a variety of coloring tools, including pencils, colored pencils, and colored pens! The possibilities for this activity are endless. 

We were very inspired by this idea and can't wait to see what you come up with!  

Main Guideline:

GPKLE. Visual Arts. Methods, Materials, and Techniques. Investigate how various media, surfaces, tools, and techniques can be used to produce different visual effects. Page 147 

Supporting Guideline:
 
GPKLE. Approaches to Play and Learning. APL4. The child will demonstrate creativity in thinking and use of materials. Page 35.

The Carle wants to thank the students of EDU 210, Curriculum in Early Childhood Education, for sharing their knowledge and creative responses to picture books. We hope you enjoy exploring books and materials!