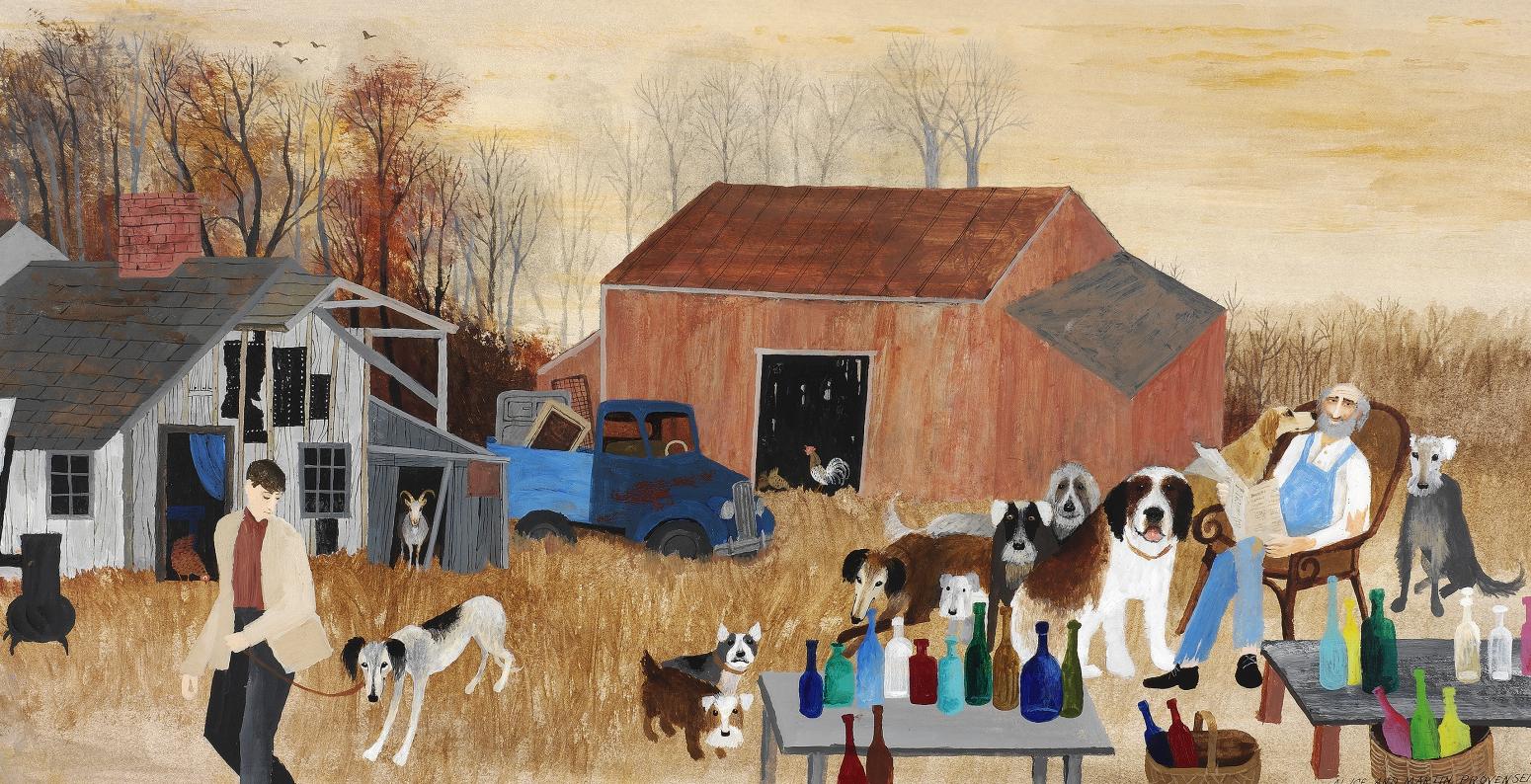 Stories about animals ignite our imaginations. They educate and entertain. They can also expose human foibles, teach proper behavior, and help children navigate a complex world. Frog and Toad, Sylvester, Little Rabbit, and the Very Hungry Caterpillar are just some of the animal characters who call The Carle home. 
 
Nancy Ekholm Burkert
This watercolor by Nancy Ekholm Burkert (b. 1933) is from Acts of Light (1980), a collection of Emily Dickinson poems. It showcases Burkert's ability to capture realistic elements, like the Newfoundland dog, while simultaneously creating a fantastic world. The magical whirlwind of animals, birds, and flying leaves is reminiscent of a scene from her first illustrated book for children, Roald Dahl's James and the Giant Peach (1961). In 2003, The Carle presented the exhibition Nancy Ekholm Burkert: The Art of Illustration.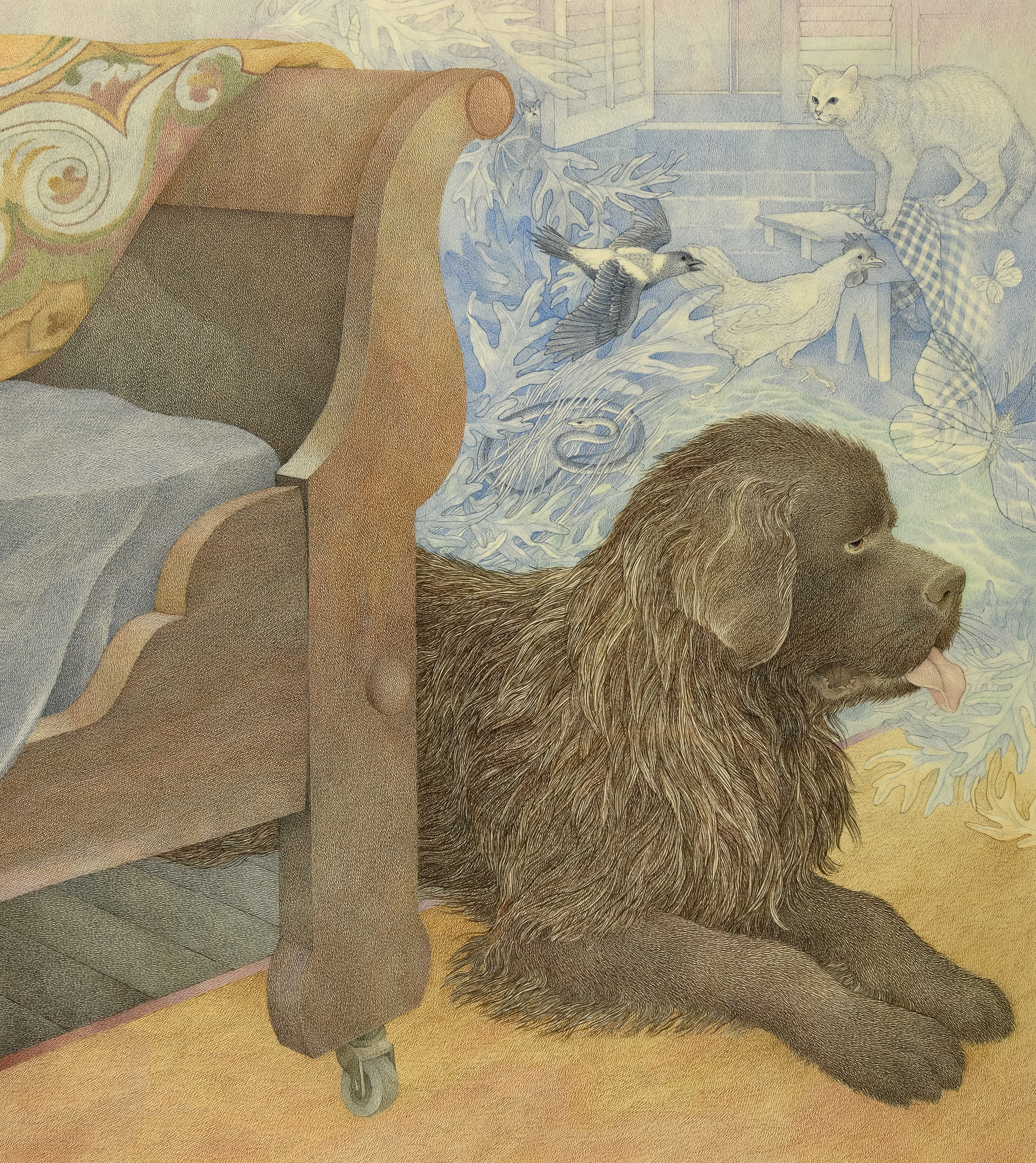 Walter Harrison Cady
Walter Harrison Cady (1877–1970) is best remembered for his Peter Rabbit comic strip, which he wrote and illustrated for 28 years. His 50-year collaboration with author Thornton W. Burgess gave life to the popular animal characters Chippy Chipmunk, Jimmy Skunk, Reddy Fox, and many others. Cady enjoyed painting "group portraits" in which he brought the various creatures together.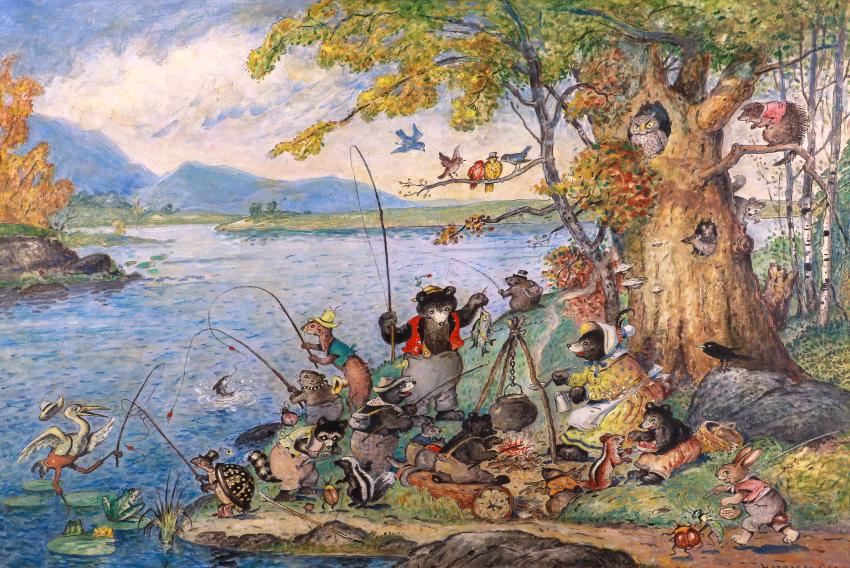 Gyo Fujikawa
This joyful illustration of ice-skating animals showcases Gyo Fujikawa's (1908–1988) lively line and spirited animation. Fujikawa worked for the Walt Disney Studios and as a commercial artist. In 1963, her original picture book Babies (1963) was among the first to include children of many races and nationalities.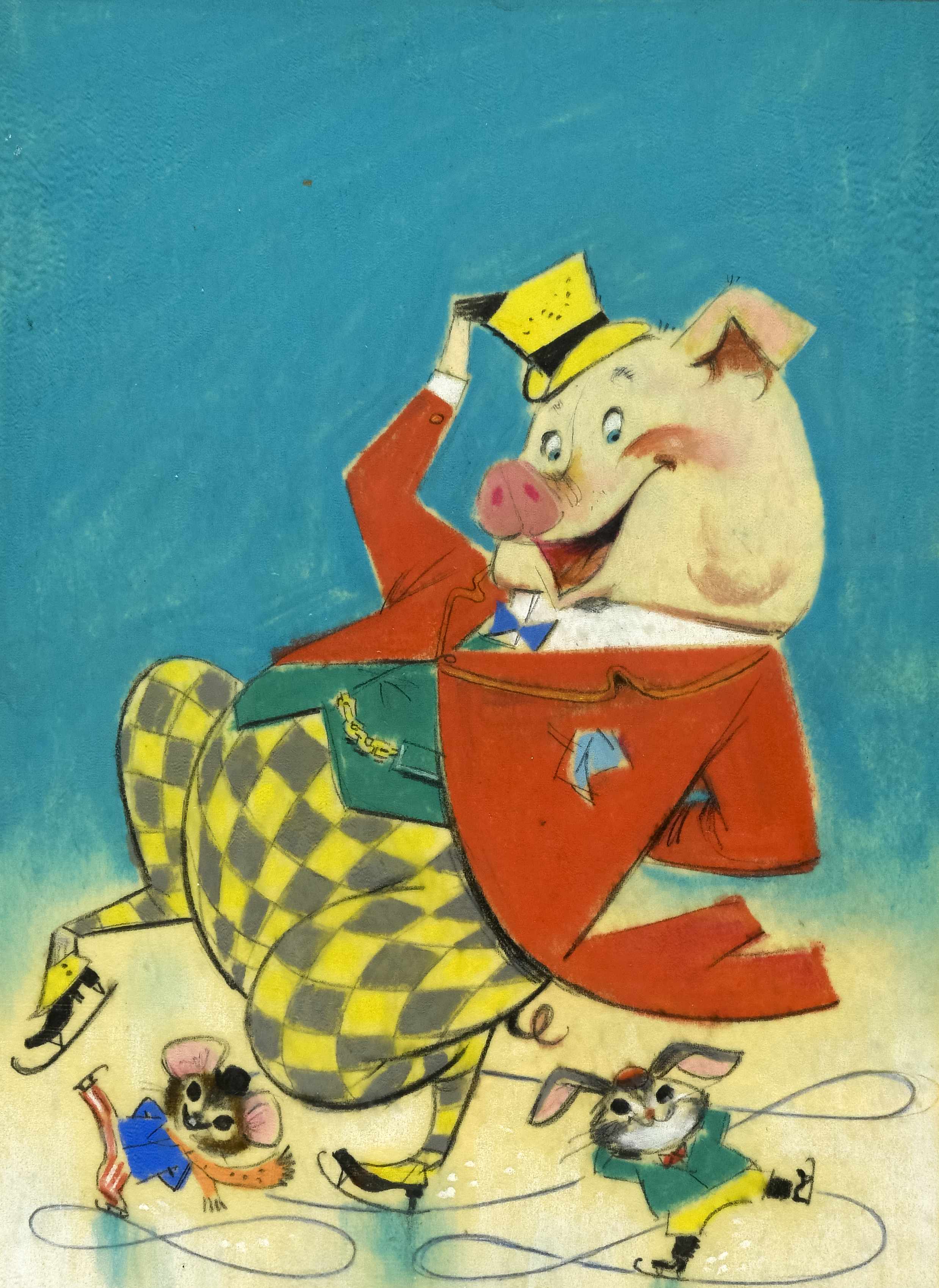 Wanda Gág
"I'm busy getting dizzy!" says Nothing at All, the invisible dog in Wanda Gág's picture book. After his siblings are adopted by kind children, the dog twirls at sunrise for nine days, following instructions from a magical jackdaw. Gág shows the dog's gradual transformation as a new body part appears each day until he's finally whole and can reunite with his brothers.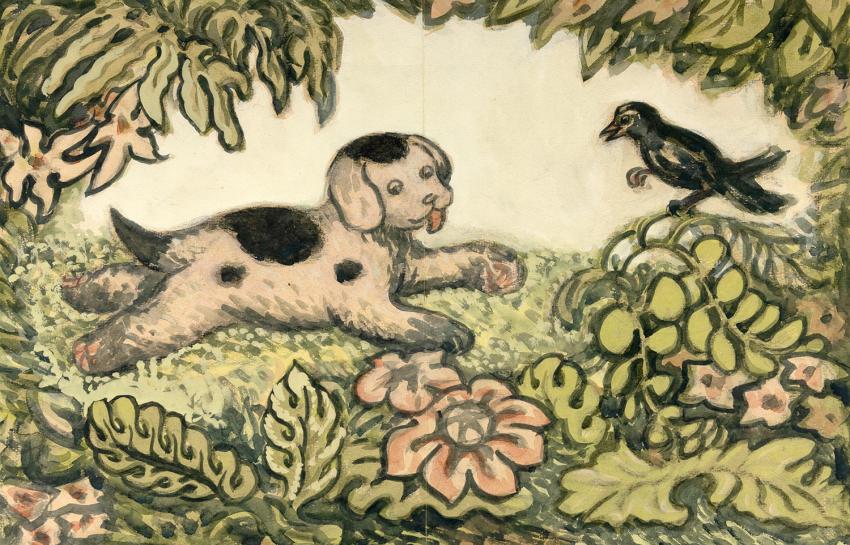 Arthur Geisert 
Arthur Geisert is celebrated for his print work and wordless books for children. This cross section of Noah's ark provides endless details to discover, with both animals and humans creatively adapting to life inside the enormous boat. Though Geisert often paints his prints, he kept his etchings untouched for the biblical tale.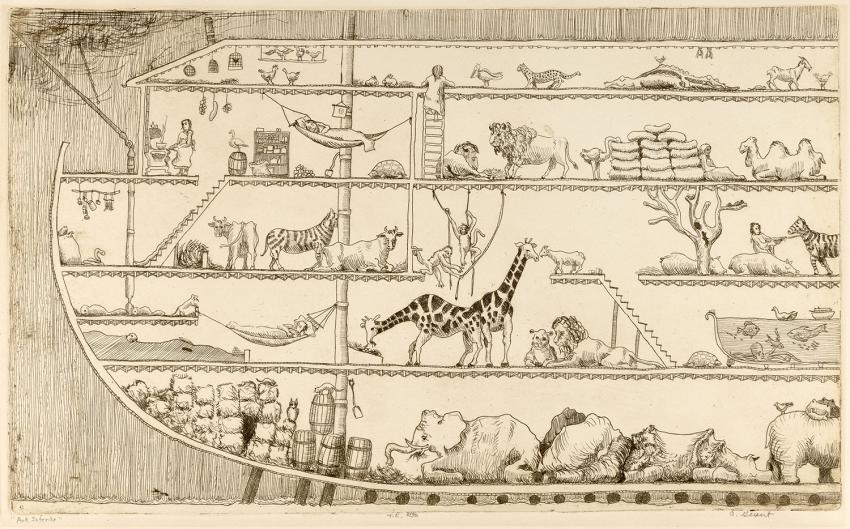 Norman Gorbaty
Norman Gorbaty (1932–2020) was a successful graphic designer in New York City for 50 years, working in advertising as well as in fine art and children's book illustration. For Noah's Ark (1989) he used stencils to create clean lines and colorful geometric animal shapes of the famous biblical story.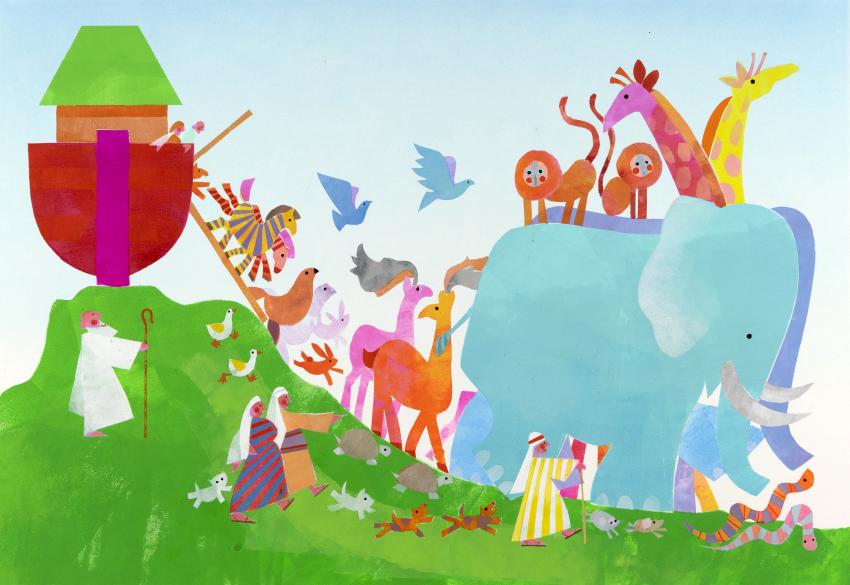 Dorothy Lathrop
Dorothy Lathrop (1891–1980) received the inaugural Caldecott Medal, awarded in 1938, for Animals of the Bible. An ardent environmentalist who drew animals from nature, she brought a sense of realism to her subjects. She kept a menagerie of animals in her home as live models, including this South American red squirrel rescued from a pet shop. Lathrop's masterful drawing is from her 1940 book Presents for Lupe.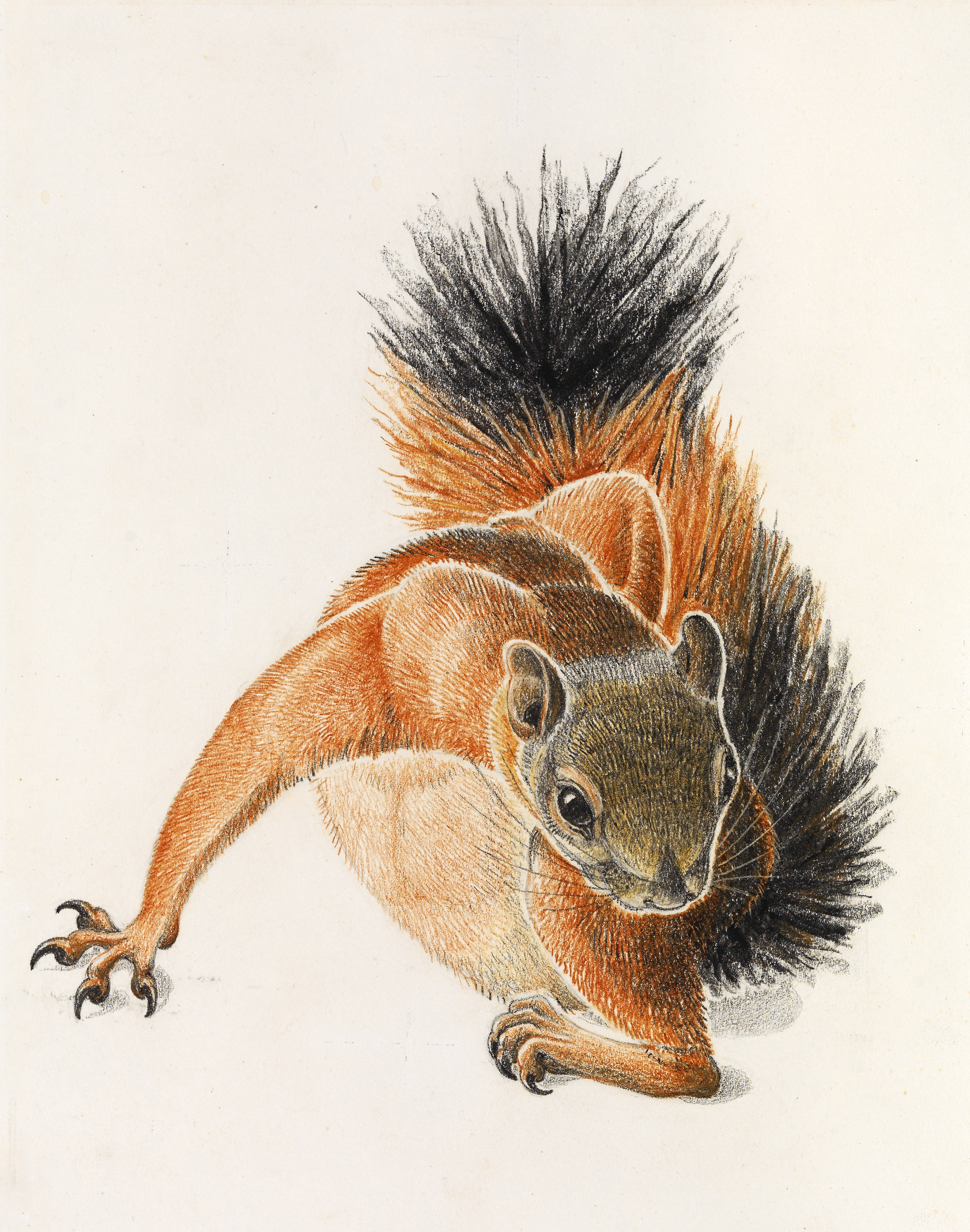 Harry McNaught
Did you know ducklings can swim at only a day old? Harry McNaught painted this charming illustration of a mother Mallard and her offspring for Animal Babies. Over a fruitful 50-year career, McNaught illustrated dozens of science, nature, and children's books. His first book, The Road to Oz, a Little Golden Book, was published in 1951 and is still sold today!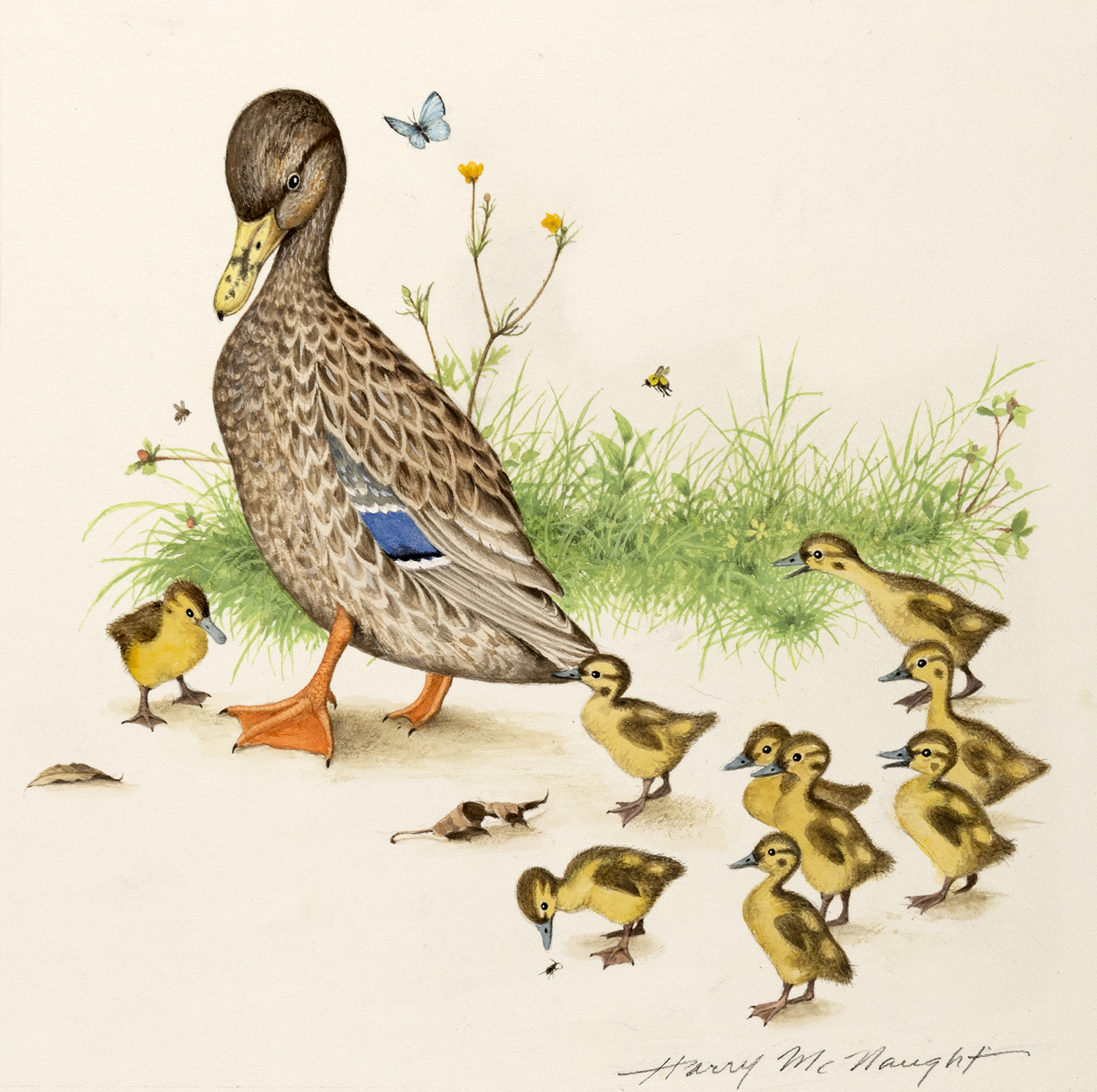 Harry Bingham Neilson
Harry Bingham Neilson (1861–1941) is one of 14 artists who contributed illustrations to Life's Book of Animals (1898). Neilson shows a tearful young mouse—tail curled between its legs—meeting his schoolteacher for the first time. It is a poignant childhood scenario as familiar today as it was 100 years ago.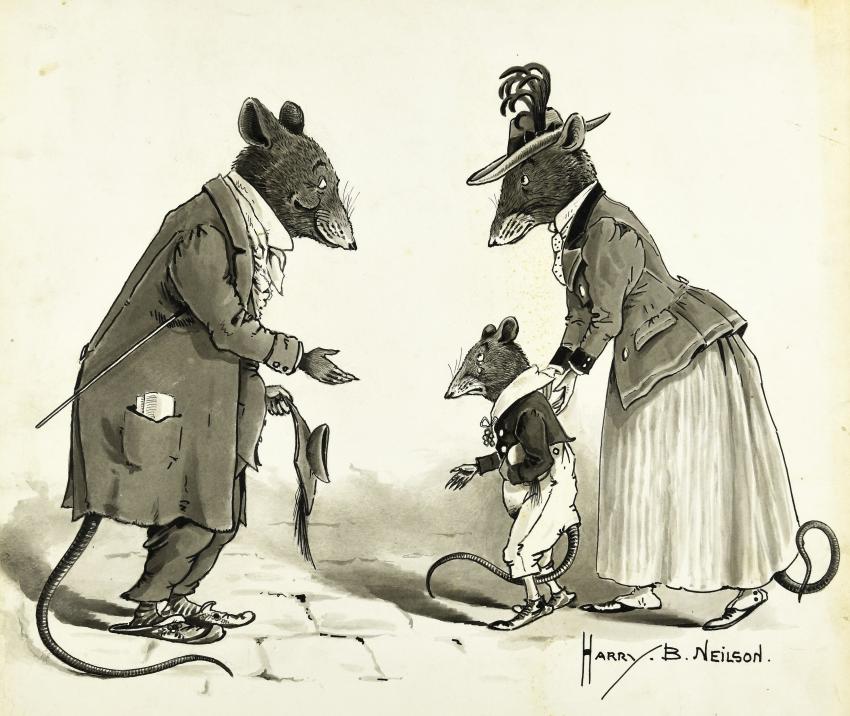 William Pène du Bois
William Pène du Bois's (1916–1993) prolific literature career includes a Newbury Medal for the classic story The 21 Balloons (1947) and two Caldecott Honor awards for Bear Party (1951) and Lion (1956). His Otto series from the 1930's and 1940's follows the adventures of a giant orange dog. In this cover illustration, Pène du Bois's rounded calligraphic title echoes Otto's exaggerated proportions. The work was featured in the 2015 exhibition A Taste for Adventure: The Art of William Pène du Bois.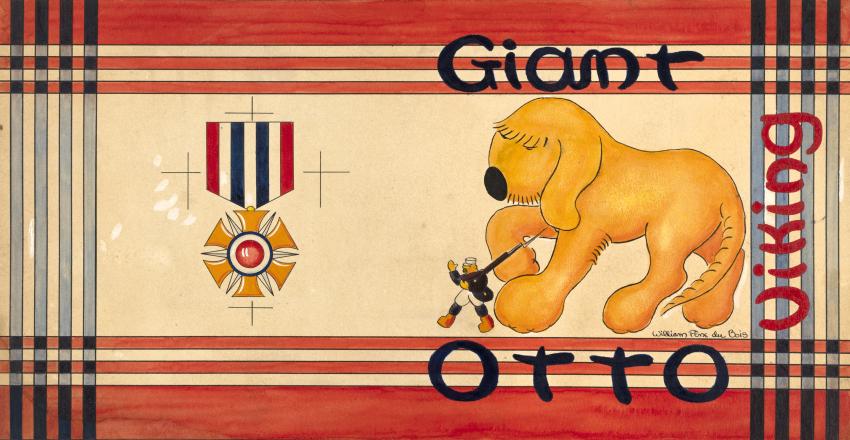 How big should a lion be? Should it have brightly colored stripes or sandy-colored fur? In Lion, William Pène du Bois tells the story of an artist who works at the Animal Factory and oversees the design of creatures that will populate the earth. This cover illustration shows the lion in mid development—not yet the fierce feline we admire today!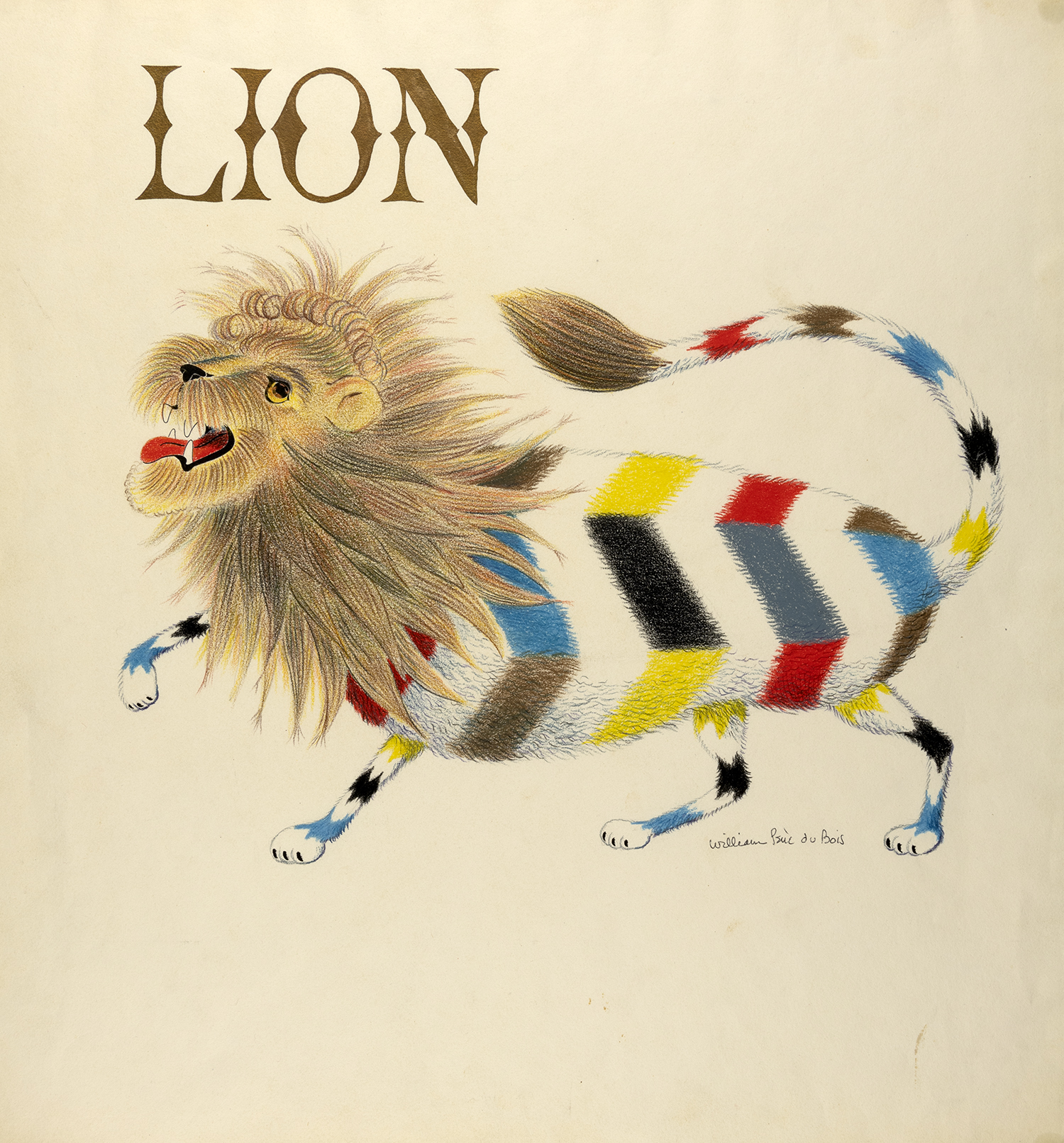 Alice and Martin Provensen
Alice Provenson (1918–2018) and Martin Provensen (1916–1987) created over 40 books during their long marriage, including The Glorious Flight (1983), which won the Caldecott Medal. This acrylic painting is from Shaker Lane (1990), a tale about misguided progress in which the unique and lively Shaker Lane is turned into a manicured, suburban street called Reservoir Road. The Carle presented the exhibition Picturing the World: The Art of Alice and Martin Provensen in 2006.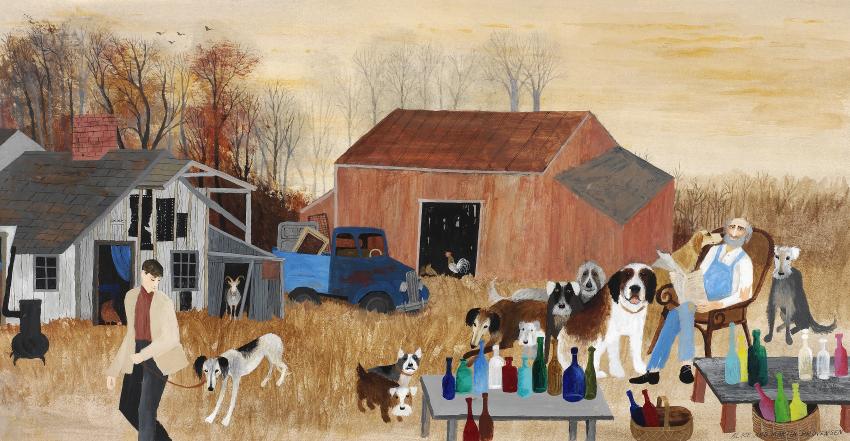 Rosemary Wells
First published in the 18th century, Mother Goose nursery rhymes are the songs, riddles, and nonsense verses that have become staples of childhood. Here, Rosemary Wells (b. 1943) illustrates Bobby Shaftoe, an English folk song and nursery rhyme, turning its eponymous character into a feline sailor (one of her favorite animals to illustrate). The off-kilter composition indicates Bobby and his boat are rolling on ocean waves. In 2006, the Museum named Wells its first Carle Honors Artist for her lifetime of innovative artwork.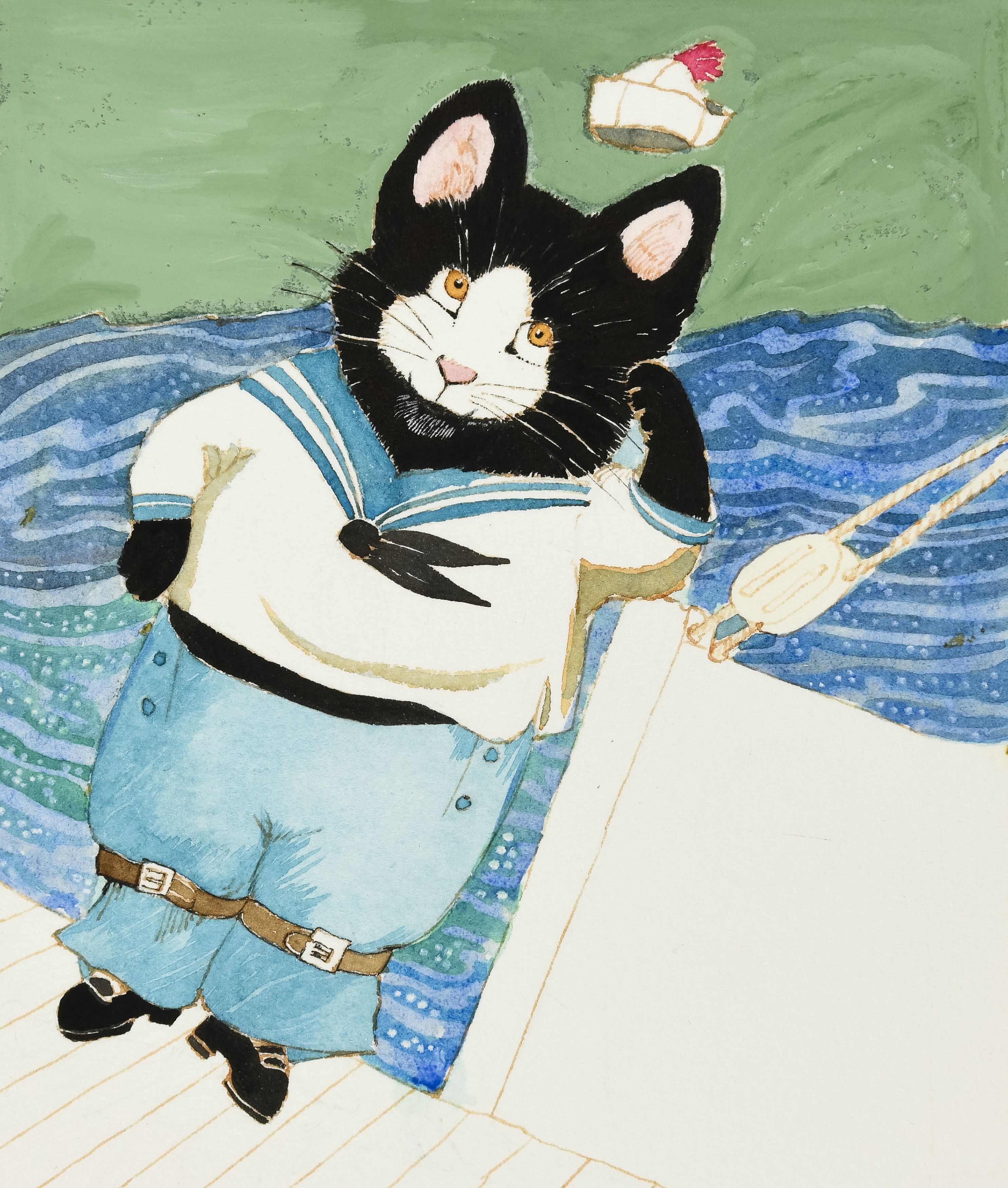 Kurt Wiese
Cats are everywhere in this illustration by Kurt Wiese (1887–1974) for Cats for Toosey's (1939). The vertical lines of the barn contrast with the lively creatures, amplifying their feline movements. In a prolific career, the German-born artist illustrated over 300 children's books and earned two Caldecott Honors, a Newbery Honor, and a Newbery Medal.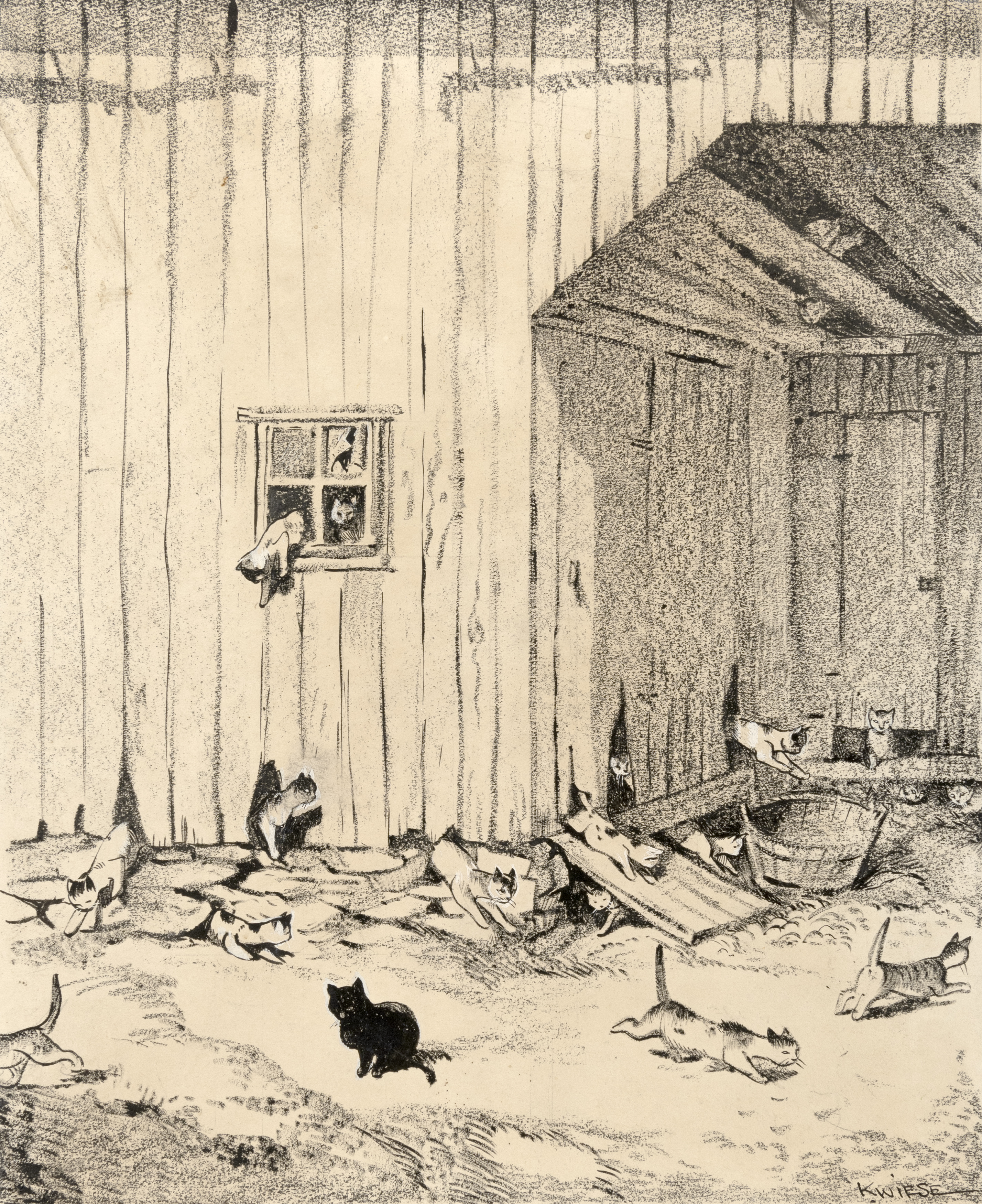 Mo Willems
Deceptive simplicity underlies Mo Willems's (b. 1968) illustrations in Naked Mole Rat Gets Dressed (2009). With a mere wag of a tail or an upturned nose, Willems expresses a world of emotion. The story's preposterous premise is laugh-aloud funny yet carries a valuable message about individual expression. The Museum presented Seriously Silly: A Decade of Art and Whimsy by Mo Willems in 2013.