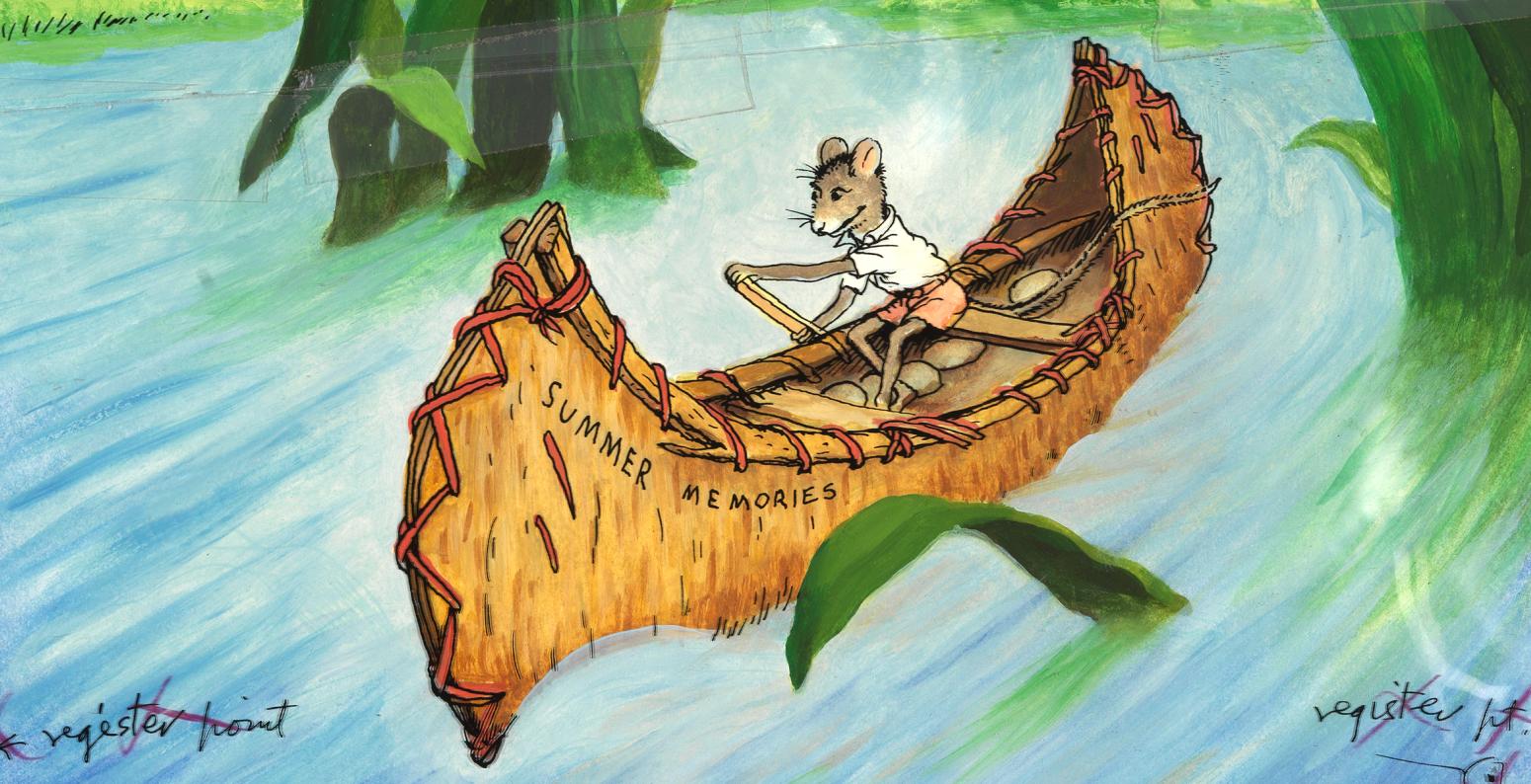 Beloved Picture Book Characters
Charismatic characters fill the pages of picture books. Whether human or animal, sweet or idiosyncratic, they are the heroes we love to root for.  
Ludwig Bemelmans
"Good heavens, where is MADELINE?" Miss Clavel exclaims when she finds Madeline missing. Ludwig Bemelmans's (1898–1962) lively, minimalist lines and skewed perspective capture Miss Clavel's surprise as all eyes gaze toward Madeline's empty bed. Twenty years after Bemelmans introduced Madeline (1939), we see his beloved protagonist still getting into trouble in this illustration from Madeline and the Gypsies (1959). In 2014, The Carle presented the exhibition Madeline at 75: The Art of Ludwig Bemelmans.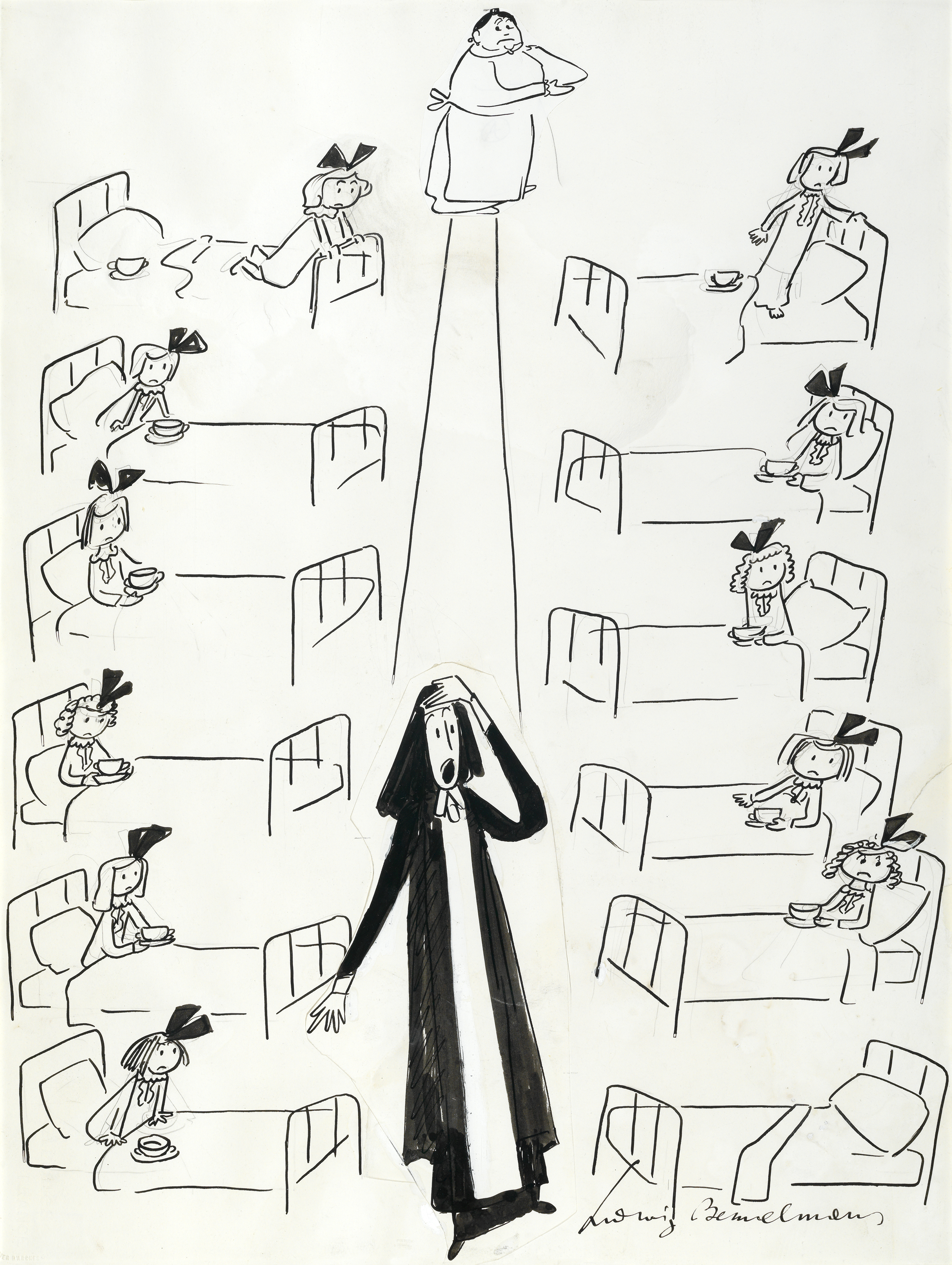 Eric Carle
Eric Carle (1929–2021) created this collage 21 years after publication of The Very Hungry Caterpillar. Since its debut in 1969, Carle's beloved picture book has sold 55 million copies and has been translated into 70 languages, most recently Mongolian. A copy of The Very Hungry Caterpillar sells somewhere in the world every 30 seconds! Carle dedicated this collage to Motoko Inoue, his long-time creative director, who later gifted it to the Museum.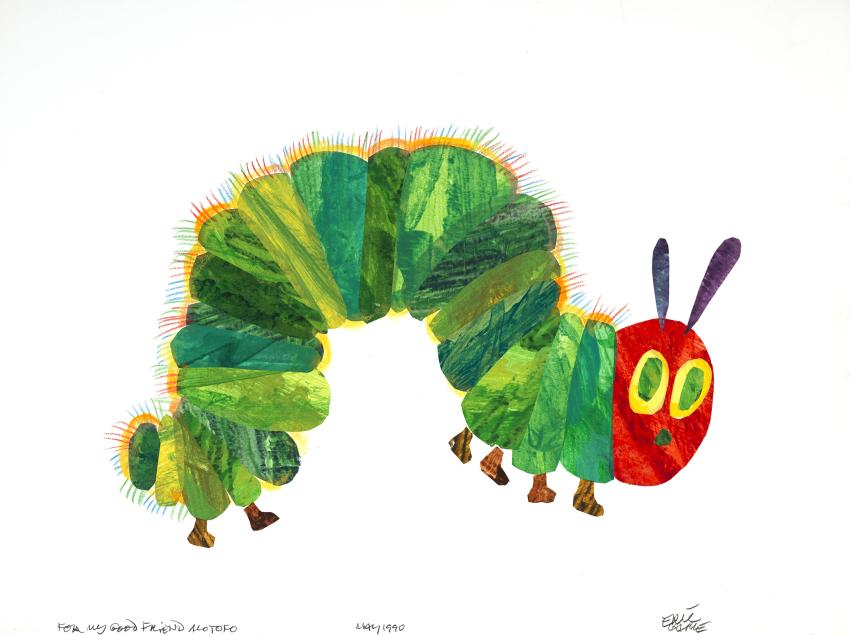 Robin Preiss Glasser
Fancy Nancy dons her fanciest, most extravagant outfit for the cover illustration of Jane O'Connor and Robin Preiss Glasser's now-iconic book series. The delightful mishmash of feathers, frills, and repurposed household objects highlight Fancy Nancy's bold creativity and imagination.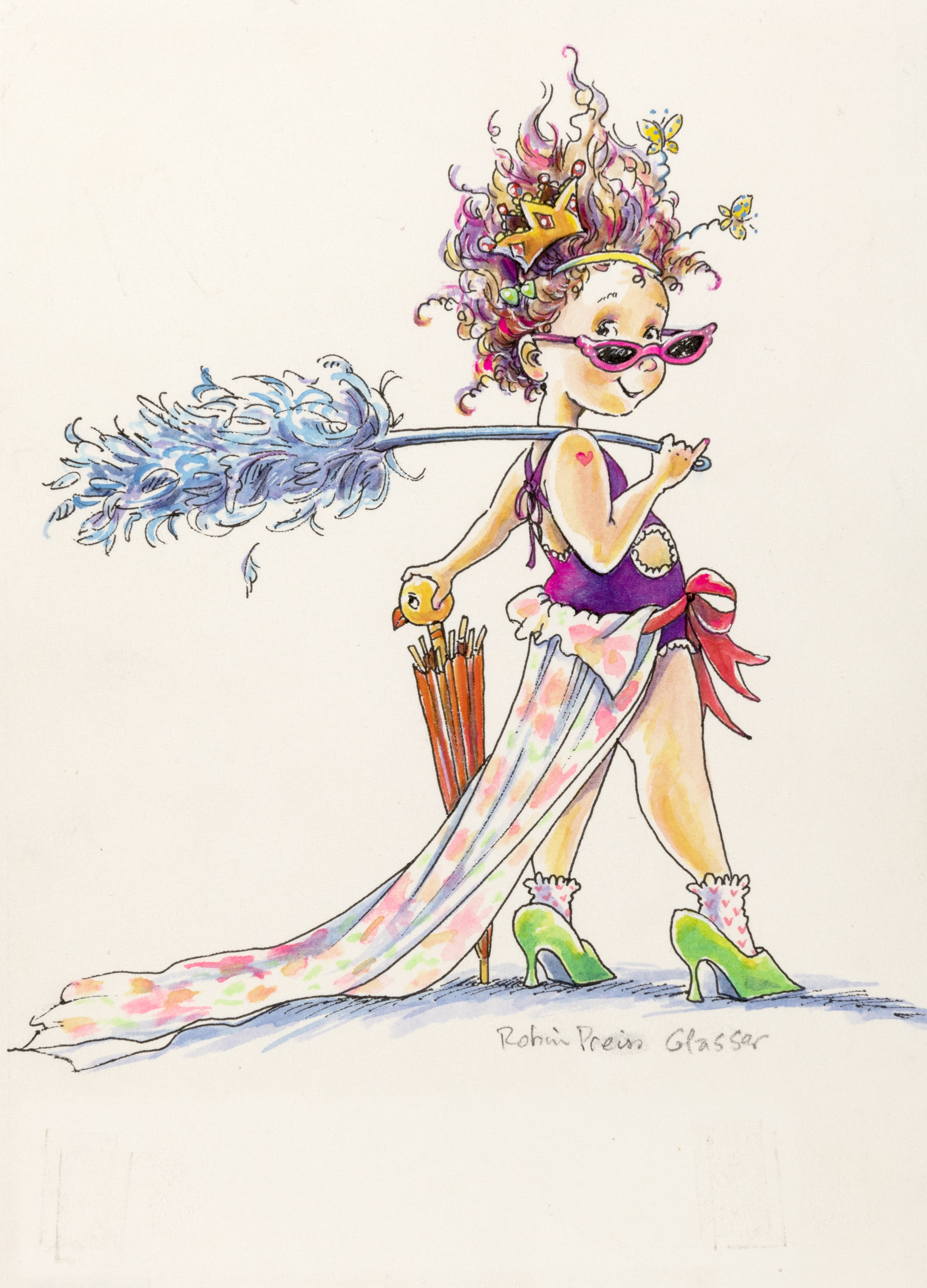 Johnny Gruelle
Johnny Gruelle (1880–1938) was an American political cartoonist, songwriter, and children's book author and illustrator, best remembered as the creator of Raggedy Ann and Andy. Gruelle patented the rag doll in 1915; he wrote the first book, Raggedy Ann Stories, three years later (the popular series eventually comprised more than 40 titles). Gruelle lived in New Canaan, Connecticut, where the famous dolls were initially manufactured.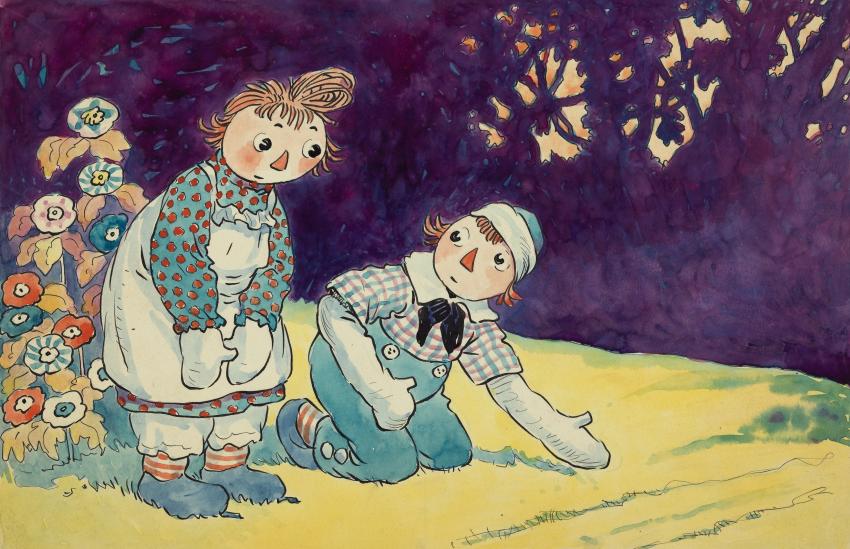 Michael Hague
Michael Hague's (b. 1948) Peter Rabbit gleefully greets readers while his timid siblings Flopsy, Mopsy, and Cottontail cower behind. Hague captures in intricate detail the lush vegetation and rich earth tones of the forest floor. On a grander scale and with brighter colors, he evokes the empathy and naturalism of Beatrix Potter's turn-of-the-century characters (as well as her scientific affinity for mushrooms).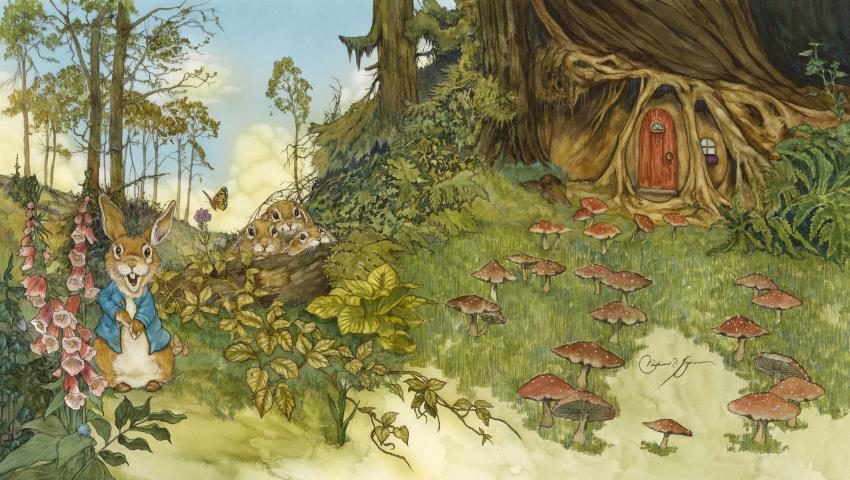 Hilary Knight
Eloise, the perennial six-year-old who first "skibbled" into children's hearts in 1955, appears as spirited as ever in Hilary Knight's (b. 1926) illustration for The 365 Days of Eloise. Mischievously holding a single red crayon, and with her faithful pet companions Weenie and Skipperdee at the ready, there's no telling what Eloise will do next. In 2017 the Museum celebrated Knight's remarkable career in the exhibition It's Me, Eloise: The Voice of Kay Thompson and the Art of Hilary Knight.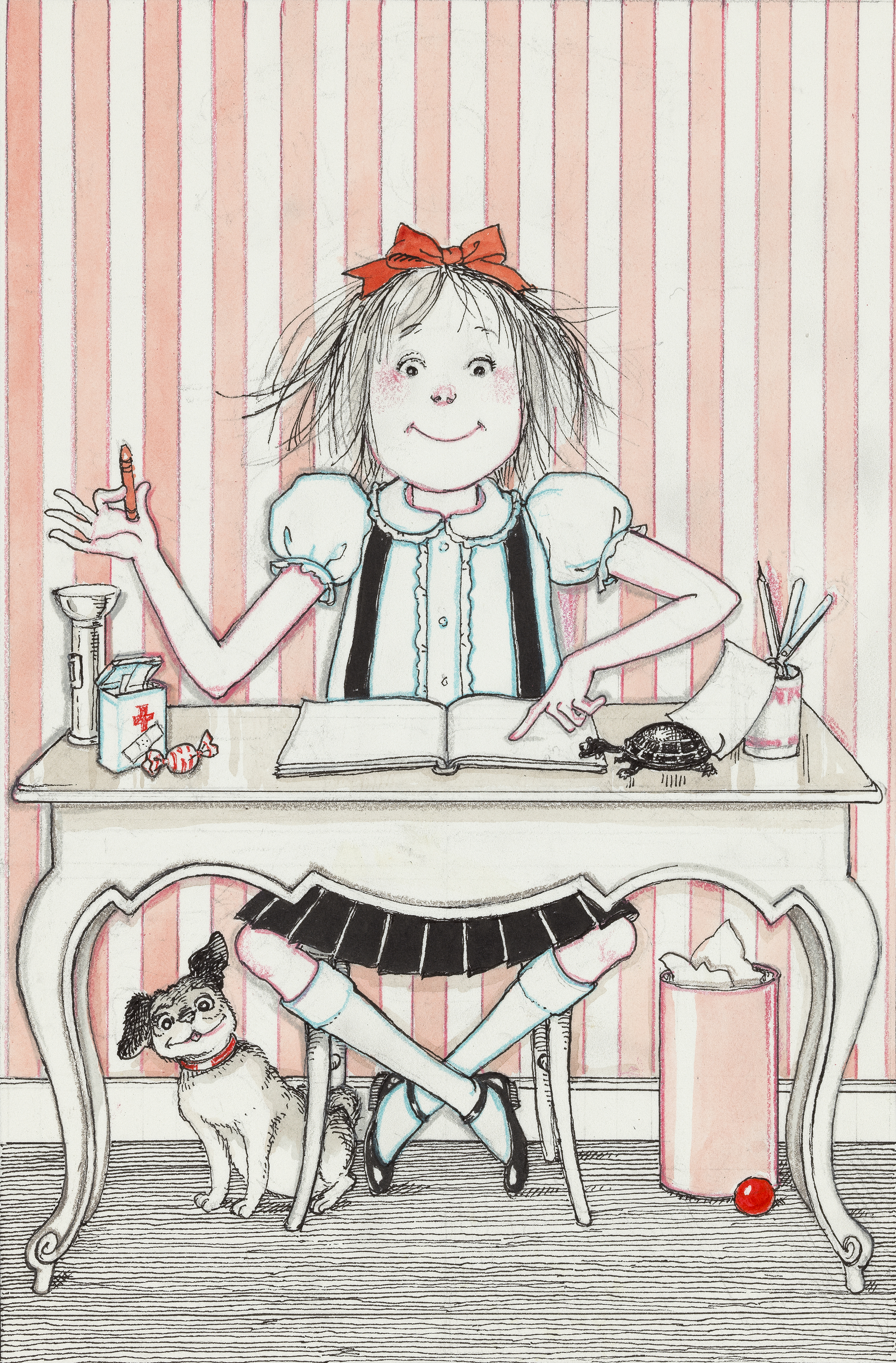 Barry Moser
Barry Moser (b. 1940) renders an enigmatic, psychologically richer interpretation of Alice than most other artists, depicting her as a dark-haired ingénue. His model was Maddy, the youngest of his three daughters (nine years old at the time). Ghost-like impressions of the White Rabbit, Mad Hatter, and other story characters swirl behind Alice as if figments of her imagination.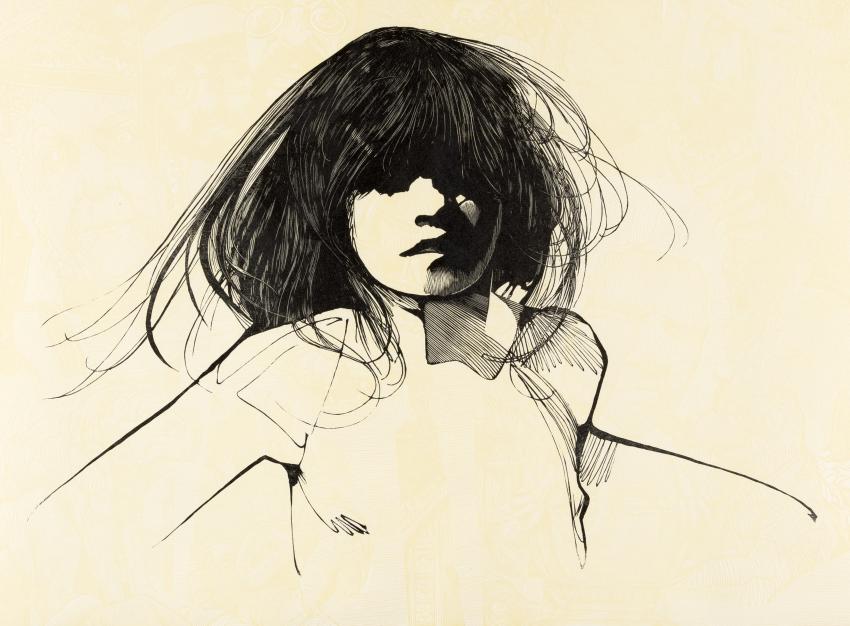 Feodor Rojankovsky
Feodor Rojankovsky's (1891–1970) style set a new direction for children's literature in midcentury publishing, in this case refreshing the nursery rhymes first collected and published in the 18th century. The Tall Book of Mother Goose (1942) is a slender volume brimming with bright watercolors. Rojankovsky dresses the titular character in finely detailed clothes, including an ivory lace bonnet and paisley shawl. Her high-heeled shoes, made to accommodate her webbed feet, are comic reminders of her fowl identity.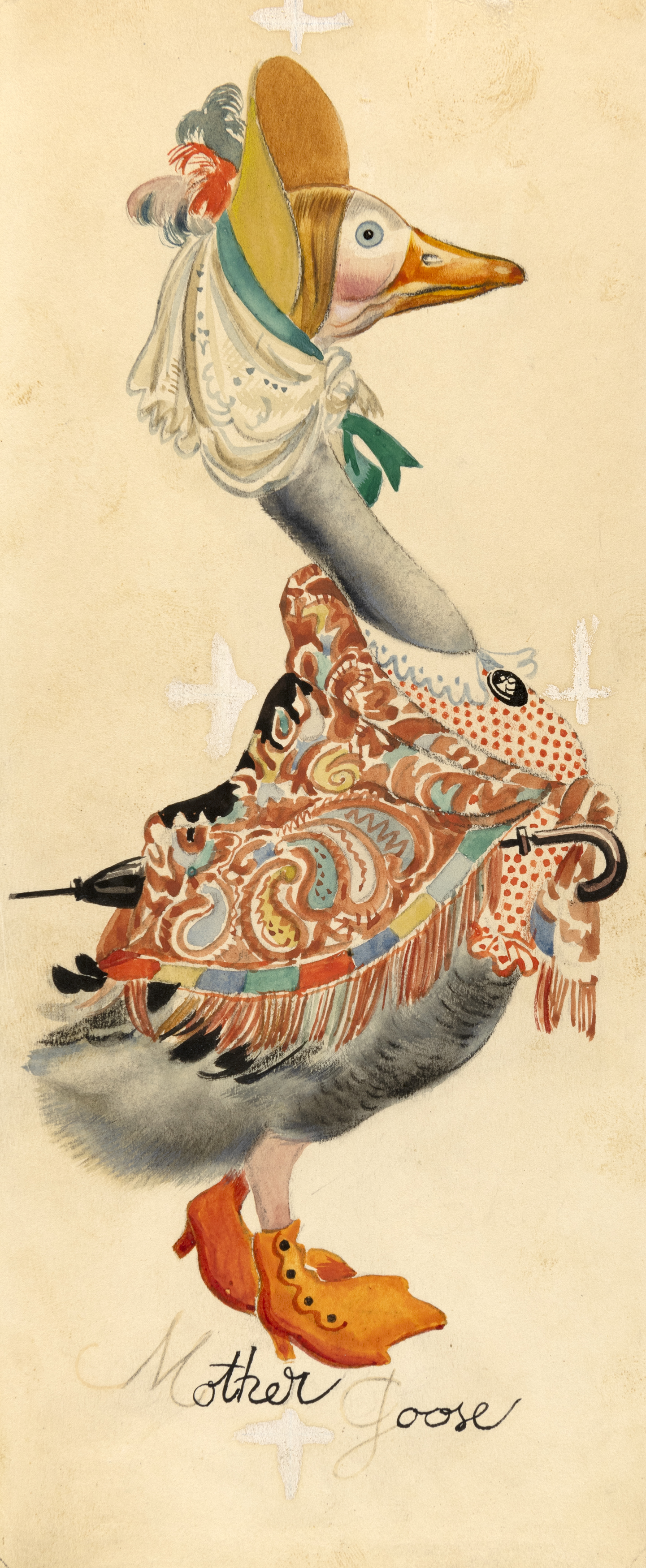 Richard Scarry
Richard Scarry's (1919–1994) drawings showcase his expertise in animal expression. Nicky's happy disposition comforts readers as Scarry gently takes them through each step of a doctor's exam, including checking reflexes and vision. This is a final illustration, indicated by the handwritten notes instructing the printer how much to enlarge the images. Scarry worked on frosted film, which doesn't tear as easily when handled by many people.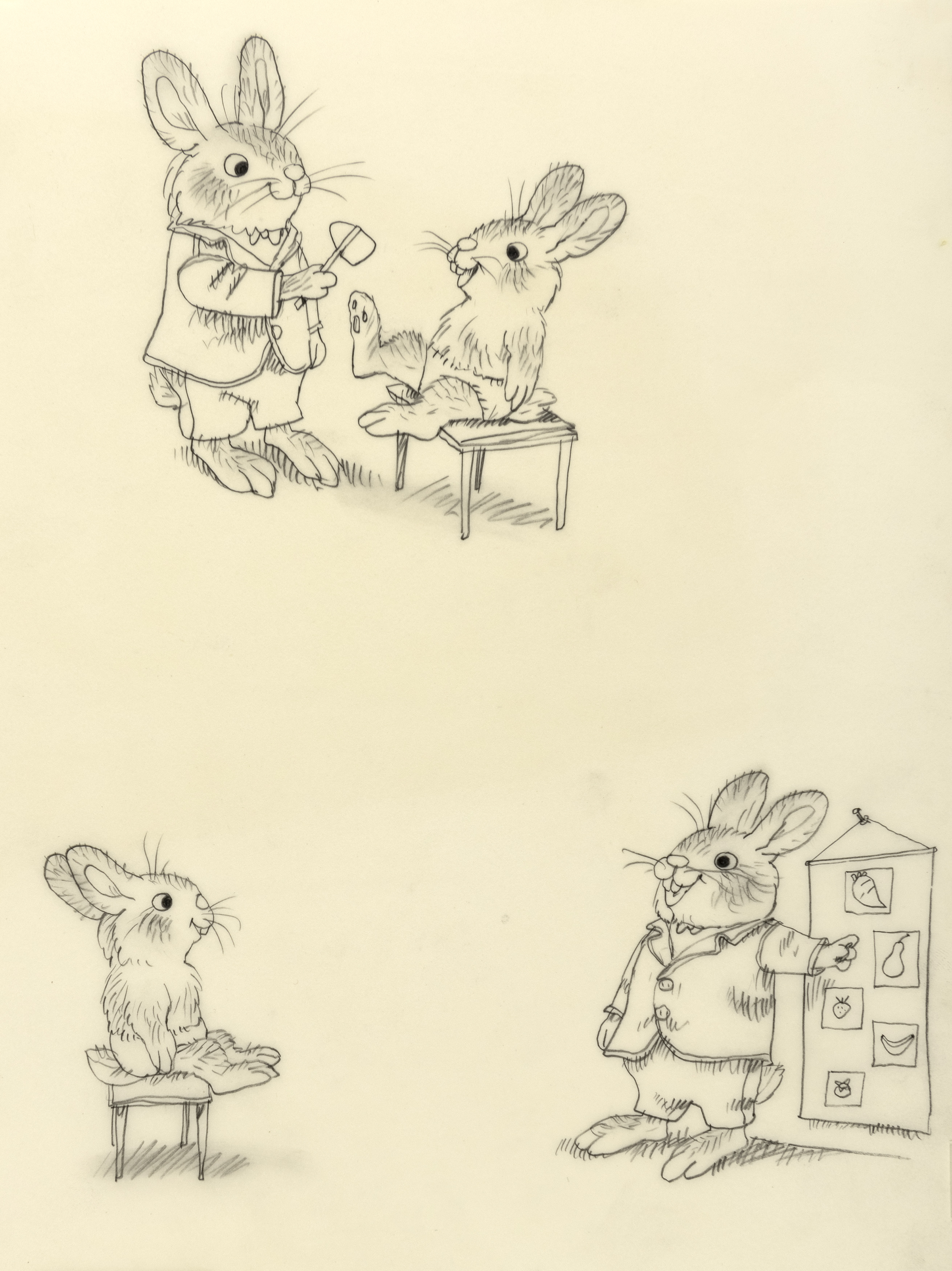 Maurice Sendak
Thirty-five years after Max embarked on his famous wild rumpus in Maurice Sendak's (1928–2012) picture book Where the Wild Things Are (1963), one of Sendak's hairy monsters occupies New York City. Sendak created this poster for the 1998 "New York is Book Country" street fair. With typical Sendak humor, it is the Wild Thing, not Max, who wields a threatening fork, ready to devour the city's abundant literary offerings. The Art of Maurice Sendak: Inside and Out was The Carle's inaugural exhibition in 2002.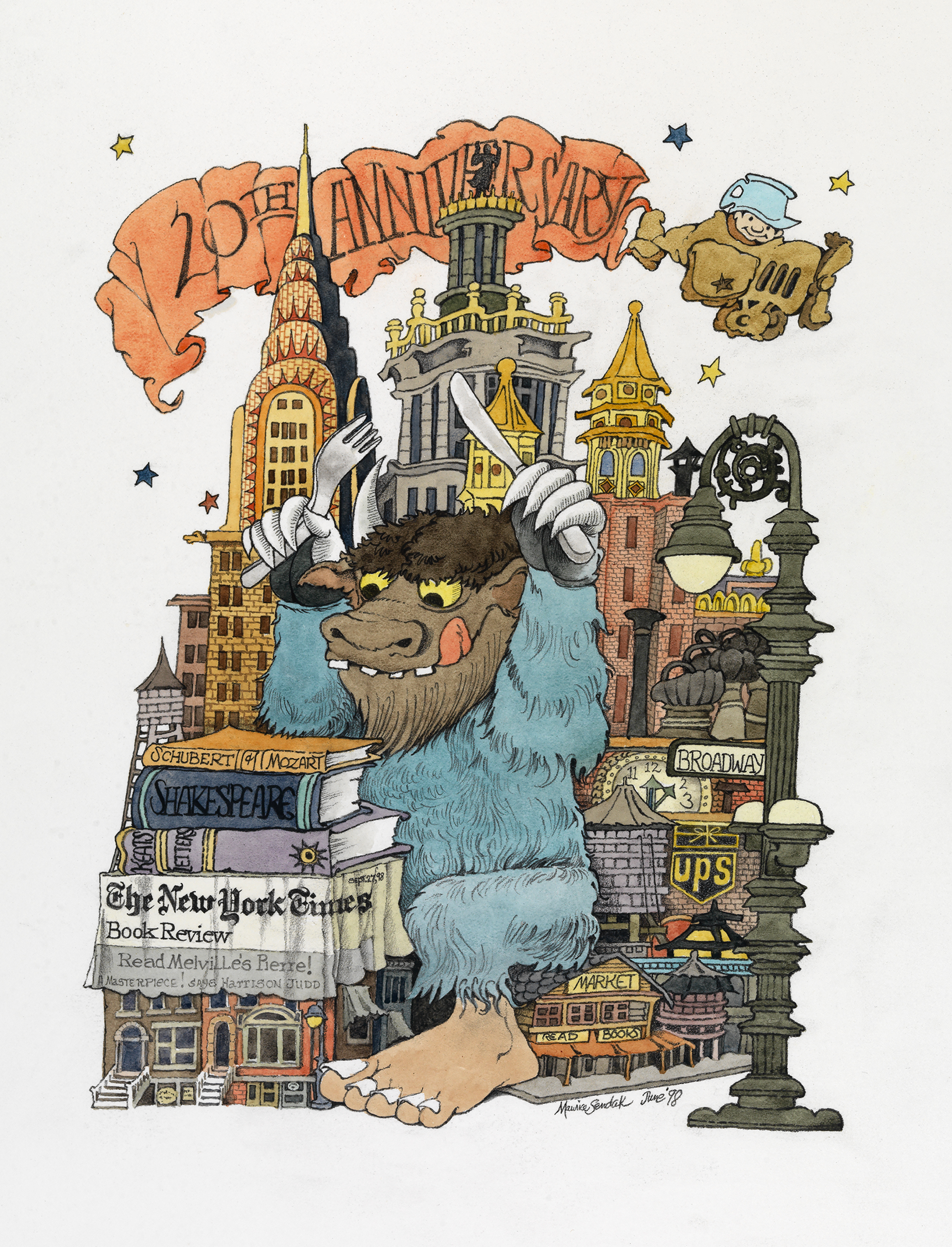 E. H.

Shepard

E. H. Shepard's (1879–1976) four pen-and-ink sketches and editorial letter offer a glimpse into the creation of Winnie-the-Pooh. Handwritten instructions on the drawings, such as "Draw Pooh like this" and "Make Pooh's legs shorter," provide insight into Shepard's creative process. Even in these simple sketches, the personalities of Pooh, Christopher Robin, and friends come to life. In 2009, The Carle organized The World of Pooh: Selections from the Penguin Young Readers Group Collection.
E. H. Shepard Sketches and Correspondence
Rosemary Wells
Rosemary Wells' (b. 1943) popular Yoko series of books follow a precocious cat who learns about the importance of her Japanese culture. Yoko shares sushi with her kindergarten classmates, folds paper cranes with her grandparents, and learns to write her name in both kanji and English.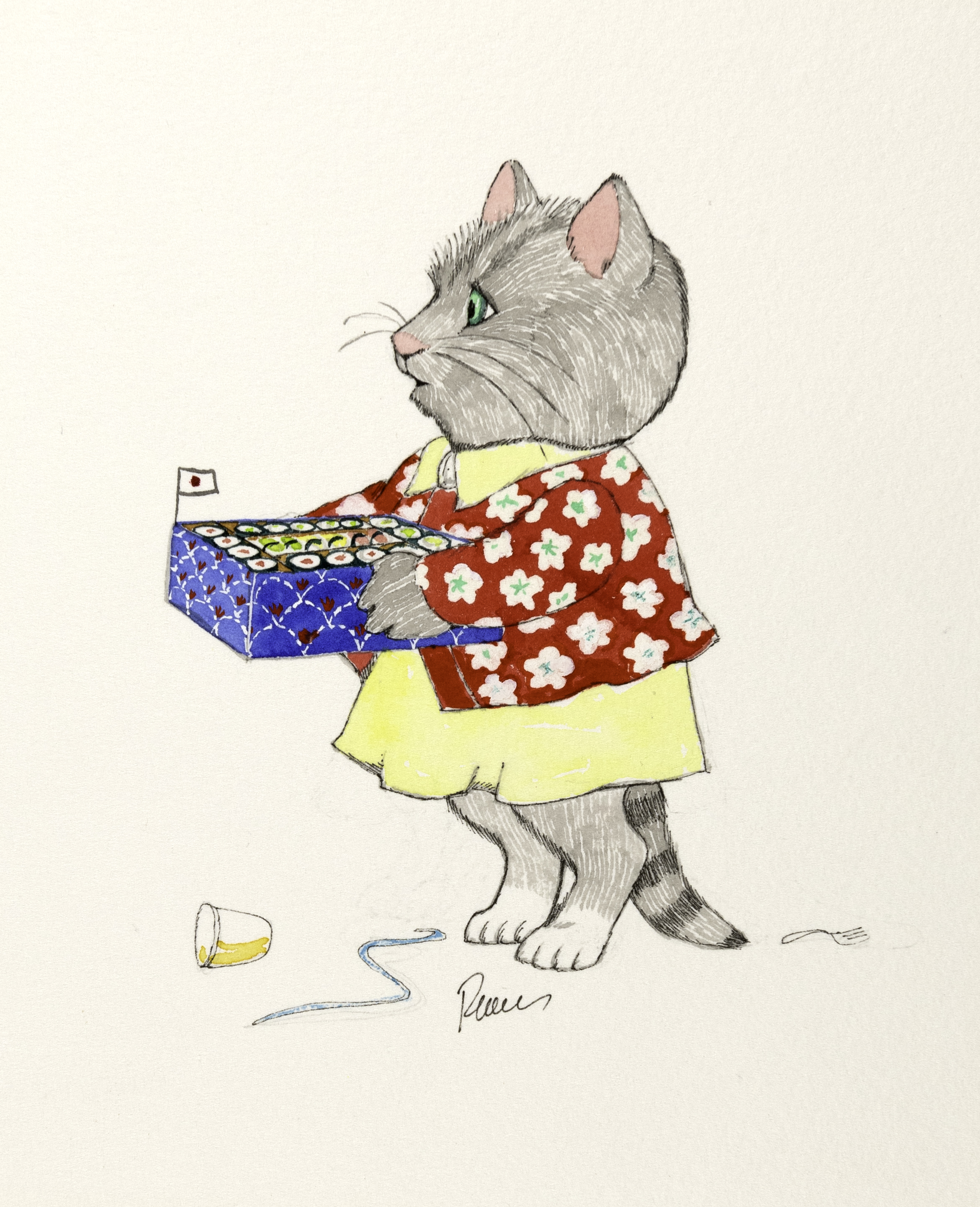 Garth Williams
Garth Williams's (1912–1996) drawings in Stuart Little (1945) have become synonymous with E. B. White's classic tale. This preliminary cover study of Stuart paddling a toy canoe with an ice cream spoon is more colorful than the image eventually printed. Williams's sharp black ink lines on acetate overlays help define the painterly image. Stuart Little was the first children's book for both its author and artist. They worked together again in 1951 when Williams illustrated White's Charlotte's Web. The Carle presented the exhibition Some Book! Some Art!: Selected Drawings by Garth Williams for Charlotte's Web in 2012.