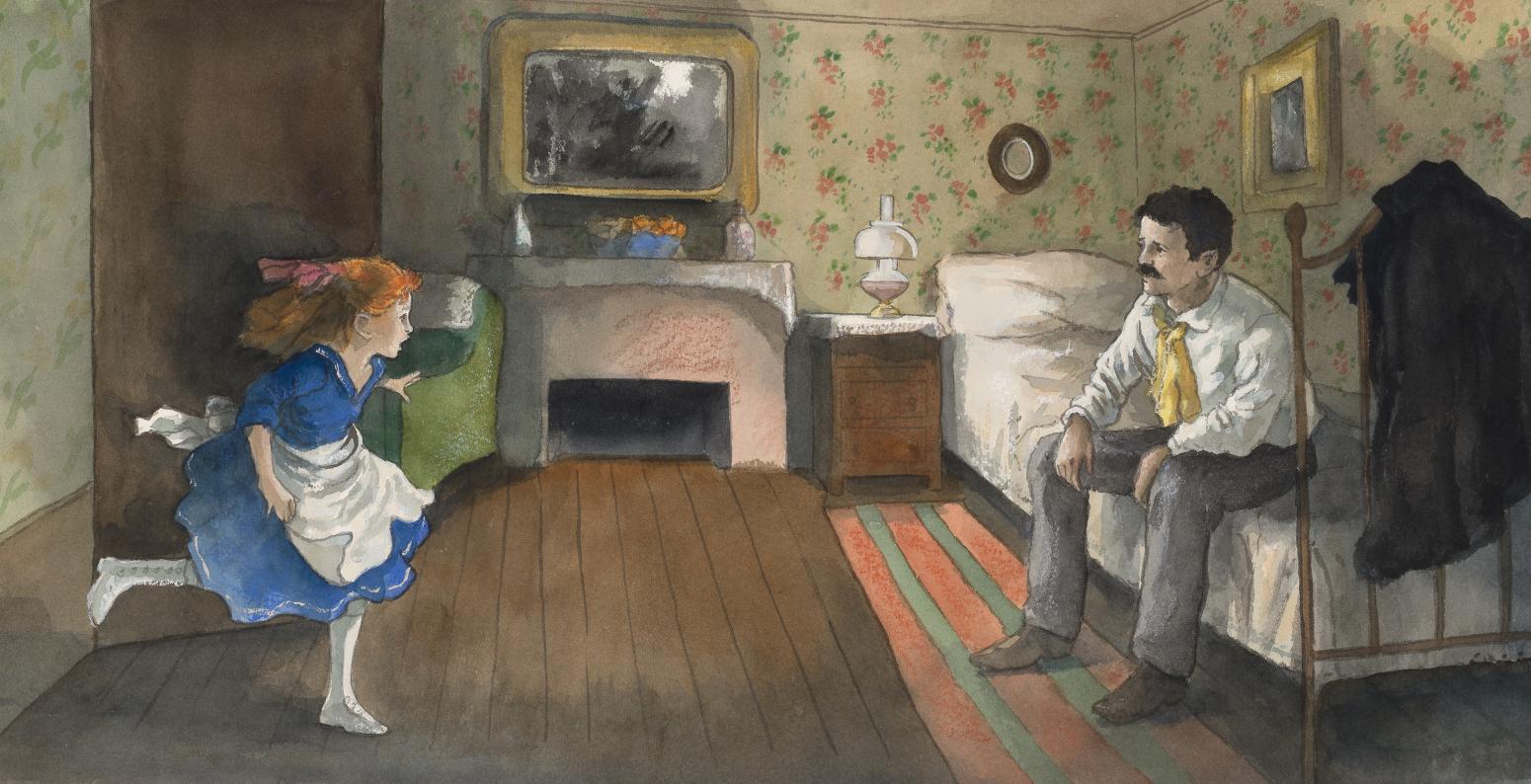 Picture books take us on new adventures. They help children explore the world safely and satisfy our curiosity. These memorable adventurous tales take us from earthly exploits to death-defying balancing acts.
Remy Charlip
In addition to writing and illustrating children's books, Remy Charlip (1929–2012) was an accomplished designer, dancer, choreographer, and teacher. He called his most successful book, Fortunately (1964), a "rambunctious dance" about a boy's series of fortunate and unfortunate events while on his way to a party. This illustration shows a 'fortunate' scene—the boy floating safely with a parachute—after the motor in his airplane (unfortunately) explodes. Charlip's vibrant colors in the fortunate scenes contrast with the black-and-white palette of his unfortunate scenes.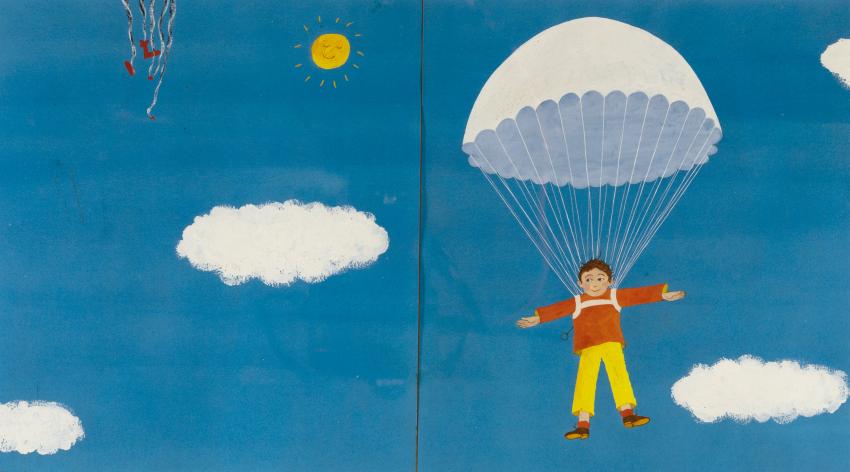 Barbara Cooney
Barbara Cooney (1917–2000) was a skilled scratchboard artist who used the black-and-white drawing technique in many of her books. With this process, the artist "scratches" through a black-inked surface to reveal the white foundation underneath. The more lines the artist draws, the brighter the picture becomes. The technique gave Cooney's drawings a dramatic, glowing effect. Cooney won Caldecott Medals for her picture books Chanticleer and the Fox (1959) and Ox-Cart Man (1980).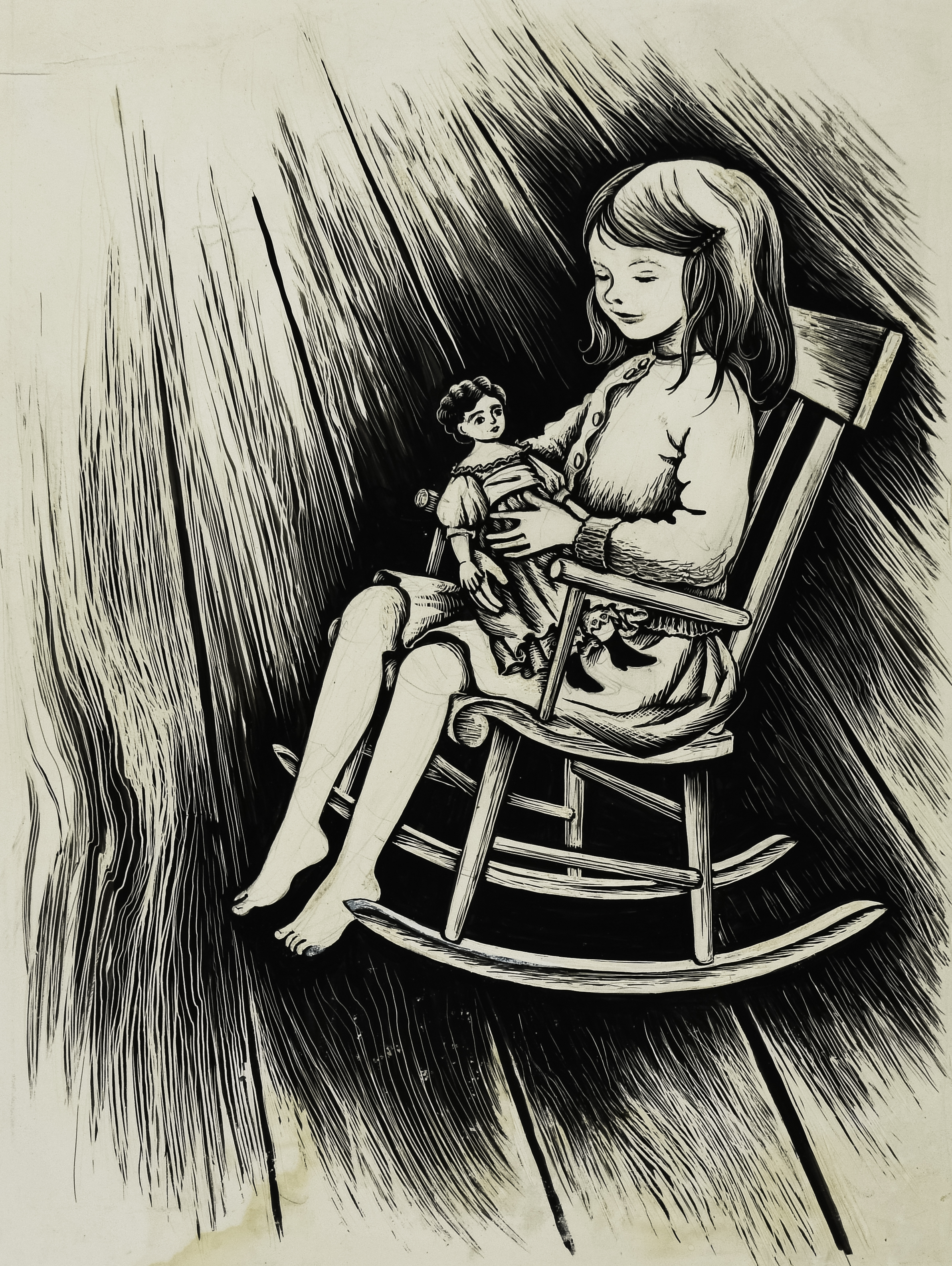 Lulu Delacre
Children joyfully run through a lush environment in Lulu Delacre's (b. 1957) depiction of a Puerto Rican game called "Playground Passport." Their lively poses and smiling faces entice readers to join the fun. Delacre's art and writing have propelled bilingual literature for children. Reading is Fundamental honored her with a Champion of Children's Literacy Award, and she is a three-time Pura Belpré Award honoree.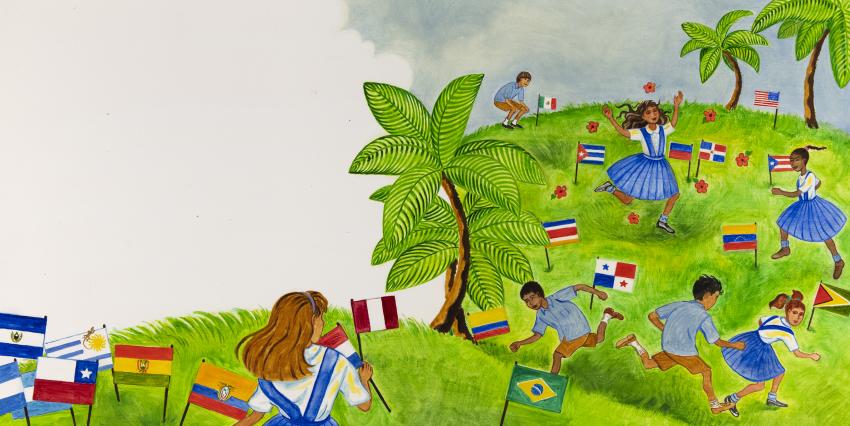 Roy Gerrard 
Accidently left behind by his prehistoric family during the winter, Roy Gerrard's (1935–1937) timid Mik befriends a baby mammoth he names Rumm. As Rumm grows bigger and the weather becomes warmer, Mik becomes more courageous. Here, the resourceful duo charge a black bear through verdant, richly textured foliage.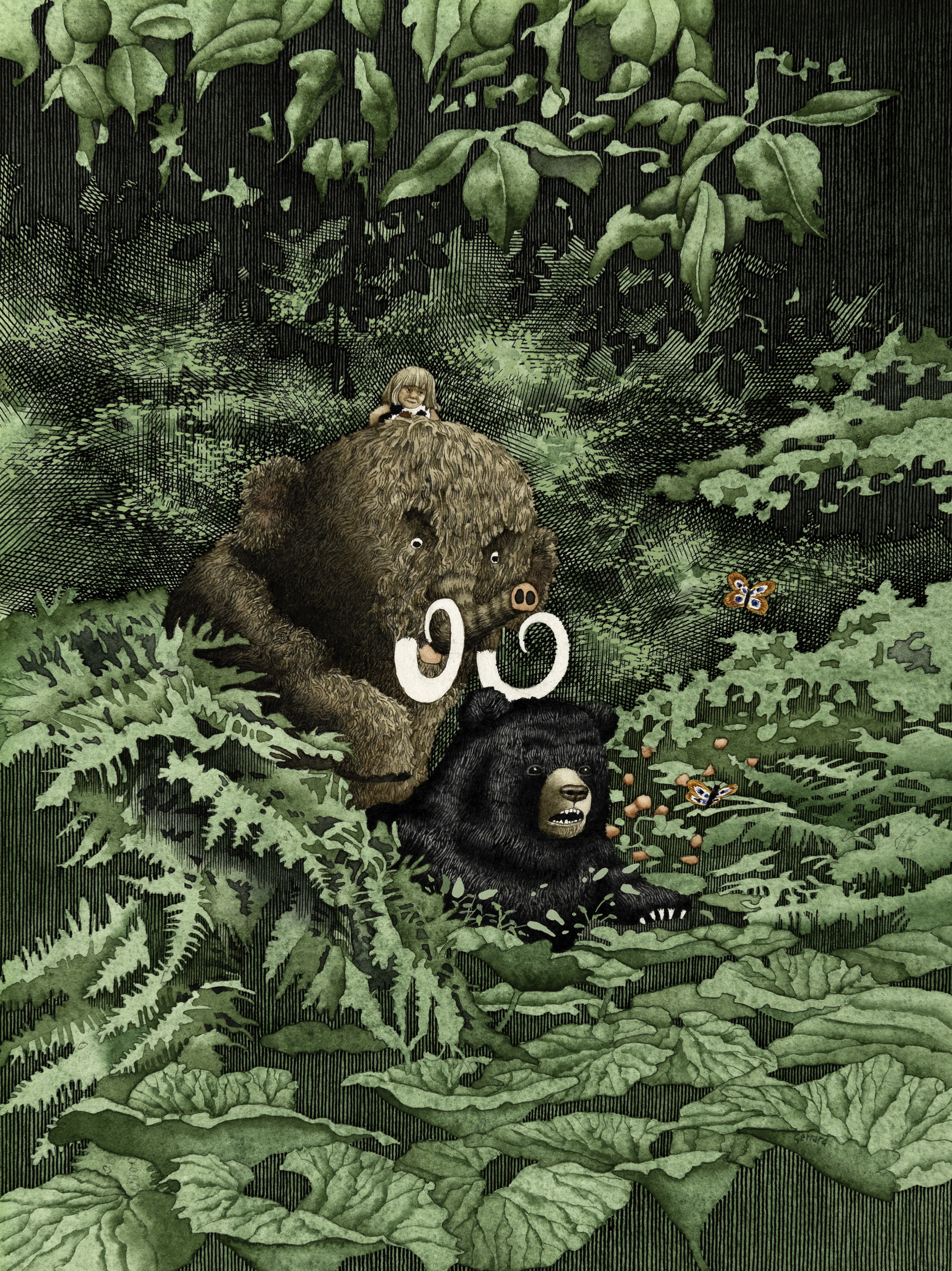 Mordecai Gerstein
Mordecai Gerstein's (1935–2019) dizzying, dramatic cover illustration is from his Caldecott Medal book The Man Who Walked Between the Towers (2003). Gerstein's mastery of color, light, and perspective invite readers to witness the daring moment in 1974 when French high-wire artist Philippe Petite walked between the World Trade Center's twin towers. Dark, smoky clouds hint at the book's somber nod to the September 11, 2001 terrorist attack. The Carle presented Gerstein's complete book in a 2004 exhibition, Mordecai Gerstein: The Man Who Walked Between the Towers.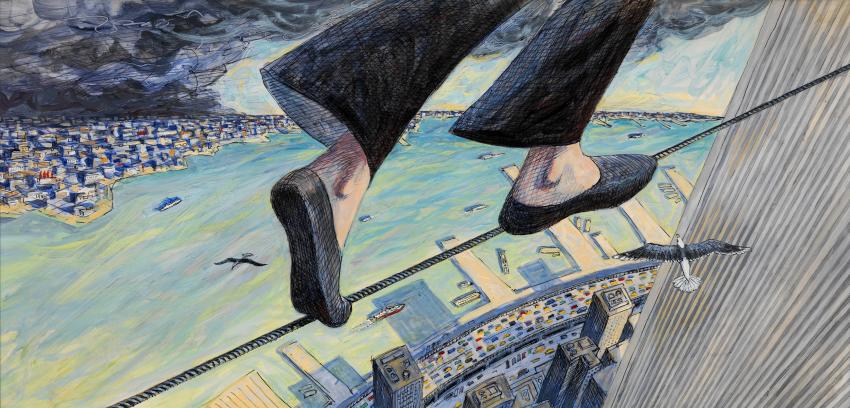 Hardie Gramatky
Hardie Gramatky (1907–1979), author and illustrator of the bestselling Little Toot books, presents a horse-drawn fire engine named Hercules as an underdog readers can root for. His sweeping composition conveys the excitement and urgency of Hercules's mission. The drama and cartoon-like characters reflect Gramatky's animation work at the Walt Disney Studios in the 1930s. The Museum organized Toot and Re-Toot: The Return of Hardie Gramatky's Little Toot in 2007.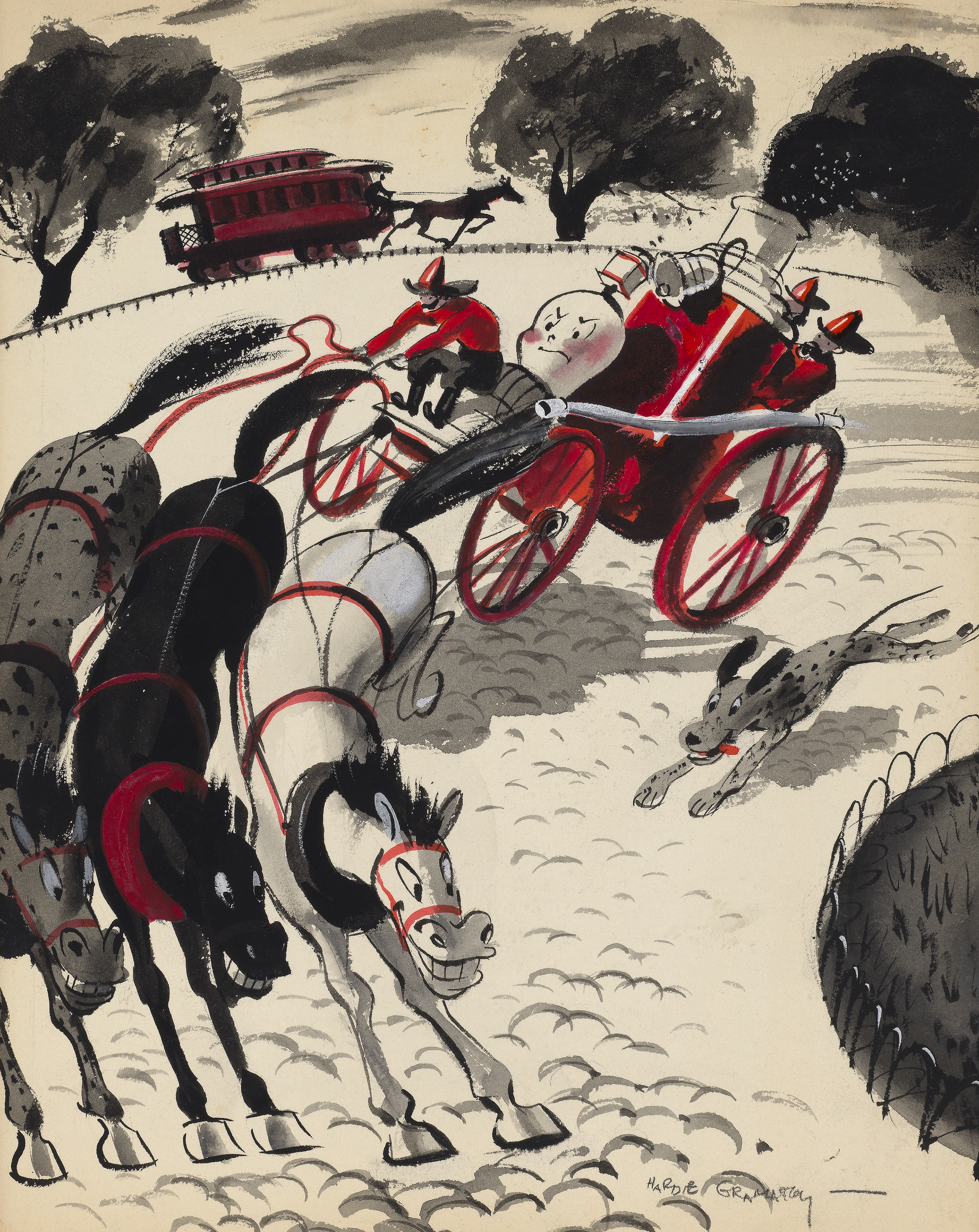 Gertrude Alice Kay 
Gertrude Alice Kay studied illustration with Howard Pyle as part of the Brandywine School in Pennsylvania. She created many illustrations for Ladies' Home Journal and other magazines in the 1910s before writing and illustrating children's books. Adventures in Our Street tells of Two-Braids, her little brother Door-Slammer, and their escapades with children in the neighborhood.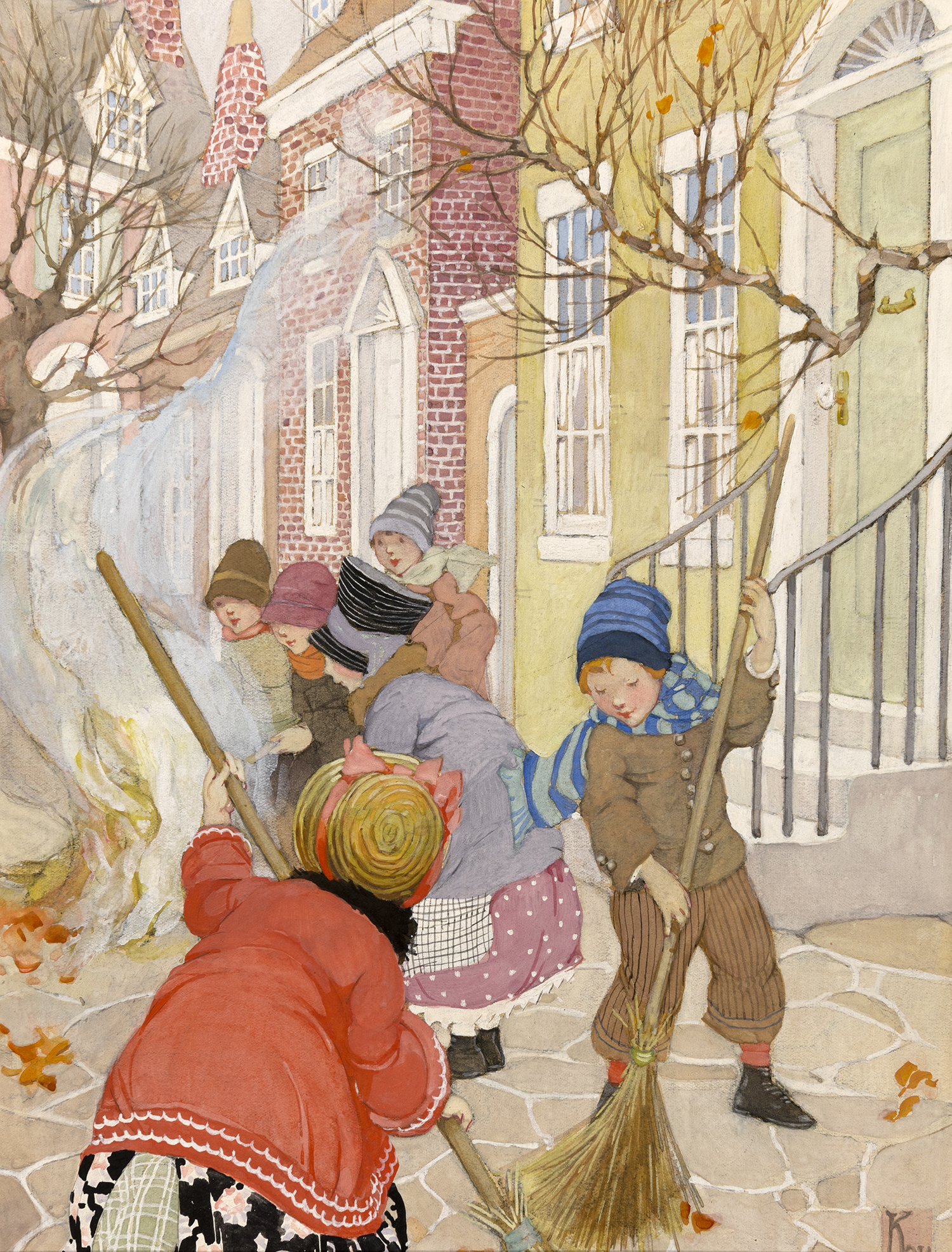 Lois Lenski
In Lois Lenski's (1893–1974) graphite illustration from The San Francisco Boy (1955), Mei Gwen carries a pail down a staircase, while another child peers through a cracked-open door. The architecture of the jagged staircase and the iconic Bay Bridge in the distance creates a dynamic composition. Lenski dedicated the drawing "For Alice Yu and her sons." Alice Fong Yu was the first Chinese American public schoolteacher and a community organizer in San Francisco.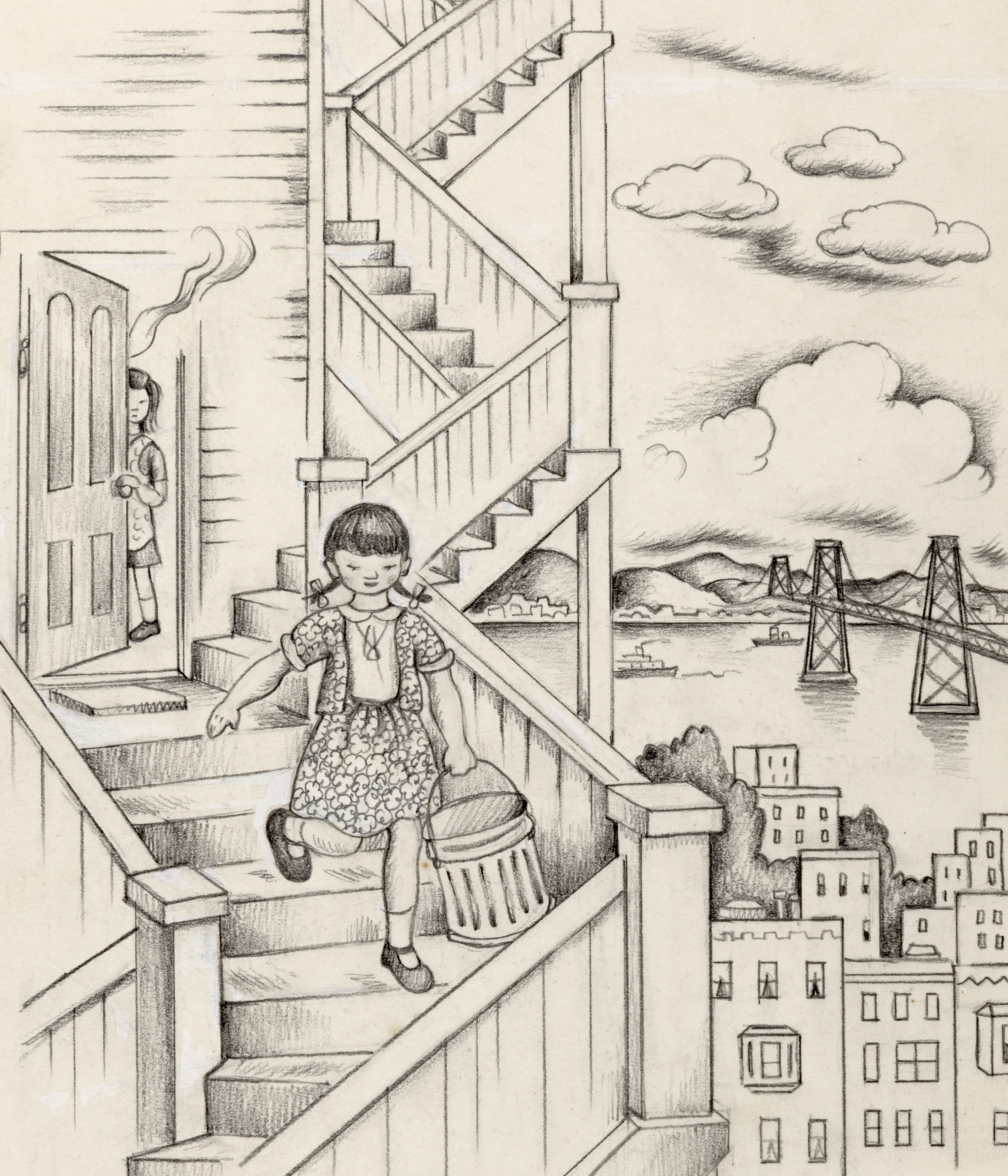 Emily Arnold McCully
In this double-page illustration from Mirette on the High Wire (1992), Caldecott Medal artist Emily Arnold McCully (b. 1939) uses the center space planned for the book's gutter to separate the title character from Monsieur Bellini, the acrobat she aspires to emulate. With one foot in the air and her flowing dress and hair, Mirette is a lively presence. Bellini, by contrast, is stuck on the page as he is stuck in the story by his sudden fear of the high wire.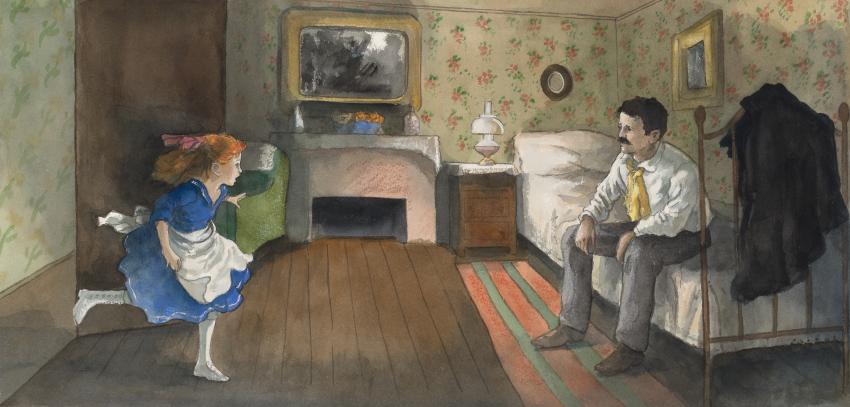 Fern Bissel Peat
Fern Bisel Peat (1893–1971) typically depicted children with rosy cheeks and cherubic faces. Despite her cheery portrayals, she also employed a thoroughly modern style, demonstrated here by the foreshortened composition. The small child in front struggles to upright an enormous umbrella, its black form making a strong graphic statement in the candy-colored painting.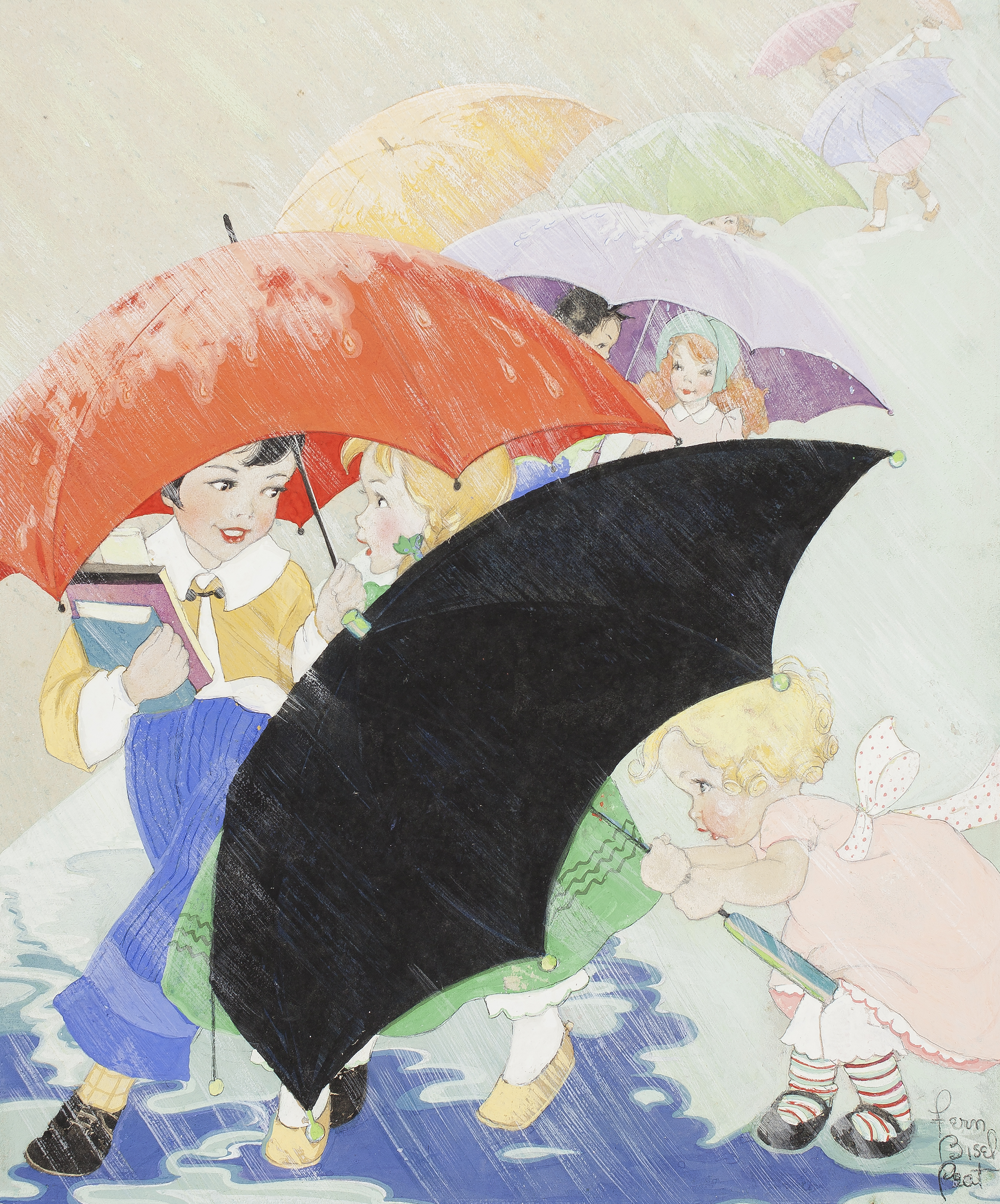 Allen Say 
When Mark receives a box of fishing flies from his uncle, it prompts a surreal dream along a sparkling river. Here, still wearing his striped pajamas, Mark nets a large rainbow trout. Together he and his uncle release the mighty fish to leave the river the way they found it. Allen Say's lyrical watercolor isolates the pair in a moment of stillness. They appear to float in the absence of a horizon line.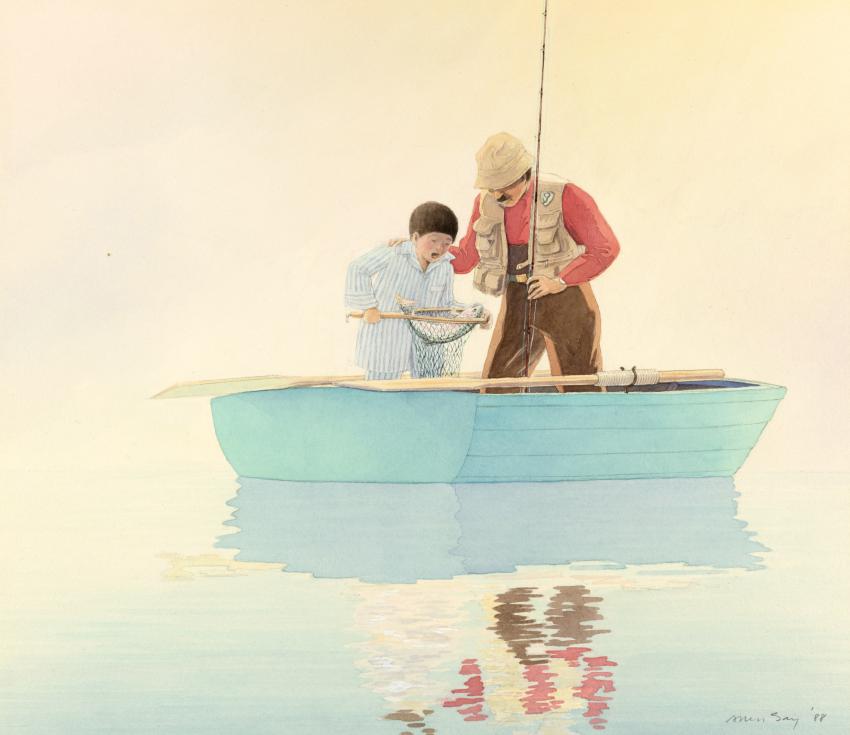 Virginia Stroud
Through her picture books, Virginia Stroud (b. 1951) presents stories of her native Cherokee and adopted Kiowa heritage. "I paint for my people," she says. "Art is a way for our culture to survive…perhaps the only way." Stroud's style is characterized by crisp colors, exuberant patterns, and minimal facial details. This painting is for an unrealized publication.