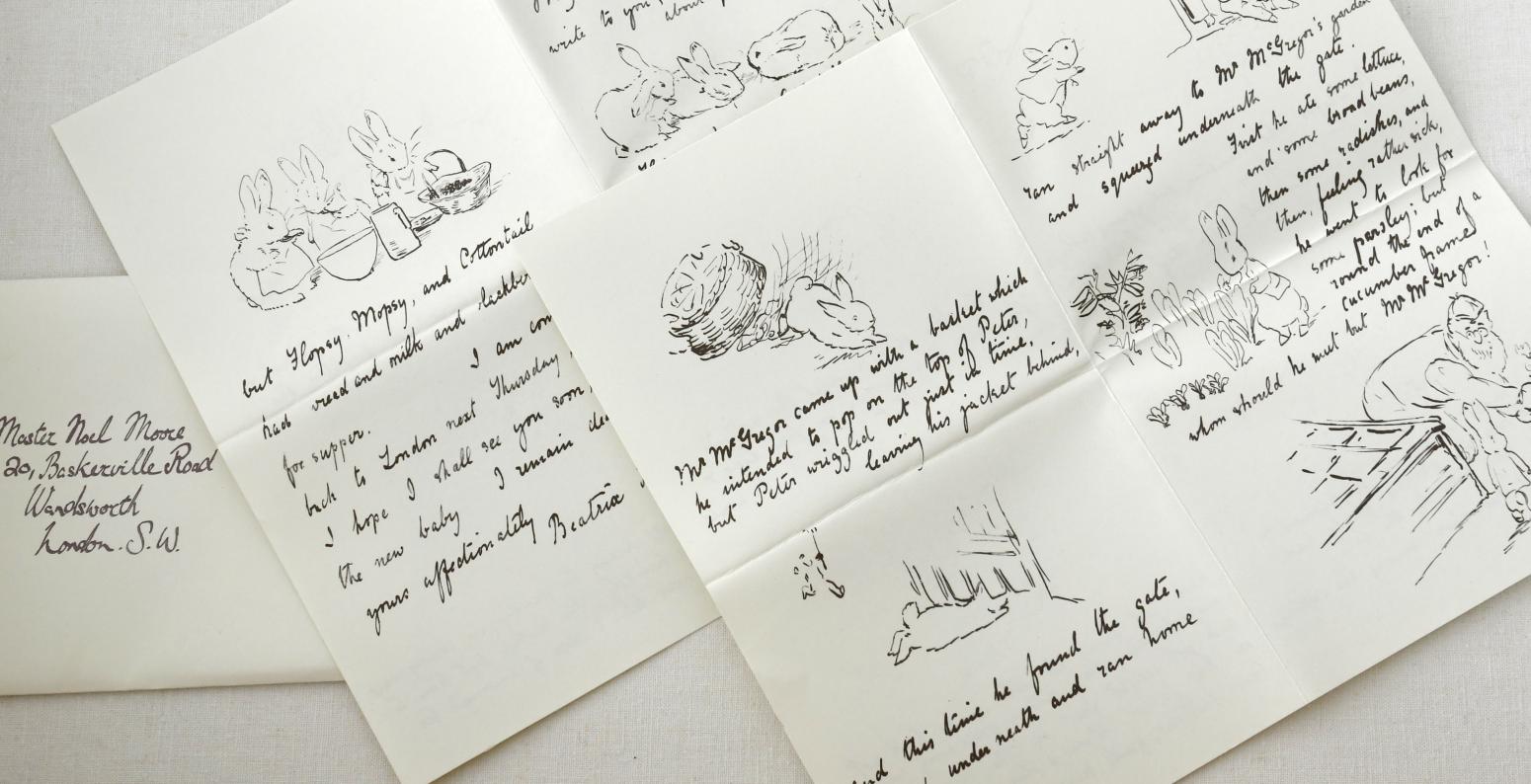 Article Type
Story Board
Behind the Scenes Categories
Books
Collections
Peter Rabbit is 120 Years Old
December 11, 2022
A long-time donor and volunteer shares her fascination with Beatrix Potter.
This year marks the 120th anniversary of The Tale of Peter Rabbit, the most famous of 23 children's books by Beatrix Potter (1866-1943). Celebrations are underway around the world— readings, theatrical productions, new merchandise, and tributes. The Setagaya Art Museum in Japan presented a special exhibition this year. The Victoria & Albert Museum in London is presenting Beatrix Potter: Drawn to Nature, which will travel to the Frist Art Museum in Nashville in April. Here at The Eric Carle Museum of Picture Book Art, where I volunteer, we are exhibiting several Peter Rabbit items in a display case outside the Reading Library—objects that I will be donating to the Museum's Barbara Elleman Research Library.
My own early interest in Beatrix Potter came not as a child reading The Tale of Peter Rabbit, or as a teenager who shelved books in my local public library, but as an adult who became intrigued with Potter's life story. Even though women were not given equal opportunities in publishing, she was determined to publish her clever animal-filled story with its black-and-white drawings. Unable to find a buyer, Potter published the tale in 1901 at her own expense. She had talent and fortitude, and eventually she succeeded! The following year, the publisher Frederick Warne & Co., who had initially rejected the story, released The Tale of Peter Rabbit to enormous success. Today it is one of the bestselling children's books in history.
I first began collecting copies of Potter's books and reading biographies. This led me to scholarly studies of her work, and a desire to understand the background for the imaginative stories Potter created and the striking language she chose, which gave depth to her distinctive, warmly portrayed sketches. I came to recognize two directions in Potter's life. One was as a single woman determined to create and illustrate tales of the animals she loved. The second began after her marriage to William Heelis in 1913, a solicitor in England's Lake District, when she became a Herdwick sheep farmer. As a landowner, she was an active preservationist, eventually donating 4,000 acres to the National Trust.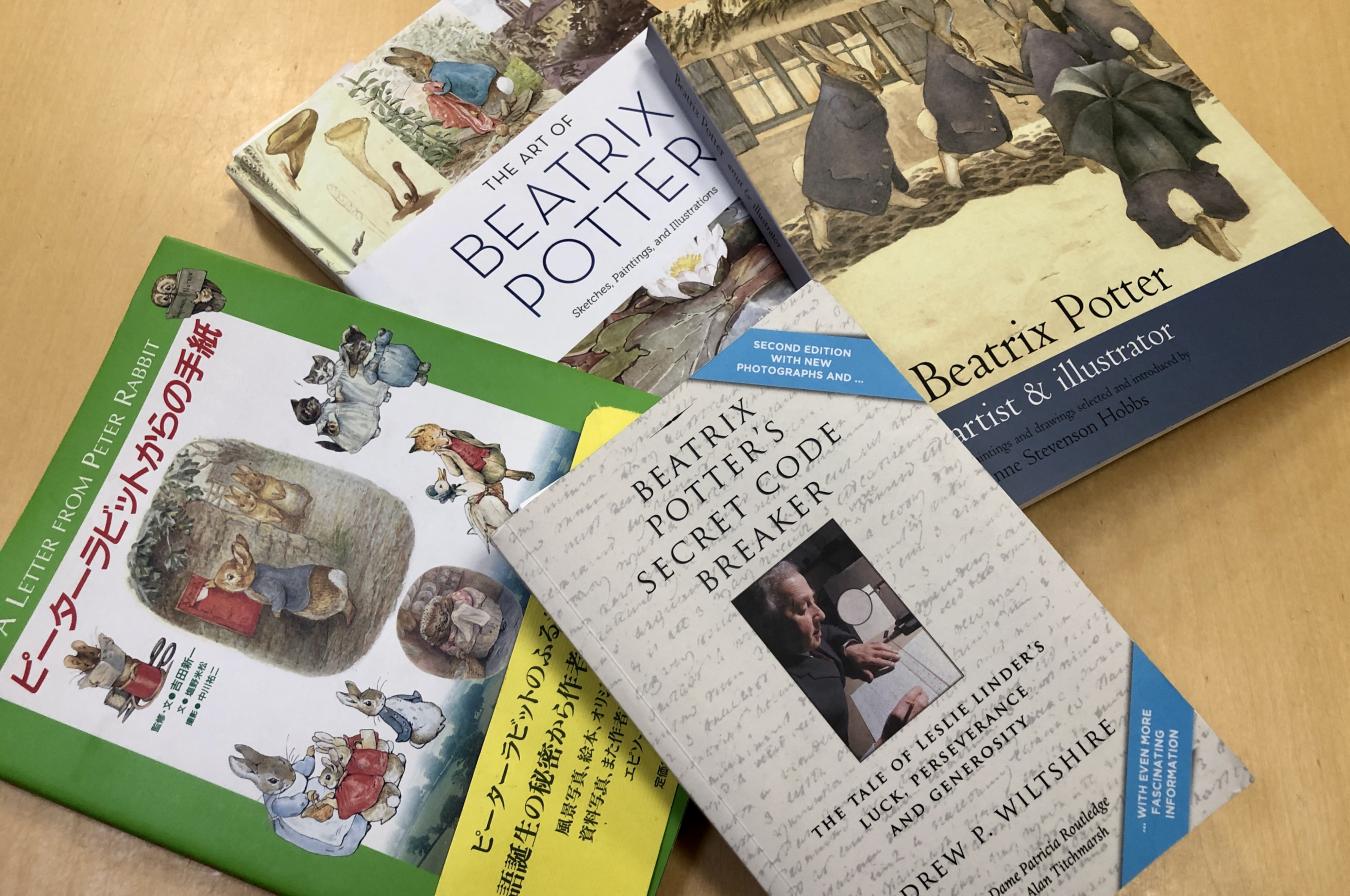 When writing stories or just making notes for her own amusement, Potter often used a secret code that she invented at age 15. Leslie Linder, an Essex businessman, took five years to break the cipher, revealing 200,000 words of Potter's writing before she created The Tale of Peter Rabbit. Andrew Wiltshire covers this in his 2016 book Beatrix Potter's Secret Code Breaker, giving us clues to Potter's inner thoughts.
I joined the Beatrix Potter Society in London in 1980, the year it was founded. The arrival of each Newsletter gave me new leads to follow, like articles about the collections at The Victoria & Albert Museum in London and the Potter Collection at the Free Library of Philadelphia. I visited those collections, learning from their staff and gaining a deeper understanding of Potter's work. Soon I was attending conferences organized by the Beatrix Potter Society. My Potter collection grew along with my interest and knowledge. My husband Don loved to give presents, so my interest in Potter took him to new levels. He even surprised me with a signed edition of The Tale of Mr. Tod (1912). We purchased a number of early editions, including two foldout concertinas: The Story of Miss Moppet and The Story of a Fierce, Bad Rabbit. We also learned from Jane Quimby's book Beatrix Potter: A Bibliographic Check List that it is very difficult to confirm what is a true first edition of Potter's titles. I also collected memoirs written by people who had known her as well as books for art and design instructors who used her drawings to teach.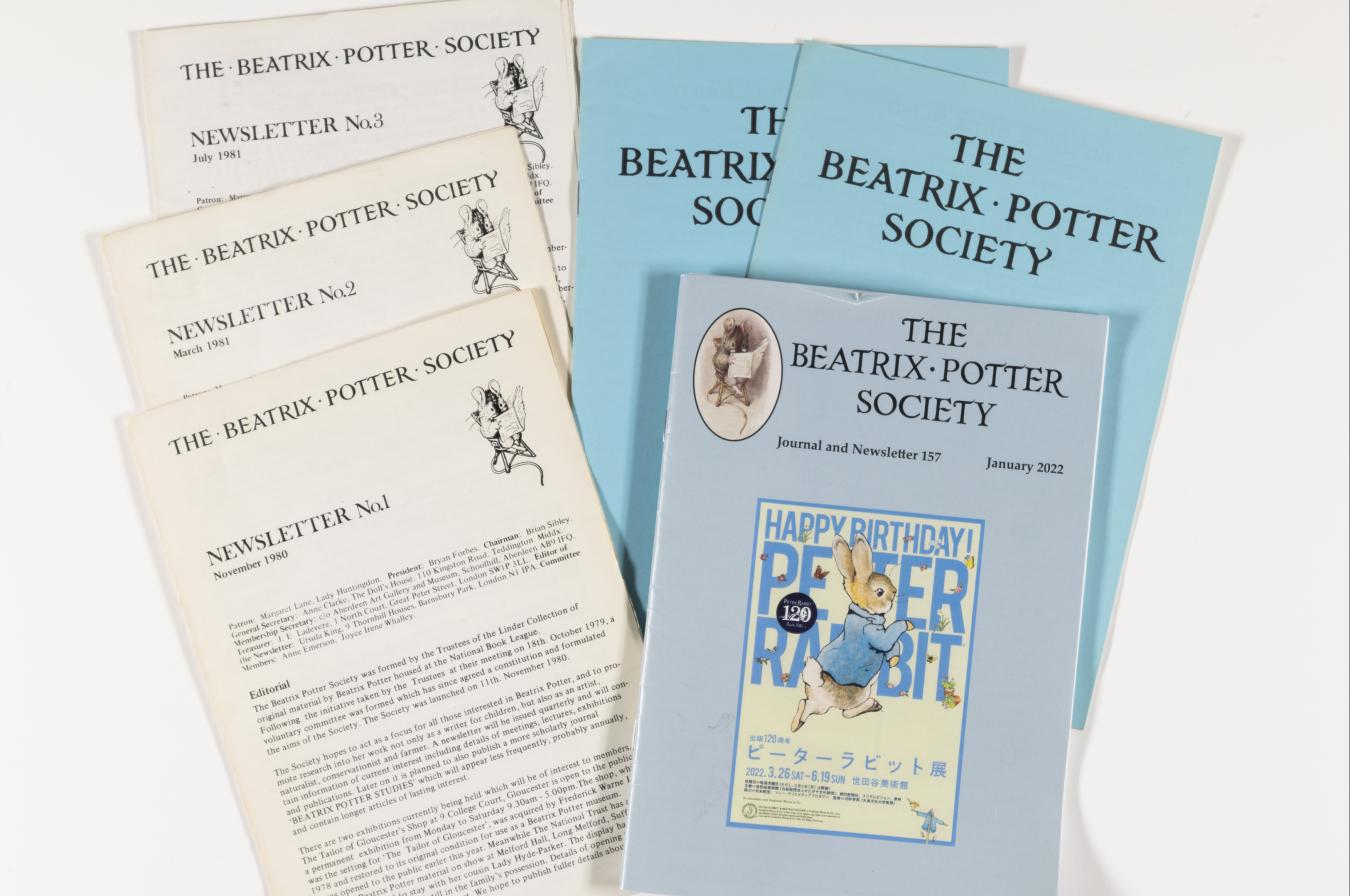 The Beatrix Potter Society, founded in 1980, publishes its newsletter three times a year. Each issue contains articles of new scholarly research, reports on Society meetings and events, and news from the National Trust's Beatrix Potter properties. The Barbara Elleman Research Library at The Carle has a complete set, available to scholars.
In 2005, The Carle hosted The Beatrix Potter Society for its twenty-fifth anniversary meeting. Fittingly, the Museum decided to present a small exhibition of works by Potter called Beatrix Potter in America, curated by Lolly Robinson. It focused on works in public and private collections in the U.S. You can learn more in the catalog.
The current display at The Carle (across from the Reading Library) highlights Potter's books and the items unique to the Barbara Elleman Research Library. A limited-edition 100th anniversary case set (963/1175) includes a copy of Potter's original illustrated letter written to her young friend Noel Moore, the son of her former governess, containing the story of Peter Rabbit. The first written account of the well-known story, it is displayed with a full facsimile set of Potter's original color illustrations. Miniature figurines—among them Jeremy Fisher, Squirrel Nutkin, and Miss Moppet—are in attendance, as well as Peter in his familiar blue jacket.
Miniature figurines of Potters' beloved characters, from Peter Rabbit and Jeremy Fisher to Squirrel Nutkin and Miss Moppet, from The Barbara Elleman Collection. Potter had an uncanny ability, through word and image, to capture the nuances of an animal—be it a duck, a frog, or a rabbit. She also created credible stories with twists and turns that ended believably.
Though the details of these special purchases for my Potter collection dim with age, my admiration of her life and her books continues. I am pleased that my collection is now held at The Carle, where it can be shared with scholars, visitors, and others as intrigued as I am by Potter's life and books.