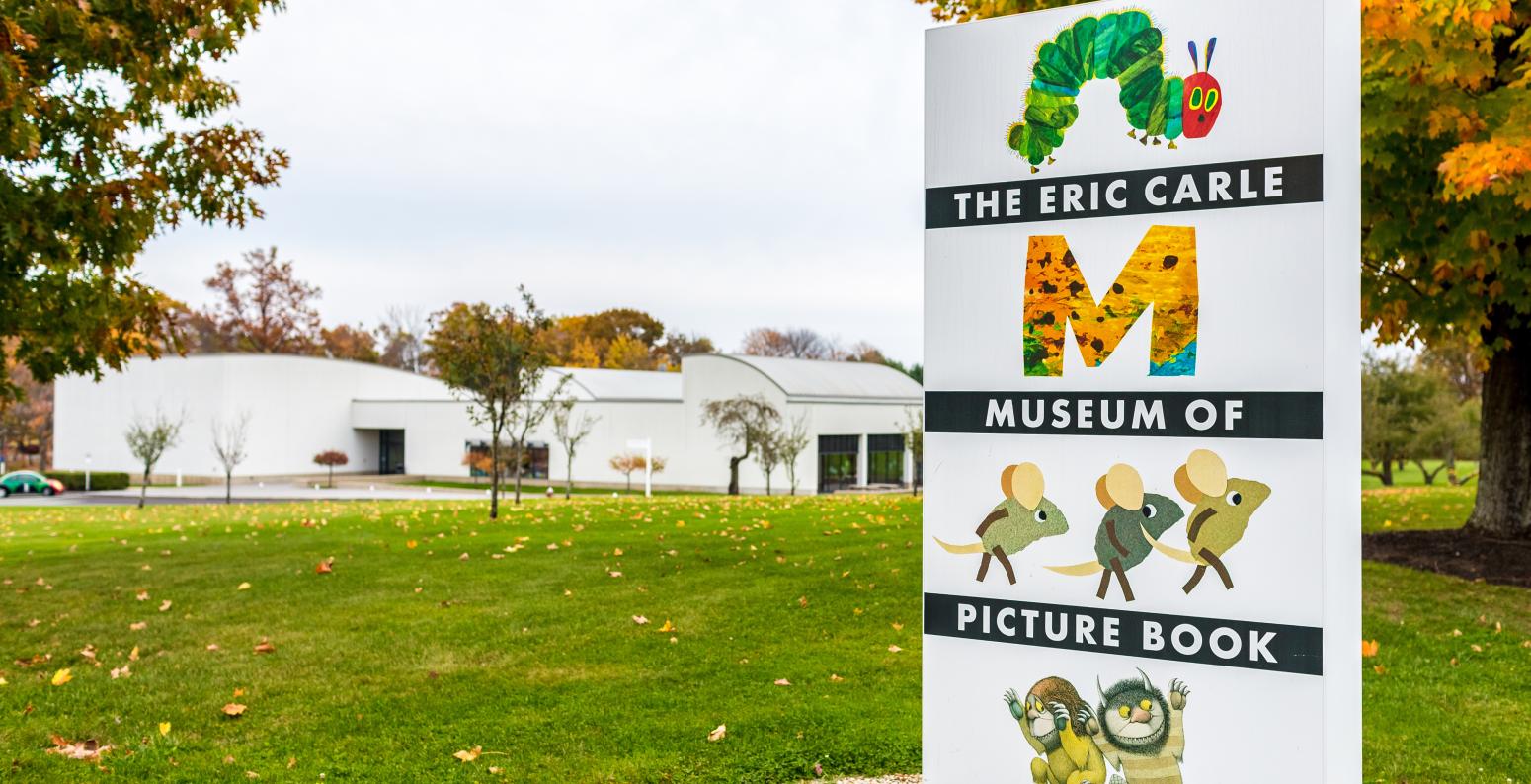 Article Type
News & Press
News & Press Categories
Press
The Carle Announces New Chairman of the Board, Officers, and Trustees
November 3, 2023
(Amherst, MA—November 3, 2023) The board of trustees of The Eric Carle Museum of Picture Book Art, in Amherst, MA, announced its officers and two new trustees today, including the election of William Gorth as chairman of its board of trustees. Gorth follows outgoing Chairman Christopher B. Milne, who served the Museum, first as treasurer and later as board chair, for 22 years. Milne led the board through two decades of growth, as the Museum received more than a million visitors in Amherst and shared its traveling exhibitions with millions of museum-goers around the world.
At its September meeting, the board also ratified the appointment of Jennifer Schantz as the Museum's new executive director, replacing Alexandra Kennedy who announced in January that she was stepping down after 15 years. 
"The board is very excited to start working with Jennifer," says Gorth. "We want to help her, and her leadership team build on the successes of the Museum's first 20 years by creating innovative programs and exhibitions that will reach an even wider national and international audience. After a long history as a trustee and supporter of The Carle, I know there are no ends to its opportunities."
Schantz stepped into her new role on September 18, and is starting a listening and learning tour with board, staff, and community members. "Picture books are where our journeys begin with reading and art," says Schantz. "Bill and I firmly believe the Museum can have a profound impact on the next generation."
Officers
In addition to the election of the board chair, Lynn Waggoner was elected treasurer, Jennifer Loja was re-elected vice-chair, and Andrea Davis Pinkney was re-elected secretary.
William Gorth has been a board member, cumulatively, for over 14 years. He has both chaired and served on the finance committee and has held treasurer and secretary positions on the executive committee. He co-founded National Evaluation Systems in Amherst, MA, which he sold to Pearson in 2006. He is now retired. Gorth has served on college, hospital, and cultural institution non-profit boards, holding both committee and board chair positions. With his wife Janet Gorth, he has been a longtime donor to the Museum, including a major contribution to the Museum's endowment in 2008. He is based in Amherst.
Jennifer Loja has been a board member, cumulatively, for almost 12 years, serving on the executive committee in multiple roles for the last three years. She is currently the president of Penguin Young Readers (a division of Penguin Random House) where she oversees the division. After positions earlier in her career at both Candlewick Press and Houghton Mifflin, Loja joined Penguin Young Readers in 2009 as the Associate Publisher of the group. She has been an active supporter of the Museum, including securing major sponsorships from Penguin Random House for exhibitions and programs. She is based in New York City.
Lynn Waggoner, the Museum's new treasurer, is Vice President of Global Publishing, Franchise Content and Creative for Disney Publishing Worldwide, where she has worked for more than 20 years. She oversees Disney Press, Marvel Press, Lucasfilm Press, and Disney Editions in addition to leading global franchise content development. Disney, under Waggoner's leadership, has been a longtime sponsor of The Carle and its programs. Waggoner, who is based in Orlando, FL, has been a board member at The Carle for five years.
Andrea Davis Pinkney is the bestselling author of books for children and young adults. Her expertise extends to theater and the performing arts as well, where she is the librettist for the Houston Grand Opera's The Snowy Day, based on the picture book by Ezra Jack Keats. She is a four-time NAACP Image Award nominee and recipient of both the Regina Medal and the Arbuthnot Honor Award. Pinkney is also vice president and executive editor at Scholastic, where she has served since 2005. Pinkney has been on the board since 2018 and on the executive committee since 2021. She is based in New York City.
New Trustees
Nancy Sokolove was appointed to the board in March by The Eric and Barbara Carle Foundation. She is an art consultant, based in Atlanta, with more than 30 years of experience in museum and academic settings. She served as a curator and the director of adult education at the Asheville Art Museum in Asheville, NC, sat on the City of Asheville's Public and Cultural Arts Board, and has twice been a juror for the City of Atlanta, Mayor's Office of Cultural Affairs. Nancy lives in Atlanta.
Teresa Toro is a philanthropist and songwriter with over two decades of nonprofit and public service experience. She previously served as a board member for the Cypress Hills Local Development Corp., Brooklyn Community Board No.1 (chairing the Transportation Committee for eight years); and currently Epiphany, an independent literary journal. She regularly appears with The Bushwick Book Club, which hosts literary-inspired live performances including a creative response to Eric Carle's The Very Hungry Caterpillar in 2019. Toro was appointed to the board by The Eric and Barbara Carle Foundation in August. She lives in Brooklyn with her husband, Rolf Carle.
Board Retirement
At its September meeting, trustees also thanked Steven Malk, who completed two consecutive three-year terms on the board. Malk is a literary agent at New York-based Writer's House, where he works from its San Diego, CA, offices.
With the appointments of Sokolove and Toro, the Museum now has a board made up of 16 trustees from around the country. 
About the Museum  
The Eric Carle Museum of Picture Book Art is the international champion for picture books. We collect, preserve, and exhibit original illustrations, encourage guests of all ages to read and create art, and foster an ever-growing audience passionate about children's literature. 
The late Eric and Barbara Carle co-founded the Museum in November 2002. Eric Carle was the renowned author and illustrator of more than 70 books, including the 1969 classic The Very Hungry Caterpillar. Since opening, the 43,000-square foot facility has served nearly one million visitors. The Carle houses 9,000 permanent collection illustrations. The Carle has three art galleries, an art studio, a theater, picture book and scholarly libraries, and educational programs for families, scholars, educators, and school children. Bobbie's Meadow is an outdoor space that combines art and nature. Educational offerings include professional training for educators around the country and master's degree programs in children's literature with Simmons University. The Museum offers digital resources, including art activities, book recommendations, collections videos, exhibition videos, as well as workshops for online visitors. Learn more at www.carlemuseum.org and on Facebook, YouTube, Twitter, and Instagram @CarleMuseum.  
For media inquiries, additional press information, and photo requests, please contact Sandy Soderberg at sandys@carlemuseum.org.