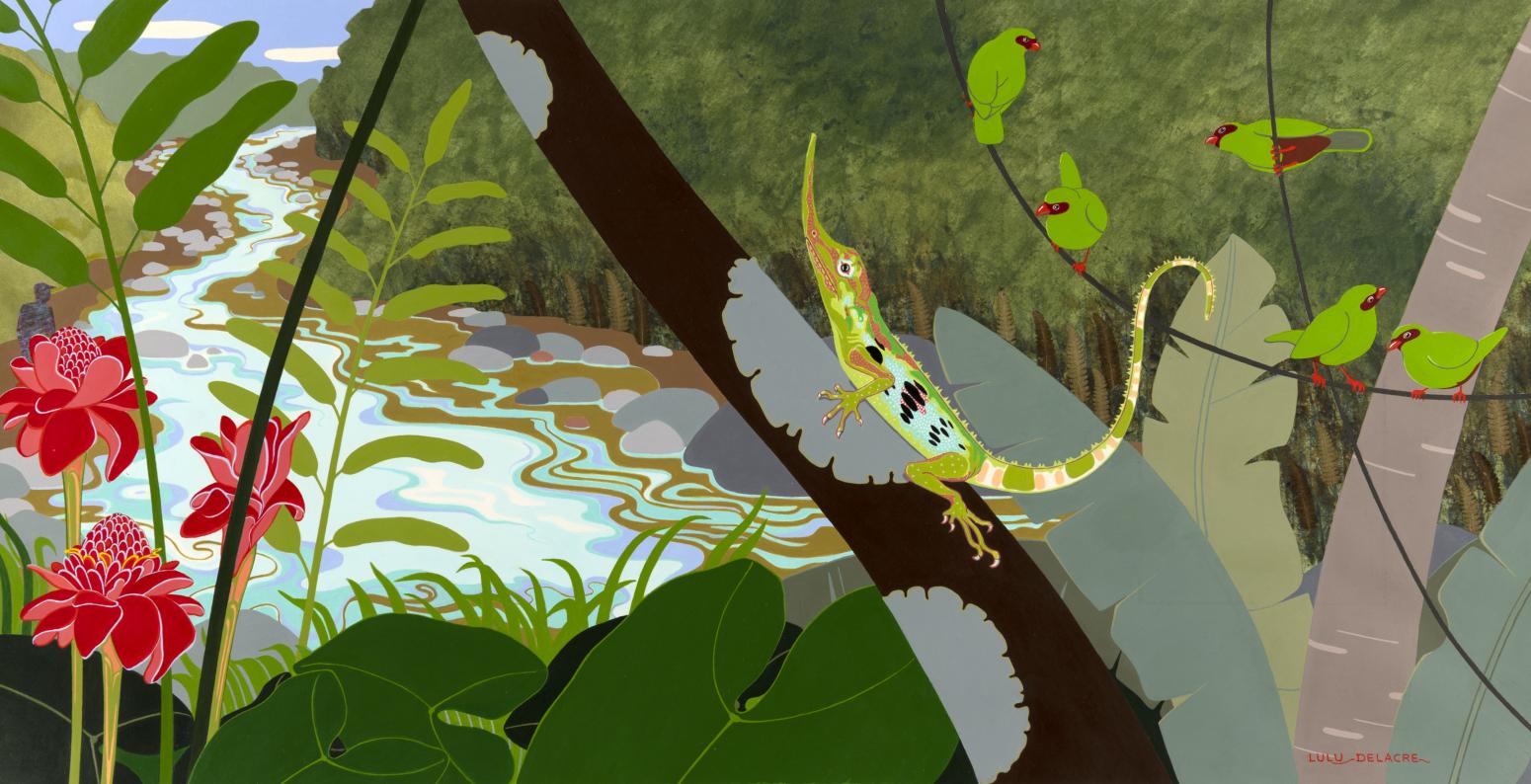 Article Type
News & Press
News & Press Categories
Press
The Carle Celebrates 20th Anniversary with New Exhibition and Online Collection
October 18, 2022
The Eric Carle Museum of Picture Book Art continues its 20th anniversary celebration with a new exhibition showcasing more than 60 artworks added to the Museum over the past five years. The Carle Collection: Recent Acquisitions opens November 19, 2022 and is on view in the Central Gallery through April 9, 2023.   
 
The exhibition represents only a few highlights in the Museum's permanent collection, which is made up of more than 9,000 objects by more than 250 artists. The art covers more than a century of picture book history. Older pieces include an 1899 ink illustration by the Golden Age illustrator Charles Robinson and a 1941 watercolor by the groundbreaking artist Wanda Gag—both artists new to the Museum's collection. There are additional treasures by Sophie Blackall, Bryan Collier, Raúl Colón, Lulu Delacre, Lois Lenski, Barry Moser, Allen Say, Richard Scarry, Maurice Sendak, E. H. Shepard, Pamela Zagarenski, and 40 others. 
 
An eclectic presentation, the show offers a range of subjects and media. The art displays famous picture-book characters like Mother Goose and Winnie-the-Pooh, as well as historical figures Ida B. Wells, Sonia Sotomayer, and Dr. Martin Luther King, Jr. There are folktales and fairytales, from Jerry Pinkney's Uncle Remus: The Complete Tales (1999) to Astrid Sheckels's Hector Fox and the Raven's Revenge (2022). Books in rhyme and prose include Garth Williams's The Rescuers (1959), Arnold Lobel's Whiskers and Rhymes (1985), Robin Preiss Glasser's Fancy Nancy (2006), and Lulu Delacre's bilingual counting book ¡Olinguito, de la A a la Z! Olinguito, from A to Z!, (2016). Though collage is a large staple of the collection, the exhibition also features prints, acrylics, watercolors, graphite sketches, and pen-and-ink drawings. For the first time, photography has entered the collection with images by George Ancona and Shelley Rotner. Thanks to generous contributions of both art and funds for purchases, The Carle has added several new names to its distinguished roster of artists. Significantly, in 2019, the Museum acquired Remy Charlip's picture book archive; two paintings from his popular Fortunately (1964) will be on display.  
 
"In just 20 years, The Carle has become one of the premier repositories in the country for picture-book art" says Chief Curator Ellen Keiter. "I am honored to care for the collection and preserve the legacies of artists and their contributions to children's literature."  
 
Co-founders Eric and Barbara Carle said their dream for the Museum was for it to thrive and grow to be a place where the art of picture books could be enjoyed and studied by visitors. "We hope the Museum will continue to be a place of learning for visitors and educators, art teachers and students; a cultural and education center and academic resource," they said.  
 
As The Carle celebrates its 20th year, it prides itself as the international champion of picture books. Almost a million visitors have walked through the Museum's doors over the last two decades, and every year the Museum's traveling exhibitions reach a half million museum goers across the country and around the world. Recent exhibitions have traveled to Japan, China, Germany, South Korea, and to many museums in the United States.  
The Carle Publishes Collection Highlights Online 
More than 300 artworks from the Museum's permanent collection will make their online debut in November to coincide with the opening of The Carle Collection: Recent Acquisitions. The new website pages will feature 13 artists with deep holdings in the Museum's collection, including Ashley Bryan, Arnold Lobel, Petra Mathers, and William Steig. Individual highlights from the collection will be presented in thematic categories like Children & Adventure, Music & Dance, Animals, and Beloved Picture Book Characters.  
 
"We're thrilled our new website allows us to share a larger portion of our collection," says Keiter. "The pages will grow as our collection grows. We plan to add new illustrations to the site every year as we continue to work toward our long-term goal of a publicly accessible collections database."  
 
The Carle's two other anniversary exhibitions are Celebrating Collage: A 20th Anniversary Exhibition, on view through December 31, 2022, and Eric Carle's Book Birthdays, on view through March 5, 2023.
About the Museum  
The Eric Carle Museum of Picture Book Art is the international champion for picture books. We collect, preserve, and exhibit original illustrations, encourage guests of all ages to read and create art, and foster an ever-growing audience passionate about children's literature. 
 
The late Eric and Barbara Carle co-founded the Museum in November 2002. Eric Carle was the renowned author and illustrator of more than 70 books, including the 1969 classic The Very Hungry Caterpillar. Since opening, the 43,000-square foot facility has served nearly one million visitors. The Carle houses more than 11,000 objects, including 9,000 permanent collection illustrations. The Carle has three art galleries, an art studio, a theater, picture book and scholarly libraries, and educational programs for families, scholars, educators, and school children. Bobbie's Meadow is an outdoor space that combines art and nature. Educational offerings include professional training for educators around the country and master's degree programs in children's literature with Simmons University. The Museum offers digital resources, including art activities, book recommendations, collections videos, exhibition videos, as well as workshops for online visitors. Learn more at www.carlemuseum.org and on Facebook, YouTube, Twitter, and Instagram @CarleMuseum.  
 
For media inquiries, additional press information, and photo requests, please contact Sandy Soderberg at sandys@carlemuseum.org.