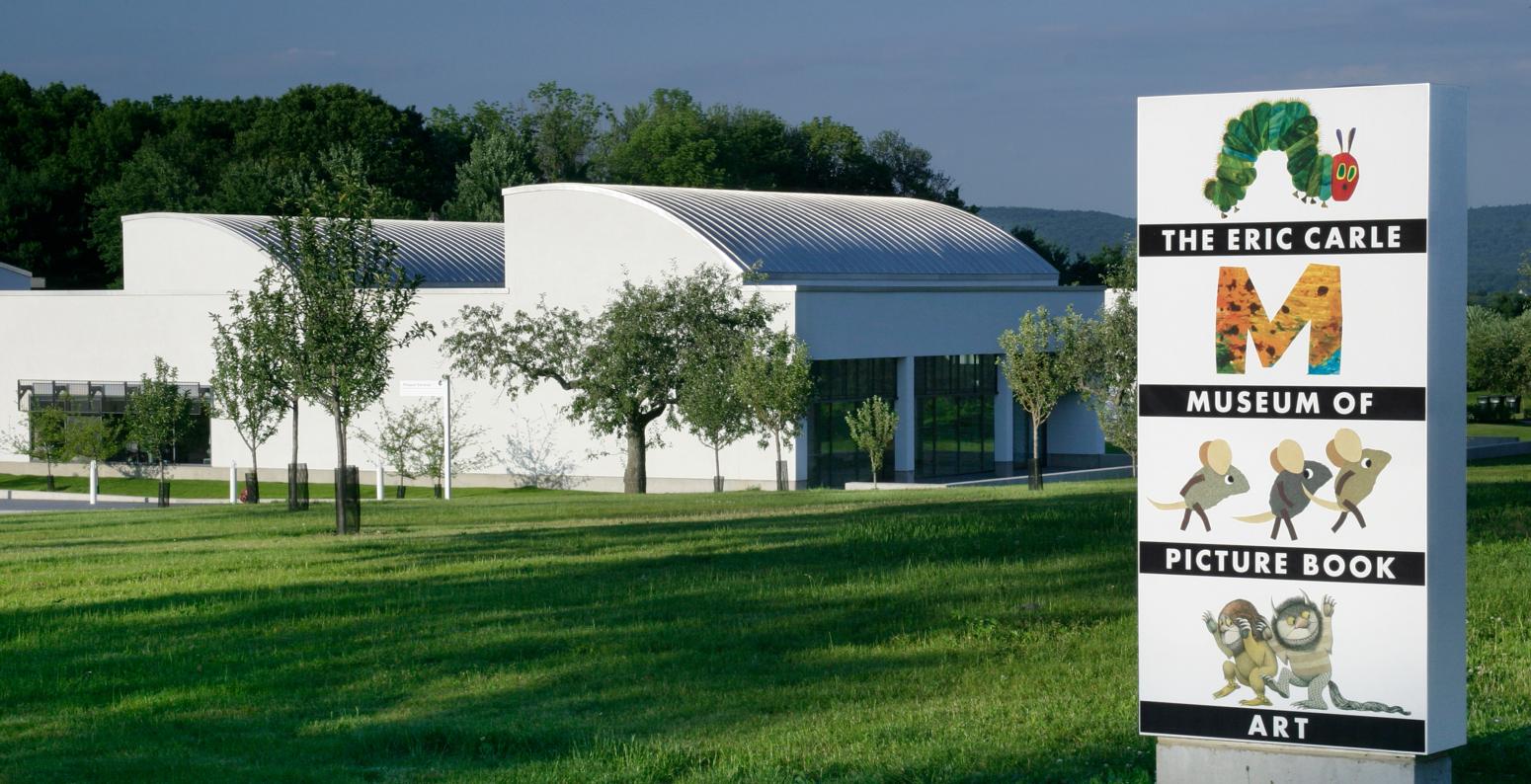 Article Type
News & Press
News & Press Categories
Press
The Carle is Reopening to the Public August 1st!
July 22, 2020
The Eric Carle Museum of Picture Book Art is pleased to announce that it is reopening to the public on Saturday, August 1. Visitors should check the Museum's website for new safety guidelines, including required face coverings and social distancing.
"We really look forward to welcoming visitors back to The Carle. We know how important reading and making art have been for so many people throughout the lockdown, and we are eager to make their visit to the Museum a calm and inspiring experience," said Alexandra Kennedy, The Carle's executive director.
 
The Museum's new summer hours are Wednesday through Friday, 10am-3pm, Saturday 10am-4pm, and Sunday 12pm-4pm. Visitors are encouraged to use the new registration system, choosing a morning or afternoon visit. (Walk-ins will be welcome as space permits.) In order to comply with state guidelines and to offer a safe and comfortable visit, the Museum has a number of new protocols in place:
There are capacity limits and new cleaning protocols for Museum spaces. Some areas may require guests to wait in a socially distanced line before entering.   
 Visitors are required to wear face coverings. Children 2-5 are encouraged to wear face coverings. Children under 2 should not wear face coverings.    
All visitors must maintain six feet of distance between Museum staff and other guests outside their group. Children must stay with their adult(s) at all times.   
The Carle Bookshop is open and also offers curbside pickup.
The Art Studio is open to the public, but will be taking one family or group at a time; upon arrival, visitors can sign up at the admissions desk for a specific time. For visitors who don't take a Studio spot, art activity kits "to go" are available for pick up and can be used in Bobbie's Meadow or to take home.
The Café is closed. Visitors are welcome to picnic in Bobbie's Meadow, which is in full bloom!
Guests planning to visit should check The Carle's website for additional details and reserve advance tickets here. Questions about visiting can be sent to info@carlemuseum.org.
In the Galleries
Under the Sea with Eric Carle will be on view through September 6, 2020
Eric Carle's Angels: An Homage to Paul Klee will be on view through November 29, 2020
Let's Talk! Animals from the Collection opens August 8 and will be on view through January 24, 2021
About the Museum 
The mission of The Eric Carle Museum of Picture Book Art, a non-profit organization in Amherst, MA, is to inspire a love of art and reading through picture books. A leading advocate in its field, The Carle collects, preserves, presents, and celebrates picture books and picture-book illustrations from around the world. In addition to underscoring the cultural, historical, and artistic significance of picture books and their art form, The Carle offers educational programs that provide a foundation for arts integration and literacy.
Eric Carle and his wife, the late Barbara Carle, co-founded the Museum in November 2002. Carle is the renowned author and illustrator of more than 70 books, including the 1969 classic The Very Hungry Caterpillar. Since opening, the 43,000-square foot facility has served more than 750,000 visitors, including 50,000 schoolchildren. The Carle houses more than 11,000 objects, including 7,300 permanent collection illustrations. The Carle has three art galleries, an art studio, a theater, picture book and scholarly libraries, and educational programs for families, scholars, educators, and schoolchildren. Bobbie's Meadow is an outdoor space that combines art and nature. Educational offerings include professional training for educators around the country and Master's degree programs in children's literature with Simmons University.
During the COVID-19 closures, the Museum offered digital resources, including art activities, book recommendations, collections videos, and virtual professional development and workshops for online visitors. Learn more at www.carlemuseum.org and on Facebook, Twitter, and Instagram @CarleMuseum.
For media inquiries, additional press information and photo requests, please contact Sandy Soderberg, sandys@carlemuseum.org