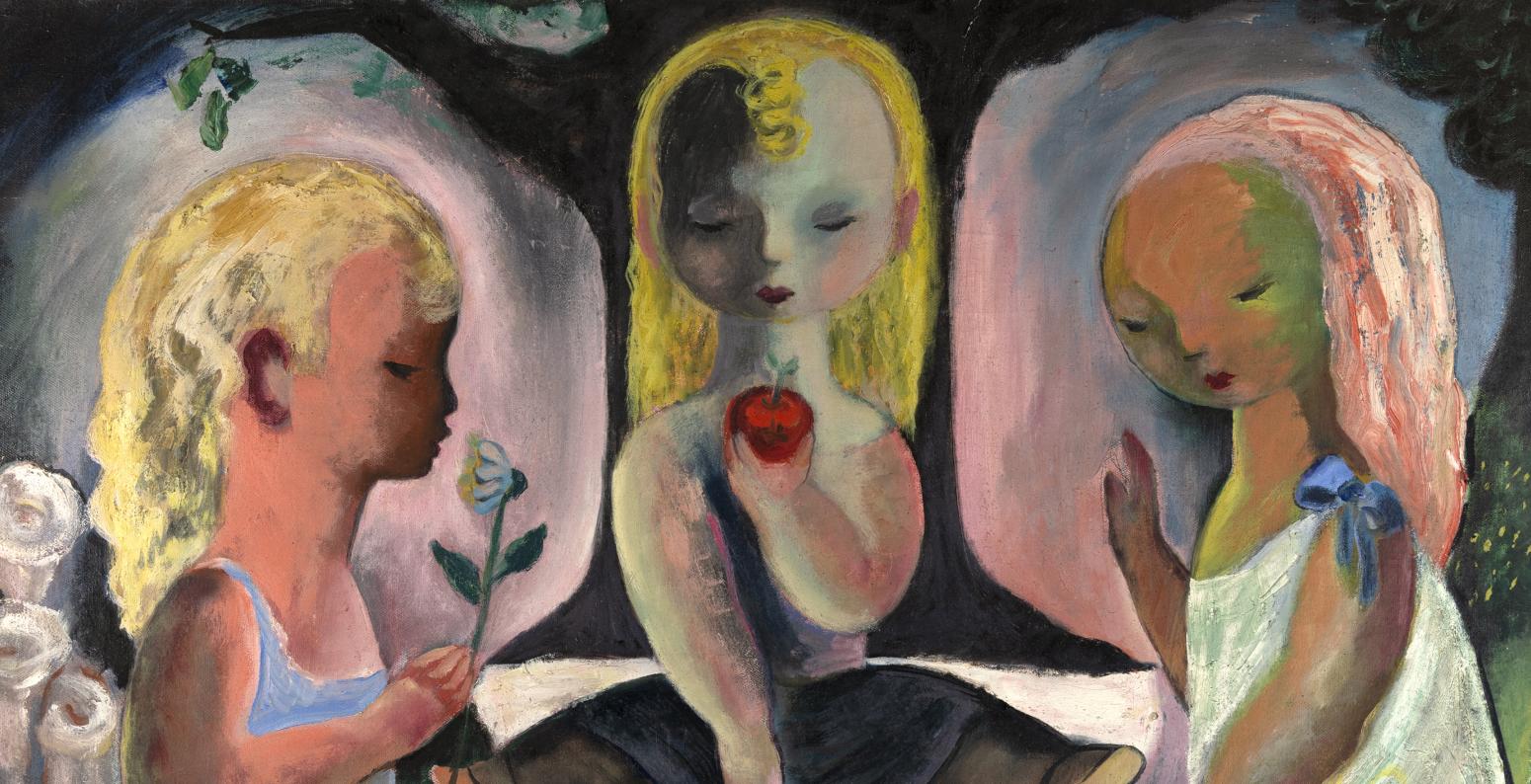 Article Type
News & Press
News & Press Categories
Press
Finding Nura: Rediscovering an American Modernist from the Kendra and Allan Daniel Collection
March 11, 2022
After 70 years out of the limelight, an admired artist will be featured at The Carle in Finding Nura: Rediscovering an American Modernist from the Kendra and Allan Daniel Collection. The exhibition re-establishes the long-forgotten, but highly-esteemed career of Nura and her alluring, highly-individualized interpretation of childhood. Her work slipped into oblivion after her untimely death at age 61, just as the non-representational energy of Abstract Expressionism began to overshadow figurative art. Nura's passing also cut short her career as an author and illustrator of children's books, wherein she was just beginning to gain recognition. The exhibition opens April 16 and remains on view through November 6, 2022. Nura Woodson Ulreich (1888-1950) was born in Kansas City, Missouri. From childhood, she gravitated to art, dazzled friends with her figurative cut outs, and by 1921 had studied at the Kansas City Art Institute, the Art Students League in New York, and the Art Institute of Chicago. In Chicago she met her husband, the artist Edward Buk Ulreich. In the mid-1920s, the couple spent time in Vienna and Paris, absorbing modernist artistic styles. Subsequently they moved to New York, where both gained critical acclaim, having their work acquired by major museums and private collections.
Nura's paintings capture the essence of childhood, imbuing it with empathy while avoiding the overly sentimental. Her modernist approach resulted in stylized images of children set in dreamlike landscapes and interiors. They are portrayed with animals, books, and musical instruments, though rarely with an adult in sight. Nura's figures are characterized by their rounded forms, rosy cheeks, and wavy hair. They are distinctly hers, but not of any real child. Nura said, "The little figures in my works are offered merely as symbols of the universally beloved state called childhood."
Finding Nura is drawn from the remarkable holdings of Kendra and Allan Daniel. The collectors first came across one of Nura's paintings, Fish Boy, three decades ago when they were scouting antique shops. "The artist's name was unfamiliar," recalls Kendra, "but the painting struck me as highly inspired." Over time, they acquired a large collection of Nura's work. The Daniel's collection of art by illustrators focuses on women artists of the Golden Age of Illustration, a period of excellence in book and magazine art between 1880 and 1940. Nura is one of the many talented women illustrators of the early 20th century who was professionally trained and prolific but remains relatively unknown today. "We hope to bring Nura to the attention of the public with these impressive works of art," says Kendra.
Guest curated by H. Nichols B. Clark, The Carle's founding executive director, the exhibition encompasses both independent work and illustrations from Nura's picture books. It comprises 60 paintings, watercolors, and lithographs. Of special interest is Nura's hooked rug, Cats and Ducks, designed in her distinctive bold style, as well as a terracotta figurine, and first edition books.
About the Museum
The Eric Carle Museum of Picture Book Art is the international champion for picture books. We collect, preserve, and exhibit original illustrations, encourage guests of all ages to read and create art, and foster an ever-growing audience passionate about children's literature.
The late Eric and Barbara Carle co-founded the Museum in November 2002. Carle was the renowned author and illustrator of more than 70 books, including the 1969 classic The Very Hungry Caterpillar. Since opening, the 43,000-square foot facility has served more than 750,000 visitors, including 50,000 schoolchildren. The Carle houses more than 11,000 objects, including 7,300 permanent collection illustrations. The Carle has three art galleries, an art studio, a theater, picture book and scholarly libraries, and educational programs for families, scholars, educators, and schoolchildren. Bobbie's Meadow is an outdoor space that combines art and nature. Educational offerings include professional training for educators around the country and master's degree programs in children's literature with Simmons University. The Museum offers digital resources, including art activities, book recommendations, collections videos, and workshops for online visitors. Learn more at www.carlemuseum.org and on Facebook, YouTube, Twitter, and Instagram @CarleMuseum. For media inquiries, additional press information, and photo requests, please contact Sandy Soderberg at sandys@carlemuseum.org.