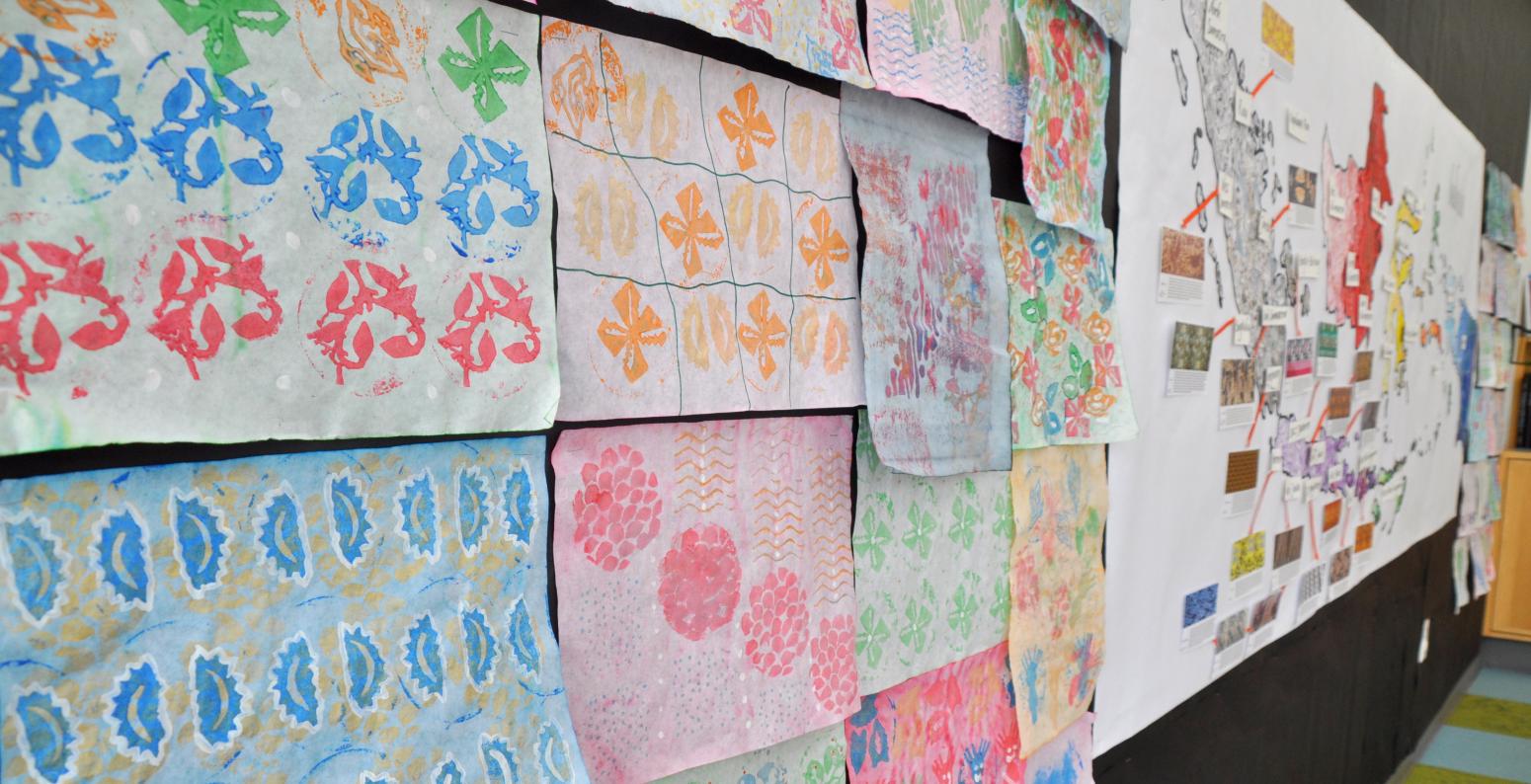 Article Type
Making Art Together
Making Art Together Categories
Collage
Painting
Printmaking
Theory and Resources
Batik-Inspired Project: A World Experience
August 24, 2022
For my internship project, I wanted to introduce visitors to a cultural art form from a different country, so I designed a special batik art project for guests to engage with. I divided this special batik art project into two sessions with different activities. Born and raised in Madura Island, Indonesia, I was interested in how batik, the common cultural fabric product, could be a source of learning for all ages both locally and internationally.  
Batik is rich in cultural history and meaning for people throughout the regions of Indonesia. With numerous natural resources, mobility of people, integration of languages from a long history of the country's independence, people in the country share similarities and differences in the design of batik fabrics. I was curious to experiment with batik in a foreign country, such as the United States, and observe how people, whether it is their first encounter with batik or not, make meaning from their experience with the art form. Beyond that purpose, there was a greater goal that I wanted to emphasize, which is building cross-cultural understanding among people who learn from and use my batik resources. This special batik art project was a part of my internship in the Art Studio, and I divided the project into two drop-in sessions with different activities.  
Batik Cap/Stamping 
In preparing for the batik stamping, we experimented with different art materials to determine which would be most suitable for batik crafting in the Art Studio space. Batik cap involves a hot copper, wax and dyes and is a multi-layer process. I knew we needed to adapt the process to use safer and more accessible materials for Art Studio guests to explore. Being inspired by the copper stamps, we initially tried making paper stamps, but the paper was easily torn. In the Art Studio, we always try to ensure guests have a good experience using the materials, and so we decided that paper was not the best option for a full-day stamping activity.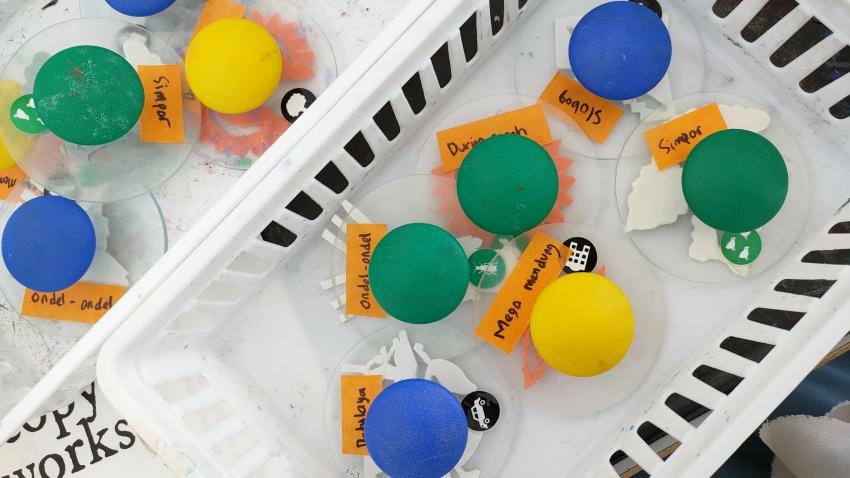 We then looked into our art supplies and found a bucket of stamp bases from a previous Everyday Art Project. We decided to search for other materials that can create a raised texture on the stamps. We finally decided to use several pieces of adhesive foam for the stamps.  
Batik Patterns
Batik from regions of Indonesia have intricate patterns that are very difficult to imitate as the artisans have their own unique ways of drawing the patterns and layering the color and texture. Providing stamps for guests to use gives an accessible idea of how batik fabrics are processed. Thus, I selected some primary batik patterns from different regions that are associated with objects that are more familiar. We used some batik patterns to create the stamps  such as mega mendung, slobog, ondel-ondel, durian pecah, parang kusumo, simpor, and datulaya. We transferred the patterns on the adhesive foam with carbon paper and traced the printed images. Once the images were transferred, we cut them with scissors. For more complicated patterns, we used X-ACTOⒸ knives.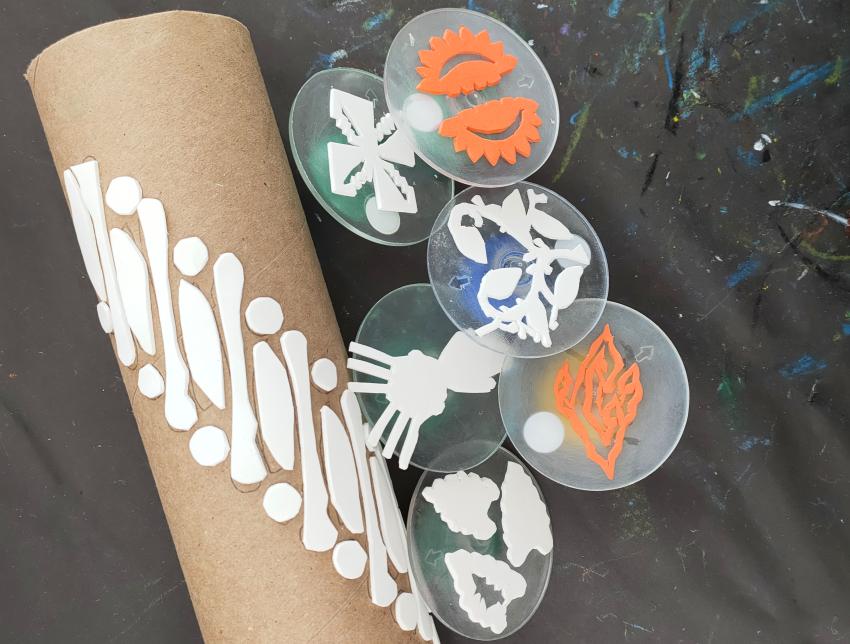 When making the stamps, I had an idea. I wanted to make the stamps from a paper towel roll to allow guests to have a different kind of stamping experience. However, it appeared that the roll was not strong enough, and too small to hold. We then found a medium-size cardboard roll that we used to make parang kusumo-patterned stamps. During the project, guests could experiment with stamping actions such as pressing, rolling, spacing, and aligning one design to another. This cardboard roll stamp is one of the stamps that stood out and got lots of attention from the guests.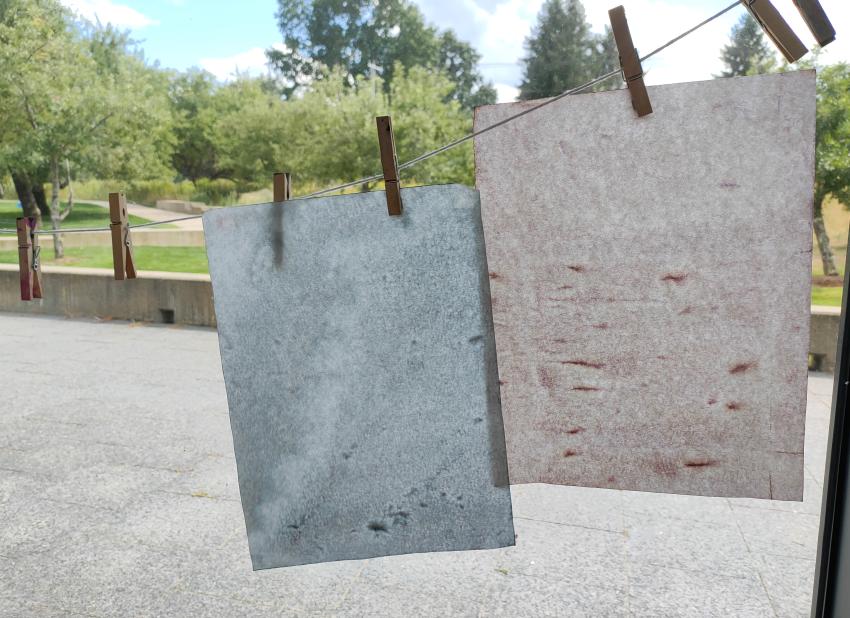 Preparing Papers for Batik
While we were not using dyed fabric for our batik process, we found we could come close to the process by dying color diffusing paper with liquid watercolors. I decided to focus on red, orange, black, blue, and green. The dying process produced some fantastic effects on the color diffusing papers. It made bleeding creases on the edge and surface of the papers. I dried them on raised and flat trays with textures, and it helped the color spread over the paper in a variety of ways. Some parts of the paper even had lighter colors as a result of being layered together.  
Color Choices for Stamping
Stamping is always fun when we use many different colors on the same paper. However, this is not the only reason we used a variety of colors for this stamping project. Batik has embedded meanings, not only in the patterns, but also in the colors. For example, batik produced in Madura Islands have strong and bright colors with varied philosophies associated with them. Red color in the batik means bravery, and green depicts the religiosity of Madurese.  
We made sponge stamp pads to smear tempera paint on top and sprayed it with water throughout the day to keep it wet. Customized stamp pads can be made in different sizes which suits the hand size of little ones and adults. The trays underneath the pads are also great to avoid paint leaking when the pads are pressed.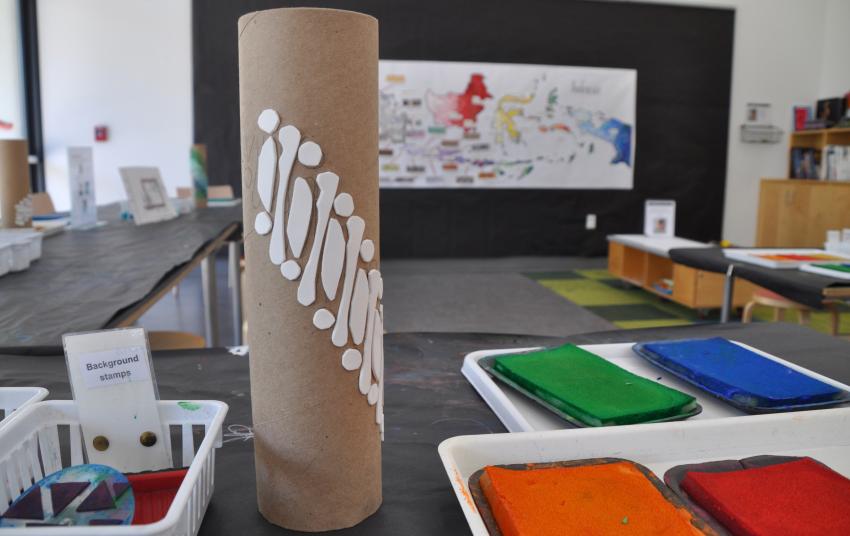 Stamping on a dyed paper allowed guests to experiment with testing if colors work really well on a variety of different colored surfaces. Just how batik is produced by layering colors on colors, our stamping project engaged guests to think deeply about the coloring process.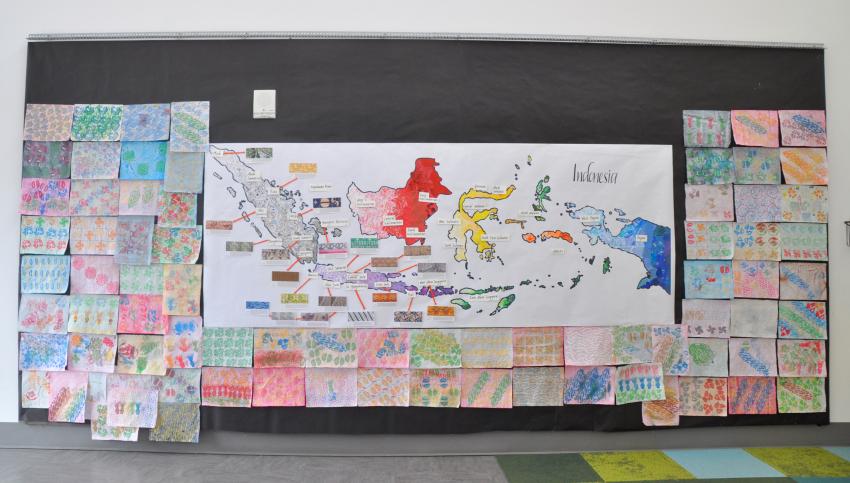 Cultural Context
With different Indonesian batik patterns, we could observe that culturally inspired art projects may be translated broadly by guests who are having their first experience with the concept of batik fabric design. I decided to create different types of resources such as a map illustrating the distribution of batik industry, a manual book which explains further the meaning and origins of batik designs, as well as languages used in naming the batik patterns.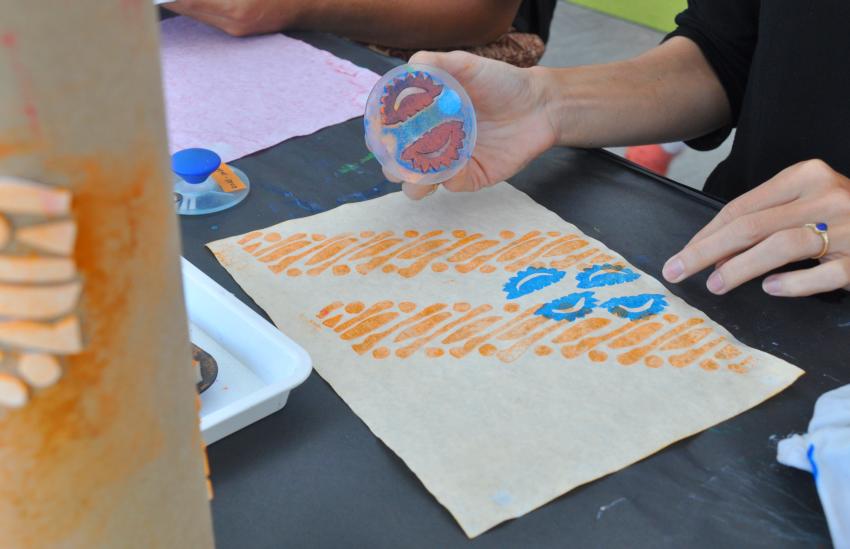 Reflections on the Day
I noticed that there were some differences of batik pattern representation and meaning-making that the guests had. Guests who encountered batik for the first time sometimes focused on trying many different patterns all at the same time. Meanwhile, those who were more familiar with batik design tended to apply patterns in a more repetitive and consistent way, showing a deeper awareness of the implicit meaning and common characteristics of the fabric design.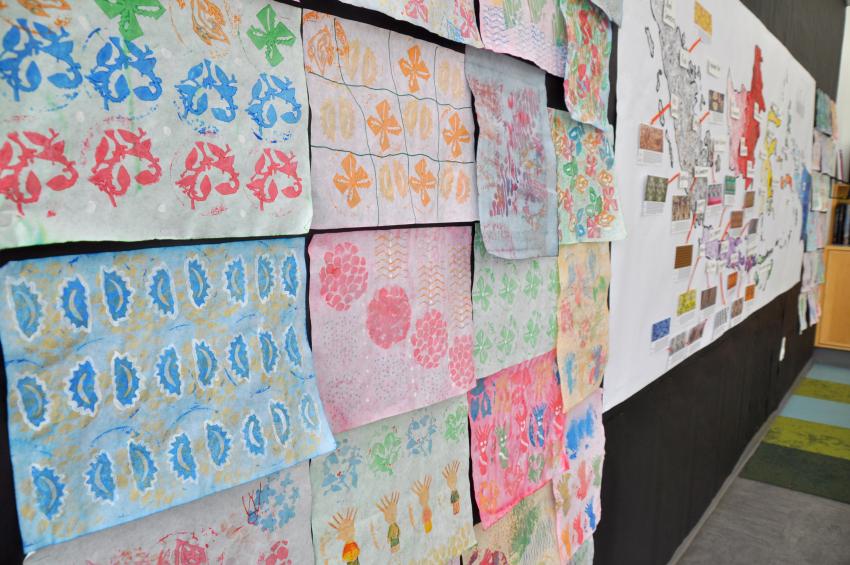 Bilingual Gratitude Cards
In the following week's session, we invited guests to use the batik papers to create a batik gratitude card.  By attaching the patterned papers to the wall from the first session, I was able to simulate the idea of 'buying batik clothes in a market' by inviting guests to select a paper. This is similar to the way I bought batik in traditional markets of Indonesia. The experience of choosing the papers in this way created a scenario where the papers were more meaningful and personally valued by guests. 
Moreover, I saw the potential to introduce bilingual literacy to the guests in the Art Studio. I decided to include words of gratitude in both languages. I brainstormed with my colleague about common ways of communicating gratitude in English. I found out English has more open ways of expressing gratitude than in Indonesian, but this fact made me think again about how I could do more to bridge the gap between these languages. In my first trial with this idea, I found that English allows people to engage with words of gratitude more. When looking into the list that we brainstormed, I realized that I, as Indonesian, never used such personal and emotional words to thank others. Generally speaking, we only say the words terima kasih to thank people. However, once I listed the words, I actually now have more options to say thank you in both languages.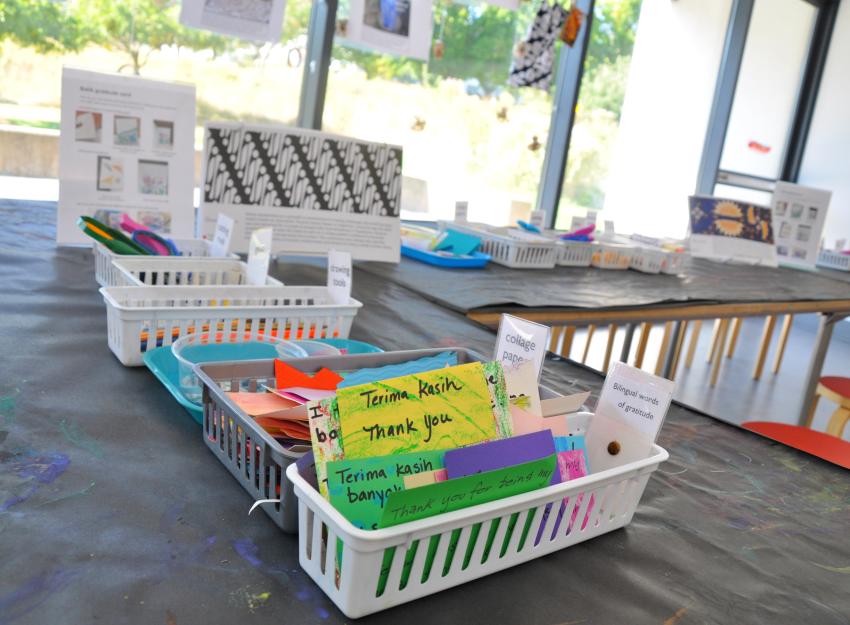 We wrote the phrases of gratitude onto collage papers and provided them alongside scissors, glue sticks, washi tape, example pop-up papers, drawing tools, and patterned collage papers. On the tables I also provided more cultural information about the batik patterns in form of manual book, as well as suggestions on how to create a gratitude card in a sign holder. All guests are welcome to customize their cards using the resources. I found out there were many interesting card styles with bilingual words of gratitude inside which add the values of learning in the Art Studio space.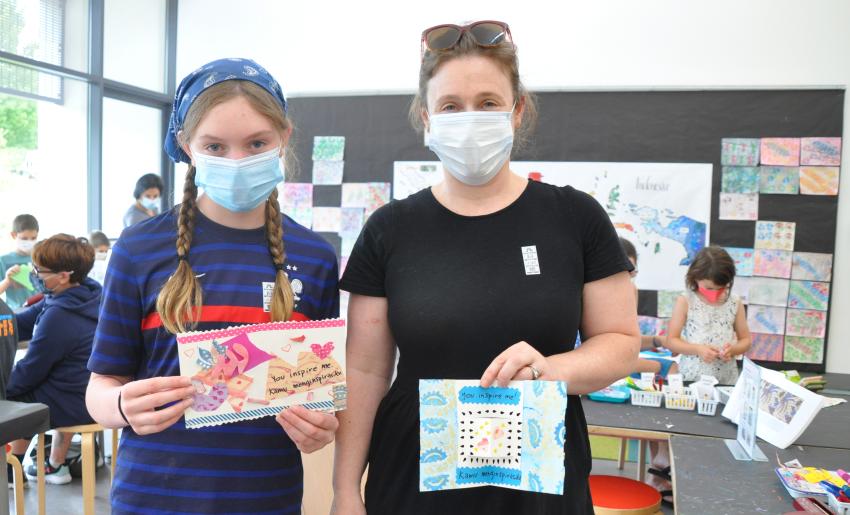 Guest Experiences and Final Reflections
Guests who spoke one language experienced the richness of bilingual learning and were encouraged to learn and speak world languages. This emotional and linguistic learning during the project also provided a space for the guests to create personally meaningful cards to share with loved ones. As I observed the project, I could sense socio-emotional connections between guests and their group members. The socio-emotional process also poured many untold stories among the people in the Art Studio space.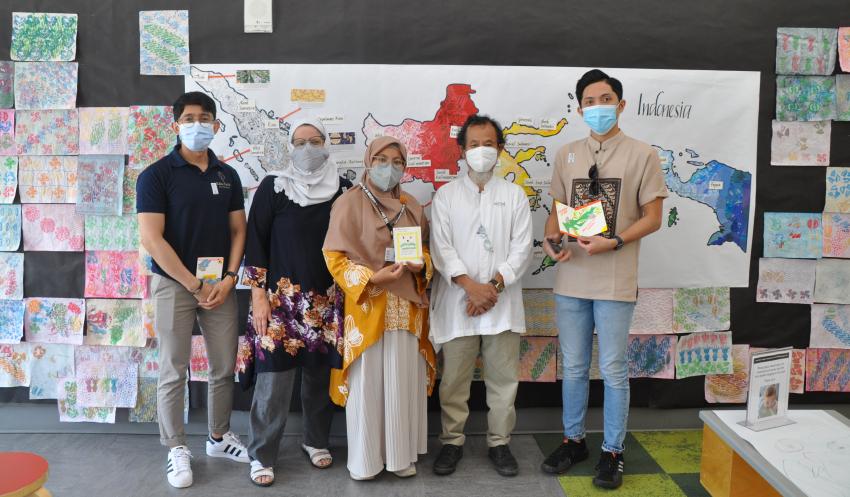 I found guests very much enjoyed the art process in Batik Cap/Stamping and Batik Gratitude Card crafting. Implementing a culturally-inspired project like batik also introduced new art techniques and concepts that we might not have ever tried before! I hope to see more culturally inspired projects in the future in the Art Studio!