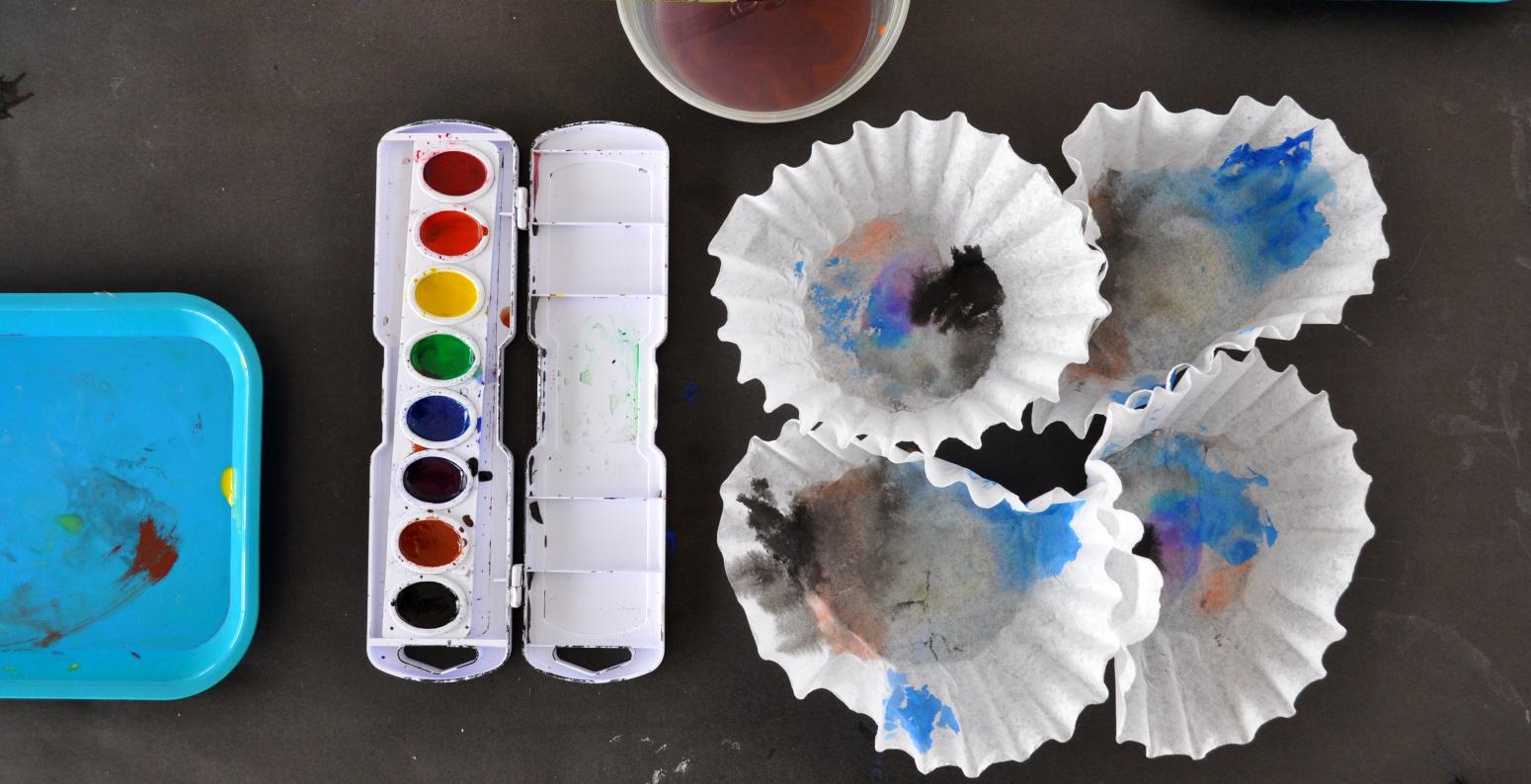 Article Type
Making Art Together
Making Art Together Categories
Infants and Toddlers
Painting
Theory and Resources
Coffee Filters and Watercolor Paint in Open Book, Open Play
February 8, 2016
Have you ever offered coffee filters and watercolors to your preschoolers and/or toddlers? This deceptively simple pairing of materials thoroughly engaged participants in one of our Friday morning Open Book, Open Play program sessions.
Open Book, Open Play, facilitated by Museum Educator, Emily Prabhaker, happens in three to four week intervals in place of our regular Friday morning storytime program a few times a year. It extends the sharing of picture books by weaving imaginative explorations inspired by elements of the picture books shared into and after the storytime.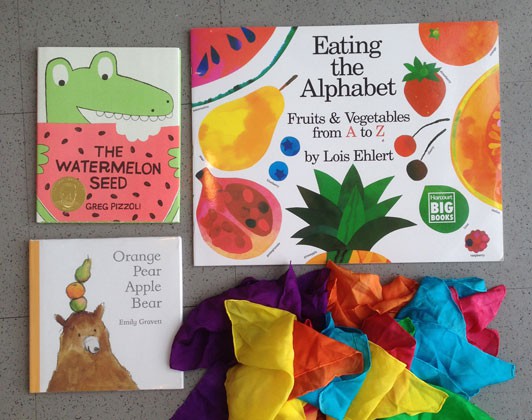 On this particular week, Emily started by having our toddler and preschooler guests start thinking about fruit as they looked through Eating the Alphabet by Lois Ehlert. Then, with favorite fruits on the mind, she had the group singing and moving with colorful scarves to a song about fruit salad. After sharing The Watermelon Seed by Greg Pizzoli there was another fruit song with movement.
She ended by sharing Orange, Pear, Apple, Bear by Emily Gravett. Asking the children to tell her what they notice about the pictures in this book, some children said that the pictures looked "watery." At the end of the book Emily had the group look again at the end papers at the front and back of the book and asked what they found. A few children shared the opinion that the fruit being eaten and left as cores at the end was "not good." So, Emily invited the participants to follow her down to the studio to try making their own fruit salad.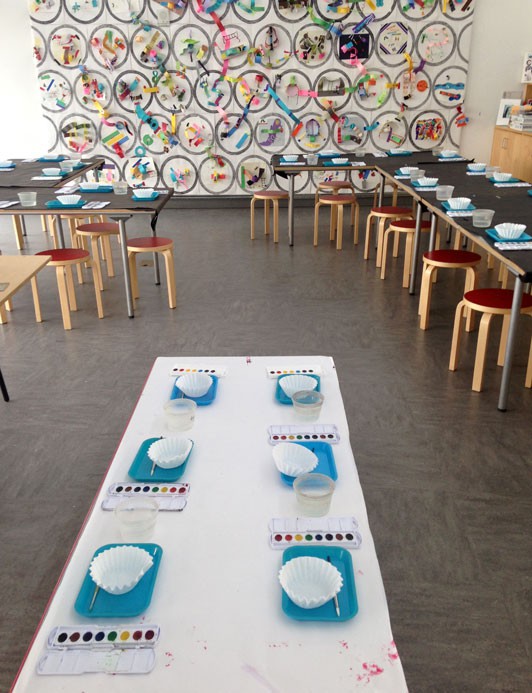 Before the program we set up the back of the Art Studio with individual paint stations that included a small tray containing two coffee filters nested together and a paintbrush, deli cups with water, and palettes of watercolor paint.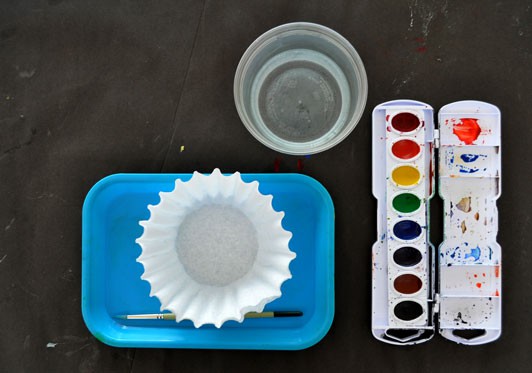 Typically with toddler and preschooler groups we offer tempera cakes in primary colors because of their large size, but on this day we knew that the range of colors, type of pigment in the palettes and smallish brushes would work well with the size and bleedability of the coffee filters.
Without any further prompting from Emily about "what to make" the toddlers, preschoolers, a couple of school aged children, and a few of the parents began to experiment with the water, paint and coffee filters. Some played with the materials without verbalizing their thoughts. Many liked using the black watercolor paint to cover other colors they put on their paper first. Some just liked getting their filter wet with water. A few noticed that they had two filters on their tray and experimented with ways to stack their filters. One girl remarked, "The white is my eraser paint," upon noticing how adding white to her paper effected the colors she had already painted.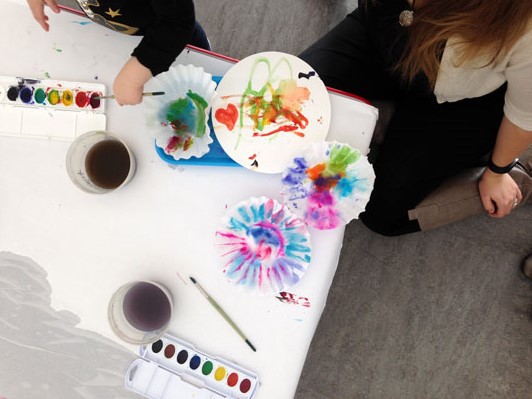 When the children were ready for another painting surface, we offered them a piece of watercolor paper we had already cut into a circle. Upon seeing this new paper being handed out one girl said "I'll take a plate to go under my bowl." Never did Emily or I call the materials plates or bowls. She made the connection on her own.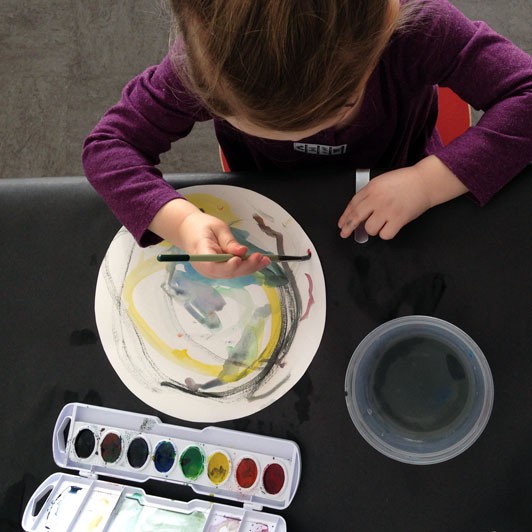 We wanted to share this Open Book, Open Play exploration because we think it's a great example of how we use a theme in an open-ended way. Working off a theme is not always how we select our books for storytime or materials for young children, but in this case it was an organizing force that allowed conversation about how artists use materials and tell stories. For some children it provided a spark they used in their materials exploration. Comments and questions shared by the children whether they seem on or off  topic to us adults emerge and are allowed to help shape the conversation. In many instances, our guests have found connective threads between books and explorations that we educators or parents may not have seen.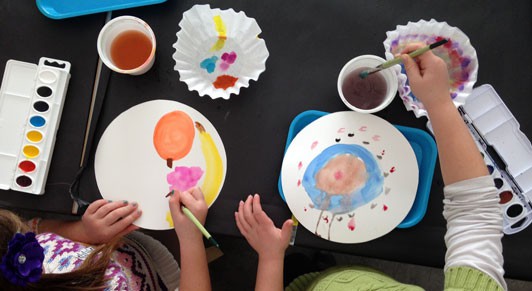 We hope you are inspired by some part of this Open Book, Open Play exploration. Maybe you'll remember the books or materials we offered the next time your young child shows interest in the colors of your produce. Or maybe, after painting together, you'll be inspired to make a fruit salad inspired by your paint colors. We think you'll find even more possibilities as you listen to the questions and interests of the young children in your life. 
Happy Exploring!