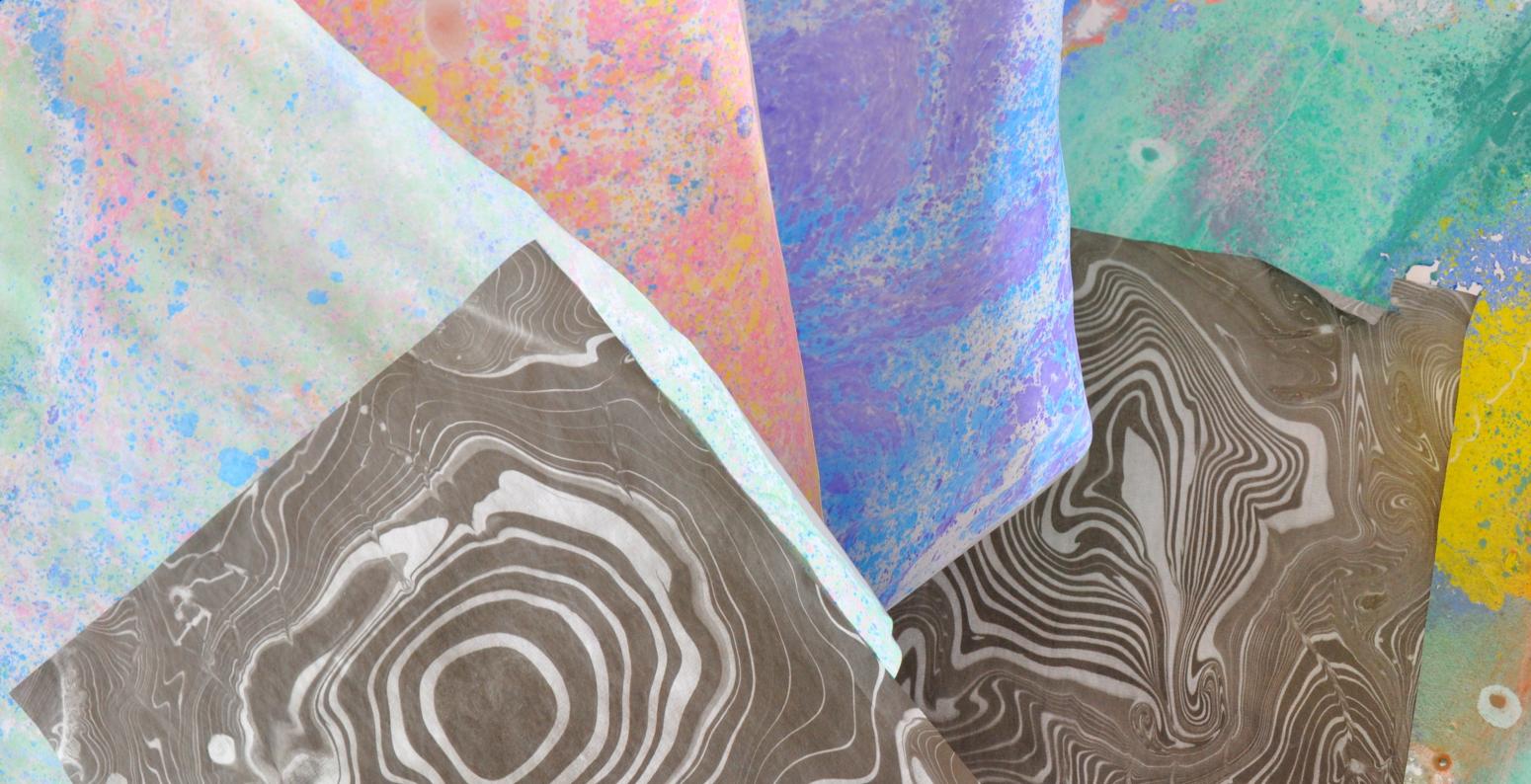 Article Type
Making Art Together
Making Art Together Categories
Painting
Theory and Resources
Easy Paper Marbling
May 20, 2013
This month I've been saying a lot of 'goodbyes' to student staff members as they leave for summer break. It makes me realize how fortunate we've been to work with such a stellar group of student employees over the years and see them move on to careers in art, museums and education.  We invited our very talented former Studio intern, Anna McNeary, to share this marbling paper activity she taught recently to children at ArtSpace Charter School in Swannanoa, NC.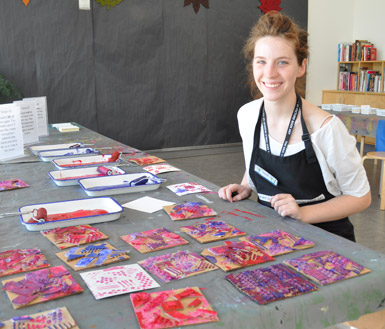 Anna McNeary working on her final Studio project, fall 2010.
I spent a very fruitful semester interning in the Art Studio during autumn of 2010, while I was attending Smith College. Since moving on from both the Carle and Smith, I've continued to pursue opportunities in art education. After I graduated last May, I moved to Asheville, NC and began working in the after-school program at ArtSpace Charter School. ArtSpace is an arts-integrated K-8 public charter school in Swannanoa, NC. ArtSpace is a great learning and teaching environment for any person who accepts art as a universal teaching tool, since the philosophy of the school is based on a belief in creative learning across academic disciplines. The projects that I tried with ArtSpace students were directly informed by my experiences at the Carle. Visual Thinking Strategies and the Reggio Emilia approach to teaching were often on my mind, and I gravitated toward open-ended, process-oriented projects intended to let the kids explore materials and experiment with technique. This approach to making art with children is, not surprisingly, very compatible with ArtSpace's culture of learning.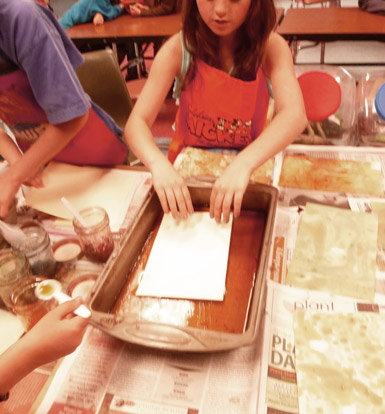 I'm a printmaker, so some of my favorite projects drew on printmaking concepts. The transfer of images is perhaps the most central concept in printmaking, and it's really what made our paper marbling activity so surprising and exciting. For those unfamiliar with the medium, marbling is the process of creating designs by floating pigment on the surface of a liquid substance, like water or oil. When you gently press a substrate like paper or cloth to your colored surface, you'll get a swirly, psychedelic transferred design. Here's an accessible and kid-friendly interpretation of marbling that I found and adapted for AfterCare.
Materials:
containers with seal-able lids
shallow pans
vegetable oil
food coloring
forks
spoons
skewers
sturdy paper (like card stock)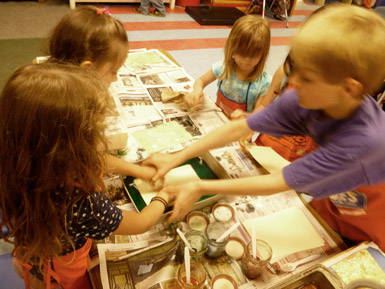 In a few containers with tightly seal-able lids (mason jars work well), I combined about 1/4 cup vegetable oil with a generous amount of food coloring. I shook up my "dye" vigorously enough to get it looking pretty homogenous. When I arranged our workspace, I put down plenty of newspaper over two long tables, and then put our supplies in the center. I set out two rectangular cake pans filled about halfway with water, our jars of colored oil, spoons, forks, wooden skewers, and a stack of light-colored card stock. I knew this activity had the potential to be messy, so I put the marbling station in the center of the workspace so that kids could surround the materials from all sides, and then quickly transfer drippy paper to the newspaper at either side.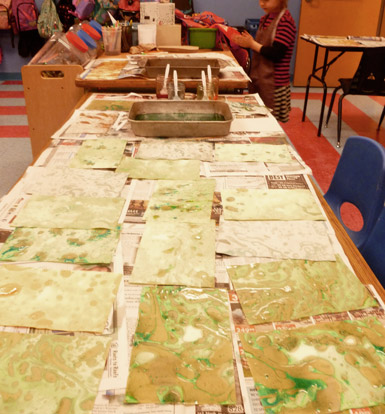 I had a few eager marblers right off the bat, and once we got going, more inquisitive kids joined us. I had them start by spooning drops of oil onto the water. For the sake of keeping our designs from getting too muddy, we had a pan for warm colors (orange and red) and cool colors (blue and green). After they had added enough for the surface to be fairly crowded with colorful blobs, we used the forks and skewers to stir the oil into swirly patterns. Then, one by one we each touched the card stock to the liquid for about three seconds. It was such fun to see the kids' thrilled reactions to their beautiful marbled prints—their enthusiasm was palpable, and soon we had a quick-paced marbling factory running at the back of the classroom! The kids were responding to one of the most captivating things about printmaking, which may be my favorite part of the process: the small moment of suspense before you see the print you just pulled. Will it be beautiful, weird, unexpected, perfect, or all of those things? It's a joy to watch kids have that experience, and it's a great reminder of why art education is so important.