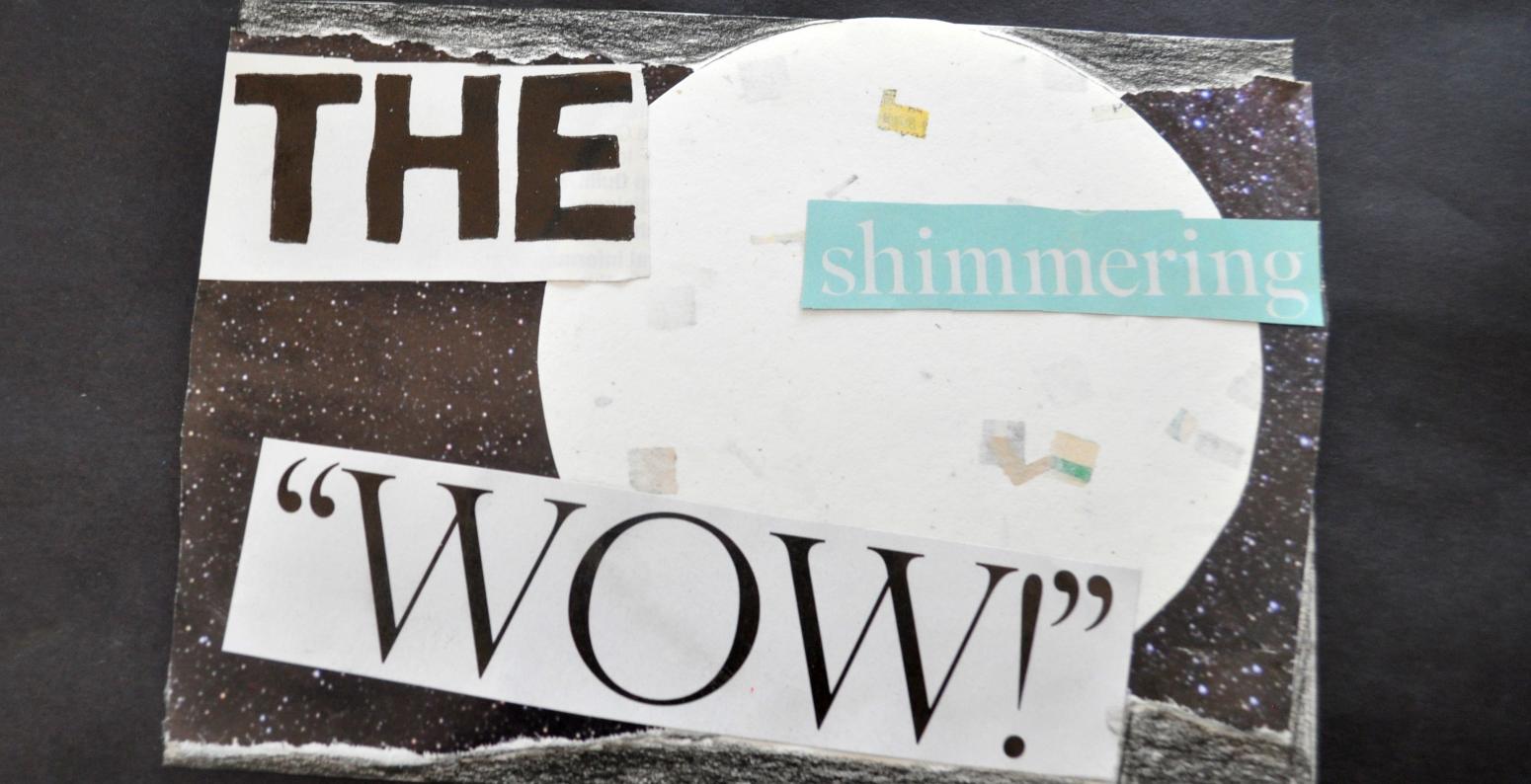 Article Type
Making Art Together
Making Art Together Categories
At Home Art Studio
Collage
Drawing
Nature
Kate's Special Sunday: Postcards to the Moon
January 8, 2018
Recently, the Art Studio Fall intern, Kate Scrimshaw-Hall, designed a Special Sunday project for museum guests. She planned the event, sorted and prepared materials, and introduced visitors to the project throughout the day. The following is her description of the project:
On a recent Sunday, we welcomed guests to the Studio to make postcards inspired by the moon. Using a variety of black and white collage materials and drawing instruments, kids and adults alike, busily concocted monochromatic designs.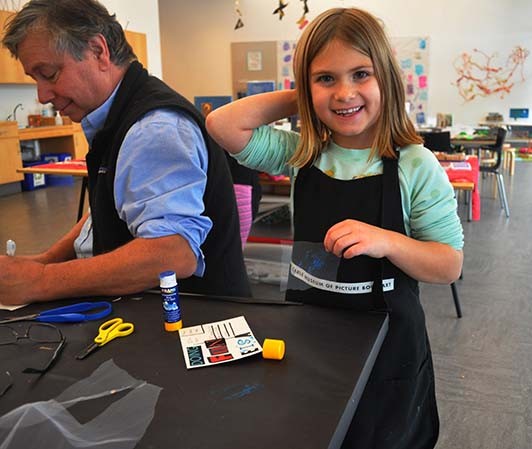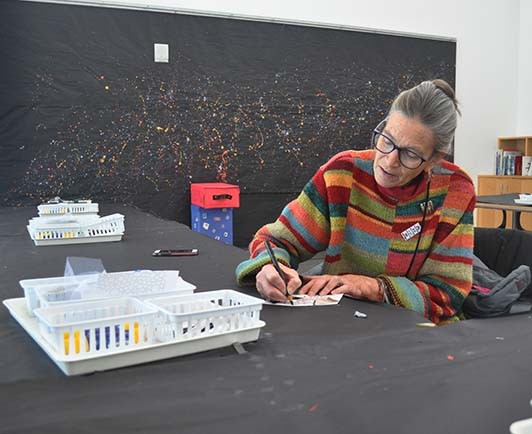 When it was time to write messages on the back, guests got creative. We prompted visitors to write a note to the moon or imagine they had just come back from a visit there and were writing to someone about their trip.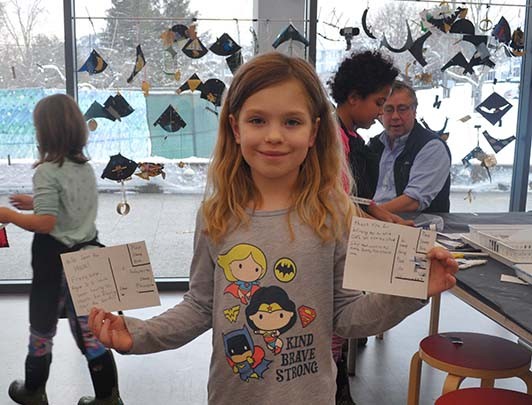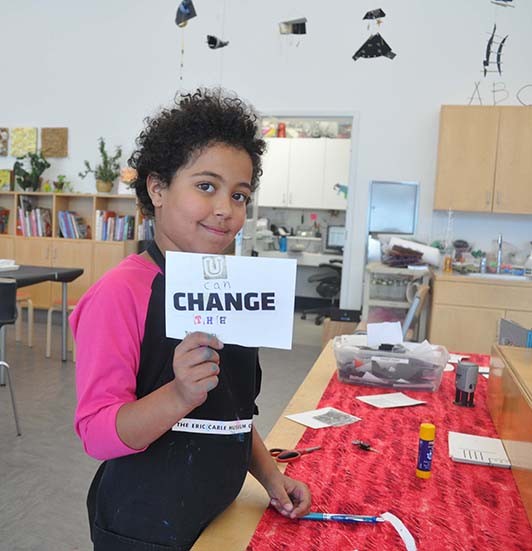 An added exciting element, for youngsters especially, was to drop their finished postcards into a "mailbox". People addressed their postcards to friends, family, or even themselves before dropping it in the box. We later stamped and sent them.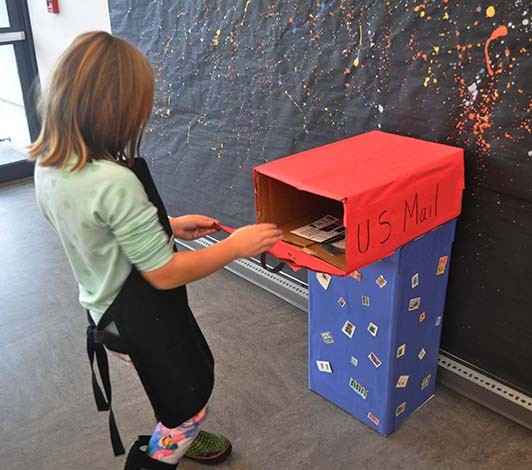 For this project, I was inspired by the The Art of Eric Carle: Night exhibition as well as my own art practices. Eric Carle's book, Papa, Please Get the Moon for Me, has always been one of my favorites, and I went back to it in anticipation of this project. I think partly why the book is so successful is because it taps into that curiosity children often have for the unknown, particularly the great unknown; outer space.  While collecting a selection of books to be on display, I was struck by just how many there are on the subject.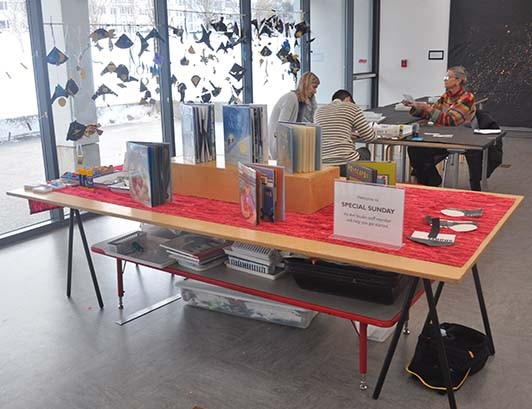 After some back and forth, I decided it was important to me that the project include both images and words. This is something I regularly explore in my own artwork and it challenges me to think critically about the role of each. An obstacle I ran into right away was how to make the project accessible to all ages, even those that could not yet read or write.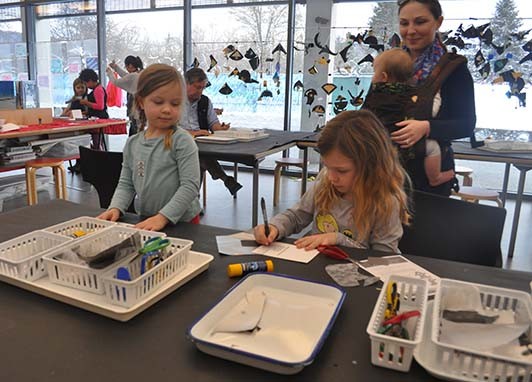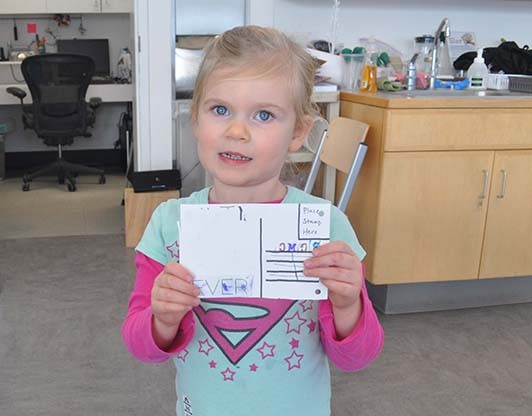 Part of the solution was simply in how I introduced the project. I emphasized that guests did not have to use words if they didn't want to, and encouraged adults to help younger children with writing or spelling.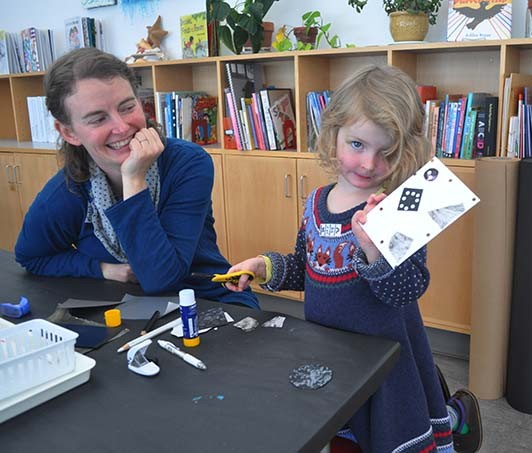 We also laid out several different options for including words in our "Word and Letter Station". The station included lettered stamps, stickers, and words and letter cut-outs from magazines. This gave guests a variety of choices.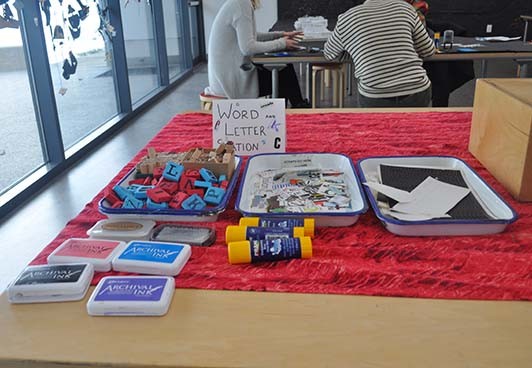 Including a writing aspect to the project, I also hoped, would encourage collaboration between parents and children. Some families wrote letters together, others wrote notes to each other. One mother even read one of the selected books to her child while he worked.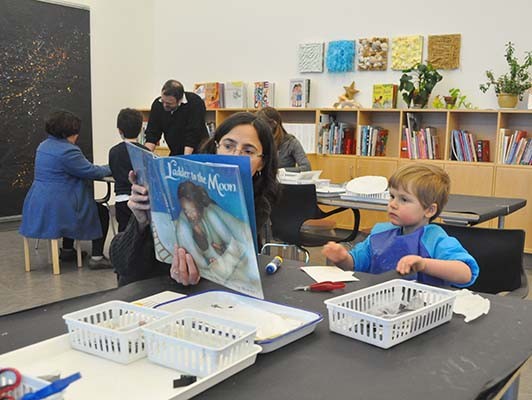 Overall, it was a fun day of exploration in the Art Studio and an exciting culmination to my internship here at The Carle.