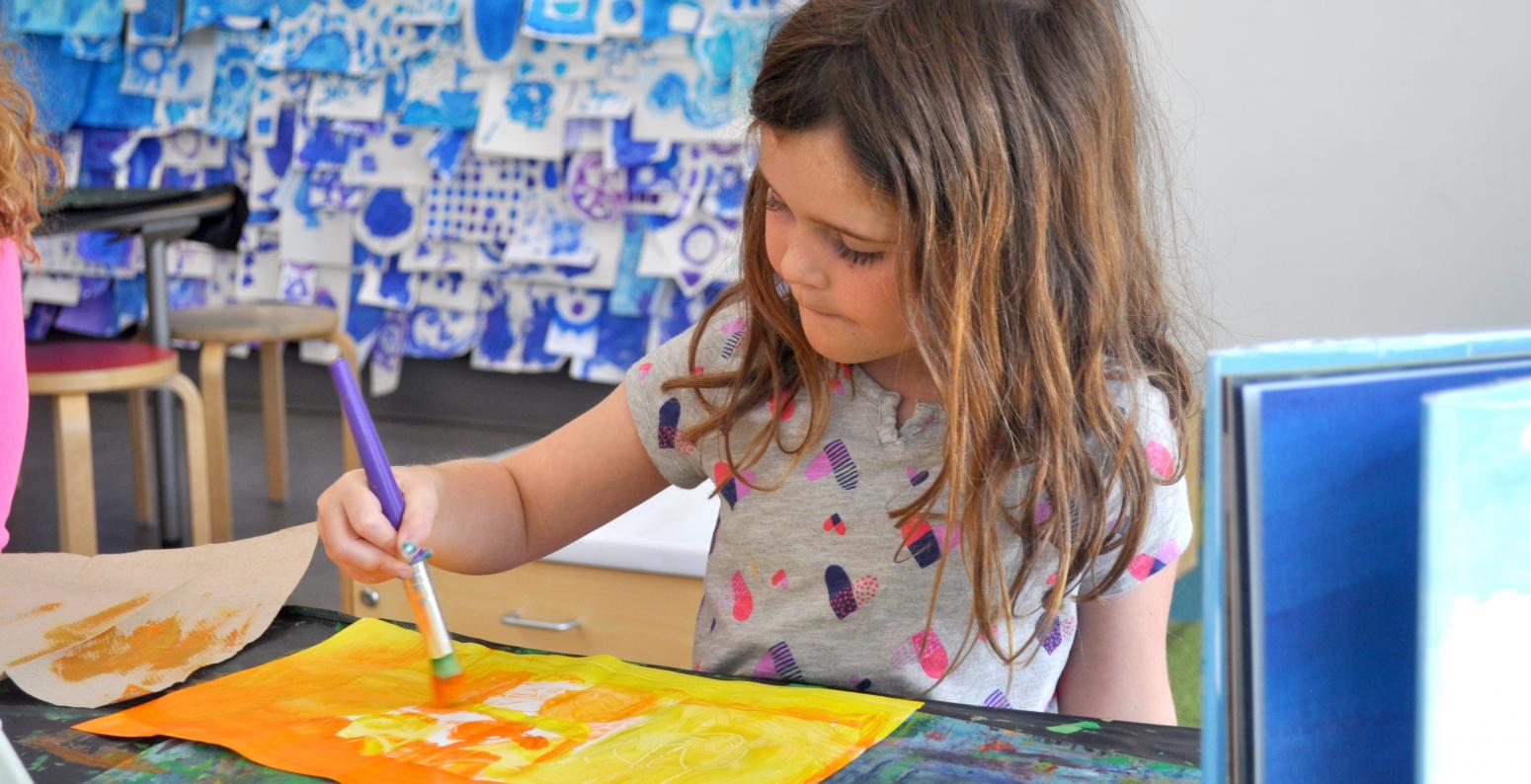 Article Type
Making Art Together
Making Art Together Categories
Painting
Theory and Resources
Painting in a Drop-In Setting
November 21, 2017
In the Art Studio, we have a lot of material requests from our guests with many enthusiastically requesting, paint please! We were thinking of ways to allow painting to happen on a large-scale, and designed a painting project for our Every Day Art Project, Have We Got Hues For You! this past summer.
Inspired by the different colors within Eric Carle's most recent book, What's Your Favorite Color?, we thought about how we could design a paint mixing project. We considered doing paint mixing using tempera cakes, where one color would be available with both black and white cakes to create darker or lighter tones. But we quickly realized that the colors would be near impossible to keep consistently clean for new guests in the busiest season of the year.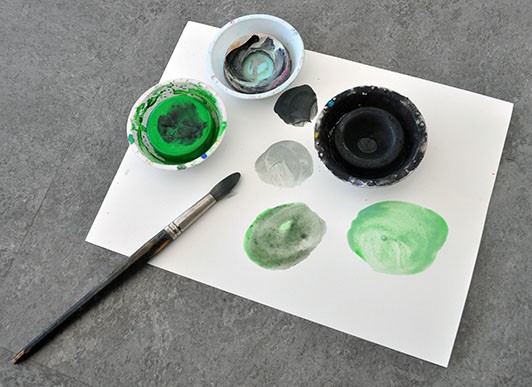 So we thought about mixing washable tempera. After experimenting, we discovered that adding black and white to the colored tempera resulted in mainly darker tones because it only took a small amount of black paint to make it darker but a large amount of white to make it lighter.
Then we thought, what if we mixed around the color wheel, creating the hues in between? Knowing the project would last 5 weeks, we divided it up into 5 color combinations and each week was a new combo. We'd start with purple & dark blue then transition through dark blue & turquoise, green & yellow, yellow & orange, and then end with orange & red.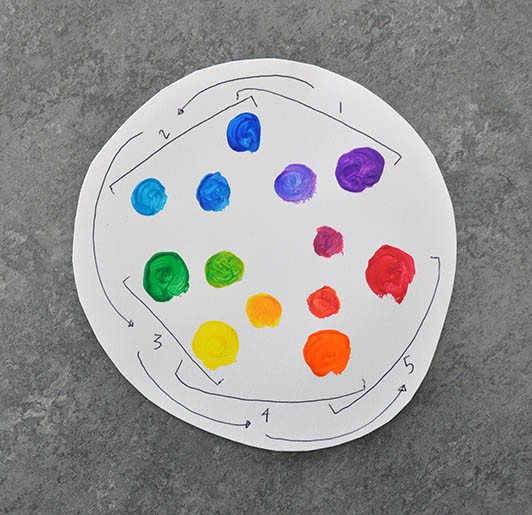 When we started to think about the display area, we thought back to how the colors spread in our Brown Bear EAP. We liked the idea of a growing installation and thought that if we grew up from the bottom of the wall to the top, stapling only the tops of the papers, we might have an ombre wall of curling papers. But as with all our displays, we never know how it will turn out until it gets started! This is the wall when it first started…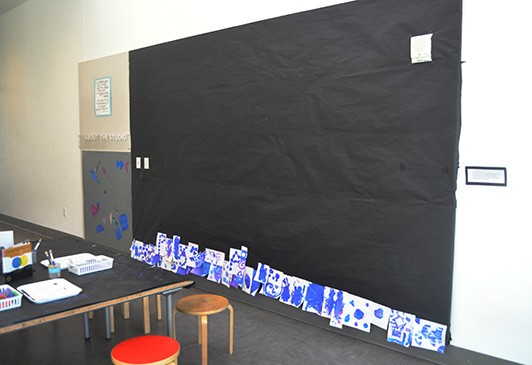 …and continue reading to see how much it grew!
Realizing that this project involved a lot of moving parts and that summer can be our busiest time of year, we decided to come up with some design mechanisms that helped our team efficiently provide supplies and support to our guests.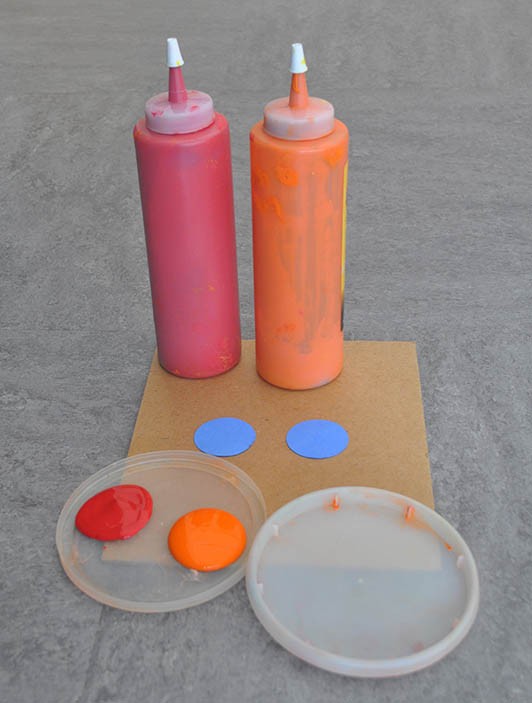 We decided to take the washable tempera paint out of their gallon jugs and put them into ketchup bottles. This allowed for more manageable dolloping of paint and was something that could quickly be done on the go. To help our team see how much paint we were giving out to guests, we cut out ideal dollop-sized circles (determined by our experimenting to be substantial yet not wasteful), taped them onto cardboard, and put it underneath our paint palette (recycled lids). We squirted the paints on until it covered the circles, then brought it to our guests or even made the paint palettes at the tables as guests sat down.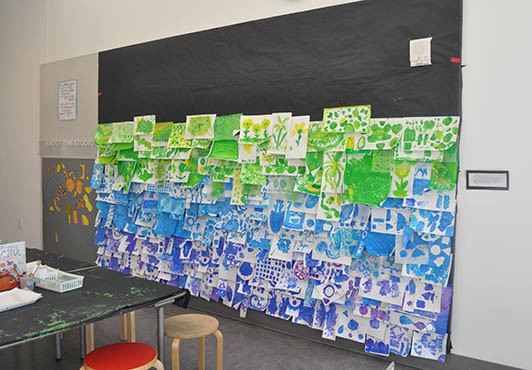 Since we were limiting the paint in this project, we wanted to focus on the unlimited different types of papers available with which to experiment. On the tables, there were tracing papers, watercolor papers, color-diffusing papers, drawing papers, vellums, and other white papers. Each had a different weight, shine, and paint-soaking ability. We provided different sizes and shapes to allow for creative exploration.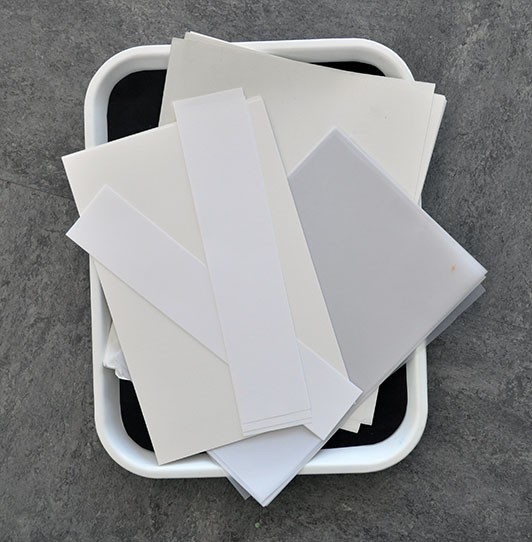 In addition to a variety of papers, we wanted to allow for a wide range of ways to mix colors, so we had stencils available on the tables with which to experiment. We made these stencils by cutting and punching shapes out of construction paper, laminating them, and then cutting out the inner shapes. We decided to put both the positive and negative stencils out as they encouraged different ways of painting. The stencils had to be wiped at the end of each week, or if possible every day, but were well worth the cleaning time.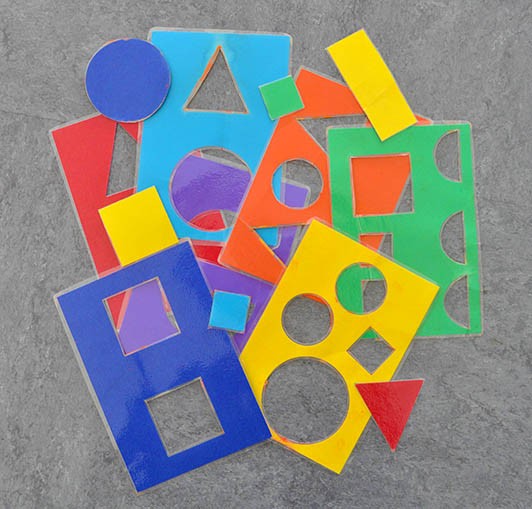 To apply the paint, some guests liked to use fingers but we also put out thicker synthetic brushes that we typically use for liquid laundry starch. We discovered that they worked well for painting and also were sturdy enough for guests to hop the brush up and down on the page, getting a different texture than brushing the brush.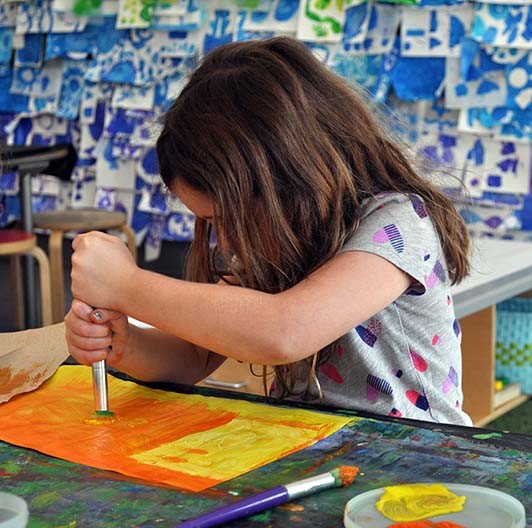 Over the course of the project, we continually discovered new ways to create. Some guests preferred to free paint, others enjoyed using the stencils. Some delighted in scratching away paint with the back of their brushes to create textures like Eric Carle, and others enjoyed the process of printmaking when another piece of paper was pressed on top of their painting. This image below shows just a few of the techniques people used over the course of the five weeks.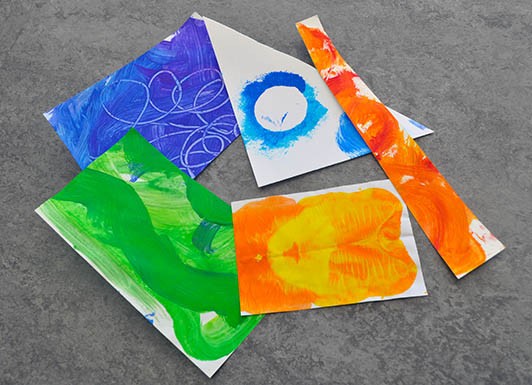 In the end, we considered this experiment a success. We enjoyed seeing the many hues guests created and guests enjoyed contributing their paintings to the installation wall. The project was immediately accessible for all ages and guests enjoyed the different papers they took home, some hoping to turn their paintings into collage papers.
But the project definitely needed some tweaks along the way to success. In our material introduction, we started to demo more techniques as the project went along to encourage a wide range of techniques. We received feedback about our paper supply and adjusted it to only have large pieces. And we saved the paint trays with paint still on them so that if guests wanted more paint, we had plenty to go around.
We learned a lot through this process and look forward to our new EAP, Project Paint, which will involve some of these techniques to experiment with monotypes!