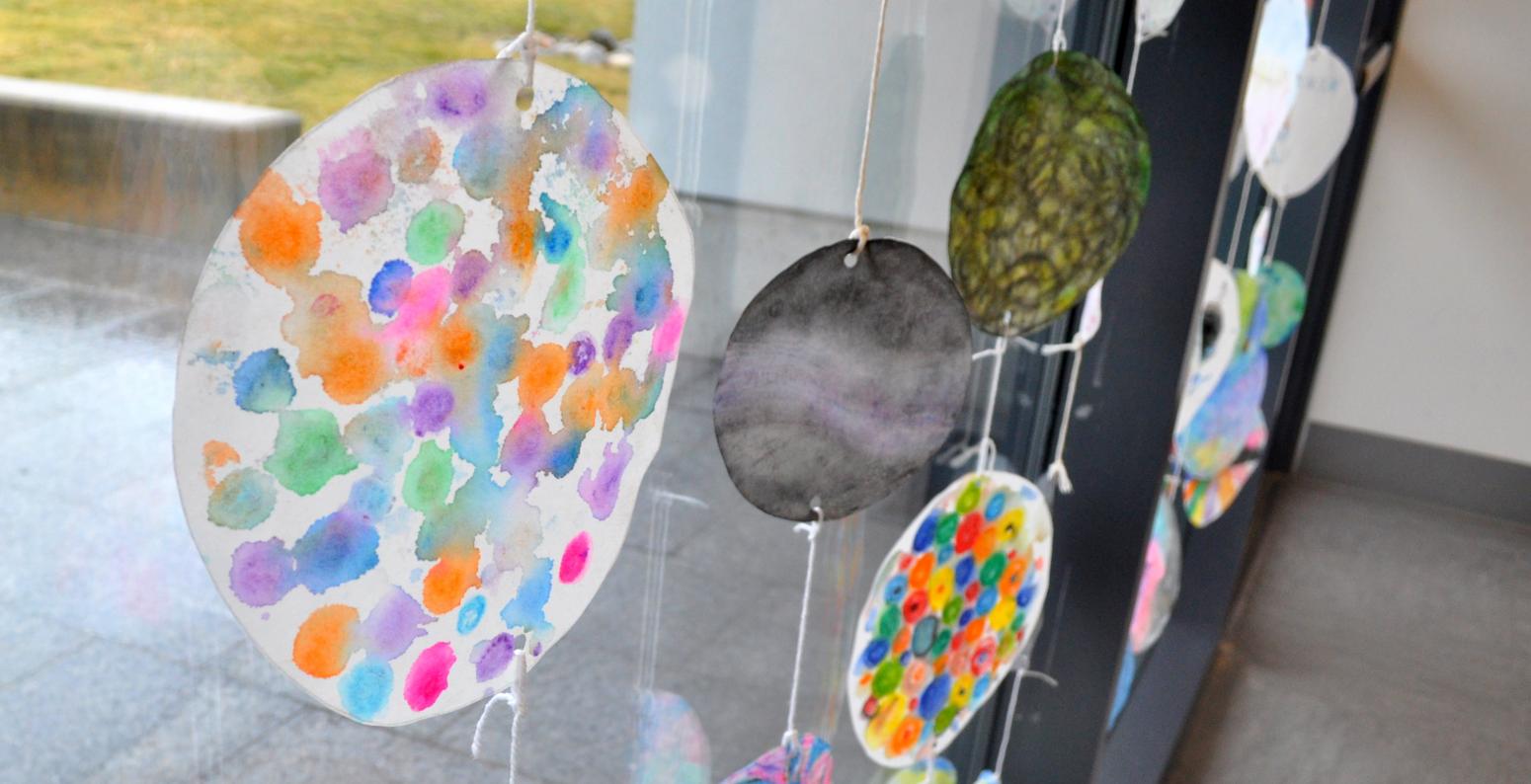 Article Type
Making Art Together
Making Art Together Categories
Drawing
Painting
Theory and Resources
Watercolor Pencil Possibilities
April 27, 2017
Watercolor pencils are one of our favorite materials. Lately, we have been using them for a range of projects on a variety of surfaces, working on both a large and small scale. Because of this, we decided that it was time to devote a blog post to this fantastic medium. We have a range of watercolor pencils and crayons in the studio and like to make a variety available to try. All allow you to draw and create line like any other pencil or crayon, but have the magical quality of blending like paint when water is added.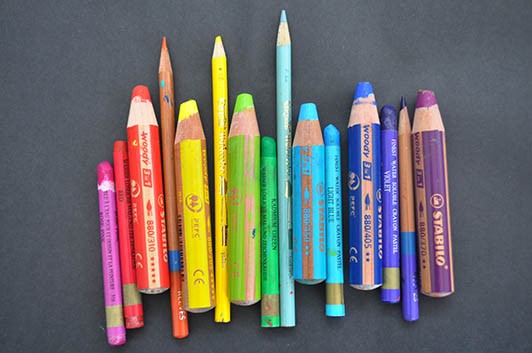 We have some pencils that are larger and easier to grasp, making them ideal for younger children. The main differences between the different varieties is the intensity of color and extent to which they spread with water.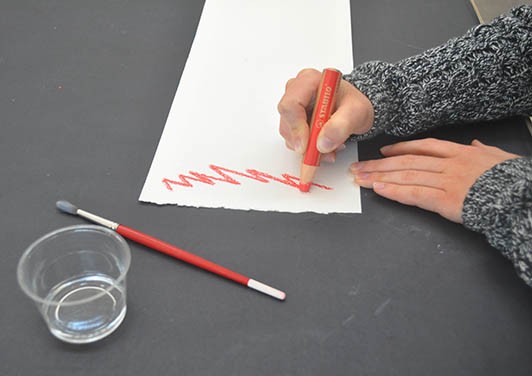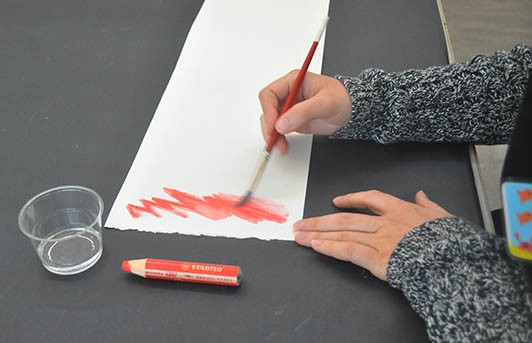 In a recent project, guests worked with watercolor pencils on color diffusing paper. This paper doesn't break down when water is added and has a translucent quality when held up to the light. Coffee filters also work like color diffusing paper and are a great everyday alternative for watercolor projects.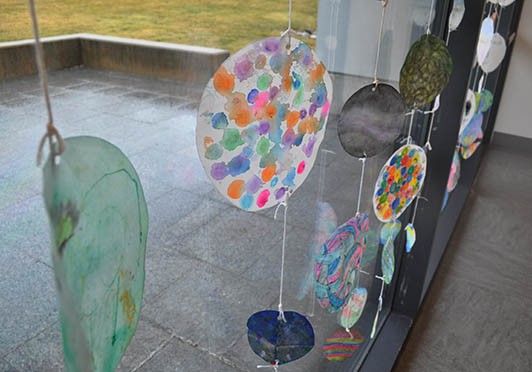 We have also worked on a large-scale with watercolor pencils. In a visit from a pre-school group, we used the pencils on large sheets of watercolor paper spread out on the floor. Each child was given a blue or green watercolor pencil and they were invited to make lines on the paper while listening to sounds of the ocean. Adding water with paintbrushes afterwards allowed us to experiment with moving and mixing colors. When we worked together in a group, we filled a large space quickly, saw how others used their pencils, and together watched the lines transform when water was added. Then, this large-scale watercolor painting became a springboard for further creation as we added collaged sea creatures on top.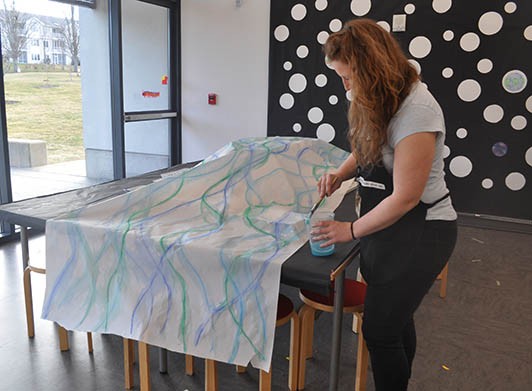 We continued our exploration of watercolor pencils on a large-scale when Art Studio staff made a backdrop for a recent Everyday Art Project. Again, we were inspired by the ocean and created wavy lines with the pencils and added water with a brush to create a blurred effect. Working on large sheets of diffusion paper cut from a roll, we were able to create a watery backdrop for our front display wall.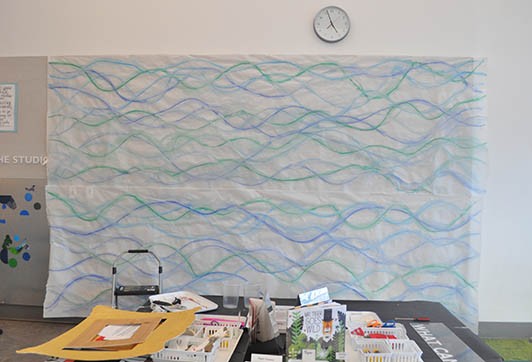 These watercolor pencil waves inspired cardboard islands, and guests were invited to add found material sculptures to the archipelago. These constructions included everything from boats and planes to plants and animals.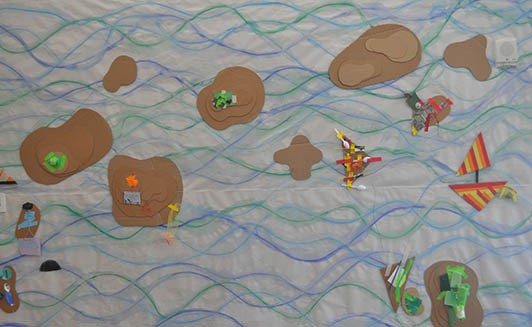 Watercolor pencils are a wonderful medium to use on their own or to combine with other materials. We love how simple they are, all you need are the pencils, paper, water and a paint brush to get started with your own watercolor pencil exploration!