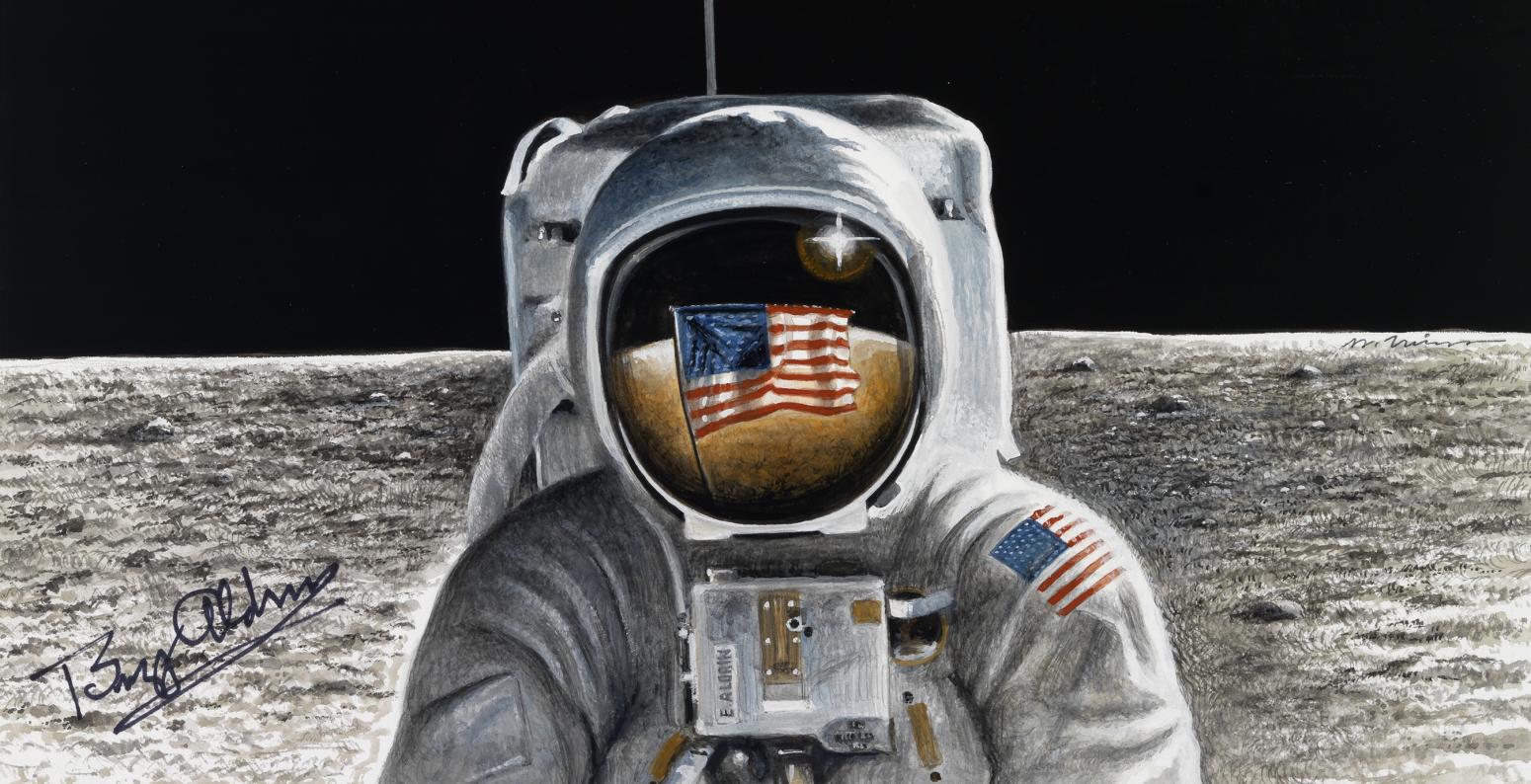 Article Type
Story Board
Behind the Scenes Categories
Collections
Collection Focus: Wendell Minor
April 4, 2022
With roots in the images of the American Midwest and in classic American book illustration created by N.C. Wyeth, Winslow Homer and Edward Hopper, Minor has brought the art of twentieth-century illustrators into the twenty-first century.

Anita Silvey

Author and editor
When artist Wendell Minor visits with school students, he encourages them to "write about and draw what you know, what you love." This is advice he's taken to heart throughout his prolific 50-year career. As seen in The Carle's collection, Minor is equally adept at illustrating realism, historical narrative, and playful fantasy. Born in rural Illinois in 1944, Minor knew from a young age that he wanted to be an artist. He realized his dream as the illustrator of over 60 children's books and 2,000 book jackets, including novels by Harper Lee, David McCullough, and Toni Morrison. His art is in the permanent collections of the Norman Rockwell Museum, the National Portrait Gallery, and here at The Carle, where we are fortunate to have more than 50 illustrations by the artist.
An examination of Minor's published watercolors and pencil sketches at the Museum for Into the Woods: John James Audubon Lives His Dream (2003) highlight his reverence for the natural world—a theme found in many of his children's books. The story, written by Robert Burleigh, introduces readers to Audubon, a young artist discovering his love of the outdoors and his desire to visually document its avian inhabitants.
Minor evokes Audubon's artistic approach in his watercolor of egrets standing tall in shallow marsh water. They figure prominently in the composition, their long necks and sharp beaks profiled against a brilliant sky. Minor's horizontal brushstrokes form rippling water patterns, counterbalanced by the vertical lines of tall grasses where Audubon stands in silent observation. While the book is a biography of Audubon, Minor respectfully relegates him to a secondary character. Nature, its beauty and wildlife, is the focus.
Into the Woods: John James Audubon Lives His Dream
In another illustration, Minor depicts rows of chopped trees, a farmer's axe piercing a rough-hewn stump with shards of wood. Nearby, a stand of tall fir trees creates an uneasy sense of what is about to happen. Signs of land development include plowed fields and homes in the distance. Bathed in a soft yellow and orange sky, a lone passenger pigeon flies from the scene, no doubt looking for a new home. It is a stark message about human destruction of the natural world, albeit without a person in sight.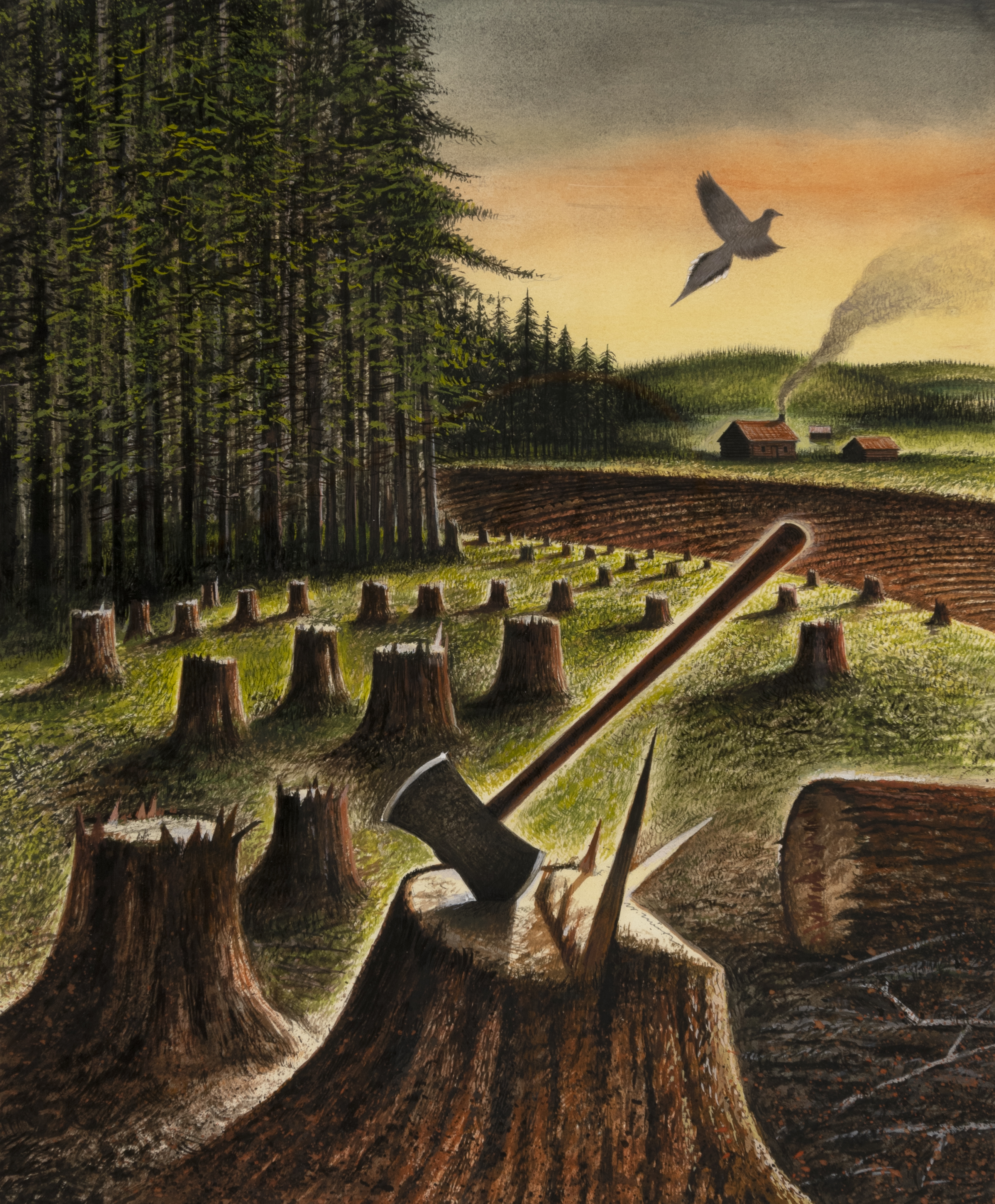 In the 2005 picture book, Reaching for the Moon, Minor collaborated with Buzz Aldrin to bring the astronaut's life and career to the page. Minor recalls watching a documentary on the Space Race when it occurred to him: "No astronaut has ever really told their personal story." He sent Aldrin a letter and some books and said, "You've never told your story to the next generation and they're the generation that needs to know."
Readers learn about Aldrin as a child and the family summers spent at Culver Lake, New Jersey, where he loved to collect rocks. One day, after refusing to give a rock to a friend, the kid pushed him in the lake, bucket of rocks and all. Minor captures this memory of Aldrin, eyes shut tight and arms wrapped around his bucket as the weight of the rocks pulls him down in the water. Aldrin's text to readers: "I knew that if something was important to you, you had to hold on." Minor interprets the statement literally and metaphorically.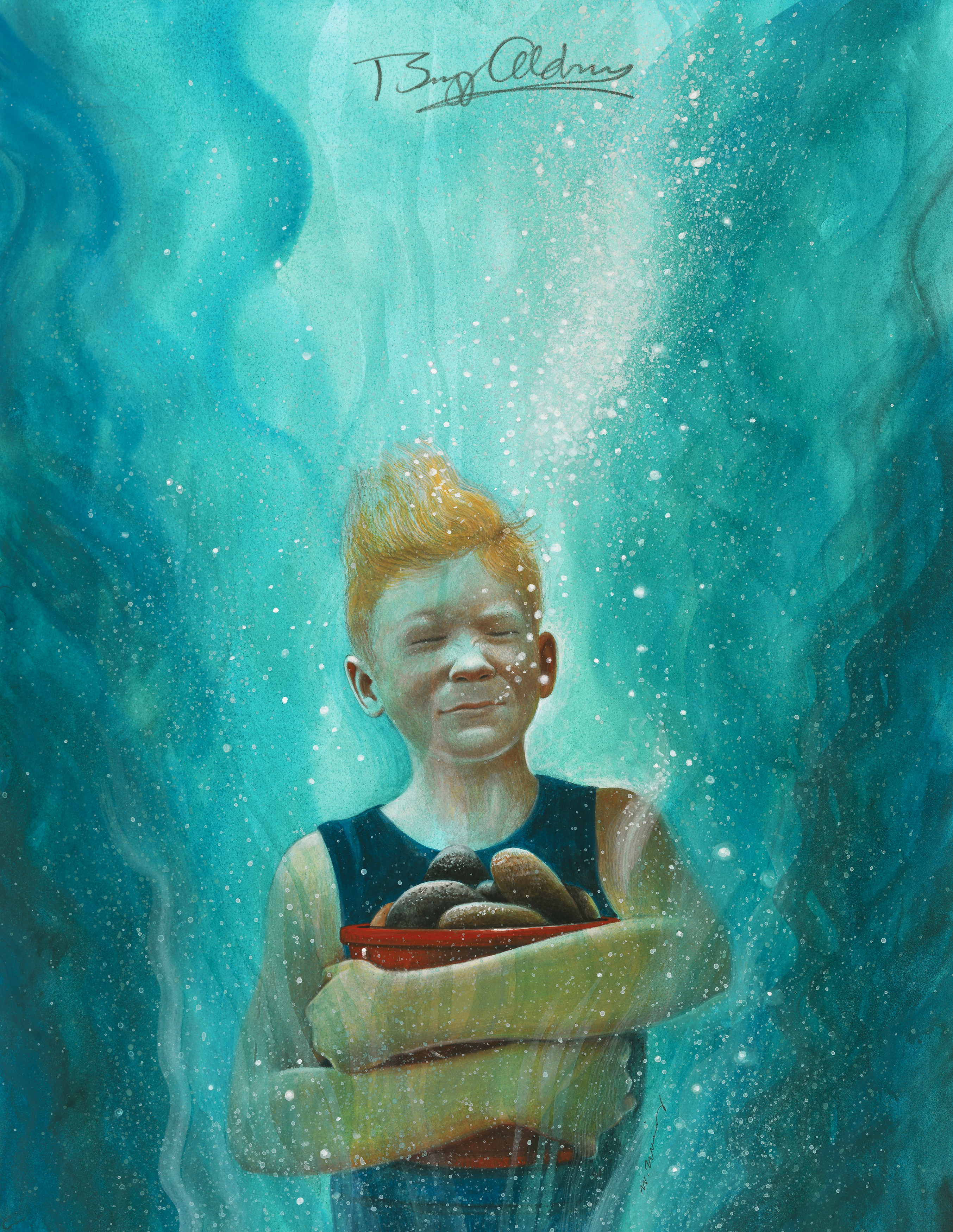 Minor paints Aldrin's career as an astronaut, his moon landing and explorations during the 1969 Apollo 11 mission. Minor's eye-catching cover portrays Aldrin, though his spacesuit and helmet obscure his identity. The American flag that he and Neil Armstrong placed on the moon is reflected in his face shield. Minor positions Aldrin in the lower half of the composition, emphasizing his isolation and distance from Earth. Minor's hyper realistic illustration, rendered in watercolor and graphite, honors Aldrin's descriptive text: "There was no color on the Moon. A flat landscape of rocks and craters stretched in all directions. Everything was gray or white. The shadows and the sky above were as black as the blackest velvet I had ever seen. I exclaimed: 'Magnificent desolation.'"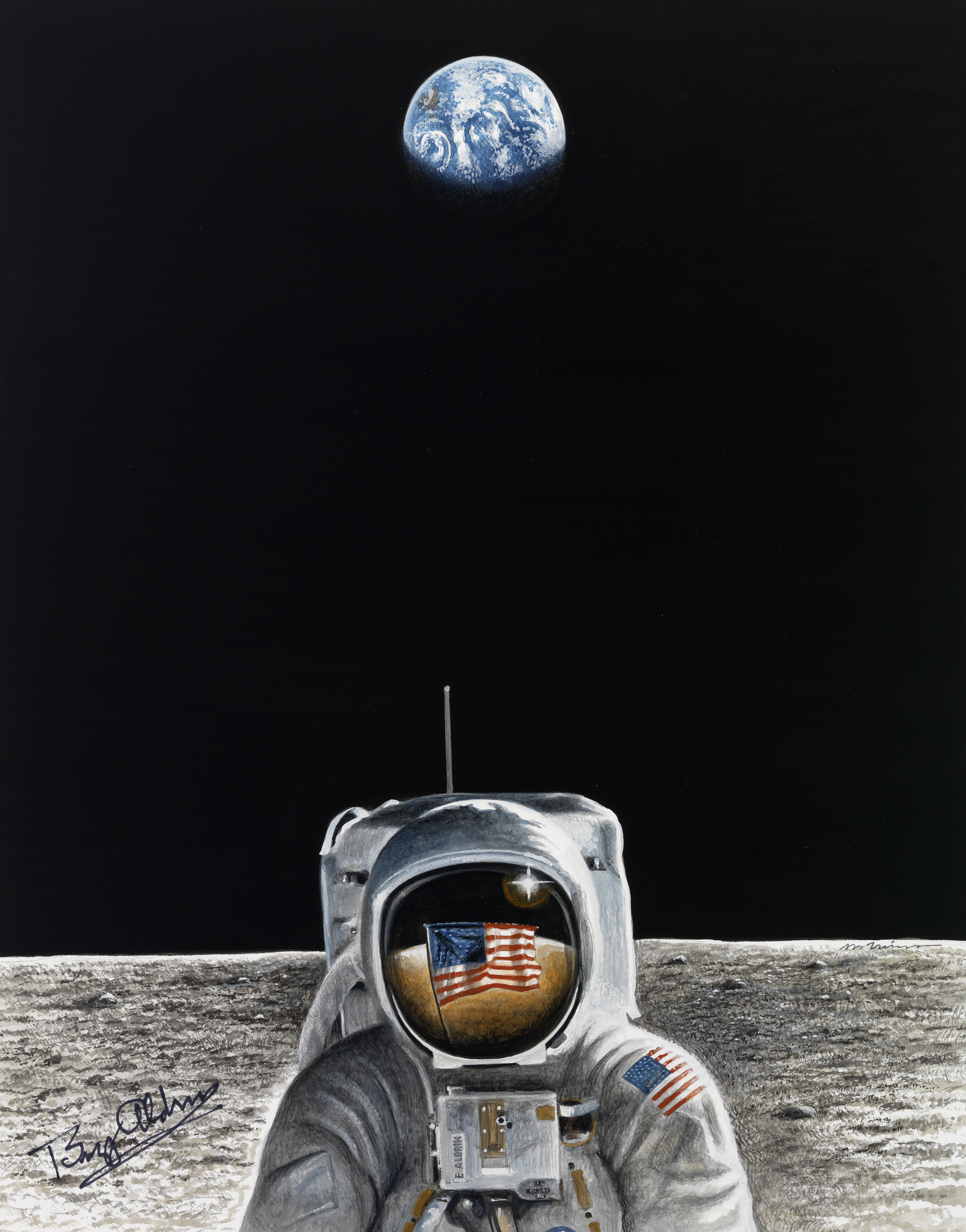 It's rare for authors and illustrators to have regular communication when creating a book, but for Minor, that collaboration is an important part of his process. In a 2014 interview with Seven Impossible Things Before Breakfast, he said, "It's inconceivable to me that I could create a book without having personal contact with the author. [We strive for] a meeting of the minds regarding our collective and respective intentions." One of his frequent collaborators is author Florence Minor, Wendell's wife. How to Be a Bigger Bunny (2017) is their fourth book collaboration. Fitting to the story, Minor adopts a soft, playful style distinct from the high realism of the historical fiction he's most famous for.
Florence and Wendell generously donated all preparatory sketches and final illustrations for How to Be a Bigger Bunny to The Carle. Comparing sketches and final paintings provides insight into the artist's creative process. The book's title page shows the protagonist, Tickles, napping with her rabbit siblings. While she sleeps curled next to a book at the edge of a bed, her brothers and sisters are grouped near the bed's center. After showing his pencil sketch to Florence, their editor, and art director, Minor made slight, but significant, changes to the final composition. Tickles's siblings are still grouped together, but rather than face outward as seen in the sketch, they turn toward each other, accentuating their tight-knit group and Tickles' detachment from it.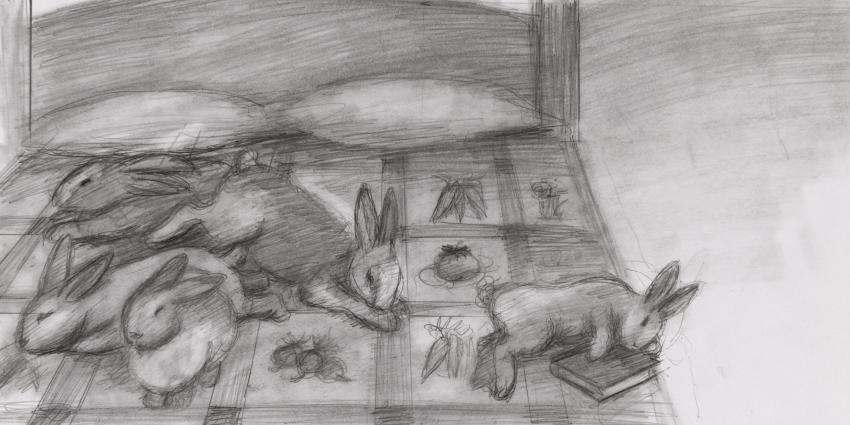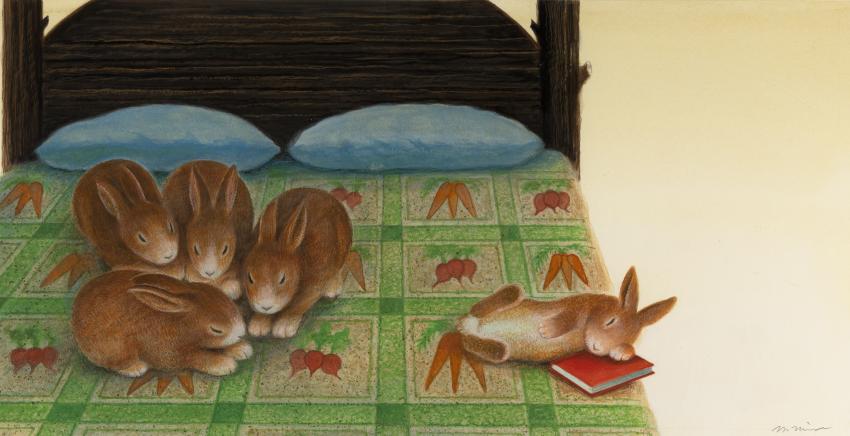 This illustration wonderfully transitions readers into the story, in which Tickles wakes to find her siblings have left her behind to seek adventure. With book in paw—also titled How to Be a Bigger Bunny—she proceeds to read stories like "Never Give Up," "How to Be Like a Pirate," and "How to Think Your Way out of Tricky Places." The tales provide Tickles with the determination, knowledge, and courage to later rescue her siblings from a tight spot.
Reading a picture book illustrated by Wendell Minor is like taking a journey through American history, experiencing its people and places. We're proud to care for and share Minor's work in our collection. We look forward to gaining further insights into his work when he delivers his talk A "Minor" Retrospective, as the 2022 Barbara Elleman Research Library Lecture speaker here on April 23.