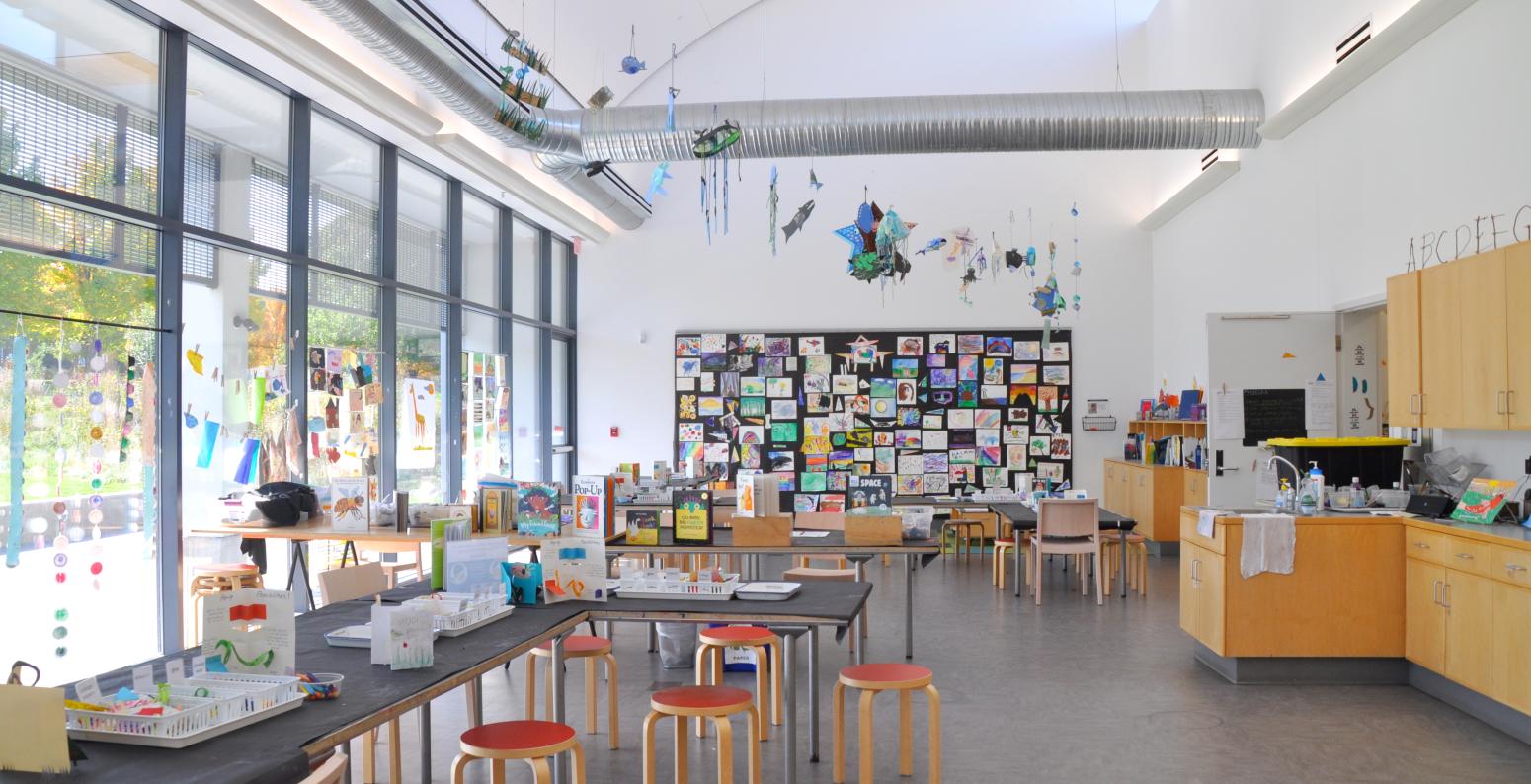 Article Type
Making Art Together
Making Art Together Categories
Theory and Resources
Accessibility in the Art Studio
October 24, 2022
When The Carle's Art Studio was created, the accessibility of the space was one of the top priorities.
We can thank Eric and Bobbie Carle, the architects, and facility folks involved with the original plan of the space for their insight. The museum itself is also all one level, which makes sure that all guests have access to the studio space during their visit. We have a spacious,1500 square foot studio space that allows ample room for folks to navigate between tables and for us to redesign the space for different group needs. Large, double doors lead into the studio so groups can comfortably enter and exit at the same time. Our floor-to-ceiling windows provide lots of ambient light allowing for higher visibility within the space. We have three sinks for clean-up, with the middle sink at an accessible height for young guests and a cut-out below that allows wheelchair users to roll up to it. Our two heights of tables accommodate different sizes of folks and stools at two heights allow for groups to rearrange as they need.
With that in mind, we have also worked hard to keep accessibility top of mind when designing projects and re-imagining our spaces. In this article, we'll share some of the ways we have worked to make the studio more accessible.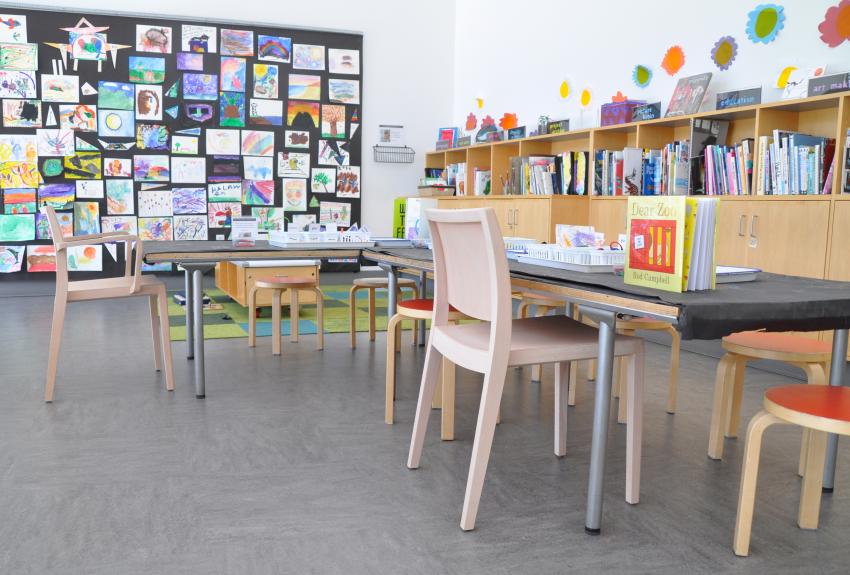 Furniture
While our stools are wonderful, stackable, and sturdy, they do not have backs or arms for support. To introduce more variety into our seating, we purchased chairs that have backs, and some with backs and arms. These options provide a wider range of seats to accommodate more body types and needs.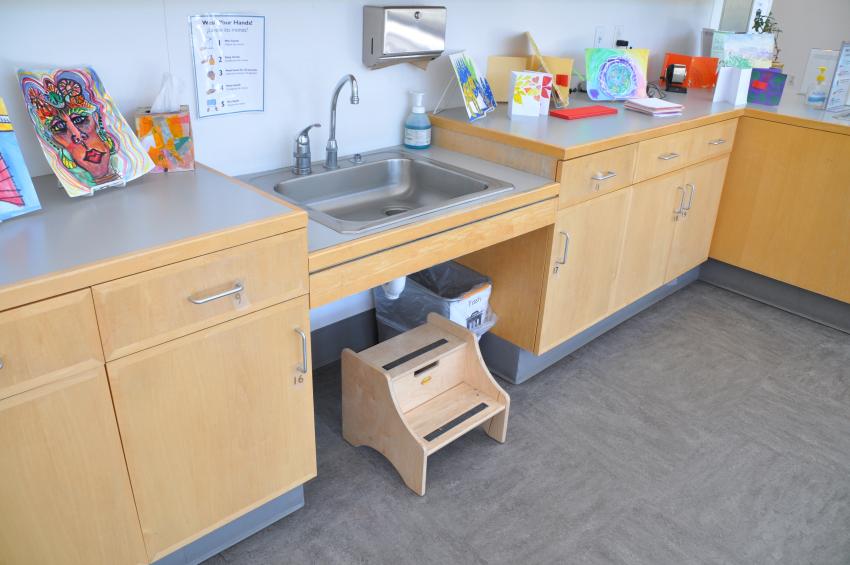 We also purchased a safety step stool that helps little ones more successfully reach the middle sink. It has grip strips to help with safety, and two steps for height options. It is also easily moveable to allow wheelchair users to access the sink.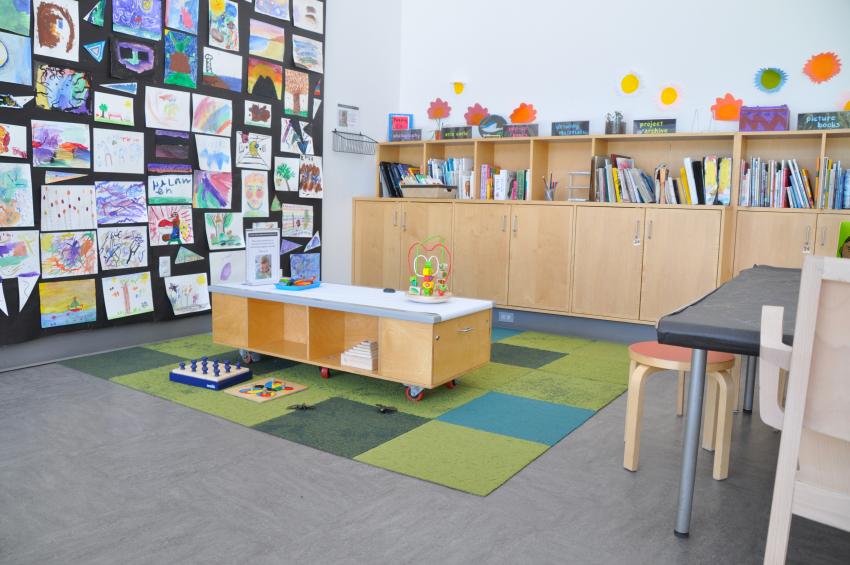 Spaces
We want to make sure the widest possible range of our visitors are engaged and welcomed. With that in mind, we have two spaces in the studio that are specifically designed to be toddler-friendly. One area has a lower drawing table with large crayons, board books, carpeted areas, and a rotation of toys and puzzles. There is also an area when you first walk in with a lower light table, easel with a rotation of drawing tools and magnets, and carpet underfoot. Both spaces have locations for tasted toys to go to help ensure our materials are safe to use. The areas were also placed strategically so that groups with different ages can use the toddler spaces while also only being a short distance away from the Everyday Art Project that is on the tables.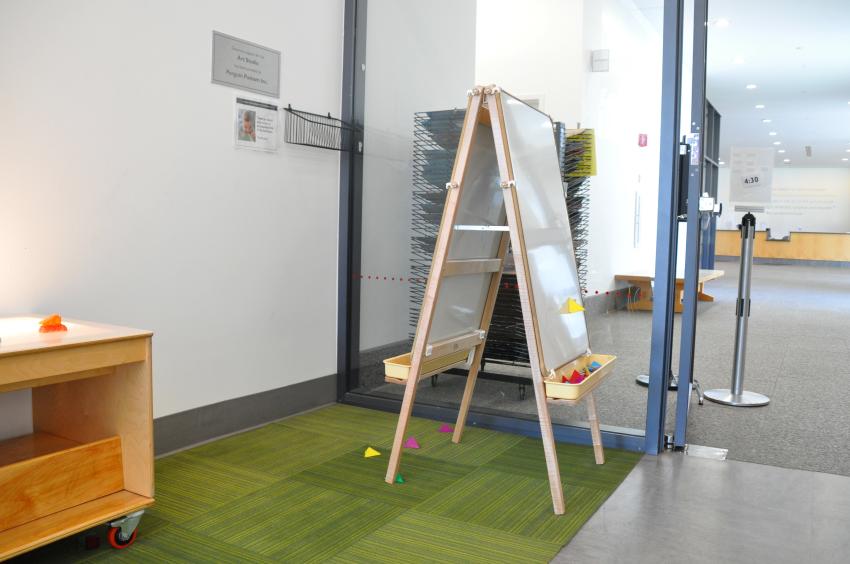 Overall, we set up our spaces to allow wheelchair users to access, and when we aren't able to have enough space, we adapt. For example, one side of the easel faces the wall, but doesn't have enough space for a wheelchair user to turn around in the corner of the carpeted area. We couldn't redesign the space due to the location of the light table outlet, so we decided to make sure that each side of the easel always has the same materials. This way, guests can equally experience the easel from either side.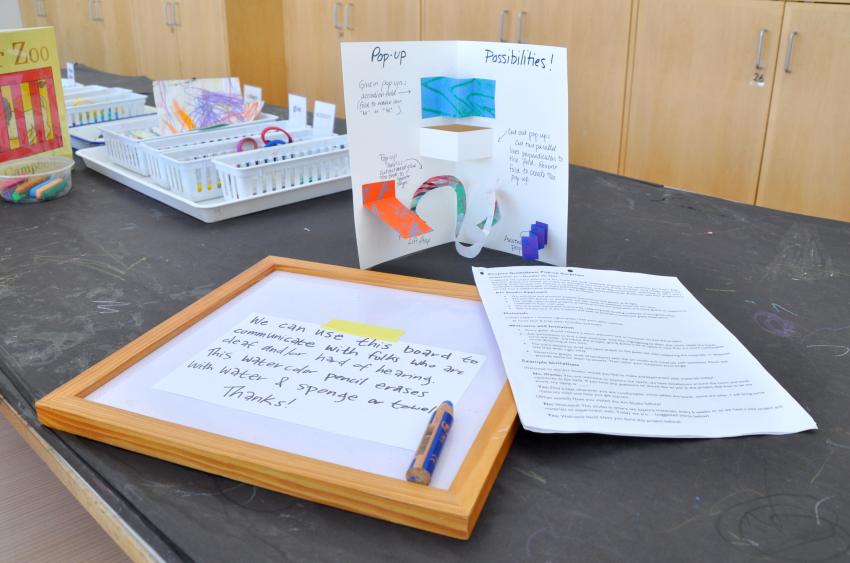 Additional Aids
When visitors enter the space, our studio team provides a verbal introduction to the materials and project, and in some instances, a demonstration. We realize that it is mainly a verbal introduction, so we also provide visuals on the tables that include parts of the verbal introduction. For example, with the current bookmaking project we have large cards on the tables with suggestions on how to make pop-ups and lift flaps. In addition to the table signage, there are large displays of guest-made artwork around the studio that helps provide additional visual inspiration for guests. 
For those that would prefer to communicate with written introductions, we also have a whiteboard and our project intro packet on hand in our office space to help communicate with guests.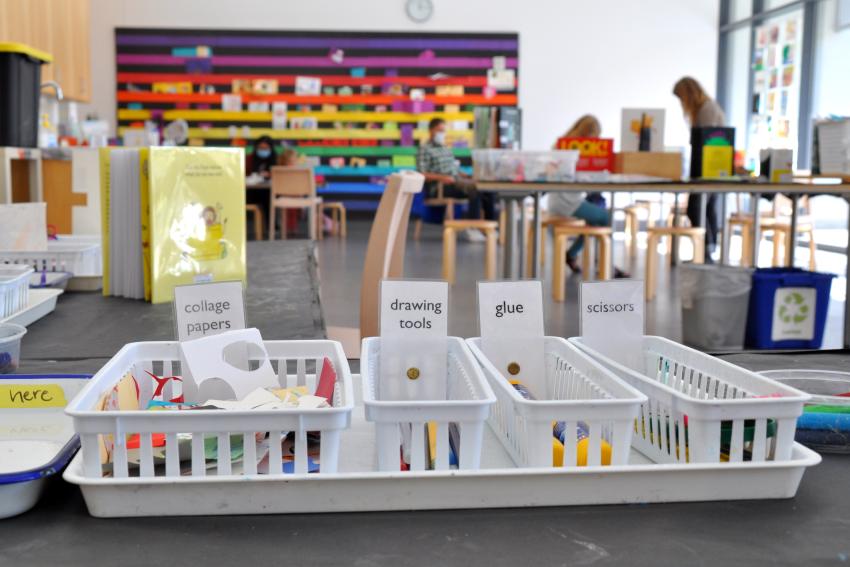 Materials and Set-Up
On the tables themselves, we also try to design for access. Our labels are printed with black font on white paper for high contrast with at least 20-point font. While the labels are only in English, we maintain the materials on the tables regularly so visitors can visually see the materials and sort back into their baskets. 
As for the materials themselves, we are always keeping an eye and ear out for accessible materials. We'll be sharing in another article some of our favorite materials and tools to use in artmaking.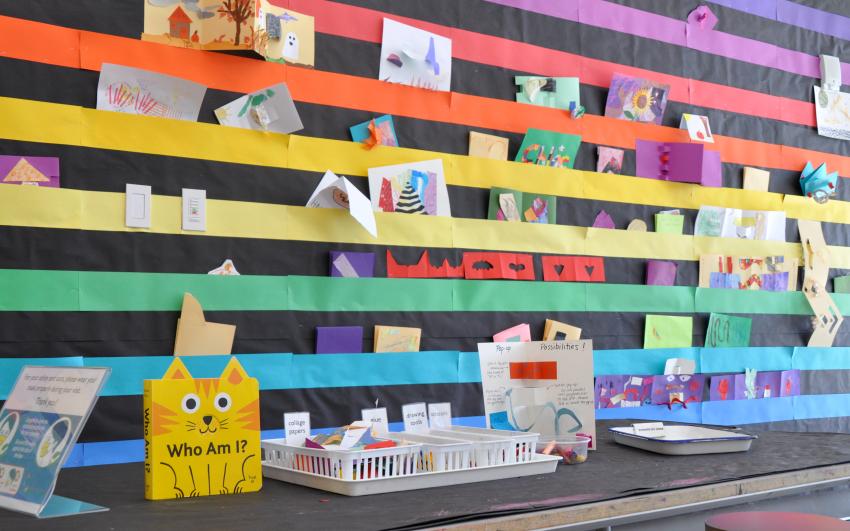 Open-Ended Project Design
In addition to physical objects, we also think about accessibility when planning our Everyday Art Projects. We plan them to be open-ended, with many ways to approach the materials and outcomes. While we have a general idea and prompt to get folks started, we invite guests to explore the materials however they'd like. Open-ended projects with a prompt and ideas of possible techniques give guests the ability to choose where they would like to start with the materials and what to do with them. This ensures that the projects align with their own interests, allowing them to tell their own stories and express themselves. 
Future Improvements
We are always looking for new ways to design with accessibility in mind, as well as new products that are built for a wider range of use. We attend workshops, read product catalogs, and listen to guests when they request or share materials they enjoy using or have seen in other spaces. 
If you have ideas on how we can improve our space and practice, feel free to contact us at artstudio@carlemuseum.org.