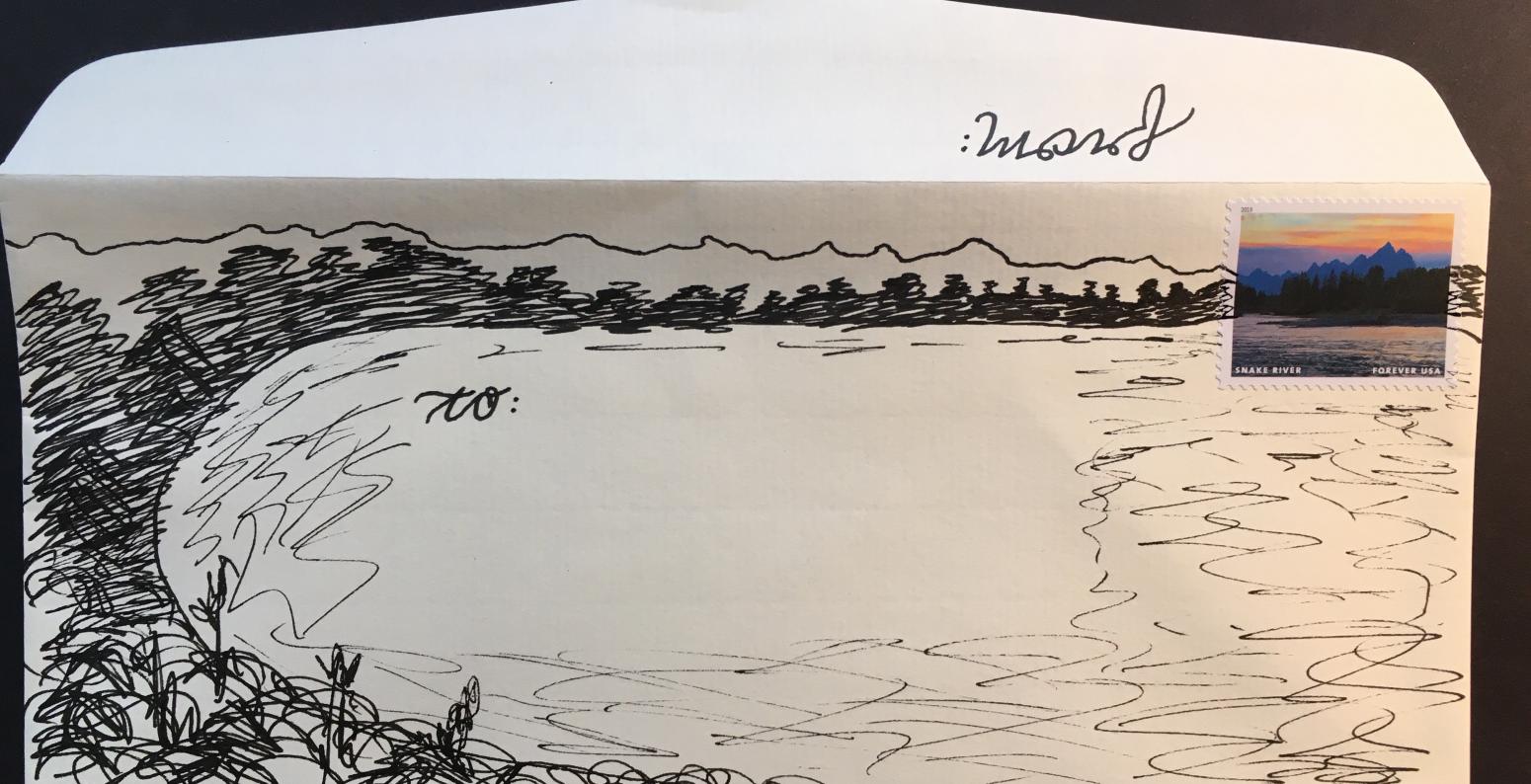 Article Type
Making Art Together
Making Art Together Categories
At Home Art Studio
Bookmaking
Collage
Art Through the Mail
May 8, 2020
This week, we invite our At Home Art Studio community to explore art that can be sent through the mail! You can send your art through the postal system, or have fun inventing your own at-home system to share messages with friends and family. Here's what our team made this week!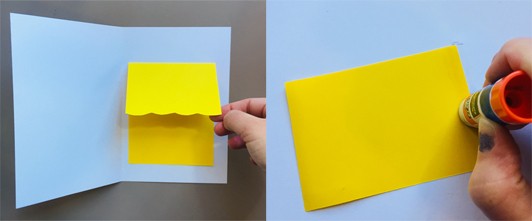 Megan was inspired to make a birthday card with a special surprise to mail to a friend. She decided to make a present inside the card that could be opened. She started by gluing a yellow piece of paper inside the card, with a flap folded over at the top. Megan attached a smaller piece of yellow paper on top, glued around the side and bottom edges, to create a pocket.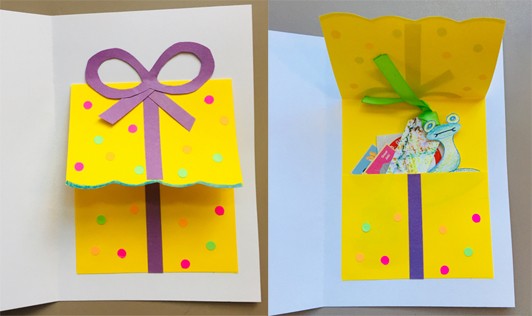 Megan used construction paper and dots from a hole punch to create a birthday gift. She added some small things inside the pocket, like a little bookmark she made, stickers, and a drawing. Megan hopes her friend enjoys the surprise! 

Megan then customized her envelope by drawing a silly monster face on the back, using the flap as the mouth, and used the same colors to create the monster's fur on the front. Now her birthday surprise card is ready to be mailed! 

Amy also explored making her own envelopes inspired by topographical map stationery that she used to have. To make her envelope, she unfolded an existing one to create pattern, and then cut up some old Appalachian trail maps to create her new custom stationery. 

One of Sara's favorite parts of sending mail is picking the stamp to use on the envelope. She enjoys the many different designs and thought it would be interesting to make envelopes that were inspired by a stamp. Noticing the shape and colors of the earth on the stamp, Sara thought she might create circles of blue and green on the envelope. She taped two pieces of scrap collage paper to the envelope to block out space for the two addresses. Sara then used a spool of thread to trace circles onto the envelope, much like Meg had done during a previous shape scavenger hunt. After covering the front with circles, she removed the scrap pieces of paper to reveal negative white space for the addresses. 

Inspired by a river stamp, Sara decided to extend the nature scene onto the envelope. She added outlines of mountains, silhouettes of trees, and a bending river. Sara saved space for the address again with a piece of scrap paper.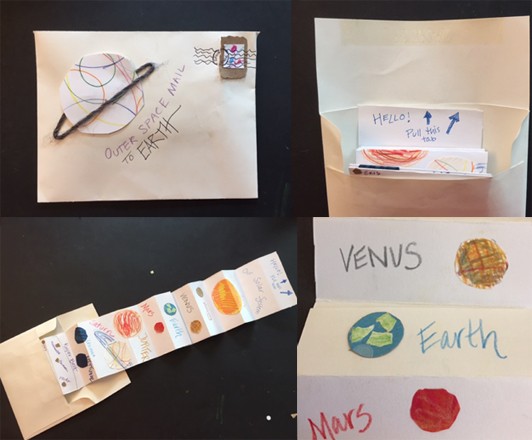 Meg decided to invent her own at-home postal system called Outer Space Mail. The first letter through intergalactic mail was a long pull-tab diagram of the solar system. She liked the idea of trying to find a way to send something really huge like the solar system through the mail in a tiny envelope.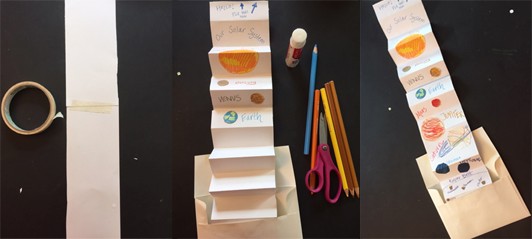 To create her solar system, Meg wanted to use a long piece of paper. It was fun figuring out how to fold the paper so that it would unfold moving from planets closest to the sun, to those objects and planets farthest from the sun. She taped the most distant end of her solar system to the inside of the envelope and left space at the other end to write instructions for her mail art recipient. To create her solar system, Meg used a combination of drawing tools and collage papers.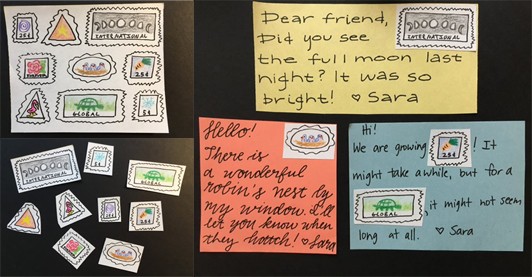 Sara also wanted to invent her own postal system so she designed a unique set of stamps to share notes at home. She started by drawing shapes, then a squiggly line around them to make the wavy edges of a stamp. She filled the shapes with different drawings and words, ready to cut up and glue onto paper. After gluing them down, she wrote notes for a friend based upon each stamp design. 
We hope that you enjoy exploring postal art at home!