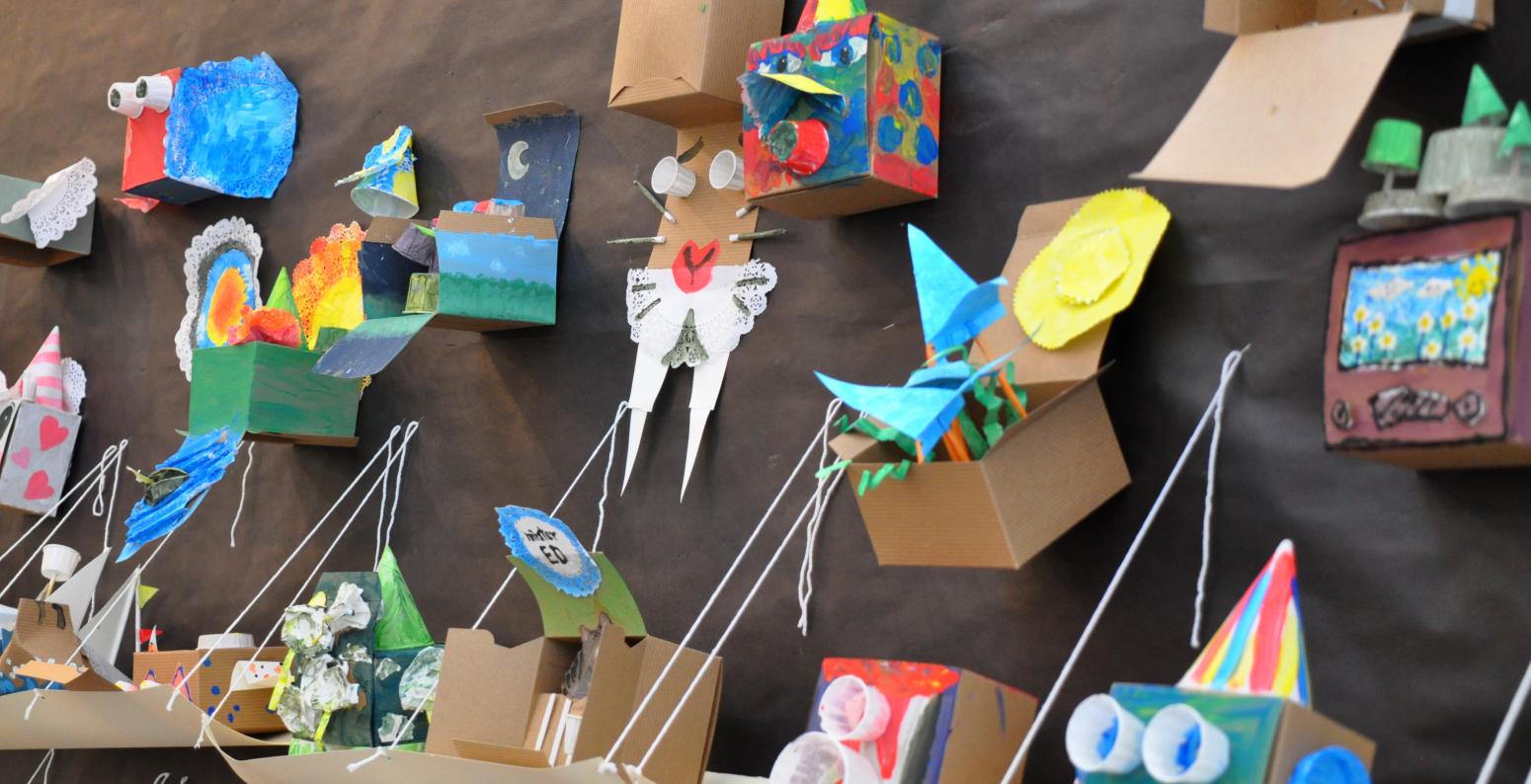 Article Type
Making Art Together
Making Art Together Categories
Painting
Sculpture
Theory and Resources
Awesome Assemblages
March 20, 2023
In the Art Studio, we have an Everyday Art Project that rotates out every six weeks, inspired by current exhibitions.
Our most recent project was inspired by
Christian Robinson
's artwork and his
Making Space videos
. We enjoy his videos and the way he introduces artmaking as approachable, experimental, and accessible. We also loved seeing his usage of found materials in
his original artwork on view at The Carle
including doilies, recycled paper, and hole punches. We hoped to encourage the use of everyday objects as art materials through a sculpture and painting project.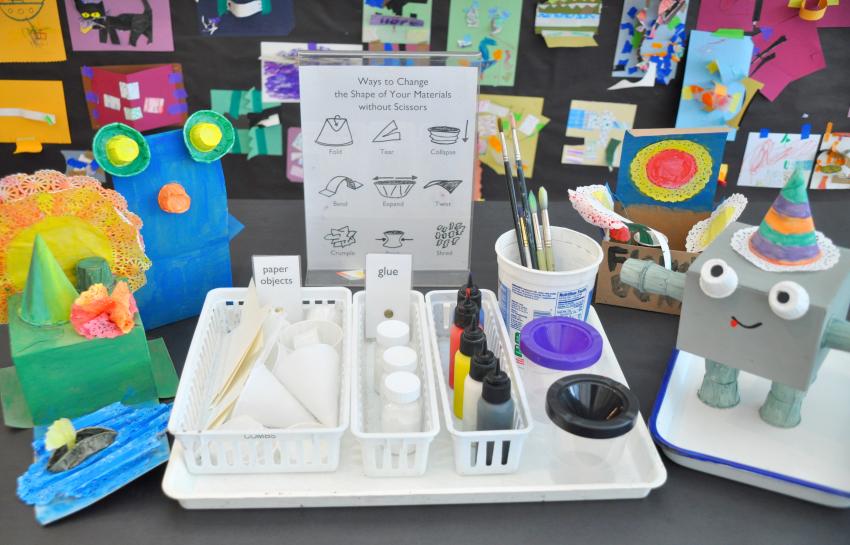 Sculpture Materials  
Each person that came into the studio was offered a cardboard box, a paint palette, and introduced to a tray of materials on the table.   
To have enough consistent supplies for museum guests, we purchased sculpture materials for this project. (If you were making a sculpture at a home or school setting, you could use materials that are on their way to recycling such as cardboard or plastic containers to give them a creative reuse.)
We chose to purchase materials that are uncoated paper because they take paint well (including watercolor) and if large enough, they can be recycled where we are in Amherst. For this project, we provided a variety of paper objects including cups, cones, doilies, watercolor paper offcuts, straws, and cupcake liners.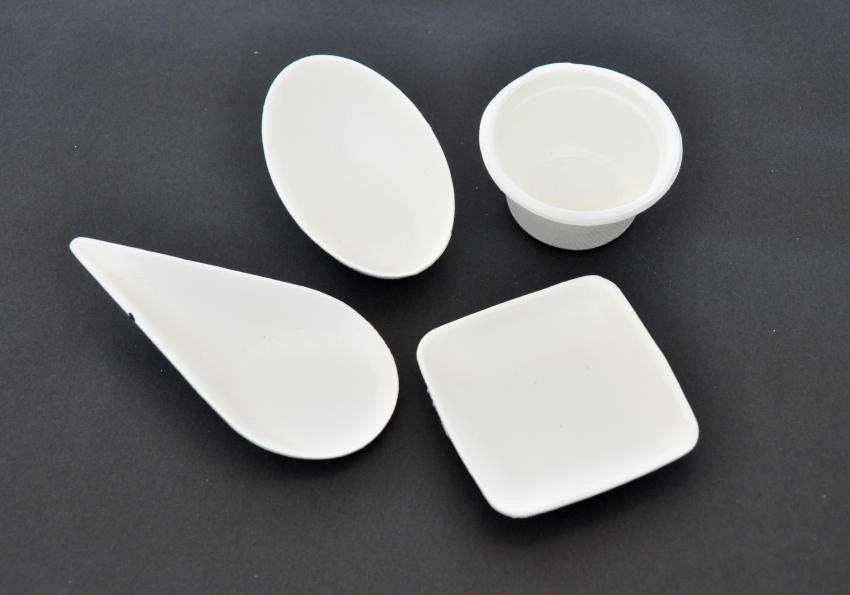 We also researched other sustainable options and purchased a few types of bagasse products which are made from the fibrous byproduct of the sugar industry that is typically burned as waste material. They are sturdy, interesting shapes, and have a smooth and rough texture due to their molding process. We found a few options from Webstaurant that worked well for use in sculptures.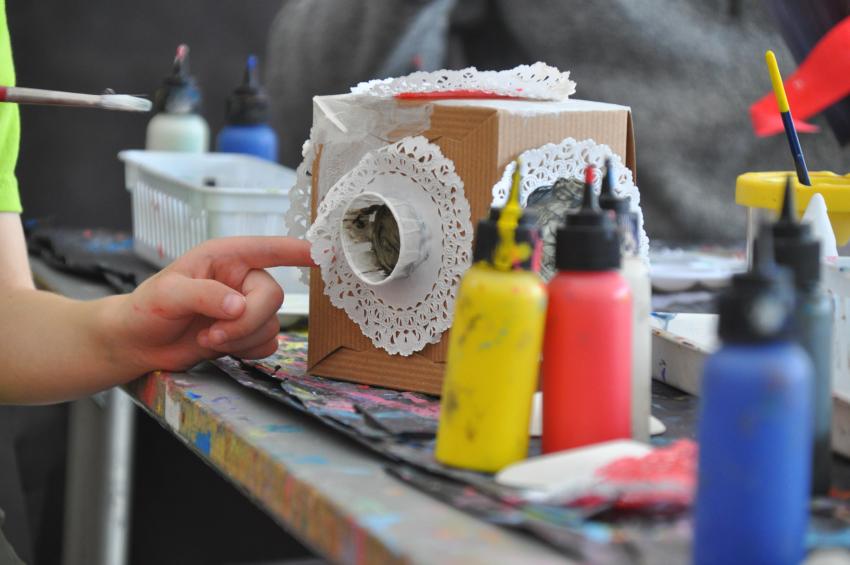 To help folks attach materials, we provided tacky glue inside of glue pots with brushes,
one of our favorite accessible tools
. (While tacky glue can take longer to dry, it is very strong and tends to hold only a few minutes into making.)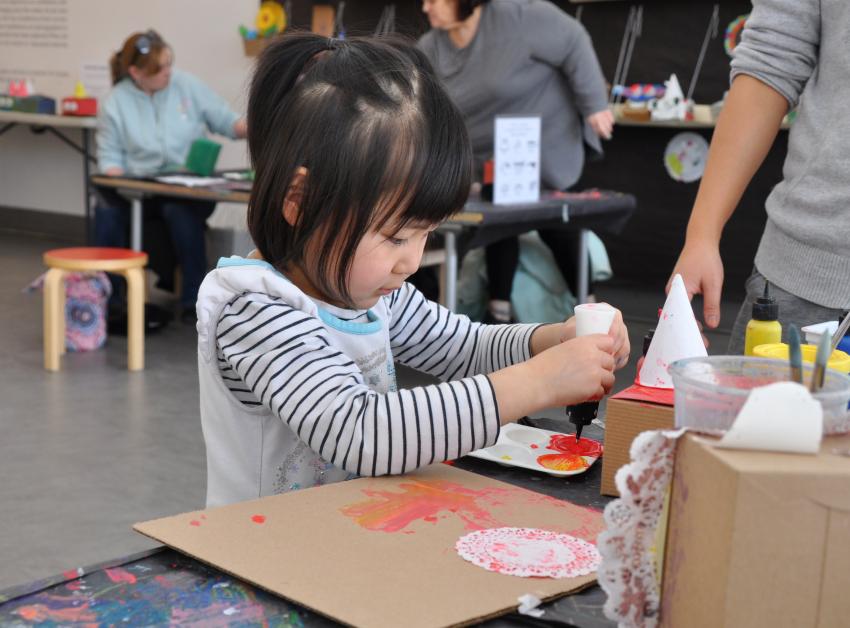 Painting  
In addition to the sculpture materials, we provided materials for guests to paint. We had out our no-spill paint cups, paintbrushes, and 2 oz bottles of washable tempera paint in five colors: red, yellow, blue, black, and white. (The no-spill cups and 2 oz bottles are also two of our favorite accessible tools.) With those five colors and a palette, guests could mix any color they wanted for their artwork. There were many unique colors mixed over the project!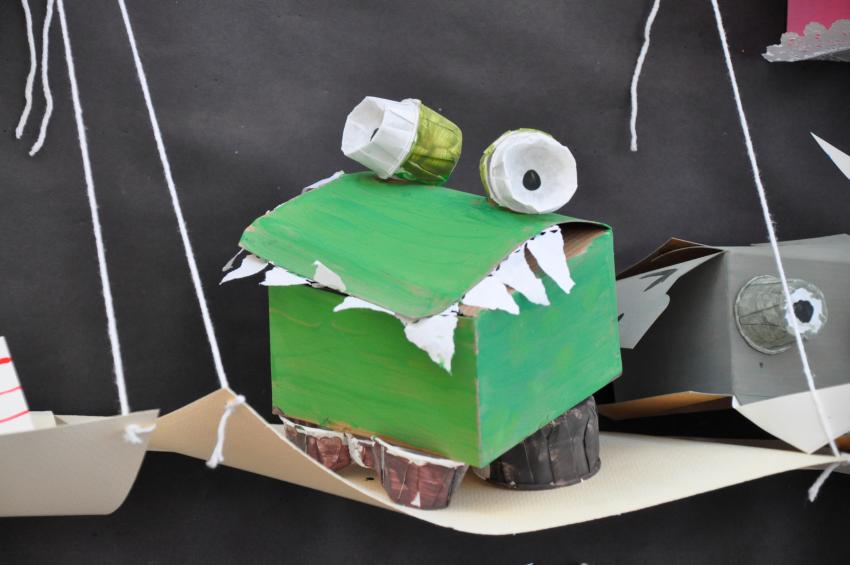 Problem-Solving  
Because of the complexity and number of materials, we chose not to provide scissors for this project. It was helpful to provide this intentional limitation not only because it can lead to creative problem-solving, but because there was a lot of material maintenance that needed to happen with the paint and sculpture materials in a drop-in space. (Practically speaking, the scissors can become sealed or encrusted with glue and paint over the course of the project.)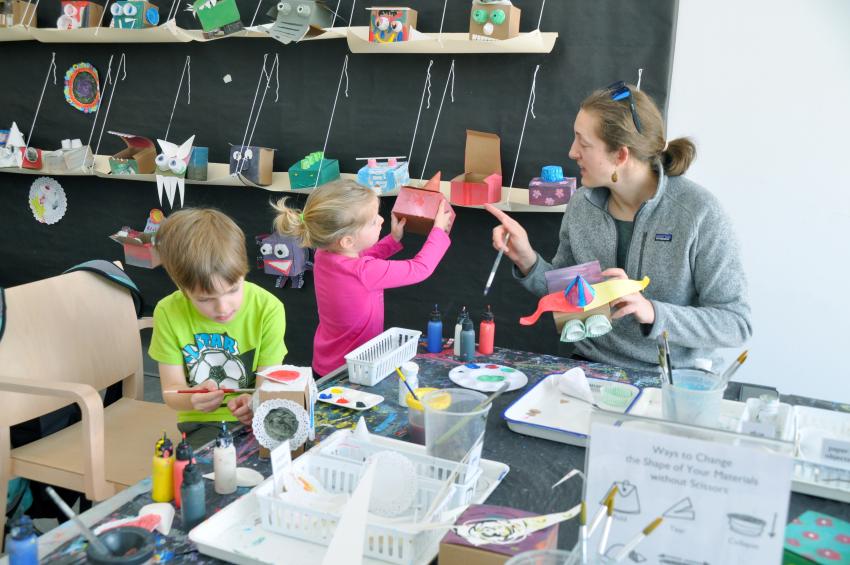 To help guests problem-solve around this limitation, we provided a sign that had suggestions on how to change the shape of their materials without scissors. There were a lot of creative solutions including folding, expanding, bending, and tearing.  
Here are a few more examples of artwork left behind by guests, we loved seeing the variety across the six weeks!