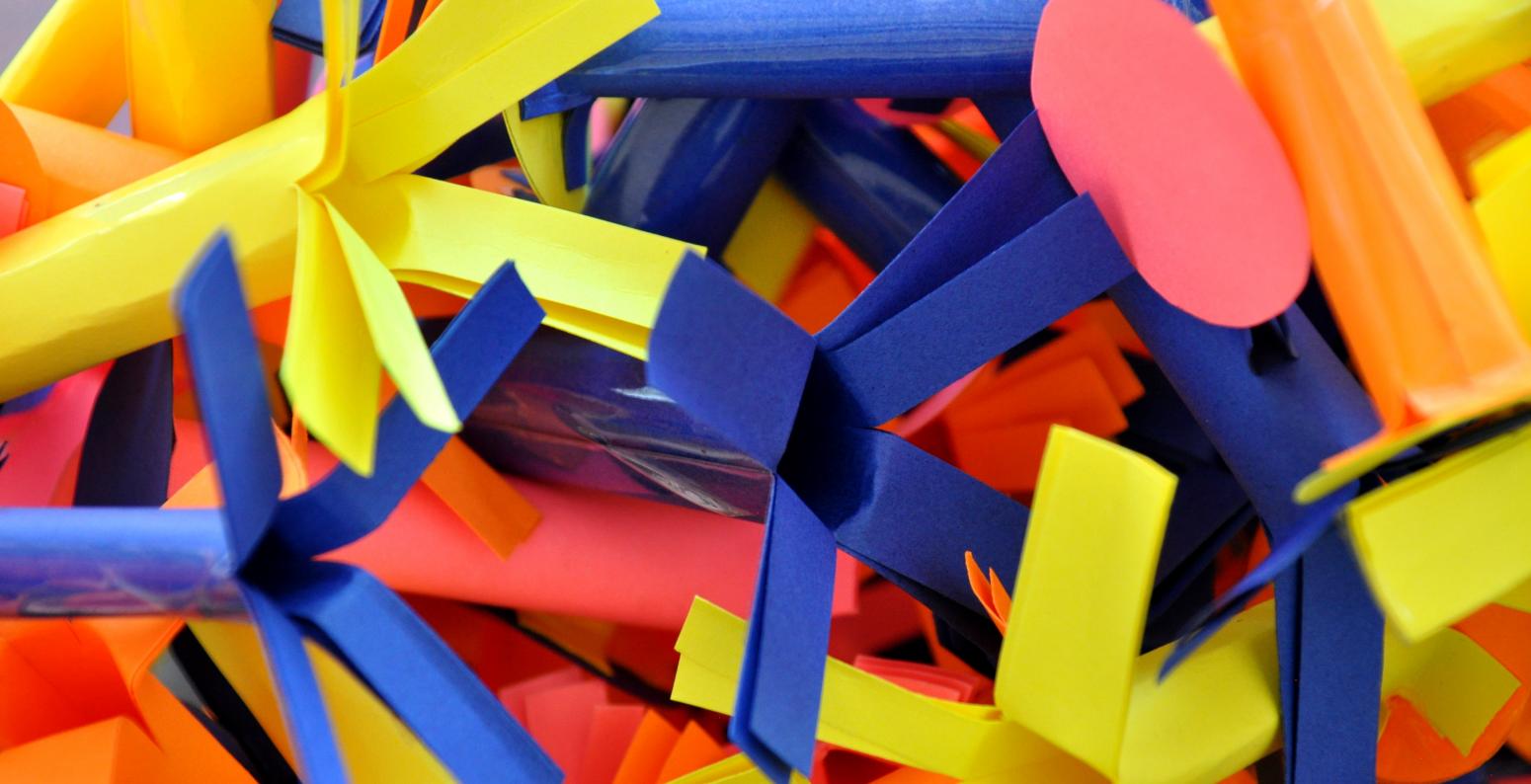 Article Type
Making Art Together
Making Art Together Categories
Collage
Sculpture
Celebrating Collage and Color with Wearable Art
October 15, 2021
Artist
Ashley Bryan
creates artwork across a range of media including painting, sculpture, stained glass, collage, and as seen in the exhibition,
Ashley Bryan in Song
, prints. This month, inspired by his colorful cut paper collage and sculpture, we invited guests to create artwork that you can wear! Creating wearable art with paper is a great way to explore all of the elements of
collage
 with the additional challenge of creating something three-dimensional. We have found wearable art to be a consistently motivating and fun prompt that engages guests of all ages in creative problem-solving as they experiment with paper engineering.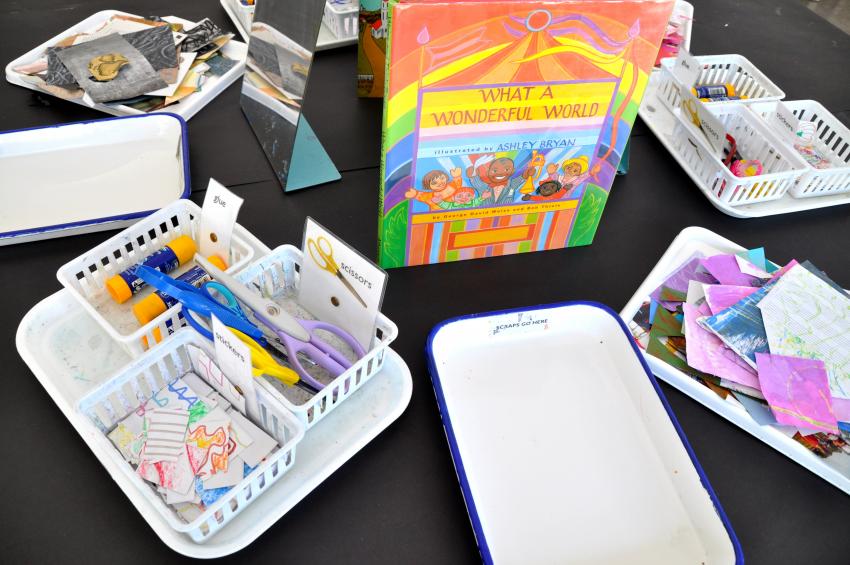 Materials
For this project we gave guests a large strip of construction paper as the base. On the tables we had a variety of collage papers, scissors, glue sticks and stickers. Providing different types of adhesives gives more options for problem-solving, and helps to make the project friendly for all ages.
Paper engineering techniques
Here are some ways that team members and guests used these materials to create volume, structure, and dimension in their wearable art: 
Paper looped or rolled can become a hat, crown, bracelet, sash, and more! Guests used these techniques to create both the structure of their wearable art and the details. Here, looped strips of paper became hats and crowns, and rolled paper became the beads of a necklace.
By folding paper guests created wearable art with dimension and a variety of shapes. A cut paper fringe was folded downward to give a hat extra dimension, paper was folded to create the arms of glasses, and paper folded into a zig-zag pattern gave a mask interesting contours.
Paper can be braided or woven together to create the structure of wearable art, it can serve as embellishment, or it can do both at the same time! The braided band of a crown creates a very stable structure and looks beautiful. A woven arm-band has striking pops of color, and a woven helmet has lots of visual interest. 
A guest used stickers to attach papers together to create the volume of a bag and secure the handles in place. Another guest used stickers to attach long strips of curled paper to the inside of a headband to create hair with lots of movement. Stickers create a strong, immediate attachment whereas glue takes a bit longer to dry, but is equally secure once it does.
Paper engineering in an Art Studio display
Creating tabs is a great way to attach papers together. Art Studio team members made these paper pegs for our wearable art display wall by cutting tabs into a rolled paper and then gluing those tabs to a paper disc. This technique for attaching papers together works great if you are trying to create structural stability. We also used tabs on the other end of the peg to attach them to the wall. To hide the tabs we cut an "X" into the black paper and slid the tabs underneath, stapling the tabs and black paper together to secure the peg to the wall.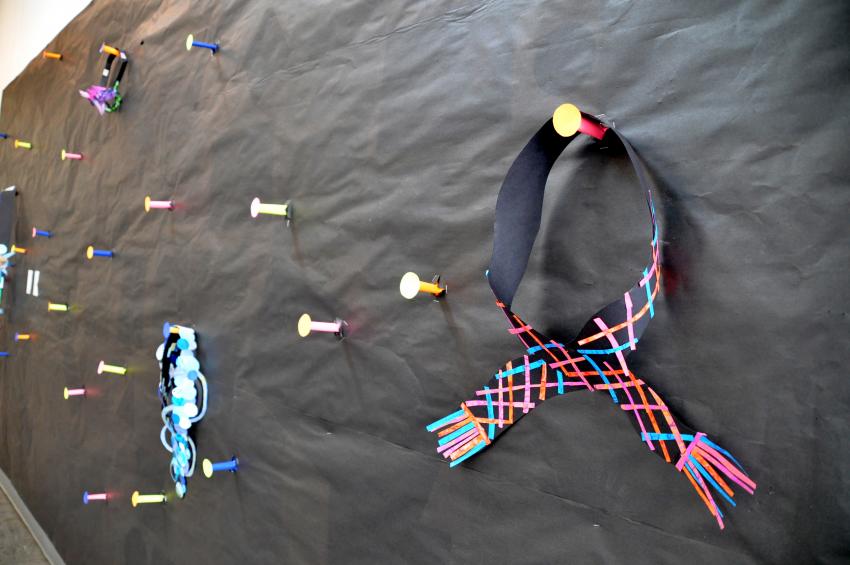 Here's how the display wall looked when we were done, ready to fill up with wearable art creations! The paper pegs were strong enough to hold any of the wearable art created. They were also very easy to replace which is an important feature in a space like ours where we want to make sure that everything is either very secure, or can be easily and quickly repaired. Paper structures are generally very easy to replace or repair so we frequently use these techniques in our displays.
Sharing Our Wearable Art
We love to think about how artwork is viewed and shared with others in the Art Studio, this feels especially important when it comes to wearable art projects. 
Photography is one great way to document what is made, especially because it can show how the artwork can be worn. Members of the Art Studio team shared what they made in these photos.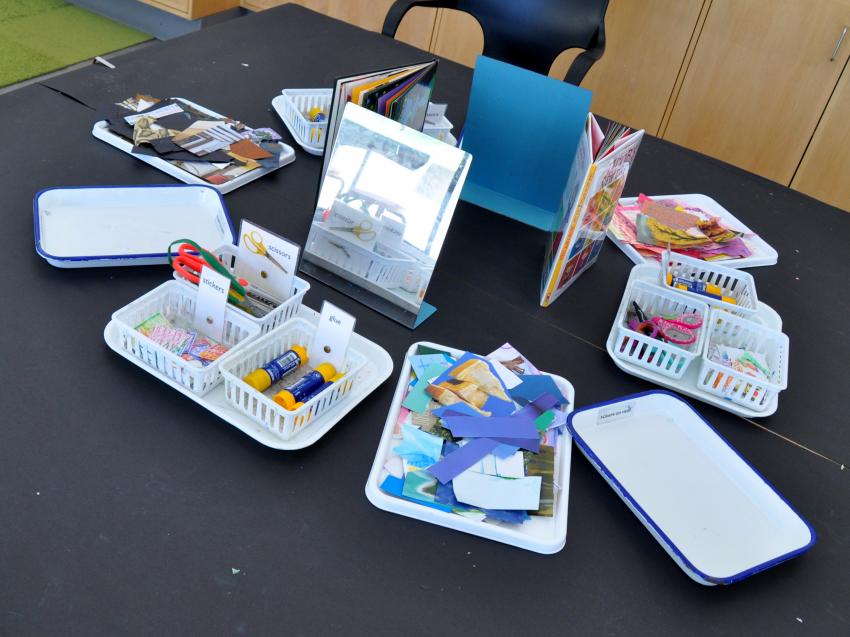 Because wearable art is meant to be worn, we try to always provide mirrors on the tables so that guests can try on their art and make adjustments along the way.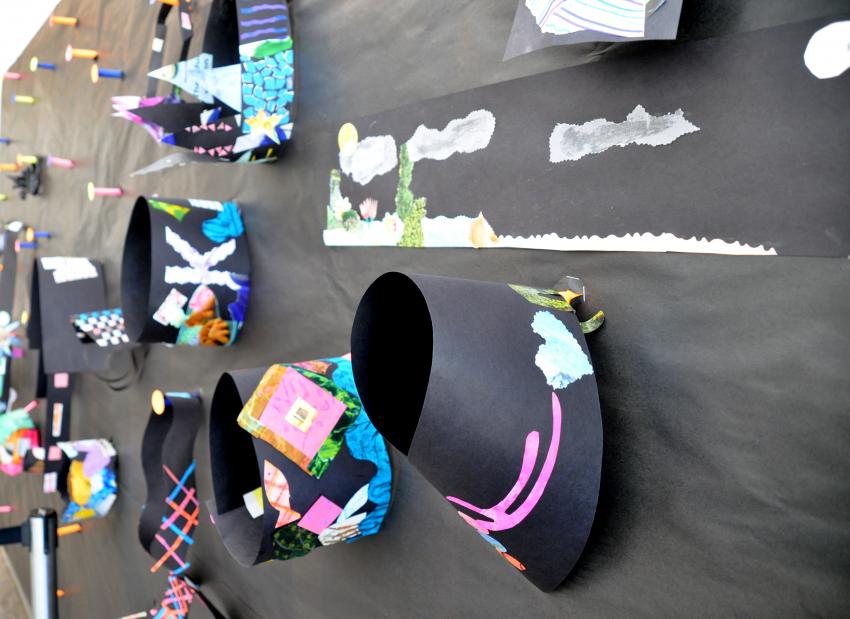 Guests had the option of leaving their artwork on our paper-peg-wall for others to see or take what they made home. As the wall started to fill up with a wide range of approaches and techniques, it provided inspiration and ideas for everyone who visited.
By looking in a mirror, sharing a photo, or exploring what others have made on the display wall, we inspire one another, build on ideas, and help fuel the creative process! Check out more wearable art ideas and projects that use paper in sculptural ways in the Explore Further section below.