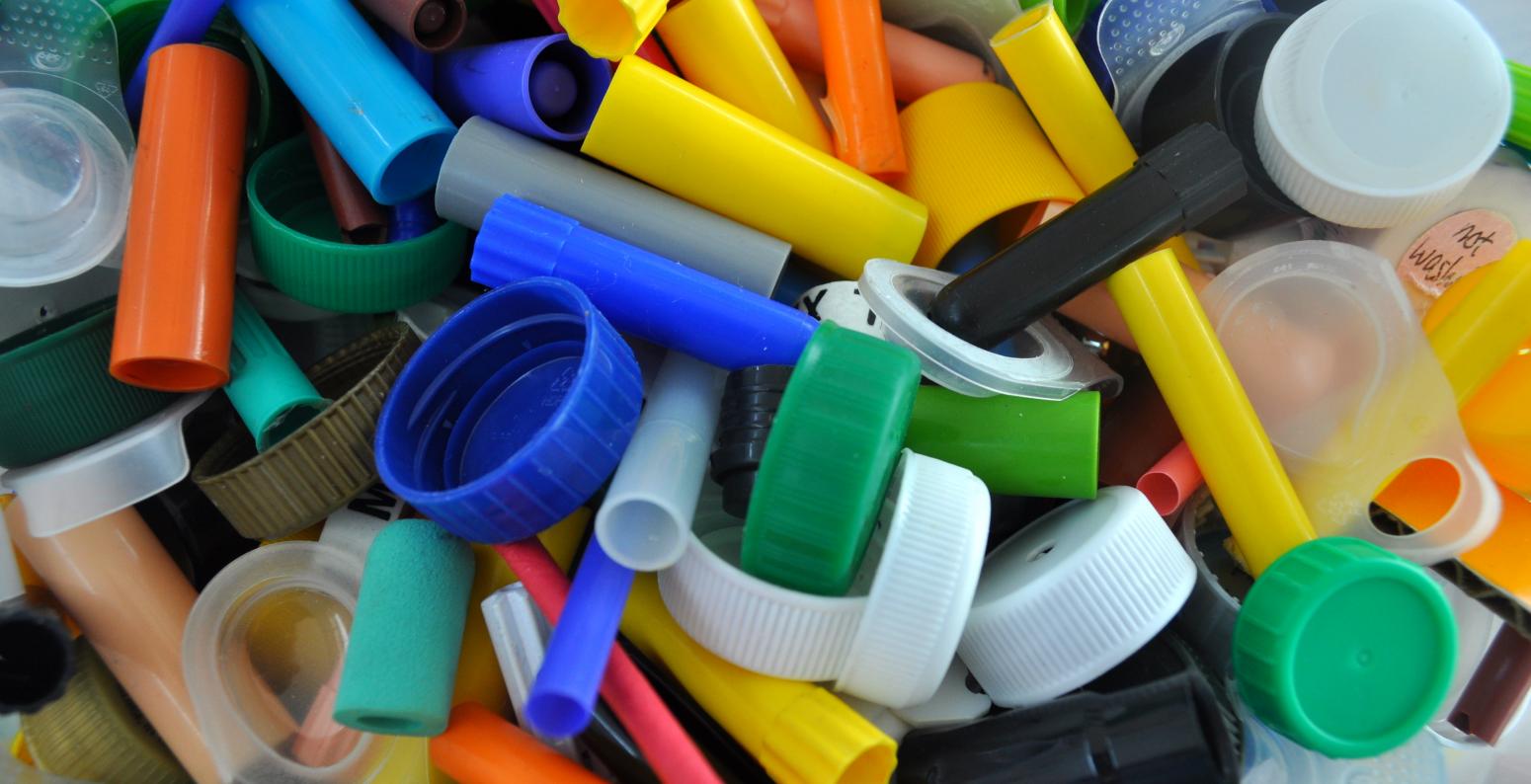 Article Type
Making Art Together
Making Art Together Categories
Nature
Theory and Resources
A Fond Farewell to Collecting Plastic Found Materials
June 27, 2018
Here in the Art Studio, we have always been supporters of re-using materials in a variety of ways. From construction projects to character development, our materials have included plastics such as cups, bread tabs, caps, and contact lens cases. Many of these plastic materials from everyday household items have been carefully washed, sorted, and stored for future uses in art projects. After many years of reusing plastic materials in the Art Studio, we have decided to make changes to our material choices for several environmental, practical, and programming reasons. We'd like to share with you our reasons for changing as well reflect on our sustainability within the Art Studio.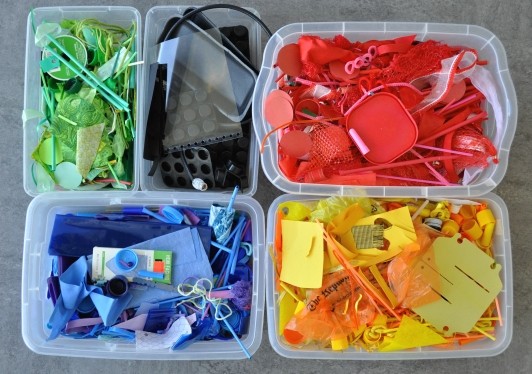 With thousands of guests visiting the Art Studio over the course of a year, we are aware of the amount of trash we can produce. To help cut-down on waste, we think about how we can re-use the materials in a sustainable way. We chop up left-over drawing projects into future collage paper. We save the plastic bases that the gluesticks are shipped on to re-use as stamps.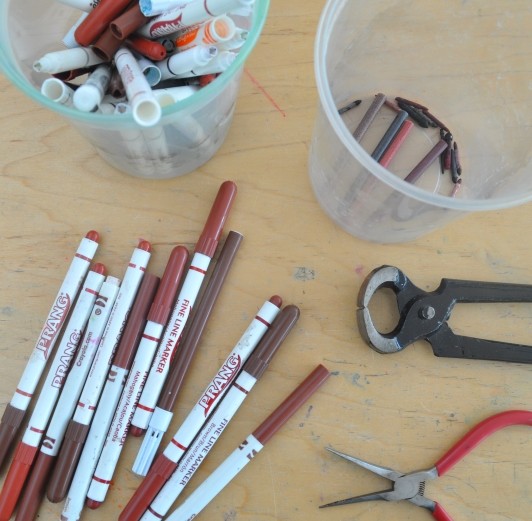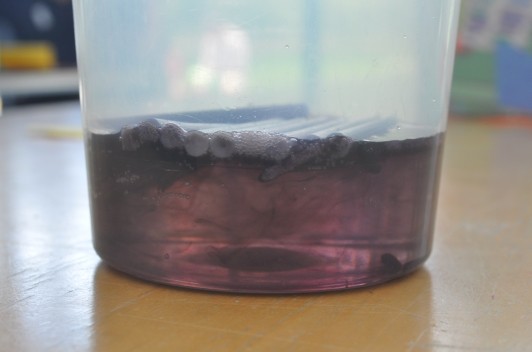 We've taken apart markers that were dried out to create liquid watercolors from the marker tips and barrels. We deconstruct left-over sculptures to save the parts for future use.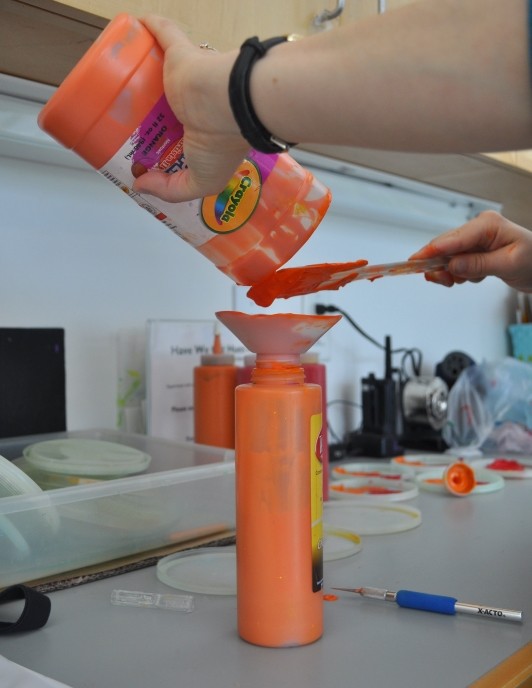 We've even cut off the tops of paint bottles, using them as funnels to capture every last drop of paint.
Recently though, we have been looking closely at how our use of plastic materials within projects is not as sustainable as we'd like. We enjoy the way that plastics are often brightly colored, structurally sound, and are given a new life when incorporated into a sculpture.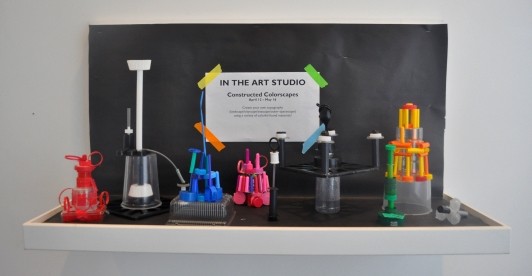 But when it is time to retire the artwork after it has been enjoyed, we are often forced to throw away materials that could have previously been recycled (such as cardboard bases) because they have too much tape or glue on them to be redeemed. While we salvage as much as we can, we feel like we could be making better decisions about the materials we choose to use and purchase. We are also acutely aware of the environmental hazard that plastics pose within our waterways, oceans, and landfills.
In thinking about the hazards of plastics and potentials with paper products, we have made the decision in the Art Studio to not purchase plastic materials or collect donated plastics. We piloted this idea successfully with an Every Day Art Project in the fall and are confident that plastics do not have to play a large part in our projects.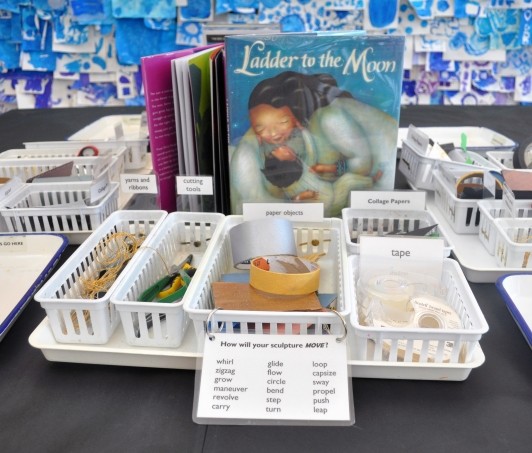 The night sky mobiles were created using paper found materials as the basis of the project. While we did use string and ribbons as attachment materials, it was much easier to sort the left-over projects and recycle a great deal more than usual.  Using paper products as our base for materials also allows us to provide cutting tools alongside the recycled materials without the fear of creating sharp plastic pieces. 
With all this in mind though, we have a large back-log of plastics meticulously sorted and cleaned from years of collection. To move forward with the sustainable goals of the Art Studio, we'll recycle as much as we can and re-use the rest in future projects. So while we are committed to no longer collecting and buying plastics, the phasing out of plastics in our Art Studio space will occur over the course of the coming year.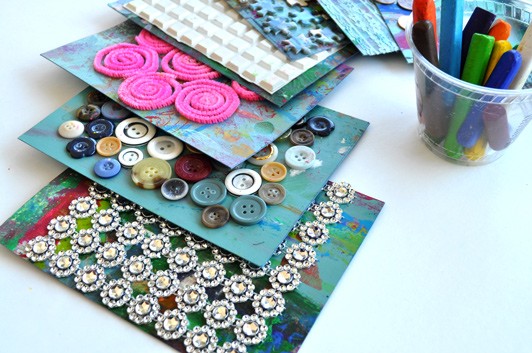 You'll see a variety of our plastic collections appear in workshops, but our materials will start to shift towards more paper-based products that can be easily recycled. We hope you read this post and join us in our journey to become a more sustainable space for learning!