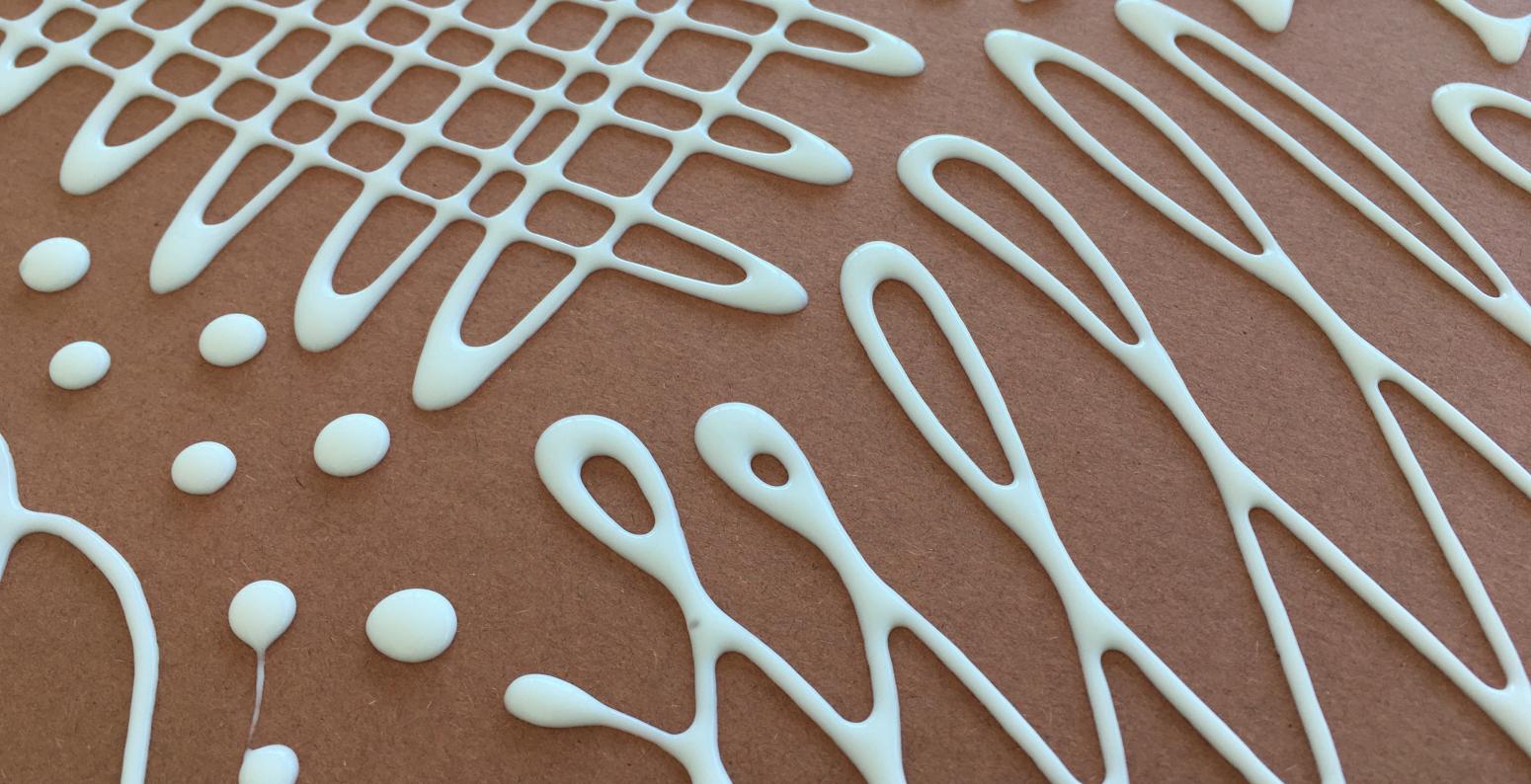 Article Type
Making Art Together
Making Art Together Categories
Drawing
Paper and Glue Rubbing Plates
February 12, 2021
One of our favorite tools to use in the Art Studio are rubbing plates.
We've made several posts about making them with natural materials, manufactured materials, and materials from around your home. But to use them in the Art Studio during the pandemic, we had to think of a new way to create rubbing plates. We needed to make rubbing plates that could be single-use and fit the safety protocols for the Art Studio- something that all educators are balancing during the pandemic. To make them more sustainable, we determined that the plates had to be durable yet paper-based, and something that folks could take home. In thinking back on a previous toddler program, we realized that we had a solution, using only liquid glue, and sturdy paper!
Last year, in one of our toddler Materials Play series, we explored drawing with squeeze bottle glue on thick railroad board paper. Using the glue to make marks was an engaging experience for little ones and adults alike. Guests said that drawing with glue was relaxing, fun, and visually engaging as the white glue glided across the black paper. Slight changes in pressure on the glue bottle yielded thick and thin lines, and the crossing over points yielded puddles of glue that formed together into smooth lakes.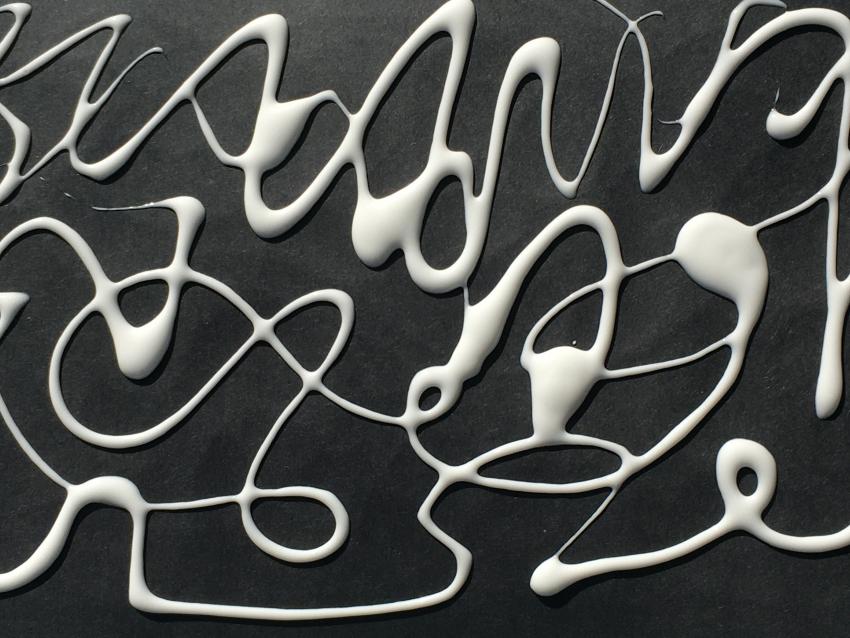 After the program, I was fascinated by the way the glue dried, creating wrinkled textures, air bubbles, and bumpy raised surfaces.
In noticing that there were raised textures, I wondered if it could be used as a rubbing plate. I took a piece of paper, laid it on top of the dried glue, then ran a crayon on its side across the surface. To my surprise, it worked just as well as our other rubbing plates! At the time, we decided to wait to use and/or make them in a future program with Art Studio guests.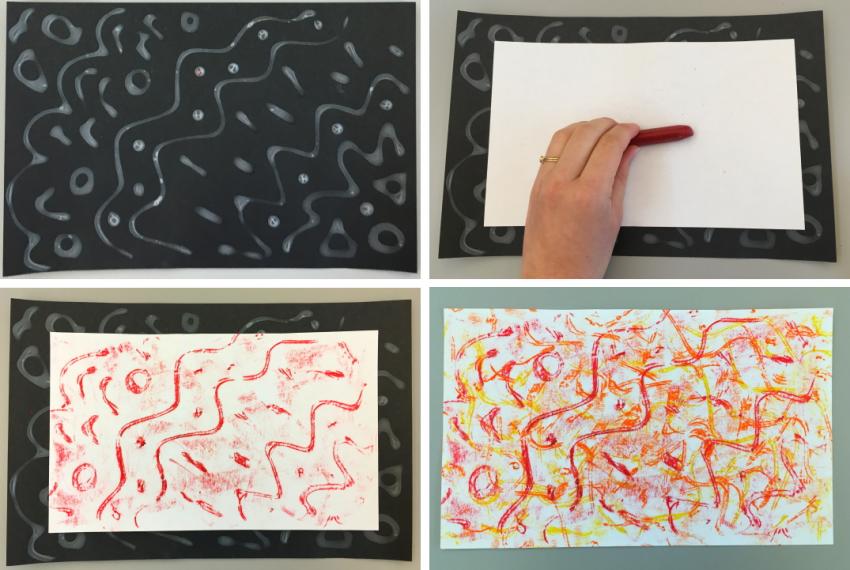 The opportunity arose this fall when we facilitated the Every Day Art Program, Stories that Surprise. In looking for a rubbing plate that we could prepare in bulk (with the help of our volunteers via curbside pick-up) and that could easily be recycled or quarantined with our other paper supplies, we realized that these glue and paper rubbing plates would work perfectly. Each guest who participated in the project got a rubbing plate that they could use to add texture and start their stories inside an accordion-fold book.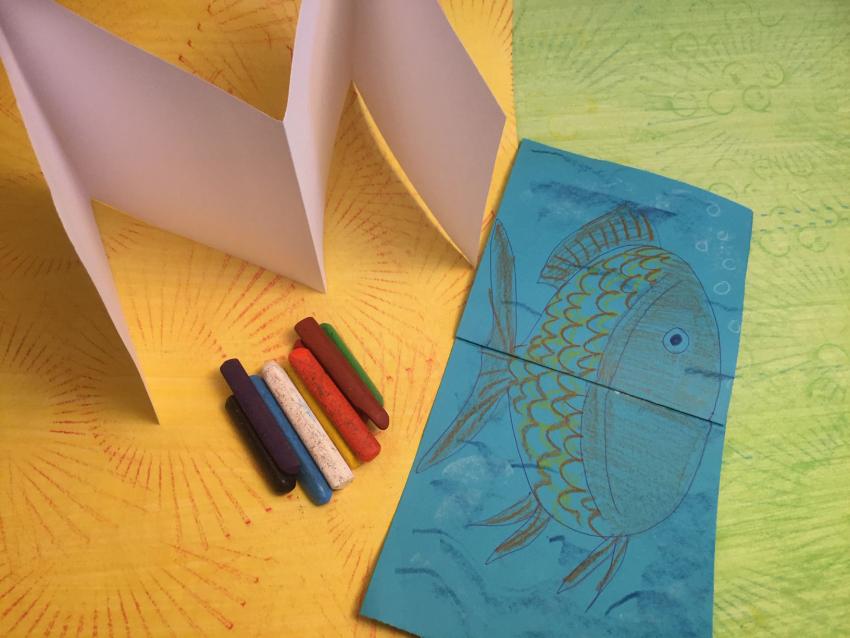 Check out the video below about the Stories that Surprise project.