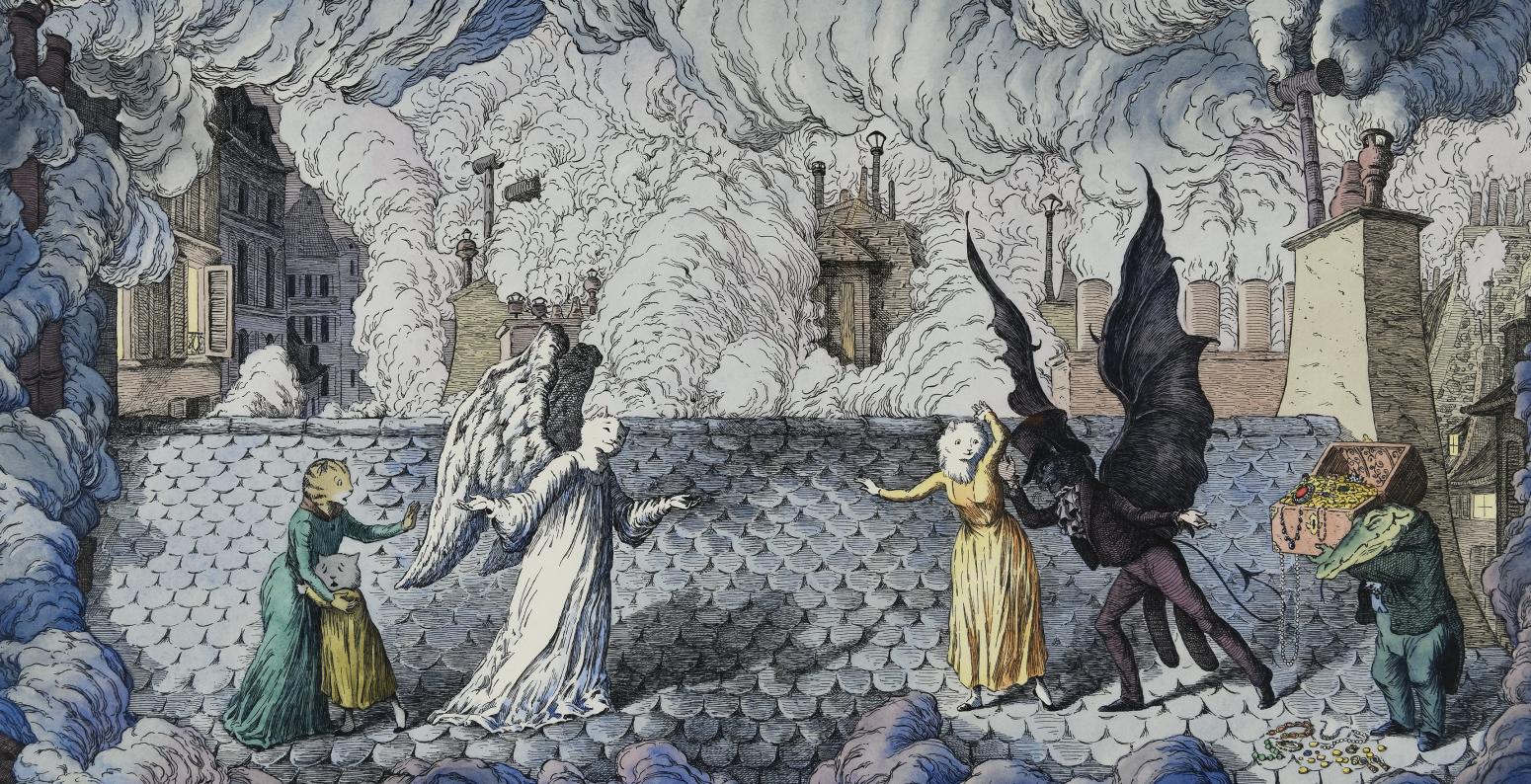 Folk Tales, Fairy Tales & Fantasy
There are certain stories we tell again and again. They capture our imaginations in childhood and elicit nostalgic feelings as adults. Whether through humor, fantasy, or epic adventure, these tales reveal lessons and help us find magic in the world.
Kinuko Craft
Kinuko Y. Craft's (b. 1940) luminous landscape with floral border is rich in classical references. Craft illustrates a sumptuous woodland setting apropos to the mythological love story of Cupid and Psyche. The book's author, Marie Charlotte Craft, is the illustrator's daughter. The duo made several books together, retelling and re-illustrating famous fairy tales.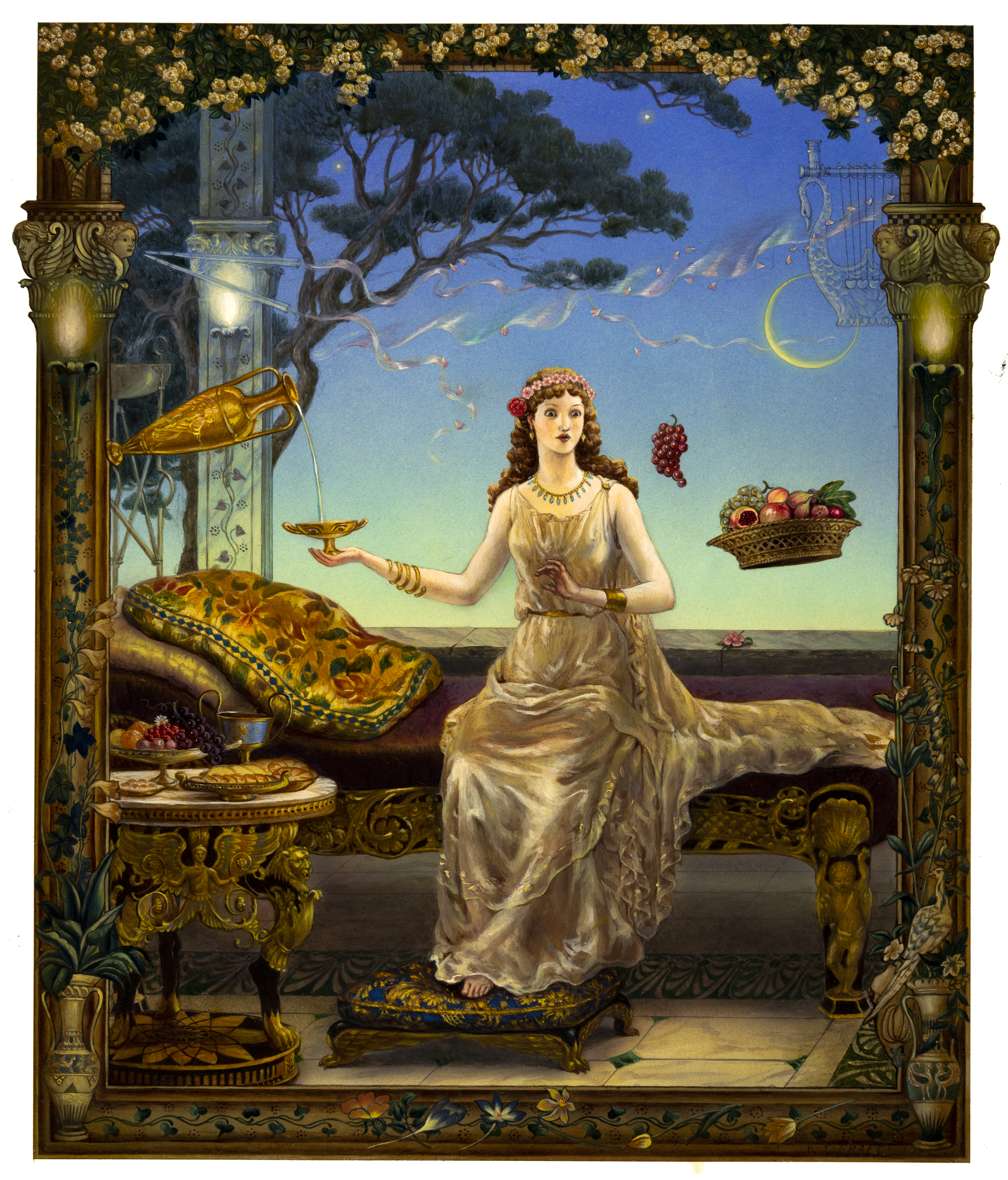 Étienne Delessert
Swiss-born artist Étienne Delessert (b. 1941) has created over 80 children's books. This watercolor from Pomme d'Api reflects Delessert's surrealist world, in which whimsy replaces reality and scale—a mouse rides a snail, a ladybug takes up the space of an outstretched hand, and a child stands shorter than a tulip. In 2011, The Carle presented the exhibition What a Circus! The Art of Étienne Delessert.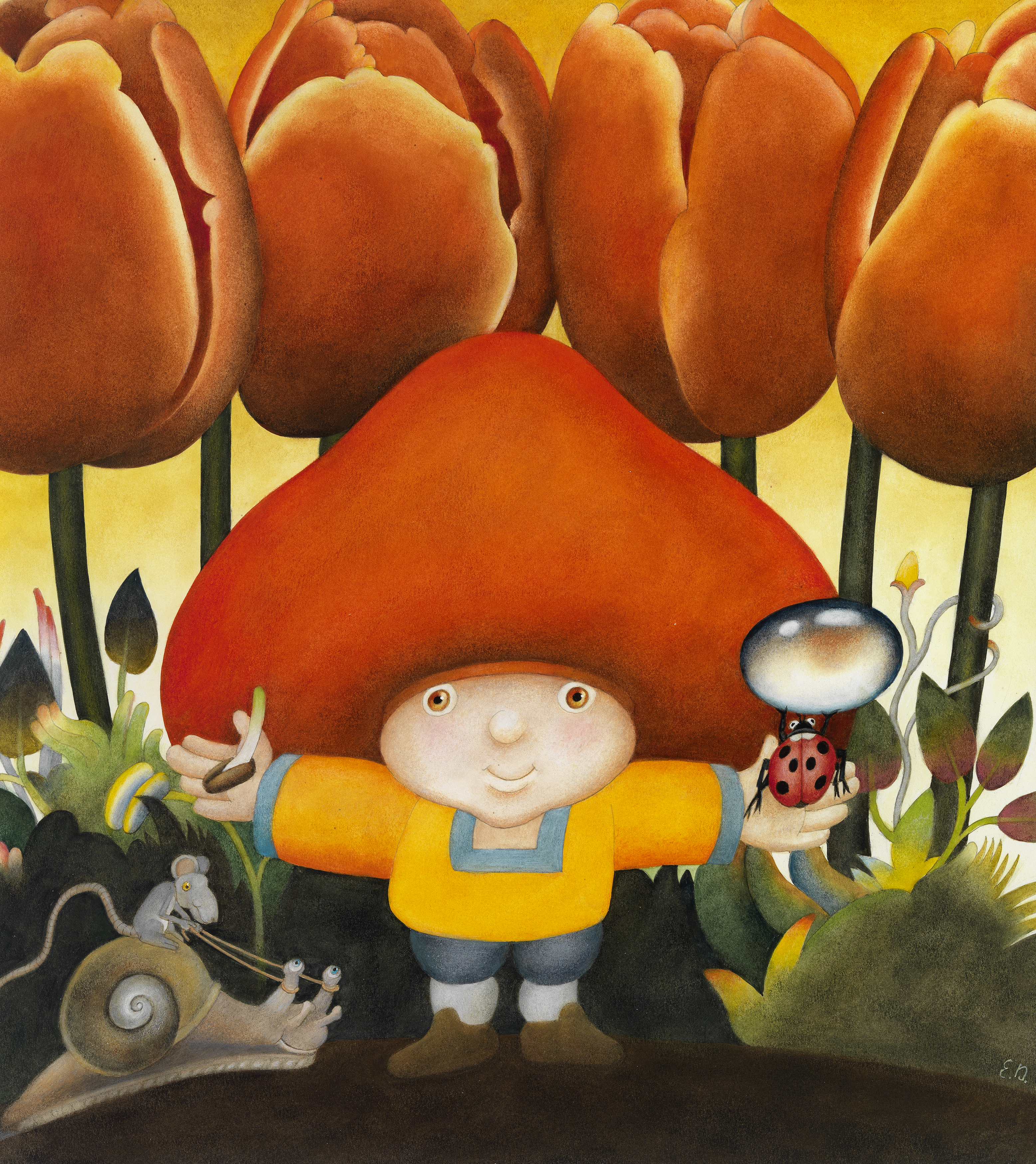 Tomi dePaola
Tomie dePaola (1934–2020) illustrated an astonishing 200 books; he is arguably best known for the eleven titles in his Strega Nona series, tales of an Italian grandmother witch. This watercolor from Strega Nona Meets Her Match (1993) displays dePaola's stylized figures, though the pastel colors diverge from the browns and ochres of the original tale. The Carle's 2011 exhibition, Drawings from the Heart: Tomie dePaola Turns 75, explored the artist's appreciation for design and art history.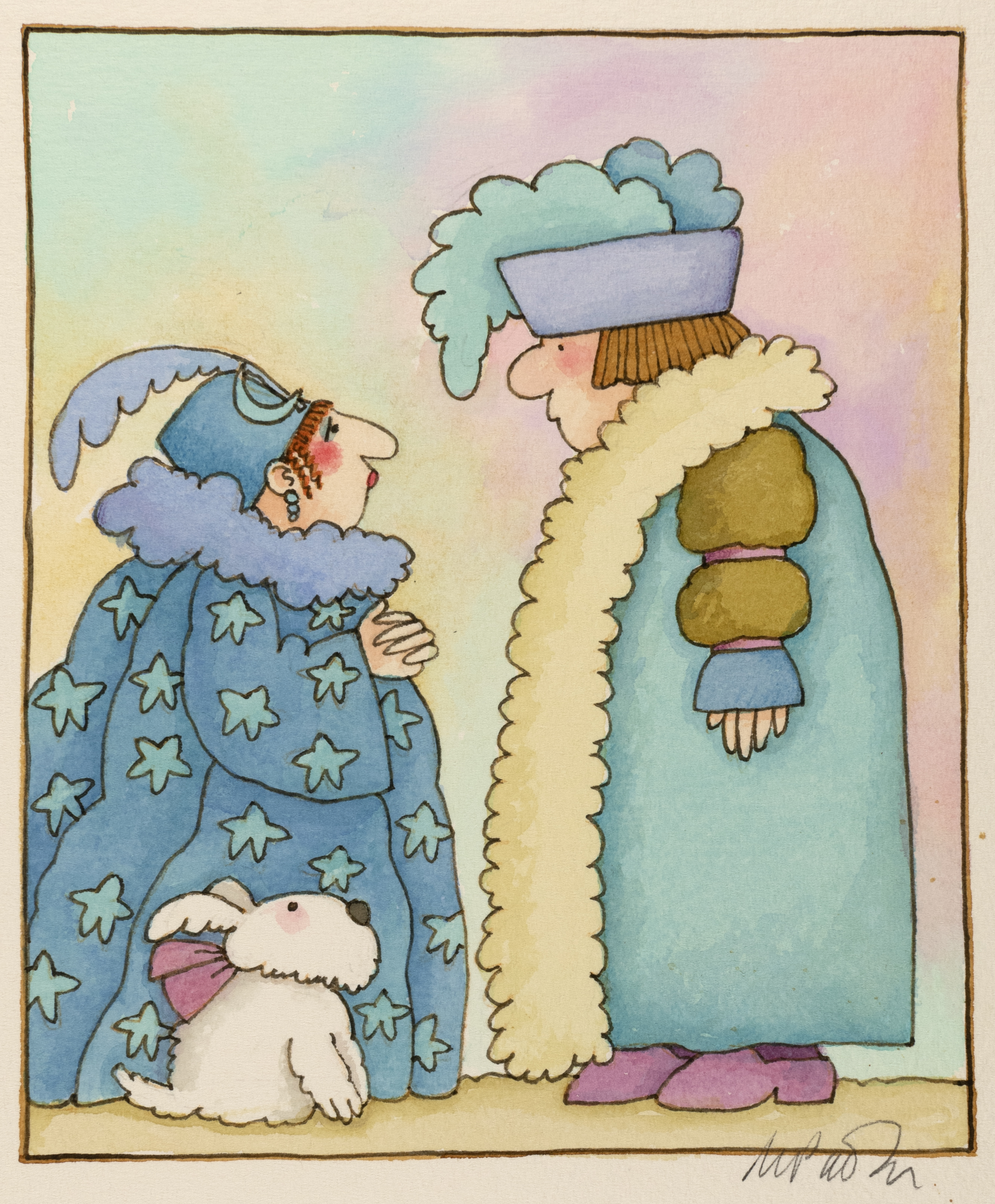 Tony DiTerlizzi
Chaos brews in Tony DiTerlizzi's (b. 1969) frontispiece for Holly Black's The Spiderwick Chronicles: Book IV: The Ironwood Tree (2004). A disgruntled gnome, a dark sky, and a gnarled, looming tree—cut off and contained by an angled frame—warns readers of the climactic tale to come. DiTerlizzi has written and illustrated dozens of novels and picture books, including his Caldecott Honor title The Spider and the Fly (2002). The Carle presented the exhibition Spiderwick: From Page to Screen in 2007.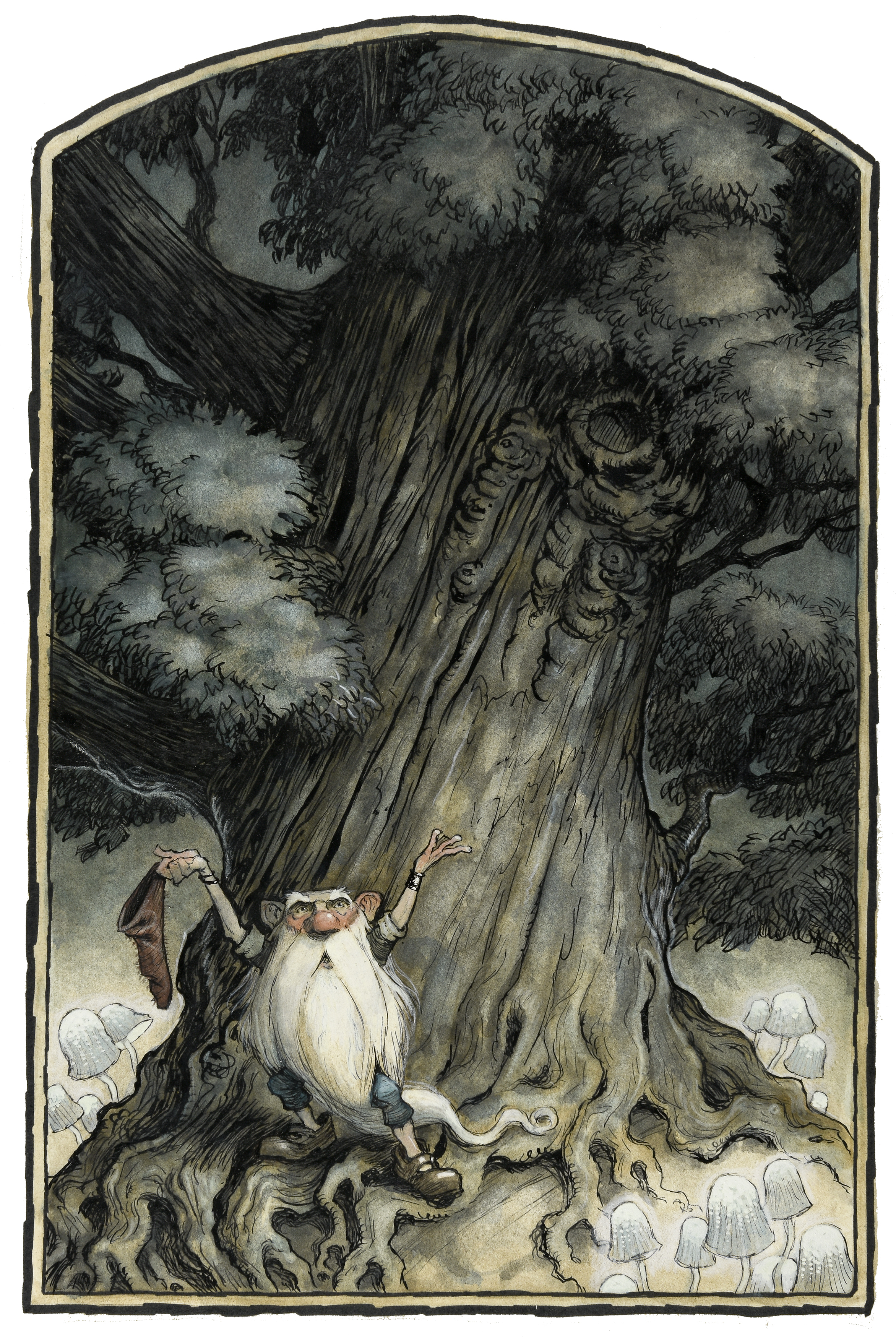 Mordicai Gerstein
Mordecai Gerstein's vibrant illustrations retell the biblical story of Jonah, a prophet who disobeys God and is swallowed by a giant fish. Here Gerstein depicts a climactic moment when one sharp-toothed fish spits Jonah into the wide-open mouth of an even bigger fish. Jonah's outstretched arms and a trail of air bubbles indicate his plea for help.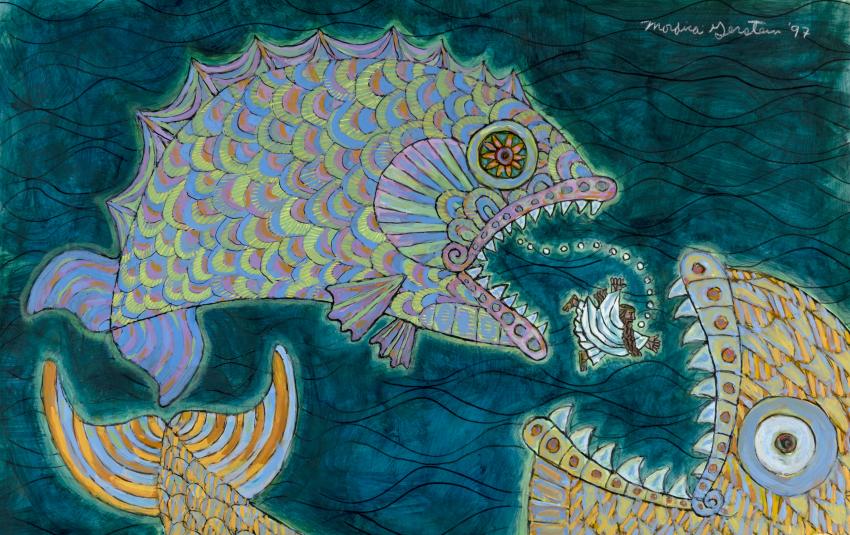 Trina Schart Hyman
A prolific artist of over 150 books, Trina Schart Hyman (1939–2004) won the Caldecott Medal for Saint George and the Dragon (1984). In her retelling of Sleeping Beauty, Hyman brings the princess's kingdom to life—or rather, puts it to sleep!—with her detailed watercolors. Here, the warm embers of a kitchen fire illuminate the cook as he falls into slumber, squishing the scullion below him. Not even the orange cat at the kitchen maiden's feet is safe from the infamous curse.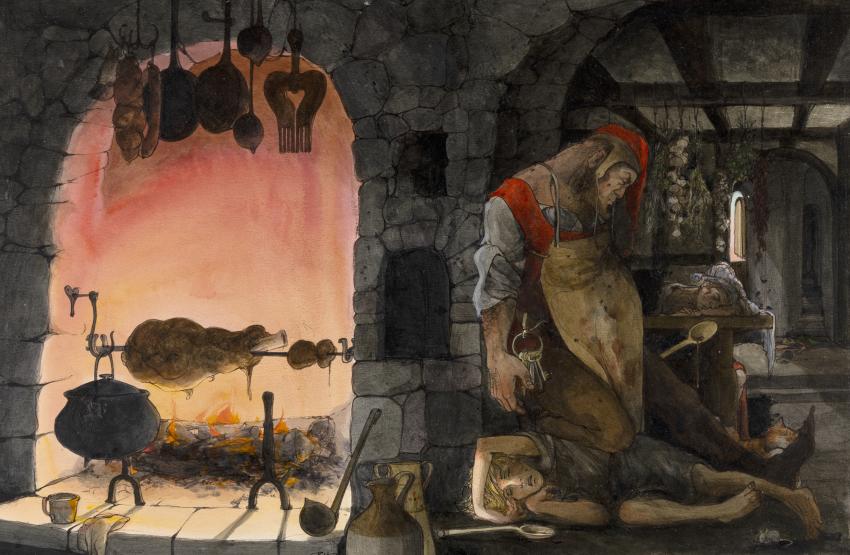 David Johnson 
"Stay the winter, if you wish," the field mouse offers to Thumbelina. David Johnson employs an earthy color palette suggestive of the mouse's underground home. He highlights minute details like steam rising from a hot meal and the mouse's pink ears and long whiskers. Through his soft, delicate illustrations, Johnson invites readers into the tiny world of Hans Christian Andersen's famous tale.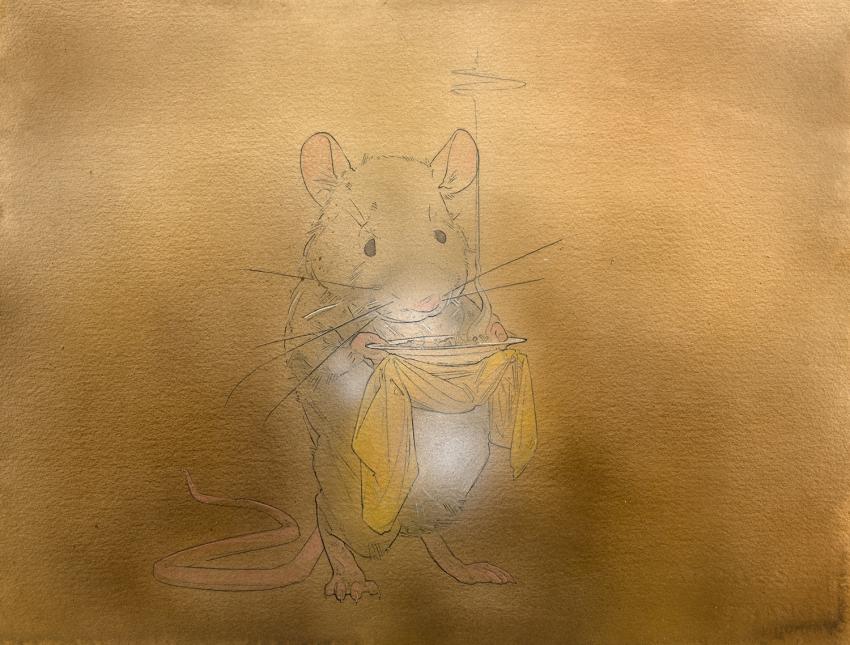 Barbara McClintock
Barbara McClintock's (b. 1955) wordless tale The Heartaches of a French Cat (1989) enacts a dramatic story of love and betrayal in 19th-century France. Cats populate the cast of characters and opulent costumes and staging recall the artistry of opera. The heroine Minette, seen here in a yellow dress, is caught between good and evil. Will she be able to resist the dastardly charms of Count Bisquet? The Carle organized an exhibition on McClintock's book in 2011, Barbara McClintock: The Heartaches of a French Cat.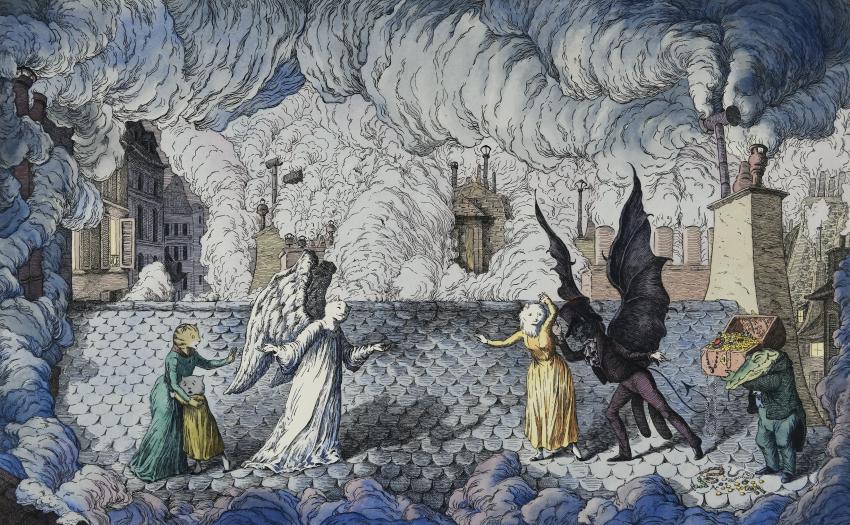 Beni Montresor
Beni Montresor (1926–2001), who won a Caldecott Medal for May I Bring a Friend? (1964), designed his picture book illustrations with the same drama as in his celebrated career as an opera director and set designer. In this illustration from Hansel and Gretel (2001), Montresor's cut-paper collage sets the stage for the siblings' tentative approach to the castle. Green, jagged witches hover above. One witch's white eye, the same color as fearful Hansel and Gretel's silhouettes, creates a threatening diagonal gaze.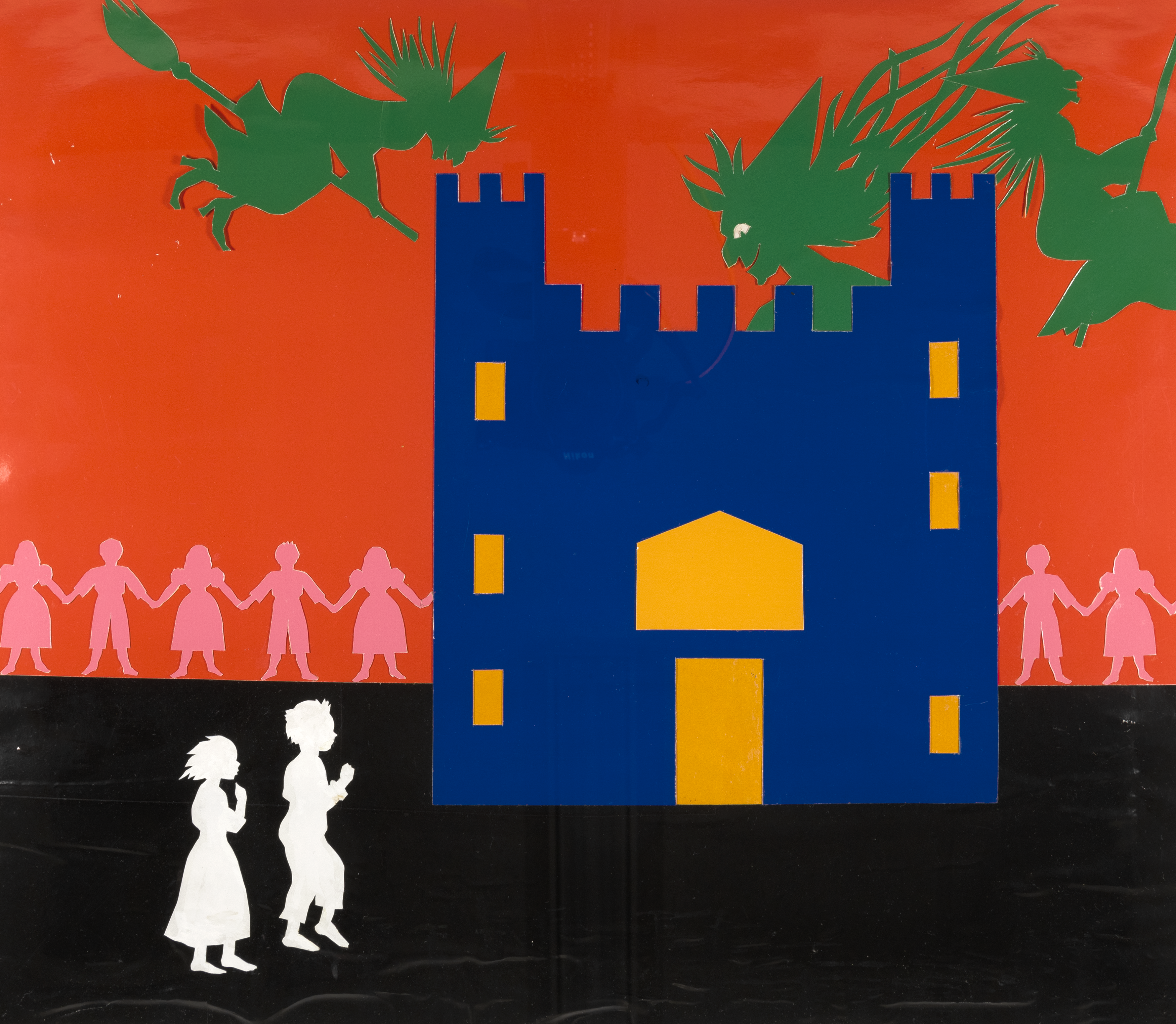 Jerry Pinkney
Jerry Pinkney (1939–2021) and Julius Lester celebrate 19th-century African American animal folktales in their four-book series of Uncle Remus stories. Their prose and illustration rectify the racist stereotypes that Joel Chandler Harris, a Georgia newspaperman, included when he began publishing the oral tales in book form in 1881. Here, Pinkney's well-dressed animals march across the book's back and front covers (the empty space between them is for the book's spine). While the creatures inhabit a legendary world of folklore, Brer Rattlesnake's direct stare and the sidelong glances of Brer Rabbit and Brer Fox indicate their awareness to the viewer's presence.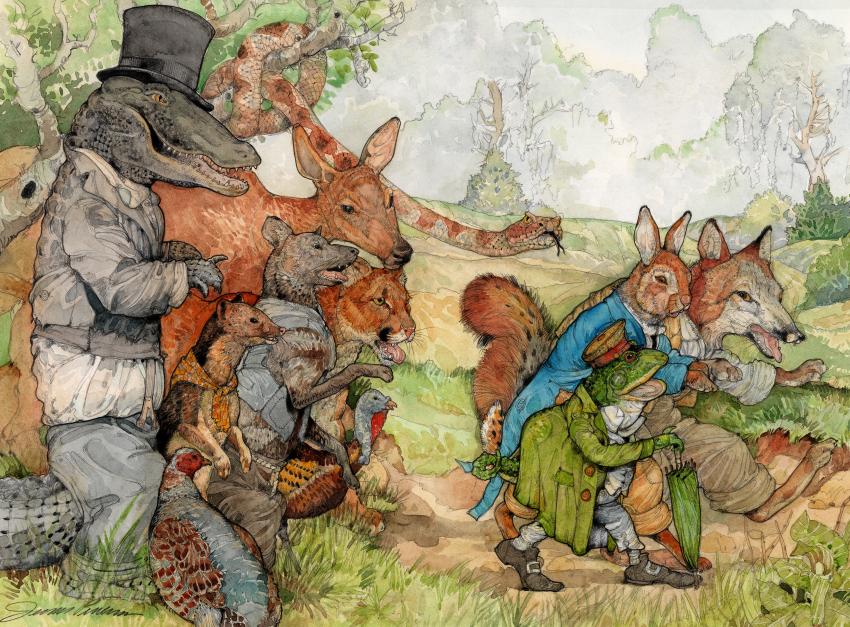 Arthur Rackham
Celebrated Golden Age artist Arthur Rackham (1867–1939) created intricate pen-and-ink illustrations for Flora Annie Steele's compilation of English fairy tales in 1918. In this scene from "The Three Heads of the Well," a princess seeks her fortune armed only with a meager dowry. Rackham's fine linework perfectly renders the scene's thicket of thorns and the princess's drapery folds as she approaches the mischievous heads that will determine her fate.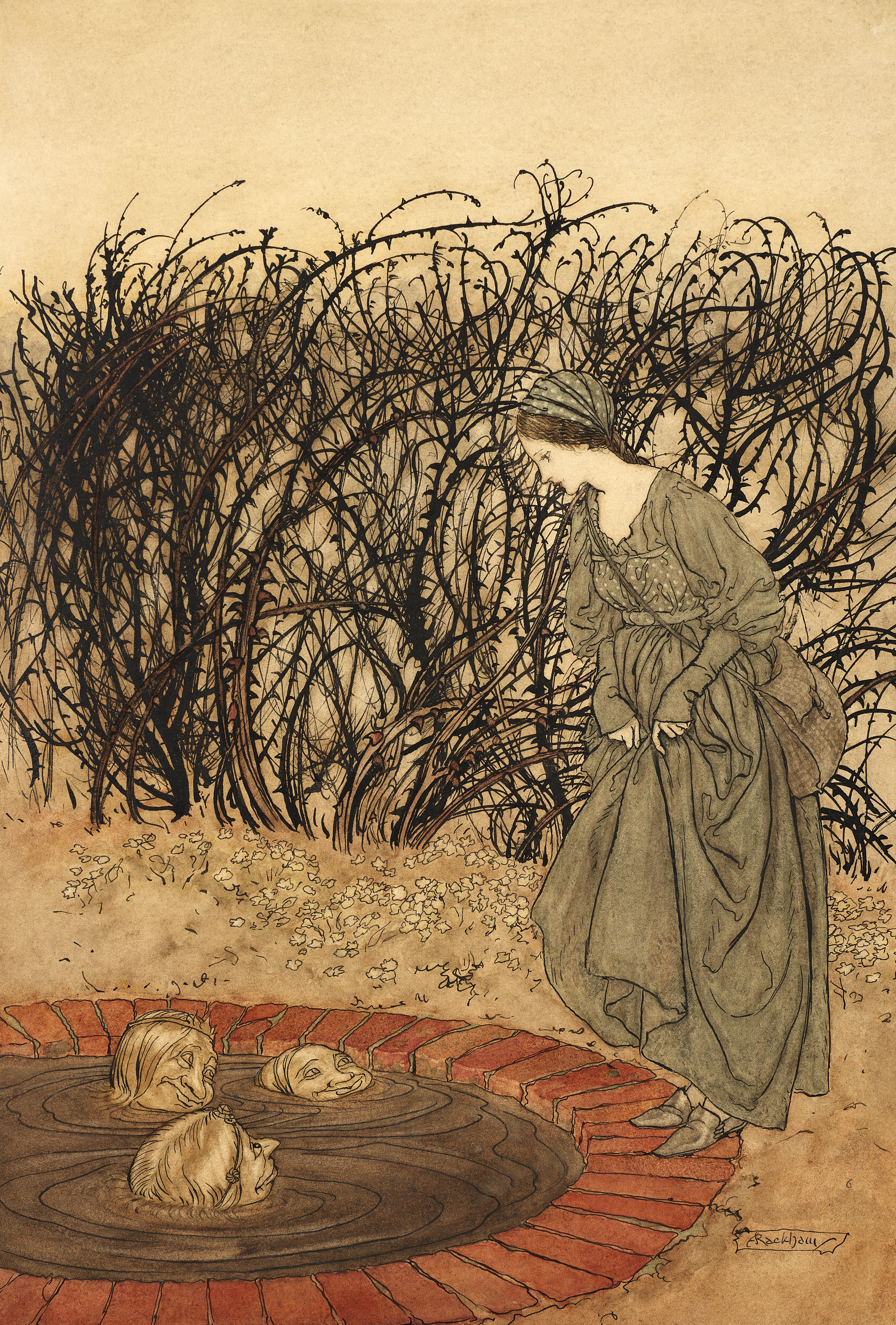 Charles Robinson
Golden Age illustrator Charles Robinson paints an elaborate Art Nouveau border to frame the dramatic opening scene of a story we now know as The Princess and the Pea. The flowers and circular motifs reference the seed that will ultimately cause the princess's sleepless night. Robinson's crisp drapery folds, masterful cross hatching, and dramatic use of light and shadow evidence his talents as artist and storyteller.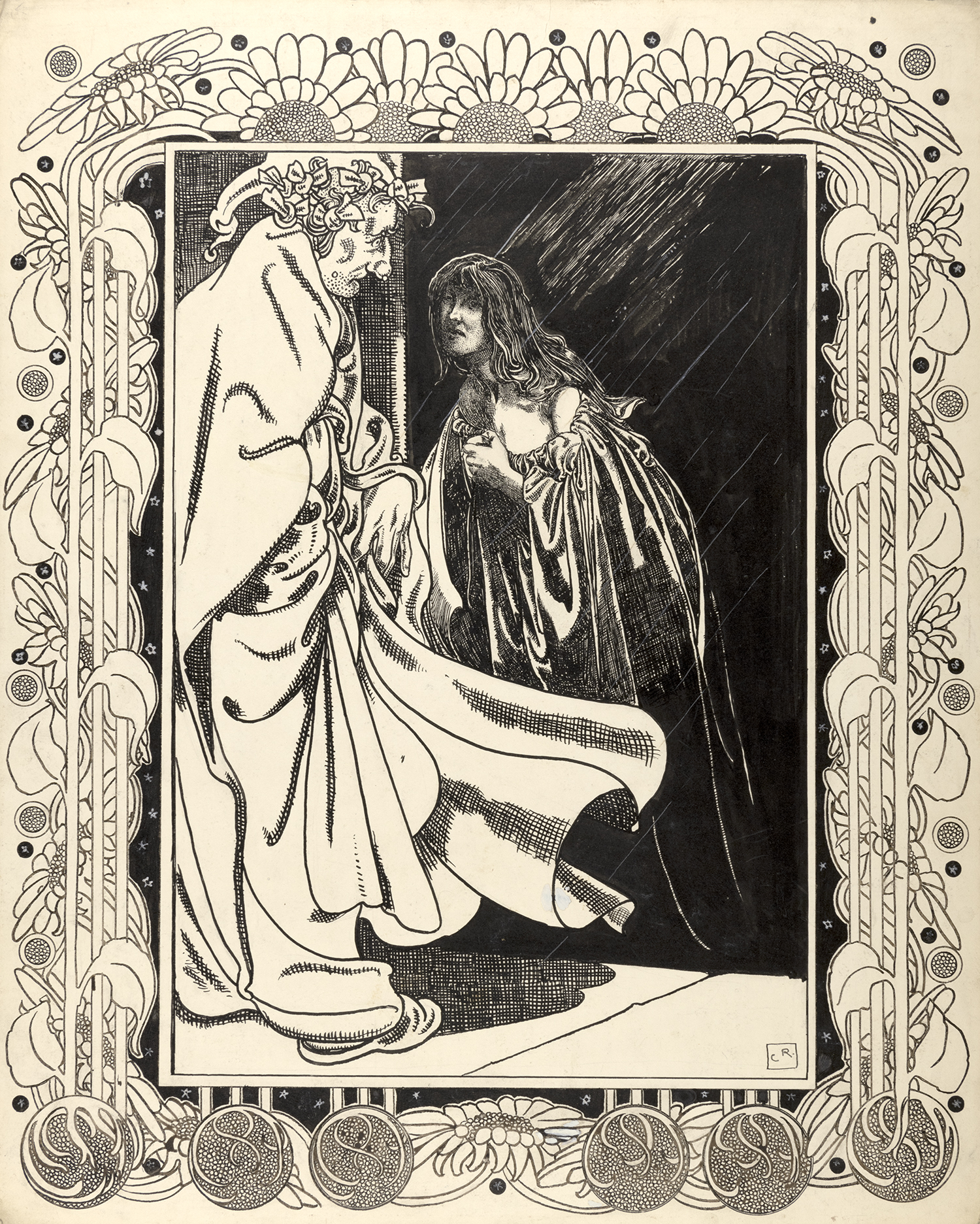 Astrid Sheckels
"I wish fairy tales were real," sighs Lucy Skunk. So begins the story of Hector Fox and his group of forest friends, who head into the Forbidden Marsh in search of a fairy tale giant. Astrid Sheckels's (b. 1981) luminous watercolors and dapper-dressed characters pay tribute to such classic animal stories as The Tale of Peter Rabbit and Winnie-the-Pooh.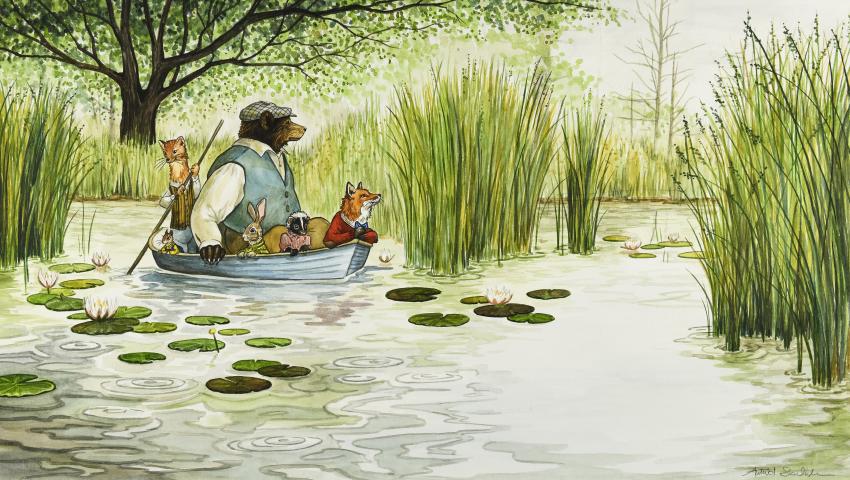 Pamela Zagarenski 
Pamela Zagarenski embeds symbols and fantastical imagery in layers of textured, translucent paint. Her cover illustration shows a sleeping tiger, its tail protectively curled around a child. The tiger and girl wear golden crowns and Zagarenski renders their cheeks and eyelids in identical pastel colors.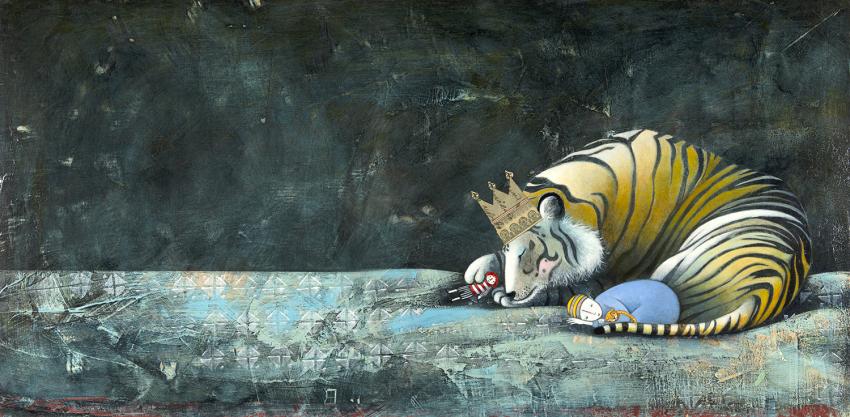 Paul Zelinski
Paul Zelinski (1953) was awarded the Caldecott Medal for his luminous illustrations in Rapunzel, where he showcases our enduring longing for happily-ever-after. The harmonious colors and balanced Renaissance-inspired composition communicate the relief Rapunzel's family feels after their return from exile. In a symbolic gesture, Rapunzel's daughter offers her mother a rampion flower—or rapunzel in German; the name of the herb that caused the princess's imprisonment in the version popularized after the 17th century. The Museum honored Zelinski as its Carle Honors Artist in 2018 for his lifetime of innovative artwork.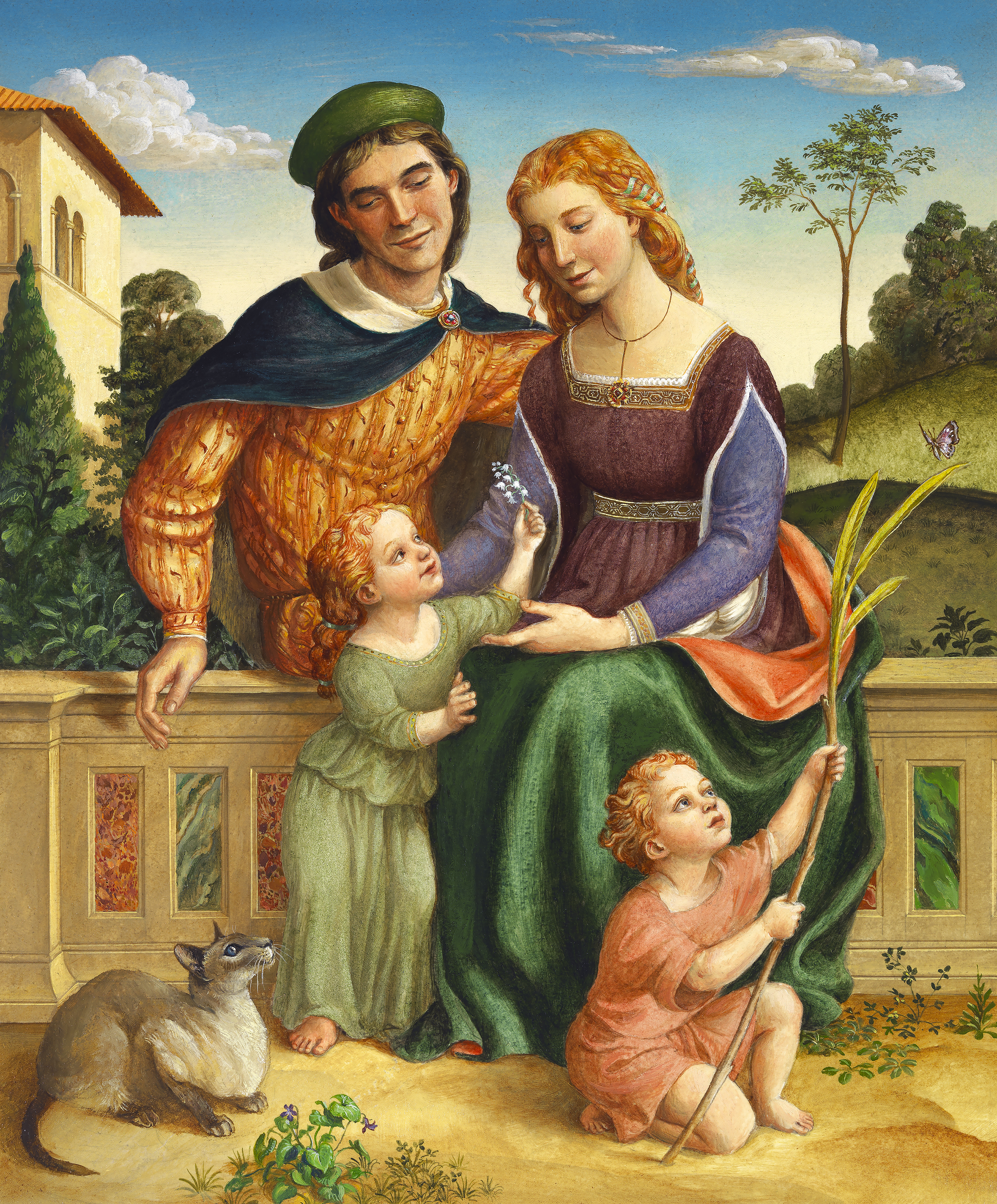 Lisbeth Zwerger
Lisbeth Zwerger (1954) finds beauty in absence. She illustrated Hans Christian Andersen's fairytale The Nightingale in her elegantly spare style, each image choreographed like a dance. Abundant white space and invisible brushwork add to the magical effect. The Carle presented An Exquisite Vision: The Art of Lisbeth Zwerger in 2010.