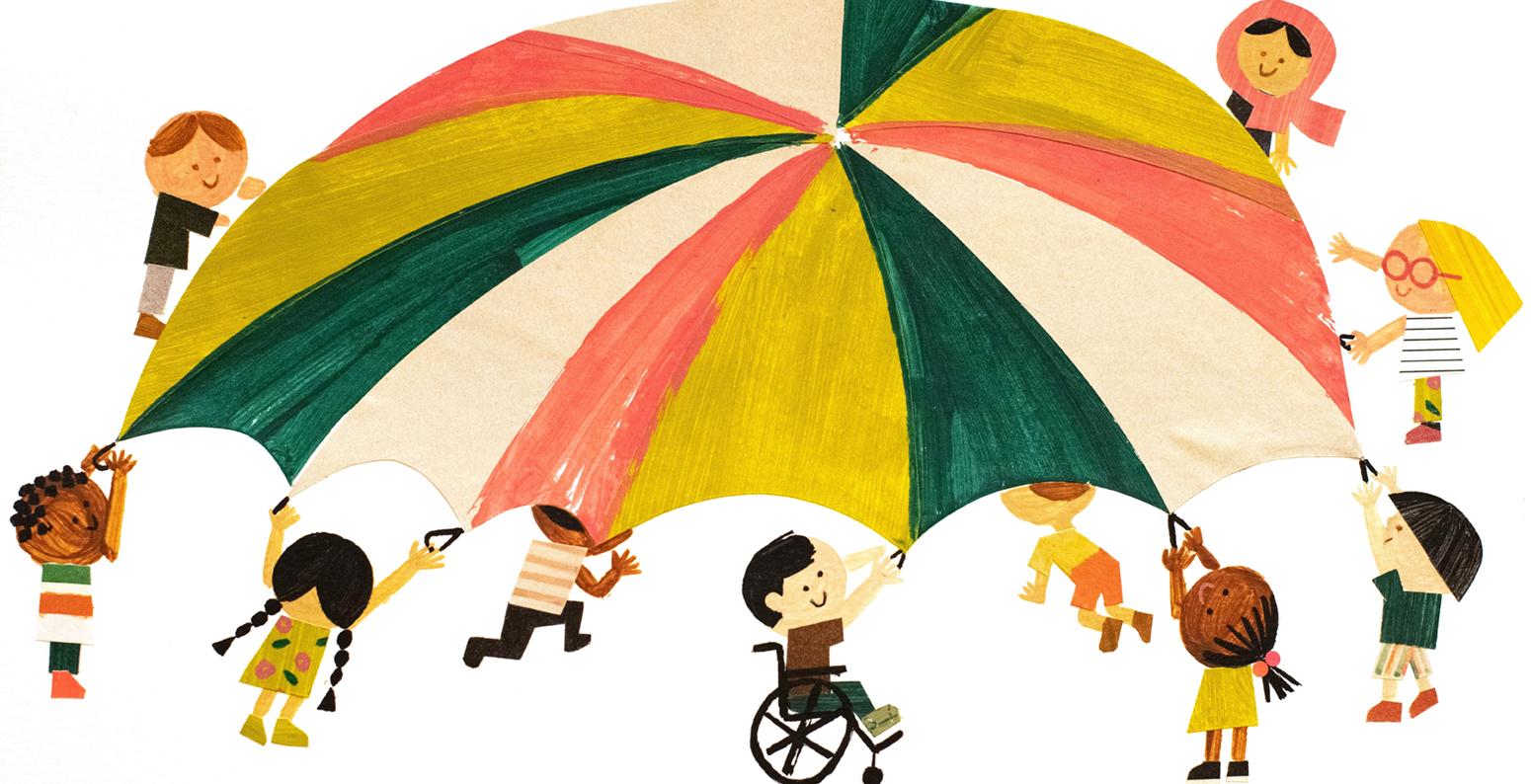 Article Type
News & Press
News & Press Categories
Press
What Might You Do? Christian Robinson
December 9, 2022
The Eric Carle Museum of Picture Book Art is delighted to present its newest exhibition: What Might You Do? Christian Robinson. It opens January 14, 2023 and is on view through June 4, 2023. In only 10 years, Christian Robinson has emerged as a transformative voice in children's literature. Through his colorful collages and painted illustrations, he creates welcoming worlds where children who have long been under-represented in picture books can see themselves.
Robinson was born in Los Angeles and grew up in a one-bedroom apartment with his grandmother and five other relatives. Drawing became a way to make space for himself in a crowded environment and to create the kind of world he wanted to see. He understands the power of representation and knows the books children read today will impact the world they create as adults: "Children need to see themselves in books. They need to see their gender. They need to see their color, hair texture, their disability, themselves." He empowers readers in books like The Smallest Girl in the Smallest Grade and celebrates friendship in Leo: A Ghost Story. He addresses emotional wellbeing in Rain! and models gratitude in Last Stop on Market Street. He brings music to the printed page in picture-book biographies on Josephine Baker and Florence Mills. Through every story, Robinson's message persists: You Matter.
Ellen Keiter, chief curator at The Carle, notes "Robinson has a special talent for communicating sensitive stories and the urban environment in beautiful ways." The young protagonist in Milo Imagines the World considers the lives of fellow subway passengers while, in Last Stop on Market Street, CJ and his grandmother meet riders on a public bus. On her way to the laundromat, Carmella discovers a dandelion growing "among the concrete weeds" of the sidewalk and deliberates on her birthday wish, the premise of Carmela Full of Wishes. In his re-illustrating of The Dead Bird, originally written by Margaret Wise Brown in 1938, Robinson locates the tale in an urban setting, using the green of a city park as replacement for a forest. Robinson's inclusive cast of characters includes animals too! In Gaston and its sequel Antoinette, his colorful compositions bring the books' Parisian setting to life as the dogs run past busy street cafés and even sneak into the Louvre.  
The artist freely combines collage and acrylic paint for his illustrations. He enjoys the control and precision of collage while paint offers fluidity and endless color possibilities. "It's important for me," says Robinson, "to make pictures that feel hand made. Today a lot of illustration is digital. I'm not against it, I see it as a tool. But I want a person to see what I'm using: I want them to see this was a piece of paper, this was a brushstroke. It's like an honesty thing." Robinson's collages are characterized by their intimate scale, geometric forms, ample white space, and, often, visible brushstrokes. His primary tools are an X-acto blade, tape, Nori paste, and acrylic paint. He also uses string, photographs, paper doilies, and newspaper to create visual interest and texture, as well as a trusty hole punch for colorful confetti.
Robinson takes a modernist approach to picture-book design. He shows buildings at skewed angles and creates interior scenes that float on fields of white. Triangles, rectangles, and circular shapes abound. He playfully favors color, form, and pattern over linear perspective, keeping readers engaged with shifting viewpoints.
Guests to the exhibition can view 88 artworks by Robinson from 17 picture books, including those written by award-winning authors Mac Barnett, Margaret Wise Brown, Matt de la Peña, Cynthia Rylant, and others. Museum visitors are also invited to "drive" the bus from Last Stop on Market Street or peer through a reality-flipping portal reminiscent of Another. They can skip Robinson's hopscotch board from School's First Day of School or jump in "puddles" inspired by Rain! All of Robinson's illustrated picture books are available to read in the gallery, and videos from his 2020 Making Space series are also presented.  
In just a decade, Robinson has received numerous accolades and awards, including a Caldecott Honor, a Coretta Scott King Illustrator Honor, and the Ezra Jack Keats New Illustrator Award. He lives in California.
This exhibition is organized by the National Center for Children's Illustrated Literature, Abilene, Texas. 
The following books illustrated by Christian Robinson are featured in the exhibition:
Harlem's Little Blackbird: The Story of Florence Mills by René Watson, 2012 
Rain! by Linda Ashman, 2013 
Gaston by Kelly DiPucchio, 2014   
The Smallest Girl in the Smallest Grade by Justin Roberts, 2014  
Josephine by Patricia Hruby Powell, 2014  
Leo: A Ghost Story by Mac Barnett, 2015 
Last Stop on Market Street by Matt de la Peña, 2015  
The Dead Bird by Margaret Wise Brown, 2016  
Little Penguins by Cynthia Rylant, 2016  
School's First Day of School by Adam Rex, 2016  
When's My Birthday? by Julie Fogliano, 2017  
Antoinette by Kelly DiPucchio, 2017  
Carmela Full of Wishes by Matt de la Peña, 2018  
Another by Christian Robinson, 2019  
Just in Case You Want to Fly by Julie Fogliano, 2019 
You Matter by Christian Robinson, 2020 
Milo Imagines the World by Matt de la Peña, 2021  
About Christian Robinson
Christian Robinson is an illustrator, author, animator, and designer based in Oakland, California. He was born in Los Angeles and grew up in a one-bedroom apartment with his grandmother and five other relatives. Drawing became a way to make space for himself and to create the kind of world he wanted to see. He studied animation at the California Institute of the Arts and later worked with Sesame Workshop and Pixar Animation Studios before becoming an illustrator of books for children. Robinson won a Caldecott Honor and the Coretta Scott King Illustrator Award for the 2015 book, Last Stop on Market Street. Artist website. 
About the Museum 
The Eric Carle Museum of Picture Book Art is the international champion for picture books. We collect, preserve, and exhibit original illustrations, encourage guests of all ages to read and create art, and foster an ever-growing audience passionate about children's literature.
The late Eric and Barbara Carle co-founded the Museum in November 2002. Eric Carle was the renowned author and illustrator of more than 70 books, including the 1969 classic The Very Hungry Caterpillar. Since opening, the 43,000-square foot facility has served nearly one million visitors. The Carle houses more than 11,000 objects, including 9,000 permanent collection illustrations. The Carle has three art galleries, an art studio, a theater, picture book and scholarly libraries, and educational programs for families, scholars, educators, and school children. Bobbie's Meadow is an outdoor space that combines art and nature. Educational offerings include professional training for educators around the country and master's degree programs in children's literature with Simmons University. The Museum offers digital resources, including art activities, book recommendations, collections, exhibition videos, and workshops for online visitors. Learn more at www.carlemuseum.org and on Facebook, YouTube, Twitter, and Instagram @CarleMuseum.
For media inquiries, additional press information, and photo requests, please contact Sandy Soderberg at sandys@carlemuseum.org.